Talking about a User-Centered Design (UCD), in reference to the TechTarget team of experts, it's critical to note that a great User Experience (UX) Design is often tied to the User Interface (UI) Design as well. But, on the contrary, they're not the same thing in software design. Our experts offer their take on how to use both to make better apps, webs, or software.
While there are differences in UX and UI design, one must put equal effort into each to create intuitive, easy-to-use, and aesthetically appealing applications. UX without UI would be a house that has the right layout and number of rooms but is horribly outdated or run-down. In essence, UI without UX would just be a beautiful modern, open loft studio, yes!
But, it would not meet the needs of a large family. When it stops being neither UX design nor UI design, when all elements come together and the right mix of both is achieved, then the perfect home can be realized. To arrive at a great User-Centered Design (UCD), the first step in choosing the right app interface design is to understand the options available to developers.
As well as taking a dive much deeper into some of the topmost popular design concepts and approaches. No matter how great you are at coding, an app will be of little value to the business if it lacks an effective interface. It's critical for developers to understand the fundamentals of app interface design — choose an interface strategy tailored to end users' priorities.
What A User-Centered Design (UCD) Is All About
To enumerate, User-Centered Design (UCD) is an iterative design process in which designers focus on the users and their needs in each phase of the design process. In UCD, design teams involve users throughout the design process via a variety of research and design techniques, to create highly usable and accessible products for them.
In user-centered design, designers use a mixture of investigative methods and tools (e.g., surveys and interviews) and generative ones (e.g., brainstorming) to develop an understanding of user needs. The term was coined in the 1970s. Later, cognitive science and usability engineering expert Don Norman adopted the term in his extensive work.
More so, on improving what people experience in their use of items. And the term rose in prominence thanks to works such as User Centered System Design: New Perspectives on Human-Computer Interaction (which Norman co-authored with Stephen W. Draper) and Norman's The Design of Everyday Things (originally titled The Psychology of Everyday Things).
Generally, each iteration of the UCD approach involves four distinct phases. First, as designers working in teams, we try to understand the context in which users may use a system. Then, we identify and specify the users' requirements. A design phase follows, in which the design team develops solutions. The team then proceeds to an evaluation phase.
Herein, you assess the outcomes of the evaluation against the users' context and requirements, to check how well a design is performing. More specifically, you see how close it is to a level that matches the users' specific context and satisfies all of their relevant needs. From here, your team makes further iterations of these four phases.
And then, you continue until the evaluation results are satisfactory. So, in other words, a user-centered design is an iterative process that focuses on an understanding of the users and their context in all stages of design and development. Generally, in terms of unveiling the key UCD principles, it considers the whole user experience and interaction journey.
User-Centered Design (UCD) For Great Experience And Interaction
Talking about User-Centered Design (UCD), you base your projects upon an explicit understanding of the users, tasks, and environments. The aim of the process is to capture and address the whole user experience. Therefore, your design team should include professionals from across multiple disciplines (ethnographers, psychologists & software/hardware engineers).
As well as domain experts, stakeholders, and the users themselves. Experts may carry out evaluations of the produced designs, using design guidelines and criteria. However, you should bear two crucial points in mind. First, to span the entire user experience, you must involve the users for evaluation. Second, you'll need to ensure long-term monitoring of use.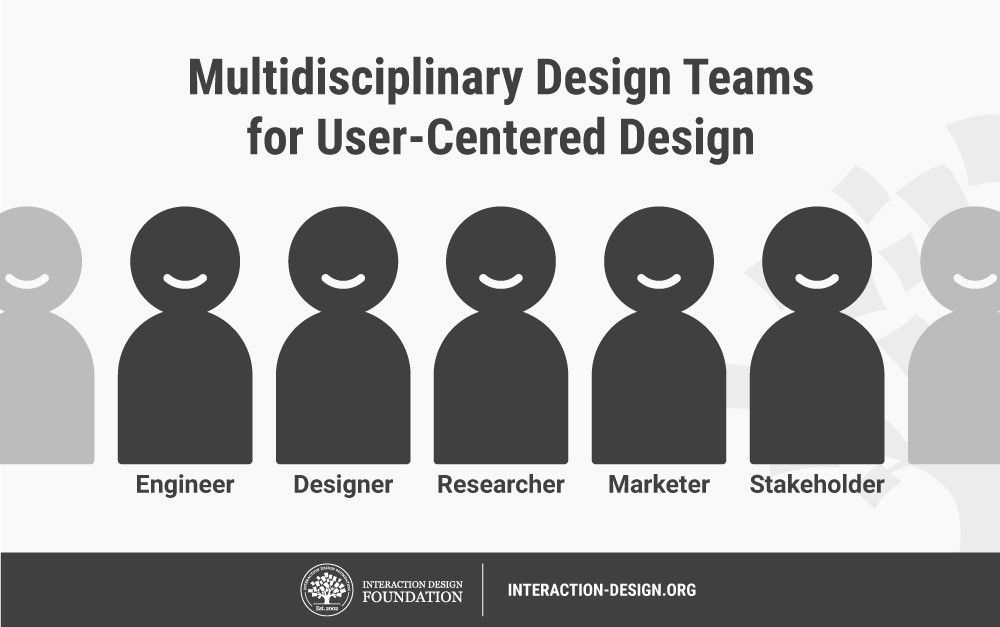 When your professional UCD team brings the users into every stage of the design process, you invest your effort and other resources into a powerful way of finding out what works well, what doesn't, and why. Your users are an early-warning system you can use to course-correct and fine-tune your design.
They can expose many aspects — positive and negative — your team may have overlooked such vital areas as usability and accessibility. That's why it's so important to understand how powerful the benefits of a user-centered design approach are. Being human-centered is an additional cost to any project, so businesses will rightly ask many questions.
For instance, such as whether taking so much time to talk to people, producing prototype designs, and so on is a worthwhile course. Fundamentally, the answer to this is a solid 'yes'. But, how does UCD pay off in business terms?
The proven ways in which a user-centered design pays off for web-based businesses:
With close user involvement, products are more likely to meet users' expectations and requirements. This leads to increased sales and lower costs incurred by customer services.
Systems designers tailor products for people in specific contexts and with specific tasks, thereby reducing the chances of situations with a high risk of human error arising. UCD leads to safer products.
Putting designers in close contact with users means a deeper sense of empathy emerges. This is essential in creating ethical designs that respect privacy and the quality of life.
By focusing on all users of a product, designers can recognize the diversity of cultures and human values through UCD — a step in the right direction towards creating sustainable businesses.
Be that as it may, UXmastery.com has created a list of UX design techniques that you can use in your next project development process. Not to mention, many of them will help you put the user center stage in your project. Perse, you can mix and match all these proven techniques to create a UX process best suited to the project at hand.
The Basic UX Plus UI Design Facets That Matters
To understand their facets, let's relate the process of designing software to building a house. When building, the architect helps define the size and shape of the spaces, which determines the holistic way one will experience the house. Once space, location, and overall shape decisions have been made, the interior designer works on realizing the homeowner's aesthetic.
Particularly, by making small tweaks to the shape, while determining the look and feel of each room. The architect is defining the user experience of the house, the interior designer is creating the user interface for each room and the homeowner represents the needs and desires of users. Both the architect and interior designer are responsible in this case.
Whilst, ensuring the house meets the needs and expectations of the homeowner. But also, getting early input from the contractor can ensure that the home is both buildable and within the budget. It shouldn't be UX vs. UI design; we should strive to have a collaborative effort among UX, UI, and developers to create solutions that support both user and business needs.
The primary aspects of user experience are summed up by UX thought leader Peter Morville and we can borrow a few ideas. His honeycomb diagram and seven facets describe how users judge your software on whether it is useful, usable, desirable, findable, accessible, credible, and valuable. With that in mind, below are the most common basic facets in UCD terms…
1. Usefulness
For software to be useful, it needs to serve a practical purpose that addresses needs and goals. For example, having aspirin will be very useful to someone with a headache but less useful to someone with a wound. There is this use cases list that has all the steps that define the interactions between a user and a system.
Especially, in terms of use cases as a requirement for software development, which is often constructed in UML, with defined actors and roles. Likewise, consider having a look at this article on Use Case Examples & 13 Killer Tips written by Darren Levy — for Business Analysts and Software Engineers, as a good introduction to creating usefulness.
2. Usability
Basically, usability is an important aspect, but it is very ambiguous and, alone, is not sufficient to have a great experience. Iterating between design and testing allows one to understand when the pinnacle of usability has been reached. URUT is similar to in-person usability testing however participants complete tasks in their own environment without a facilitator present.
The tasks are pre-determined and are presented to the participant via an online testing platform. Bear in mind, Chris Gray's article on how to run an unmoderated remote usability test outlines the process and includes an animated video guide.
3. Desirability
In essence, this includes things like performing an audit/review of competing websites and apps; conducting user testing of competing websites; writing a report that summarises the competitive landscape, and the like. The aesthetic design creates emotion for a product. Positive emotion makes the product more desirable — why companies invest highly in branding.
Downloading, signing up for, purchasing, and using products that compete with yours is only part of the process. Furthermore, conducting user testing sessions on these products will also yield valuable insights. That said, you can check out the Inc. article on how to conduct competitive research for more resourceful information and basic tips.
4. Findability
Users will abandon a product if they cannot quickly find what they are looking for or become extremely frustrated if they keep looking. The site and its content need to be easily found, have intuitive navigation, and provide relevant results when searching. This also includes the basic principles like analyzing website or mobile usage data.
As well as making subsequent recommendations. All analytics packages provide key reports, such as most frequently visited pages, visitor demographics, bounce rate, and more. In terms of interpreting web analytics, in meantime, this article is a good place to start. What's more, Brian Clifton's book on the topic also comes recommended.
5. Accessibility
Forget UX vs. UI design for a moment, and remember that one in seven people worldwide require inclusive design and all users benefit. Addressing color contrast increases readability for everyone. Whilst, closed captioning allows people with hearing disabilities to watch videos easily and conveniently.
Including those who are in an environment where they cannot play audio, and coding best practices allow screen readers to function effectively. Not forgetting, accessibility is also a very critical principle towards great User Experience (UX) Design with quality interaction in mind as well.
6. Credibility
In this case, we can think of principles such as conversations with the key contacts in the client organization funding, selling, or driving the product. Users must trust and believe the content provided in order to deliver great UX vs. UI design. Steve Baty's article; conducting successful interviews with project stakeholders is worth a read as it contains lots of tips.
As well as basic tips that are gleaned from the user experience line. So that you can gather more information on how to increase your credibility chances. Interviewing users in the location they use the website/app is yet another key principle.
In particular, so that you can understand their tasks and challenges. On that note, you can read this Contextual Enquiry – A Primer By Gerry Gaffney for a rough guide to planning for, scheduling, and conducting a contextual inquiry.
7. Evaluability
If the other facets are achieved, the business value of the software should be easily addressed — with customers, revenue, retention, satisfaction, or one of many other goals in mind. After all, if the potential target user sees value, then the business will also realize its main goals. There're many other facets like reviewing and cataloging a client's existing repository of content.
As well as asking users to record their experiences and thoughts about a product or task in a journal over a set period of time. Donna Spencer's article for beginners, which is complete with an animated video, is a very good place to start.
In addition, she also has a template for creating a content inventory that's available for download. Moreover, conducting a diary study is really as simple as providing users with a diary, a timeframe, and guides about what/what not to record.
8. Technicality
In terms of technicality, user-centered design (UCD) interviews are a key activity for understanding the tasks and motivations of the user group for whom you are designing. Interviews may be formally scheduled, or just informal chats (for instance, in a suitable location where your target demographic are present). However, interviewing someone takes practice.
Eventually, that's why you'll need to read how to improve your interview skills for tips on getting better. Also, be sure to check out Steve Krug's Short Book – Rocket Surgery Made Easy for a comprehensive guide on how to plan for a schedule, and conduct all the necessary usability/technicality tests.
9. Functionality
Another facet that matters is evaluating a website/application platform's basic end-user functionality. And then, documenting usability flaws and other areas for improvement. In most cases, a good method for determining how usable a website or application is, usually, entails working through a work plan checklist.
Such as the one from uxforthemasses.com, which relies upon the practitioner being sufficiently experienced to judge whether something is usable or not. Suffice it to say, you can even try to sit your loyal users in front of your website or application.
Specifically, so that they can offer their input — ask them to perform tasks, and think out loud while doing so. With that in mind, you can read more about how to run a user testing session for more details —  that's even if you're a complete novice.
10. Simplicity
Overall, how easy is it for you to invite input from users, stakeholders, and other project members? Well, the best facet herein is to make sure that you provide all participants with some paper and a pen, and have them complete exercises.
Such as drawing wireframes or writing on printouts of screens that they like or don't like. Having said that, you can read this Facilitating Collaborative Design Workshops Article that's written by Jason Furnell to gather more useful information.
What A User Experience (UX) Approach In Design Terms Entail
In general, User experience (UX) refers to any interaction a user has with a product or service. Practically, it considers each and every element that shapes this experience, how it makes the user feel, and how easy it is to accomplish their desired tasks. Anything from how a physical product feels in your hand, to how straightforward the checkout process is.
Particularly, when buying something that best interests them online. In this case, we can clearly say that the main goal of UX design is to create easy, efficient, relevant, and all-around pleasant experiences for the user. People depend on mobile devices every day for communications, eCommerce, content consumption, work, banking, directions, etc.
And most increasingly, as their sole computing device. What's more, they are using a variety of devices such as mobile phones, smartwatches, tablets, phablets, wearables, and hybrid laptops. Technically, a great user experience (UX) design encompasses all aspects of the end-user's interaction with a web business company, its services, and its products.
Markedly, it's so important to distinguish the totality of user experience design from the user interface design, even though the UI is obviously an extremely important part of the design. Whilst, bearing in mind, the User Interface (UI) is the point of human-computer interaction and communication in a device.
This can include display screens, keyboards, a mouse, and the appearance of a desktop. It's also the way through which a user interacts with an application or a website. Websites such as Airbnb, Dropbox, and Virgin America display strong user interface designs. Ultimately, these sites have created pleasant, easily operable, User-Centered Designs (UCD) in their projects.
Ultimately, with key features that focus on the target user and their overall unique needs. At all costs, a great User-Centered Design (UCD) is an iterative design process in which designers focus on the users and their needs in each design phase. Coupled with a few User-Centered Design (UCD) principles here and there, you'll fulfill all your end-user design demands.
The Topmost Key User-Centered Design (UCD) Principles To Consider
To begin with, knowing what is important to your users and which type of interface makes the most sense for your website or application. Perse, you can select an interface design approach that provides the best balance between the various design principles. You may also think of a custom XML sitemap as well — a complete list of all pages available on a website.
Creating a sitemap is a useful task at the beginning of the design process, as it can be used to shape which screens to wireframe. Similarly, you can also think about how your User Experience Map, or rather, a Customer Journey Map would be. Simply put, this is an extended version of a mental model, rather than looking at one moment in time for a single user.
Technically, an experience map is a wholesome visual representation of your user's interactions with your organization when zoomed right out. So, the big question here is this: What is a customer journey map? Well, take a look at this:
Hire Professional Designers