Sitemaps are some of the most resourceful tools for webmaster site mapping. And they are usually free and simple to use by everyone as long as they are online. These tools are particularly important because a search engine like Google uses particular bots to grab your site map and feed it to search results.
Of course, this is very good and important for your site especially if you want it to rank in the first positions on the search engine results page(SERP). Crawler bots like Googlebot help a search engine like Google decide what to display next. When in that case, you can frantically search for anything like "how does a sitemap work?"
In other words, Googlebots are Google's web crawling bot (sometimes also called a "spider") that uses an algorithmic process. Computer programs determine which sites to crawl, how often, and how many pages to fetch from each site. The Googlebot's crawl process begins with a list of webpage URLs.
These webpage URLs are generated from previous crawl processes and augmented with Sitemap data provided by webmasters. As Googlebot visits each of these websites it detects links (SRC and HREF) on each page and adds them to its list of pages to crawl. New sites, changes to existing sites, and dead links used in the Google index update.
What Are Sitemaps?
Sitemaps are a way of organizing a website, identifying the URLs and the data under each section. Previously, they were primarily geared toward the users of the website. However, Google's XML format was designed for the search engines, allowing them to find the data faster and more efficiently.
As an example, Google Feedfetcher is used by Google to grab RSS or Atom feeds when users choose to add them to their Google homepage or Google Reader. The Feedfetcher collects and periodically refreshes these user-initiated feeds. But does not index them in blog search or Google's other search services.
If you own or maintain a website or intend to own one, wouldn't it be great if you get frequent visitors who find satisfaction in getting exactly the information they need from your page? Back in 2005, the search engine Google launched the Sitemap 0.84 Protocol, designed to use the XML format. There are 3 different methods Of using sitemaps.
One method is used by web designers when they are in the planning phase of a website. Another is the sitemap that is visible on a website for the website's visitors to help them navigate the site. The third is an XML sitemap. This type of sitemap is created specifically for search engines. In short, an XML sitemap lists each of the URLs for every site page.
The Difference Between HTML Vs XML Sitemaps
Site feeds (like jmexclusives site feed) appear in the search results in one condition. That's only if it has been crawled by Googlebot. Monitoring bots, well, will monitor things like whether Twitter is down and your soul is finally free. While Aggregator bots keep your RSS feeds filled with piping hot takes about whatever Donald Trump tweeted that day.
Uniquely, there are two types of sitemaps: HTML and XML. So, what is their main difference? First, you'll always notice the format. Whereby, HTML is obviously different from XML. But, that implies even more! While HTML sitemaps are visible to site users, XML sitemaps are feeds for search engines.
You could argue that HTML sitemaps are also created for search engines, but while they can be valuable to users, XML sitemaps cannot. Secondly, they serve almost the same purpose, but in different ways. Both help search engines discover new URLs, whether pages, videos, or images. Thus, they are all useful in terms of both your website SEO and ranking.
XML sitemaps are custom feeds that help search engines understand the priority of URLs to crawl, how often they change, and which new ones were added to the site. That is especially helpful for search engine schedulers because they can better estimate when and how often to recrawl a URL. And for search bots to identify and signal sites for ranking.
Lastly, they all have different side benefits too. XML sitemaps have meta-attributes like <changefreq> or <lastmod> to indicate how the state of URL changes. They can also carry extensions for videos, images, and news. HTML sitemaps distribute PageRank throughout a site, and that is what they are nowadays mainly used for, aside from navigation.
The 3 Key XML Types:
Important to realize, that HTML sitemaps also help search engines discover new URLs through the discovery of links they follow. That means HTML sitemaps can only be an effective URL discovery tool if they're being crawled and links followed.
You can understand this by looking at your log files. Even though XML sitemaps can be submitted in RSS, mRSS, Atom 1.0, or text format, the "type" of a sitemap refers to its content or "media type." Perse, you can create sitemaps that contain only one specific media type. Or rather, integrate them into your regular XML sitemap.
Usually, most HTML sitemaps are often linked in the footer of a site — they are linked from every page. And, as a result, they might distribute that incoming PageRank to other pages with weaker internal linking, if I may add.
XML Sitemap Minimum Requirements
Most CMSs like WordPress have a function to automatically update sitemaps when a new URL is created or an existing page changes. For Google, the update frequency of the sitemap itself and the lastmod tag of pages can be a signal of freshness. Whether that is important for its ranking depends on the page and the context.
Think of an XML sitemap as a city map for tourists with the city being your website and the tourist being Google — you want to make sure to only include the important buildings, not every address. That's why unimportant pages shouldn't be included; examples are pages like your privacy policy or the about us page.
While these pages should be indexed, they don't need to be crawled often and are not important when we are talking about SEO. Generally, for your XML sitemaps to work optimally, you have to meet a certain set of standards.
An XML Sitemap Should:
Be compressed in .gz format.
Contain only canonical URLs with a 200 status code
BUTF-8 encoded and be referenced in the robots.txt
Include up to 200K URLs per sitemap and up to 50K sitemaps per index sitemap.
Be no larger than 50 mb or contain 50,000 URLs (whatever you hit first).
But, there's more you can and should do to get the most out of XML sitemaps. For instance, you can signal to Google which URLs are important. More so, by including only important pages in XML sitemaps, and by updating it often.
Why XML Sitemaps Are Important
As the name implies, a sitemap is a file that provides information on all pages of your website. It acts as an actual map by detailing all of your individual pages and sections with their hierarchies highlighted. Likewise, it can also include additional information such as your RSS Feed and each page's update frequency.
Having a sitemap on your website is also essential for your SEO. Bearing in mind, it's a tool that helps web crawlers such as Google to learn about all your pages and their relationships. Overall, this increases your content's relevance, which contributes to your search engine results page ranking. It's also a great way for your site visitors to easily navigate.
But, such an important job does not need to be done manually. You can use quality sitemap plugins for WordPress to automate this task and get even better results on your SEO strategy. This works by allowing these third-party solutions to edit your sitemaps file directly based on your configurations. With more added SEO features for site searchability.
Depending on how much content you have on your website and how often it is updated, maintaining a sitemap might require a lot of work. Fortunately, you can automate this task by using good sitemap tools and plugins for the website (more on that later on). But first, let's see more roles of sitemaps and their benefits to your website.
Sitemaps are useful when it comes to technical SEO or search engine optimization. Technical SEO is when you improve the technical aspects of your website in an effort to increase your ranking on SERPs and search engine result pages. XML sitemaps are, especially, important when it comes to improving your SEO and search engines ranking.
In nutshell, every site should have an XML sitemap. They are especially important for new, large sites, sites with lots of orphaned pages, sites that use lots of images and videos, etc. Whereas the robots.txt helps you to exclude parts of your site from search engines ranking, XML sitemaps do the opposite. They help search engines discover new pages.
#1: Sitemaps Help You Create An SEO Strategy
Having XML sitemaps allows search engines to crawl and index a website sufficiently, and allows all search engines to be notified of the site map by inserting it into the robots. txt file. Sitemaps enhance ranking, thus boosting SEO efforts.
Unfortunately, the process of SEO can be a bit overwhelming. Fortunately, our SEO Specialists and experts at jmexclusives are always ready to help you navigate the Search Engine Optimization journey as well as create XML sitemaps. With that in mind, your website should have structured data so that search engines can quickly tell the kind of information.
For similar reasons, you also want your website to include an XML sitemap that lists all the pages on your website. Another example of technical SEO is having a mobile-friendly version of your website. Using local SEO can help you increase traffic for the specific cities, suburbs, or neighborhoods that you wish to target and serve.
An example of utilizing local SEO is with a Google My Business page, which appears at the top of a Google search and includes data such as your hours, location, phone number, and website. Google started using XML Sitemaps back in 2005. And shortly after, it was joined by search engines like MSN or Yahoo. Nowadays, they use them for URL discovery.
#2: They Help SERPs Find & Rank Your Web Pages
Google's new sitemap protocol was developed in response to the increasing size and complexity of websites. Business websites often contained hundreds of products in their catalogs, while the popularity of blogging led to webmasters updating their material at least once a day.
Not to mention, the greatness of popular community-building tools like forums and message boards. As websites got bigger and bigger, it was difficult for search engines to keep track of all this material, sometimes "skipping" information as it crawled through these rapidly changing pages.
Through the XML protocol, search engines could track the URLs more efficiently, optimizing their search by placing all the information on one page. So, how do you help SERPs find your pages?
General SERPs Guidelines:
Ensure that all pages on the site can be reached by a link from another findable page. Whilst, referring links to include either text or, images, and alt attribute — all relevant to target pages. Crawlable links are <a> tags with an href attribute.
Provide a sitemap file with links that point to the important web pages. Also, provide a page with a human-readable list of links to these pages (aka site index or site map page). And then, limit the number of links on a page (a few thousand at most).
Make sure that your webserver correctly supports the If-Modified-Since HTTP header. This feature directs your webserver to tell Google if your content has changed since the last sister crawl. This feature saves you bandwidth and overhead.
Use the robots.txt file on your webserver to manage your crawling budget by preventing the crawling of infinite spaces such as search result pages. Keep your robots.txt file up to date. Learn how to manage crawling with the robots.txt file. Test the coverage and syntax of your robots.txt file using the robots.txt Tester as well.
In addition, there are more ways to help Google find your site. For instance, by making sure that any sites that should know about your pages are aware your website is online. You can also ask Google to crawl your pages as well.
#3: They Make Sure SERPs Understand Your Web Pages
XML also summarizes how frequently a particular website is updated and records the last time any changes were made. XML sitemaps were not, as some people thought, a tool for search engine optimization. It does not affect ranking, but it does allow search engines to make more accurate rankings and searches. It does this by providing the data that a search engine needs.
And then, putting it in one place-quite handy, given that there are millions of websites to plow through. On one side, to help Google fully understand your site's contents, allow all site assets that would significantly affect page rendering to be crawled. For example, CSS and JavaScript files affect the understanding of the pages.
The Google indexing system renders a web page as the user would see it. Including images, CSS, and JavaScript files. On the other side, to see which page assets Googlebot cannot crawl, use the URL Inspection tool. To debug directives in your robots.txt file, use the robots.txt Tester tool. Having said that, below are more useful features to note, always.
To encourage other search engines to adopt the XML protocol, Google published it under the Attribution/Share-alike Creative Commons license. Its efforts paid off. Recently, Google happily announced that Yahoo and Microsoft had agreed to "officially support" the XML protocol. To help SERPs understand your web pages, consider the following.
General Website Guidelines:
Create a useful, information-rich site, and write pages that clearly and accurately describe your content.
Think about the words users would type to find your pages. Make sure that your site actually includes those words within it.
Ensure that your <title> elements and alt attributes are descriptive, specific, and accurate.
Design your site to have a clear conceptual page hierarchy.
Follow our recommended best practices for images, video, and structured data.
When using a CMS (like Wix or WordPress), make sure that it creates pages and links that SERP bots can crawl.
Eventually, the Google XML protocol has now been updated to the Sitemap 0.9 protocol — from Sitemap 0.84 Protocol, if I may add. And jointly, it's sponsored by www.sitemaps.org — this's a website set up to explain all the protocols. Definitely, this's good news for website owners — an applaudable sign of cooperation between known competitors.
The shared recognition of the XML protocol means that website developers no longer need to create different types of sitemaps. More so, for the different search engines. And, as such, they can easily create only one file for submission.
And then, update it whenever they make new changes on their site. After all, it simplifies the whole process of fine-tuning and expanding a site. Sometimes, most Search Engines rank a page according to the relevance of its content to particular keywords. Below are a few more things to consider in your overall site ranking in SERPs as well.
Ranking Algorithm Guidelines:
Allow search bots to crawl your site without session IDs or URL parameters that track their path through the site. These techniques are useful for tracking individual user behavior, but the access pattern of bots is entirely different.
Using these techniques may result in incomplete indexing of your site, as bots may not be able to eliminate URLs that look different but actually point to the same page.
Make your site's important content visible by default. Google is able to crawl HTML content hidden inside navigational elements such as tabs or expanding sections. However, I consider this content less accessible to users. And I recommend that you make your most important information visible in the default page view.
Make a reasonable effort to ensure that advertisement links on your pages do not affect search engine rankings. For example, use robots.txt, rel="nofollow", or rel="sponsored" to prevent advertisement links from being crawled.
Through the sharing of sitemap protocols move, the XML format will soon become a standard feature of all website creation and development. Webmasters themselves have begun to see the benefits that this file provides.
#4: Sitemaps Help Site Visitors Easily Navigate Your Site
Until the XML format, there were instances when that content was not properly picked up. It was often frustrating for webmasters to realize that their efforts to build a website were left unseen. Blogs, additional pages, or even the addition of multimedia files took hours to create. Through the XML file, those hours will not be wasted.
And, of course, it will be seen by the three leading search engines-Google, Microsoft, and Yahoo. In a recent move, Ask.com has now begun to support XML sitemaps and in an update to the sitemaps protocol, it is now possible to tell all search engines the location of your XML sitemap by placing an entry into your robots.txt file.
A good example of an XML sitemap is the one created for the jmexclusives site (under sitemap.xml and updated daily) here. It's something like https://josephmuciraexclusives.com/sitemap.xml. And, as such, you too can direct your visitors to your sitemap using this navigation link: , to begin with.
Website Visitor Guidelines:
Try to use text instead of images to display important names, content, or links.
If you must use images for textual content, use the alt attribute to include a few words of descriptive text.
Ensure that all links go to live web pages. Use valid HTML.
Optimize your page loading times. Fast sites make users happy and improve the overall slow internet web quality.
Google recommends that you use tools like PageSpeed Insights and Webpagetest.org to test the page performance.
Design your site for all device types and sizes, including desktops, tablets, and smartphones.
Use the Mobile-Friendly Test to test how well your pages work on mobile, and know what needs to be fixed.
Ensure that your site appears correctly in different browsers.
Additionally, if possible, secure your site's connections with HTTPS. Overall, encrypting interactions between the user and your website is a good practice for communications on the web. Always ensure that your pages are useful for readers with visual impairments. For example, by testing usability with a screen-reader.
#5: Sitemaps Help You Easily Submit Content For Indexing
At the very least, you need to make sure you submit a new site to SERPs such as Bing or Google. Not forgetting, doing so for a new page can speed up the indexation. The good news is that submitting your website isn't a specific requirement for your website to appear in Google's index, but, for a new website, it is often the fastest way.
Google just needs to know that your website exists. From there, it can crawl the site and index its pages. Google's crawlers find new URLs (and websites) by following links from other pages and websites. As long as your site is linked to from somewhere else on the web, Google will eventually find and index your site, but you can speed this up manually.
When it comes to a new URL (page or post) that has been published on an existing website, you certainly don't need to go through the process of manually submitting it, but there are steps that you can take to speed up seeing the page in Google's index. The general consensus is that yes, you should be submitting your URL to all the main SERPs.
By all means necessary, you should always consider submitting a new website to these SERPs – that's if you want to speed up seeing it in the index. With that in mind, there are different ways that you can do this. More so, depending on the circumstances, we will walk you through these options below.
When Should You Submit Your Website XML Sitemaps?
Most commonly, you only need to submit your website to Google when you launch a site for the first time. Simply, because Google and other SERPs are not aware that it exists. Or rather, when you move your website to a new domain. If you are working on an existing site, you shouldn't need to submit the whole site if it is already been indexed.
There are, however, instances when you may need to do so as the result of an error; let's say a developer accidentally added a rel="noindex" tag across the site and you saw the site drop from the index. Fortunately, using an XML Sitemaps Tool found in Google Search Console, you can easily add your Sitemaps XML Links so easily, it looks like this:
Once you have done this, you will see a list of submitted sitemaps and the number of discovered URLs too in the new field. It's important to remember that Google isn't the only search engine. Thus, you want to submit to other popular search engines people use, like Bing, Yahoo, Yandex, Baidu, and DuckDuckGo. You can also consider Pinging Search Engines too.
How To Create Your Own Sitemaps Using Plugins
First of all, in order to be able to generate results, your website needs the right tools to guide visitors and web crawlers to it. Basically, a site navigation map is a highly useful tool for getting around. This applies to navigation in the real world as well as the internet. After all, exploring a website's multiple sections is very similar to picking the right streets and roads.
That is why your website needs a sitemap. By offering appropriate navigation tools, not only will your visitors have a good experience, but it will also contribute to your overall SEO strategy. In that case, having greater relevance and navigation quality is essential for reaching all your goals.
Thankfully, you can optimize this job by using the Best Sitemap Plugins For WordPress, to begin with. Using WordPress Sitemap Plugins is one of the quickest and easiest ways to create your own sitemaps. And, some of the great plugins to consider are either Yoast SEO Plugin or the All In One SEO Plugin as well. We use some of them to date and so should you.
The Best Sitemap Plugins:
Historically, WordPress has always needed a third-party plugin to generate XML sitemaps. In June 2020, the XML sitemap function was (finally) announced as part of WordPress 5.5 Core. If you still want additional control over your sitemap, the above list of WordPress plugins is among the better known.
Secondly, to create your XML sitemaps and keep the search engines informed of changes to your site try the free online sitemap generator. In addition to having an XML sitemap, the free sitemap generator will also create an html sitemap that you can use for your human visitors. Let's now see the Best Online XML Sitemap Generator Tools for creating your web navigation links.
How To Utilize Online XML Sitemaps Generator Tools
A web platform such as www.XMLSitemaps.com (visit site) is a very great sitemaps tool. The Online Generator Tool for Sitemaps is a free and simple tool suitable when you need to quickly create a sitemap for a small website (up to 500) pages. Not to mention, there's no registration required and you get sitemaps ready immediately.
You can download the XML sitemap file. You can even receive it through email and put it on your website after that. If you visit the online generator home page right now, all you'll need to do is just enter your website URL using the form shown and click "START" to proceed! One thing is for sure, the Pro Sitemaps Tool is so powerful, yet easy to use!
The free account provides you with everything you'll ever need. Particularly, from an Online generator that allows you to do quite a lot (view all details). Go ahead and combine creativity and analytics on each step of your workflow — using the Content Marketing Platform as your guardian.
Specifically, at jmexclusives, we had XML Sitemaps for many years and it works like a charm. It's perfect, easy to install and use among other benefits.
Consider the following benefits:
submit sitemap directly from their servers
update sitemap without reuploading it to your website
easily manage multiple websites
Upgrading your account lets you:
index up to 1,500,000 pages
automatically update sitemap
create Images, Videos, News sitemaps, and RSS feed
detect and list broken links on your site
and many other features!
If you're a visual thinker, sitemap tools that offer a visual representation are especially useful to help you view the hierarchy of site pages. This is, especially, beneficial for working with clients. And it helps them to visualize and better understand the purpose of the sitemap. Another bonus of visual sitemap generator tools is that they are usually easy to use with drag-and-drop features.
The Best Visual Tools:
Once you've generated your sitemap, you'll need to upload, check and validate it. Google offers some great guidelines for sitemap best practices, including how to format the sitemap. If you prefer to use a 'classic' sitemap generator tool, there are others too.
The Top Classic Tools:
You can then submit your site to Google so it knows that it can find the new sitemap or it knows that it's changed. The easiest way to do this is through Google Search Console. Or you can just add a unique snippet of code to your robots.txt file as shown below:
Sitemap: http://example.com/sitemap_location.xml
For more about submitting your site to Google and other search engines, you can read this in-depth article from Jason Barnard. And, don't forget; if you make any changes to your website, always update the sitemap and resubmit to Google.
A Beginners Webmaster Sitemaps Best Practices
Do you ever wonder how Google actually understands your website content and is able to decide if it matches the search? If yes, you are in the right place. Sitemaps are utilized to do exactly that. In nutshell, a sitemap lists the pages of a website. Essentially, it's a map that helps search engine crawlers to better understand and navigate your site.
For this reason, all the above-mentioned quality guidelines cover the most common forms of deceptive or manipulative behavior. But, a SERP like Google may respond negatively to other misleading XML sitemap practices not listed herein. It's not safe to assume that just because a specific deceptive technique isn't included on this page, Google approves of it.
Website owners who spend their energies upholding the spirit of the basic principles will provide a much better user experience. Subsequently, they'll also enjoy a better ranking than those who spend time on loopholes to exploit. If you believe that another site is abusing Google's quality webmaster guidelines, please feel free to file a spam report, right on.
Ultimately, Google prefers developing scalable and automated solutions to problems. And then, it will use the report to further improve its spam detection systems. Below are a few more beginner's sitemaps and basic principles.
Consider the following sitemaps' basic principles :
Make pages primarily for users, not just for search engines, and don't deceive your users
A good rule of thumb is to avoid tricks intended to improve search engine rankings
Always feel comfortable explaining what you've done to a website that competes with you (or Google employee)
Another useful test is to ask, "Does this help my users? Would I do this if search engines didn't exist?"
Think about what makes your website unique, valuable, or engaging and make it stand out from other competitors
Most commonly, you only need to submit your website to Google when you launch a site for the first time. Obviously, Google is not aware that it exists. Or rather, when you move your website to a new domain. If you are working on an existing site, you shouldn't need to submit the whole site if it is already been indexed.
There are, however, instances when you may need to do so. Let's say as the result of an error; or if a developer accidentally added a rel="noindex" tag across the site. And, as a result, you saw the site drop from the index. Next, it's good to check the performance of your overall site and URLs.
Check If Your Website Is Indexed
If you are launching a brand new website for the first time, you will undoubtedly be wondering how you can get it included in Google's index as quickly as possible.  You can quickly check to see whether or not a website is indexed by Google straight on the search engine using the "site:" search operator. Just go ahead and run a search for the site: [Your Domain]
As an example, your overall site domain check would be www.yourdomain.com. Whereby, if your website is indexed, you will see results returned when using this search operator. Notice; you'll see both the number of returned results as well as the indexed URLs displayed. In the event that there are no URLs indexed for the domain, you will see an error message.
Check If Your Site URLs Are Indexed
Before you go ahead and submit your URL to Google, it makes sense to run a quick check to establish whether or not it is already indexed. You can do this by using Google Search Console's URL Inspection Tool, to begin with. If you have not set up Google Search Console for your site, you can learn how to do so here first, before you move on.
Use the 'Inspect a URL' search box at the top of the dashboard and enter the URL whose index status you want to check. Once the data has been retrieved from the index, you will see a confirmation that the page is on Google. Or rather, you'll see a message that the page is not on Google as well. But, whatever the case, don't panic, yet.
You will also be able to clearly see any coverage issues with that specific URL below this. There's also a quick and easy way to check, without using Search Console – use the "site:" Modifier in Google Search looks like this site:example.com/url-of-the-page — it shows the page and any children of that page. Learn how to check if a website is indexed in detail.
The Key Options For Submitting Your Site URLs To SERPs
When it comes to submitting a URL to Google, you have a number of options. But first, it is important to understand that not all of these involve actually 'submitting' your site to the search engine.
Instead, you need to think of these methods as informing Google that your page (or site) exists. You can consider a guardian such as SEMrush Site Audit Tool while submitting your URLs too.
With that in mind, let's see a few options for getting your URL indexed — we'll look at new site submissions separately.
Option #1: Request Indexing With The Google Inspect URL Tool 
Usually, there's a good chance that you have just used the Inspect a URL tool to check whether or not your URL is in Google's index. Perhaps, the quickest way to get your URL in Google's index is to do so through the Search Console tool. Regardless of whether the URL is, or isn't, in Google's index. In the end, you'll see a 'REQUEST INDEXING' link at the bottom.
Go ahead and click this and your page will be added to a queue for indexing.  If there are any issues, you will be notified and be able to check the index status of the page using the same tool, as shown before. You used to be able to use Google's 'fetch as Google' tool, right? But, this was discontinued in the new version of Search Console and no longer exists.
Option #2: Submit An Updated Sitemap To Google Search Console
When you submit an updated sitemap to Search Console and include new URLs, you are informing Google that there has been a change and that these pages should be crawled.  For reference, we are talking about an XML sitemap here, not an HTML sitemap. If you are submitting for an existing site, you'd see new URLs indexed as quickly as possible.
It means you have likely already submitted a sitemap previously. But, once you have added a sitemap, you might be surprised to find that you can't actually go in and 'resubmit' in the new Search Console for more site ranking benefits.
Google Search Console Help States That:
"Google doesn't check a sitemap every time a site is crawled; a sitemap is checked only the first time that we notice it, and only when you ping us to let us know that it's changed. You should alert Google about a sitemap only when it's new or updated; do not submit or ping unchanged sitemaps multiple times"— Google Search Console Help.
The good news is that if you're using a platform such as WordPress combined with an SEO plugin, your sitemap will automatically update and ping Google when you publish a new page or post. If you are not using WordPress or another CMS where the sitemap automatically pings Google when updated. Use the 'ping' functionality to ask for this to happen.
Send An HTTP GET Request Like This:
http://www.google.com/ping?sitemap=https://example.com/sitemap.xml
Above all, as a side note, your XML sitemap should be referenced in your site's robots.txt file as well, for maximum results.
Option #3: Submit An Updated XML Sitemap To Bing
To submit your site or URL to Bing, you need to head over to Bing Webmaster Tools. Once there, you first need to add your site, if you haven't done so already. The process to submit sitemaps is quite simple and easy, even for beginners.
The good news is that you can skip verification and import straight from Google Search Console. To submit a whole website, add your site's XML sitemap, just as you did with Google. Next, head over to the main sitemaps tab: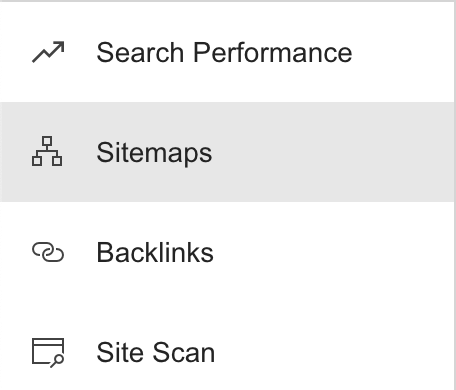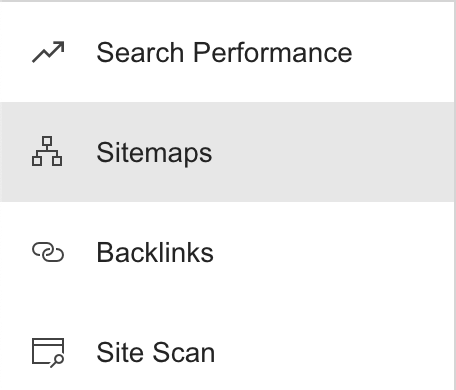 You will then see a 'Submit Sitemap' button in the top right of your screen that opens a popup. From here, you can enter the URL of your preferred sitemap as you'd like Bing bots to index it.
Unlike Google, you can click into a submitted sitemap and you will see a re-submit button in the top right of the page. If you just want to submit a URL, you can do so using Bing's URL submission tool. Something that you'll easily find and access as part of the left-hand menu. Simply enter the full URL and hit the 'Submit' button for Bing bots to index sitemaps.
If you have already followed the steps to submit your website to Bing, you have done everything that you need to do in order to submit it to Yahoo. Since 2010, Bing has powered Yahoo's search results and the method of submitting to the search engine is simply to submit to Bing. So, there is nothing else to do.
Option #4: Submit Your Sitemap To Yandex & DuckDuckGo
Yandex is the leading search engine in Russia, with a market share of over 60%. Not everyone will need to submit their site to Yandex, but if you are serving customers in Russia, it makes sense to do. Submitting your site and pages to search engines like Yandex and DuckDuckGo doesn't need to be complex or take longer as well.
In essence, you'll see your URLs indexed in no time at all. That said, the steps to submitting your URL or website to Yandex and DuckDuckGo are quite straightforward. Let's start with Yandex before we touch on DuckDuckGo toolkits, thereafter.
Consider the following simple steps:
Head to Yandex Webmaster Tools.
If you have not added and verified your site, you need to follow the steps to do that first.
To submit your site, you will see a 'Sitemap files' link on the left-hand menu. Click this and you will be taken to a page where you can add your sitemap in the same way as the other search engines.

If you want to get a new URL indexed, head over to the 'Reindex pages' tab on the left-hand menu. Hereby, you can submit up to 20 URLs per day that are the highest priority for indexing. Whilst, exchanging data from other SERPs like Google.
Forthwith, let's consider DuckDuckGo. As of May 2020, DuckDuckGo has an estimated market share of 1.35% in the US. This's still way behind Bing's 6.5%, Yahoo's 3.6%, and Google's 88%. But, an increasing number of people are using the privacy-first search engine. The good news is that you don't need to submit your URL or website to DuckDuckGo.
The search engine uses more than 400 search query sources for its results, including Bing's search results. This means, that if you have submitted it there, you don't need to do anything else. DuckDuckGo will now fetch other SERPs results.
Option #5: Consider Utilizing Backlinks (Internal & External Links)
As I mentioned before, Google doesn't actually need you to submit a URL for it to be indexed, it just needs to be informed that it exists. Therefore, it's a good time to point out here that one of the main ways Google finds new pages is through links. More so, if you add an internal link to another page on your site that Google already has in its index.
Of course, you should only add links where it makes sense to do so on topically relevant pages. But, for more information, you can learn about internal linking best practices in detail. What about linking from an external source? Well, just as Google finds new content by crawling internal links, the same goes for inbound links from external sources.
Of course, earning links from a third-party website isn't as simple or as quick as adding internal links, updating your sitemap, or inspecting the URL with Search Console. But, given that links are a top ranking factor, it's recommended that you consider the various link-building strategies that you could use to get other people to link to your new page.
Option #6: Avoid Getting De-Indexed At All Costs
We have already covered how to get your website indexed by Google and other search engines. But, it's important to quickly raise the reasons why your website could be de-indexed (you were in the search engine and now you are not). But first, you need to understand that a website being de-indexed is rare.
You certainly aren't going to see this happen frequently. If this does happen; perhaps, the most common reason why sites are de-indexed is the developer side. When they accidentally leave a 'noindex' directive in place when updating the code. This will usually either be in the form of a noindex meta tag or by returning a 'noindex' header in the HTTP request.
You can read and learn more about this here in detail for additional guides. If your site has been de-indexed because of accidentally added noindex directives, you need to remove these and resubmit your site. Also known as a manual penalty, occasionally you may find that your site has been de-indexed.
Obviously, because a member of the webspam team has taken the decision to remove your site. More so, from the search results as a result of it violating Google's webmaster guidelines. You can see whether or not your site has been affected by a manual action in Google Search Console, and learn more about the different types here.
To reiterate; it is rare that this happens unless a site has been specifically violating the webmaster guidelines. Always follow the rules, to the end.
Takeaway, 
By all means, an XML Sitemap is an effective and necessary SEO tool for very large sites. But, if you're a small to a medium-sized site with good internal linking, a sitemap XML is not needed — it's just overrated. Even before you search, Google organizes information about web pages in its Search index. The index is like a library, if I may add.
Except that it contains more info than in all the world's libraries put together. If your website isn't in Google's index, it won't be able to be found when users search. Google needs to know that your site exists to crawl it and index it.
A study by HubSpot found that, without submitting a new URL to Google through a sitemap, it took Google an average of 1,375 minutes to crawl the page (that is 23 hours). However, when submitting an updated sitemap to Google Search Console, this dropped to just 14 minutes. Never leave a SERP like Google to find new content on its own.
It can result in delays without indexing your page. But, it takes just minutes when you manually do so. On the other hand, the time taken to crawl and index a completely new domain can differ significantly. More so, depending on whether or not any external links exist, how frequently these links are crawled, etc.
Other Related Toolkits:
You don't need to manually submit your site or page to Google. As long as it's linked to from somewhere else on the web. But, doing so can speed up the process of the search engines finding your content. There is no set length of time that it takes for Google to index your website or URL. That said, what we can all be confident about is that this is a lot faster.
Finally, I hope this guide on Sitemaps was helpful to or even to your SEO Team. But, if you'll require more support or guidance on this or more related blog topics, please feel free to Consult Us and let us know how we can sort you.
By the same token, you can also share all your inputs with us. Including additional suggestions, recommendations, contributions, or questions in our comments section below. And, all in all, don't forget to share this article with others.