Google featured Snippets are a Prime Real Estate when it comes to Search Engine Results Page (Page SERP). But, at times, if you want to capture them, it's hard to know where to get started. And that's why today I am going to guide you through by providing answers to some of your FAQs.
In fact, in a recent Webmaster Hangout from Google, John Mueller confirmed that websites do need to have their SERP in (SEM) promoted. Especially, in order to increase traffic, rank higher, and increase the click-through rate (CTR) conversion. That's in addition to Search Engine Optimization (SEO) and resourceful content writing.
Eventually, this goes even beyond the common advice on SERP by Google. About how building awesome content is important. Meaning, having great SERP for a website is ever winning if paired with a well leads marketing campaign.
As an example, a random publisher confessed about the observations made on their site after two years of tedious workload. Whereby, their website started ranking on search results without having to build a single link.
But, basically, the high-end million questions is whether link building for SERP is important. Given my experience, site ranking algorithms utilize various aspects to help rank your site higher on any given search results.
What is the Search Engine Results Page?
Search Engine Results Page (in short SERPs) are the pages that Google and other search engines show in response to a user's search query. The abbreviation stands for the search engine results page. In short, a Search Engine Results Page is a page generated by a search engine in response to a user search or query.
SERPs display a list of results or sites relevant to the user's search. Paid advertisements, if relevant, may also appear in a SERP. If to explain in simple words, SERP means when you want to find some information and write the related keyword phrase and the search engine you use gives you feedback in the form of a page with the results found.
These results are those links with the details about the topic of your request. A SERP feature is any result on a Google Search Engine Results Page (SERP) that is not a traditional organic result.
The main elements of SERP are:
Direct search results, consisting of links to sites. This is the natural issuance of best search engines, where sites are struggling for the highest positions and better ranking. The search results page contains, by default, 10 links, but the number can be changed in the search settings;
Blocks with contextual advertising;
Small fields before search results. They can contain typing errors, quick response to a user request, a calculator, and so on;
Pictures are issued in response to a particular search query;
Related queries – the search query is refined. The user is offered word forms or similar requests;
Elements of management – this includes links to go to the site, prompts when entering a user request.
Since Google's appearance, the organic results of SERP haven't changed much up to the present time. However, the use of AdWords has contributed to the fact that Google started to include new SERP non-organic results.
Now you know what is SERP and it is high time to look at its major features, among which one differentiates the following four major features.
The major features of SERP include;
Results obtained with the help of keywords bidding are called Paid Results.
Definite information that one can find in the boxes is called Knowledge Graph.
Visualization appearing in addition to those that have already been found are known as Snippets.
Details, which appear together with the organic findings, are known as Universal Results.
In the early days of Google, every result on the SERP looked the same, and these traditional organic results have not changed much in appearance over the years.
By using SERP best tools, you can identify and organize featured rich snippets data and increase your CTR rate as well as your website rankings or search results.
The layout of the search results page is constantly changing with the inclusion of the Google Knowledge Graph data and the integration of SERP Features. Like videos, maps, and Google shopping ads, etc. These developments can mean that the top 3 organic rankings are no longer the 3 best positions on the SERP.
After all, this has been demonstrated in the heatmap and eye-tracking tests. Simply, because the point of a good website ranking in the search results is to gain as much traffic as possible from the organic search channel.
Specifically, meaning the higher up a page ranks in the results for a search query, the higher the chance is that the searcher will click on this result. Eventually, this explains the direct connection between high rankings and increased traffic.
Why do SERPs matter for SEO?
Most people click organic results on the first page of the SERPs and rarely visit page two. This is why everyone wants to rank on the first page of Google. If you're on page two or beyond, you're practically invisible. But ranking on the first page doesn't always equate to lots of traffic for a few reasons.
First, most of the organic clicks go to the first few positions.
Second, paid results often push the organic rankings down in the 

SERP

.
For example, Google shows four paid ads above the organic results for "buy eyeglasses online." And because of this, 39% of all clicks go to paid results.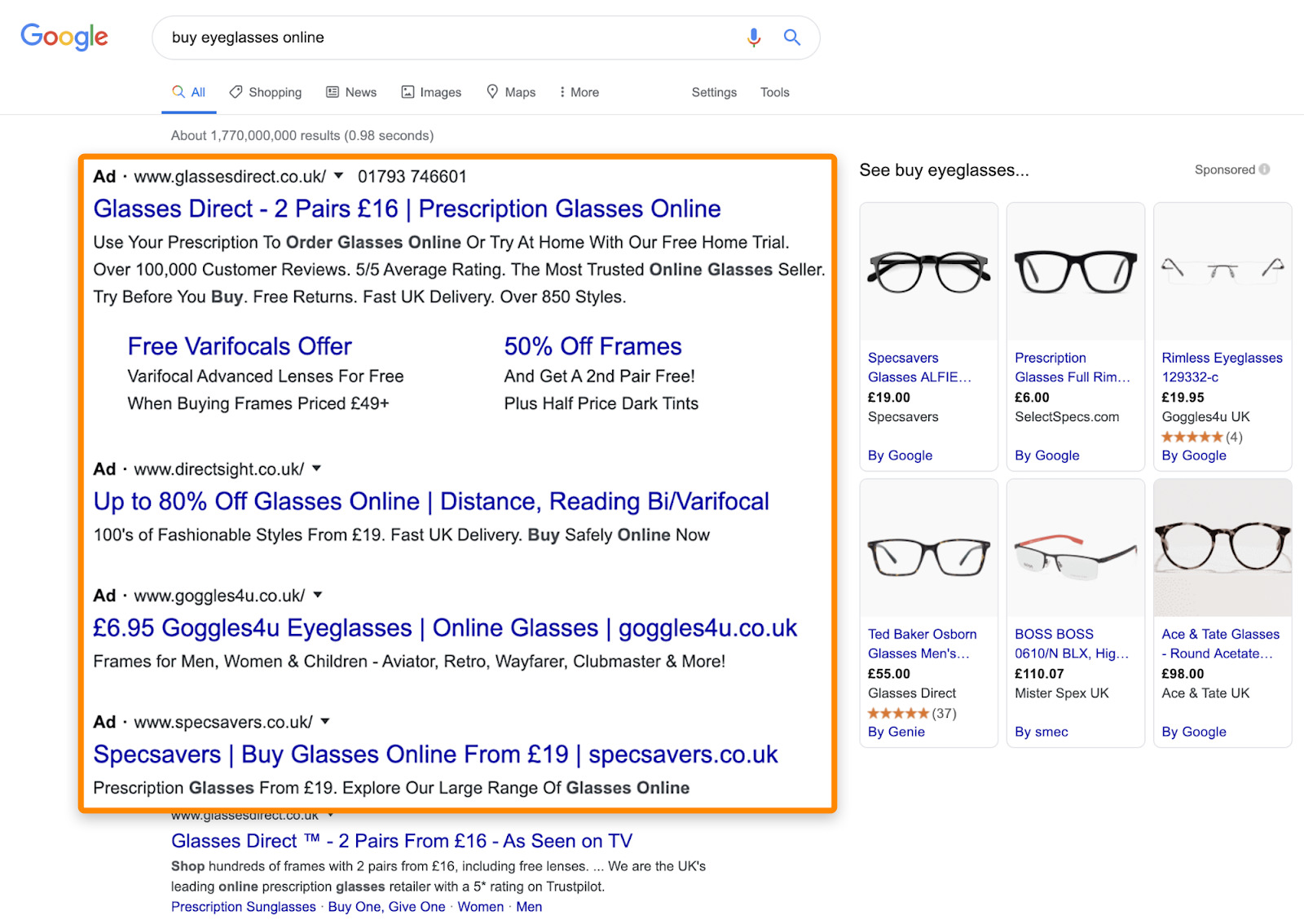 Third, Google sometimes shows SERP features that answer the query in the search results. Just take a look at the results for the "most searched thing on Google" on Google Trends.
Because Google answers the question in the SERP, there's no need for searchers to click on a result.
How do I Get in the SERPs?
SERPs may look different for each query, but they're all made up of the same three building blocks. These are:
Paid ads
Organic results

SERP

 features
Below, we'll walk through each of these in detail, and explain how you can show up there.
Paid ads
Paid search results appear before, and sometimes also after the organic results. Both types of results are virtually indistinguishable, the only real difference being that paid ads are marked as such.
Get Started:— Advertise your Brand, Business, or even Product details through the jmexclusives blog to reach more target users. From as low as $75 for Banner Ads, $35 for Permanent Posts, and $15 for DF Backlinks. Not forgetting, you can also contribute to our guest posting program for free. Send your request.
Our Regards:— First, thanks a bunch for taking your unique time to visit our website today. Secondly, we hope that you've enjoyed reading our web content herein. You can let us know if it was helpful enough and if there's something we can better on. But, if you loved our work, you can donate or even subscribe to new blogs.