In this guide, you are going to learn about some of the topmost best and mostly free content design tools that you can utilize in your next graphics design projects. Not forgetting, that creating high-quality content is essential for any business, and one of the best ways to do it is to use great content design tools to offer you the best visually-appealing results.
Basically, by using some of the most powerful and free content design tools that we'll list herein, you will be able to create content that is not only engaging and optimized for search engine visibility but also tailored to your target audience. Discover a list of the best content design tools to help you create high-quality content without spending a penny.
Many businesses struggle to create content that stands out and captures the attention of their target audience. With the right tools, though, it does not have to be a struggle. Furthermore, you do not have to spend a fortune to create good designs because many of these tools are free. Let's take a look at the best free content design tools you will enjoy using.
The Topmost Best Free Content Design Tools For Webmasters 
Technically, having endless and limitless Free Web Tools in terms of content design and development can be very useful resource utilities and platforms (apps hardware or systems software) that allow web-based content designers and graphic developers to test and debug their code. But, these tools are different from website builders and integrated dev environments.
Precisely, in that, they do not assist in the direct creation of a webpage. Rather, they are tools used for testing the user interface of a website or web app. As well as content curation, discovery, scheduling, publishing, analytics, and more so that you enhance your effectiveness. Most may contain one or more tools that use input data entered in a client application.
They'll then process the data, and afterward return output in the form of features, maps, reports, or files. Let's consider a tool like Pixelied here. Out of the box, Pixelied is more than just a free image color changer tool that every webmaster must have in their inventory. It's an all-in-one online image editor that helps non-designers and digital professionals.
At all costs, Pixelied enables them to produce unique creations from scratch or even use intuitive templates for free. Now, in this rapidly changing era, digital content is increasingly competing with video and audio to attract Internet users. How do you create and maintain high-quality content? That's where Pixelied plus other free content design tools below come in handy.
Canva is a powerful graphic design tool that makes it easy to create beautiful visuals in minutes. From simple logos to complex infographics, Canva provides users with a vast library of templates and images to choose from. It also comes with a drag-and-drop editor, so you can customize your graphics with ease.
Canva offers integration with other popular apps, such as Dropbox and Google Drive so you can sync your work across multiple devices. It also enables users to collaborate with peers in real-time by sharing designs and commenting on them, which makes it ideal for teams working together on a project simultaneously.
Venngage is a great tool for creating visuals quickly. It has a library of thousands of professionally designed templates and an extensive selection of charts, diagrams, maps, icons, and other graphic elements.
As well as other key features and options that can be used to customize your visuals even further. The best part is that Venngage offers a wide variety of plans, including several free ones, so you can find one that fits your budget perfectly.
Pixlr also known as Pixlr Express (Pixlr E) is a great free content design tool that you can use to create everything from flyers to website templates. It is easy to use and comes with tons of features, such as the ability to add text, images, and maps. You can also easily edit colors and effects, making it perfect for creating professional-looking content.
It's also, important to realize, that in order to ensure your written messages are flawless and properly structured, you can visit writing services review websites like Top Writing Reviews to find a specialist that can greatly help you.

Visme is a powerful data visualization tool that helps businesses tell compelling stories with their data in the form of stunning infographics, presentations, reports, animations, banners, etc. What sets Visme apart from other data visualization tools is its ability to import data from various sources, like Google Sheets or Microsoft Excel files, so users can visualize their data quickly without having to input information into the system themselves.
GIMP (GNU Image Manipulation Program) is an open-source image editor that is suitable for both beginner and advanced users. It has a wide range of features, including layers, filters, brushes, selection tools, color correction tools, and more. GIMP also provides users with access to its large community forum, where they can ask questions and share tips about the program.
Inkscape is an open-source vector graphics editing tool used by professionals around the world for creating logos, illustrations, diagrams, charts, web graphics, typography elements, and more. It has advanced features such as gradients, path manipulation capabilities, and more, which make it ideal for creating detailed vector artwork or logos quickly and easily. It supports SVG file format so you can export your artwork in any desired resolution or size without losing quality or detail.
Stencil is a powerful creative tool that is perfect for content designers. It allows you to easily create custom designs and layouts using a drag-and-drop interface. It is also really easy to use, so you can start creating professional-looking pages in no time.
One of the best things about Stencil is that anyone can start using it right away. It is compatible with both Google Chrome and Firefox, making it a great choice for any web designer or content creator out there.
Adobe Express (Formerly Adobe Spark) is a free online application that lets you create and edit PDFs, Word documents, gift certificate templates, images, and other types of files. It has a wide range of features, including tools for editing text, tables, charts, and logos. You can also use it to create e-books and web pages.
The best thing about Adobe Express is that it's quite fast and easy to use. Whilst, making it a perfect fit for small businesses or personal projects that do not require extensive editing capabilities. To ensure that your written content is of the highest quality, look for a writing assistant on writing service reviews websites like Rated by Students so to add.
Gravit Designer is a full-featured, free vector design app right at your fingertips. Whether you're working on graphics for marketing materials, websites, icons, UI design, or presentations or just like to create cool concept art, Gravit Designer will revolutionize how you work.
On that note, we can simply say that this is an excellent program for anyone who wants to make professional-looking designs without spending a dime. It has all the features you expect from a program like hundreds of stock images included in its library along with a range of shapes and effects.
Snappa is another great free tool for creating eye-catching graphics quickly and easily on any platform. Its user-friendly dashboard allows users to drag-and-drop elements into their designs with ease while also providing hundreds of professionally designed templates, so users can get started right away without having to spend hours designing their graphics from scratch. Snappa also offers a paid plan with additional features.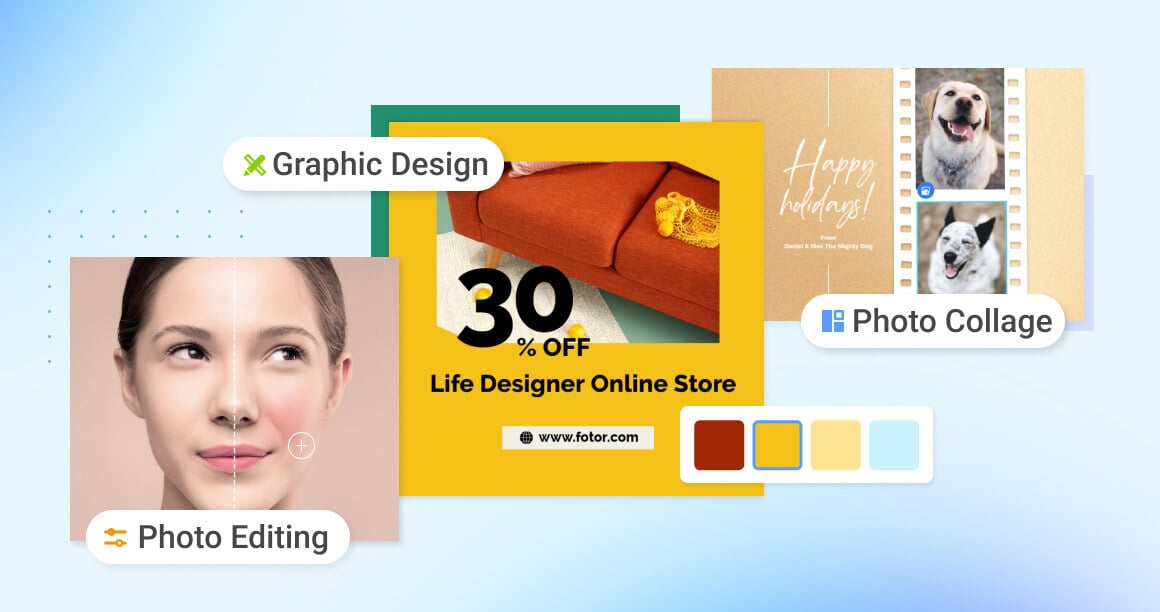 Fotor is an online photo editing platform — its software collections are available on every major mobile device, desktop computer, and online. Fotor One-Tap Enhance is a tool designed to improve the most common imaging problems.
More so, in the shortest period of time is just one of the many unique features. Generally speaking, Fotor is a great tool for content creators of all levels. It is easy to use and has plenty of features to make your work easier. Some of the things that it can do include creating blog posts, stories, and articles, designing flyers, ads, and other marketing materials.
You can also use this tool for creating illustrations and graphics for your website or blog, as well as custom eBooks and courses. The best thing; it's a free photo editor for you that allows you to freely play around with its basic image editing tools and some special tools like AI photo effects, HDR, and RGB which are unique when compared with our competitors.
Creately is a Visual Content Software that provides a web-based drawing platform with tools that allow teams to effectively and quickly communicate so projects can easily and quickly be carried out with agility. The tool is available on desktop or mobile. While letting teams respond to ideas anywhere without getting bogged down in the mire of long email chains.
BeFunky is a user-friendly content design platform that makes creating and publishing quality content easy. It has a wide range of features, including templates, drag-and-drop editors, compatibility with various devices and formats, and more.
Overall, BeFunky is a great tool for anyone looking to create professional-quality content without breaking the bank. It is also simple to use and can be used by anyone, from beginners to experts. If you often doubt the quality of your design's written messages, visit writing services like Trust My Paper to get the needed assistance.
Equally important, as you continue on your web mastery journey (just like our very own Web Tech Experts just to be precise) you'll realize how important an online HTML editor tool can be. But why? Simply because the code produced by the default CMS editors like WordPress can quite often be poor.
Meaning, a simple sequence of edits in the WYSIWYG editor can cause all kinds of syntax errors. But, luckily these are not always visible in most modern web browsers like Google, Yandex, Bing, and the like. Even with the introduction of the WordPress Gutenberg Editor, it is still quite restrictive. For such reason, that's where an online HTML editor comes in.
To enumerate, an online HTML editor is basically one of the topmost and best real-time HTML editor software kits with dynamic instant live visual preview and inline WYSIWYG (What You See Is What You Get) editor using CKEditor and markup clean-up feature. It includes an HTML viewer, editor, compressor, beautifier, and an easy format.
#15. Tools To Remove Background + Convert + Reduce Image Size 
Last but not least, the other set of tools to consider is the www.remove.bg (to remove image background) and www.reduceimages.com (to reduce image size) web-based applications. On one hand, remove backgrounds 100% automatically in 5 seconds with one click. All thanks to its clever AI, you can slash editing time — and have more fun!
No matter if you want to make a background transparent (PNG) or add a white background to a photo — you can do all this and more with the remove.bg tool help. On the other side, the best PDF to JPG converter online (item 4) allows converting PDF to high-quality JPEG in exact DPI( 6 to 2400 ) or dimensions. Furthermore, the pdftoimage.com tool is also free!
No need to register or download any software. On the other side, ICO Convert is yet another great free icon maker and favicon generator. Not forgetting, with it you can make icons from PNG or JPG images. You'll just need to upload a photo of yourself, resize/crop it, convert it to a shape you like, add borders /shadows, and save it as a PNG/Windows icon.
Next, the other one to consider is the reduce images tool that's also an online tool. Eventually, by resizing your images using it, you'll get a versatile image with great quality, that you can send to anyone without taking too much time. Reduce Images —  that's an online tool as well — allows you to apply both compression and size reduction online to any image.
Conclusion:
Of course, yes, creating engaging content does not have to be difficult or expensive, especially, when you use some of these free online web tools, to begin with. With them at your disposal, your business will be able to create visually appealing visuals faster than ever before while still maintaining the quality necessary for success in today's digital world.
In general, we can simply say that content creation is the ultimate inbound marketing practice. When you create content, you're providing free and useful information to your audience, attracting potential customers to your website, and retaining existing customers through quality engagement. Use the dedicated Unsplash web platform to get stock photos.
Whether you are new to content creation or an experienced pro looking for better ways to streamline your workflow, the free content design tools herein will become valuable assets for you. So, which is your best and most preferable pick from our list of free content design tools herein? Is there any other toolkit that you would like us to add to this list of ours?
Kindly let us know your additional thoughts, user-based opinions, some more suggestions, thoughtful contribution inputs, and a few more recommendations, or even ask us some related/similar questions (for FAQ Answers) in our comments section down below. And now, until the next one, thanks for taking the time to be here with us today and for reading this guide.