In this article, we'll discuss what Traffic Multiplex Ads — a new ads format by Google — is all about. Multiplex ad is a brand-safe type of native ad format that serves multiple ads within an ad slot. This format is highly customizable — you can change the layout and style to fit your website. The best thing about Auto ads is the optimization of existing ad units.
Currently, Google offers support for all devices — including desktops, mobile gadgets, tablets, etc. Basically, the auto ads settings let you customize the Auto ads experience on your site. You can use these settings to control which Auto ads appear, how many Auto ads you show, etc. What if you see an Auto ad in an area that doesn't work for your site?
Well, in that case, you can use the ad settings preview to remove the ad from that area as such. Please make sure to visit your AdSense Page where you can find personalized information about your account to help you succeed with AdSense. Now that Google has recently launched the beta version of Traffic Multiplex Ads, there are many other formats it has.
The other main Google Ad Formats include:
Auto Ads: Google will automatically show ads across your site in all the best places for you
In-page Ads: Ads that appear within the main body of the content on your pages
Anchor Ads: Ads that stick to the edge of the user's screen and are easily dismissible
Widescreen Anchor Ads: Ads that appear on screens wider than 1000px, like desktop
Vignette Ads: Full-screen ads that appear between page loads
Widescreen Vignette Ads: Ads that appear on screens wider than 1000px, like desktop
With the ad load feature, you can easily control the number of ads you show on your pages. Google does offer different levels of ad load. So that you can choose the one that best suits your requirements. The ad load you choose determines the number of in-page Auto ads that Google places on your pages.
For example, if you're looking to earn as much as possible from Auto ads you might move the slider to the top. If the user experience is a higher priority for you, you might move the slider lower. Moreover, when you change the settings for ad load alike, the ads settings preview is updated accordingly. Just check the Auto ads counter in the URL bar.
Particularly, to see how many Auto ads now appear on your page. Forthwith, the next item is the page exclusions feature. This is where you add exclusion pages for the auto ads not to be shown on these pages and URLs.
What Are Traffic Multiplex Ads?
Traffic Multiplex Ads are a type of native ad format, much like content recommendation ads. Publishers can leverage them to serve ads that blend seamlessly with the content on their website. While we did draw a parallel between Multiplex ads and content recommendation ads in the introduction, they are not quite the same.
Content recommendation ads generally get space below the content space. But, with Google's Multiplex Ads, publishers can experiment with sponsored content ads without worrying about the user experience. According to Google, these ads ensure brand safety and enable publishers to "serve content recommendation ads through Ad Manager."
"You can traffic groupings of Open Auction ads on websites. These Multiplex ads offer readers more content that's relevant to them, potentially increasing your page views, the time spent on your website, reader loyalty, impressions, and ultimately ad revenue." — the Google Ad Manager team.
You can easily manage your webpages exclusion via your AdSense account. That aside, let's try to learn more about the very new ads unit — Traffic Multiplex Ads — that has been introduced into the Google AdSense dashboard.
Traffic Multiplex Ads are grid-based ad unit that shows content recommendation-style native ads. Perse, according to AdPushup, platforms like Taboola, Revcontent, and Outbrain have gained significant traction in the ad tech industry in recent years too. A valid reason for that is these platforms offer innovative ad solutions to publishers.
The Main Ads Layout Implementation Recommendations
For publishers, the main benefits include multiple ad placement options, supreme ad quality, and proper integration with Google. Content recommendation ads allow publishers to monetize their inventory in a different way than regular display ads. However, despite the popularity of various content recommendation platforms, there's one worry.
Whereby, a lot of publishers may be skeptical about working with them due to ad quality issues. Thankfully, content publishers can now rest easy for they have the option of leveraging Google's Traffic Multiplex Ads. Publishers can either 'Let Google optimize layout' or choose layouts according to their preferences.
Google recommends that publishers use the 'Let Google optimize layout' option when they are targeting multiple placements within a single style. Totally, Google Ad Manager holds independent auctions for each cell in the Multiplex ads. Publishers can set targeted CPM or floor price in the UPR or First look pricing rule for the ad unit(s).
Once done, Advertisers will need to bid for the set prices and win the auction to be eligible to serve ads. You may not be familiar with the most effective Multiplex Ads format type if you're new to header bidding or the programmatic advertising world. And, while Google also recommends choosing the same option in all cases, it does have different layout options.
Consider the following:
Multi-column (landscape image) for desktops layouts
Single column (square image) for rail or mobile placements
Single column (landscape image) for rail or mobile placements
Since these ads are offered by Google, publishers can be sure of the fact that no low-quality ad will be served on their websites, thanks to strict Google policies to maintain ad quality. These ad layouts blend in with the content of the website, on top of which, these ads appear at the bottom of the page, thereby retaining a good user experience.
Be that as it may, you can choose to Let Google Optimize the layout for you or select your own layout as shown below:
Ads Layout Format Options
When To Use Your Ad Units
See Sample Ads In Blue
Let Google Optimize The Layout 

Recommended in all cases, unless you must have a specific number of rows and columns.

Must be used when targeting multiple placements within a single style.

NA
Multi-Column (Landscape Image)
For desktop layouts only
Single Column (Square Image)
For mobile or rail placements only
Single Column (Landscape Image)
For mobile or rail placements only
Ultimately, leveraging a new ad format is always a good way to tackle banner blindness, which is exactly what Multiplex ads will do for publishers' inventory. Because these ads are offered by Google, no restrictive contracts are involved. Google has the largest pool of ad buyers, so publishers don't need to worry about the blank impressions problem.
How To Get Traffic Multiplex Ads For Your Website
As mentioned, Google Multiplex Ads are a type of native ad format that serve multiple ads in a grid within an ad unit. This format is customizable — you can change the style to fit your site. And, it's kind of they are slowly replacing the AdSense ad units initially known as the matched content. They have almost the same display formats.
Publishers often place Multiplex ad units at the end of articles or in sidebars. This is because they can help to effectively monetize the end of a user's journey on a page or site. Multiplex ad units provide a way for you to show ads to users who have finished consuming your content. The following images show what Multiplex ads look like on desktop and mobile.
Example 1: Google AdSense Desktop Multiplex Ads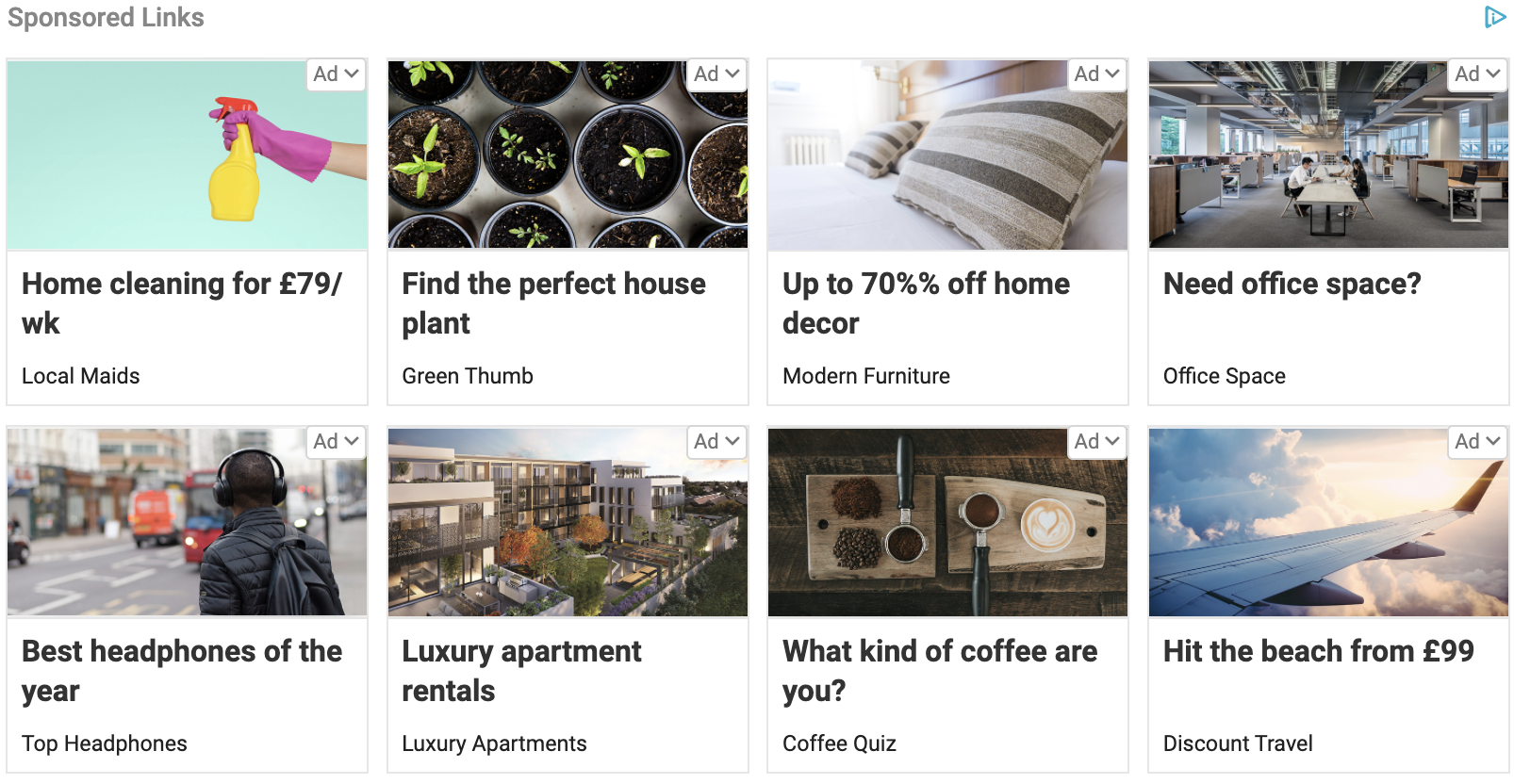 Example 2: Google AdSense Mobile Multiplex Ads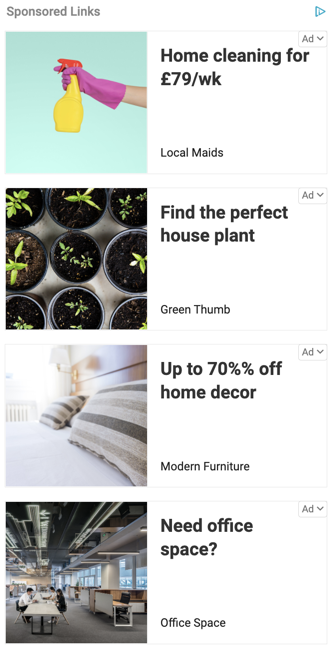 Pro Tip: When you create a Multiplex ad unit, you can use the ad preview to view different size and style options.
All in all, Google Multiplex Ads are currently running in Beta. Meaning, that these traffic Multiplex ads are currently only available as part of the invite-only beta. So to speak, we do not yet know when they will be in general availability. Generally, for this reason, this Beta version gives publishers two options to consider implementing ads on their sites.
The two options are as follows:
Publishers with their own direct Ad Exchange account can ask for Beta tools from the Google manager dashboard
Those with no Ad Exchange account can work with a Google Certified Publishing Partner that has Beta tools access
Note, that not all GCPPs will have access to Multiplex Ads. Luckily, OKO is one of our partners with early access to the Beta Prototype version. And, therefore, they can work with both new and existing publishers to implement Multiplex. Now that not many GCPP partners can offer Multiplex ads as the ad format is exclusively available in Beta.
Ad Exchange Partners Enjoy:
no more banner blindness
significantly large access to more advertisers
high visibility & improved chances of conversions
programmatic direct and open bidding demand ads
assurance that their multiplex ad units will have high ad quality
smooth site implementation of ready new native ads set up tags
better brand safety abiding by strict Google content policies
the ad fill rate with multiplex ads is always high
there are no restrictive contracts
the most reliable payments
On the same note, these ad types allow publishers to get access to one of the biggest pools of media buyers. And, as a result, the best quality content recommendation ads are served to your site for maximum ad revenue returns. What are you waiting for? Become a Google AdSense monetization partner if you just sign up for free today.
Steps To Get Started With Traffic Multiplex Ads For Publishers
At the end of the day, these ads are fairly new and can be subject to some drawbacks. And, because of the novelty of these ads, it's hard to say at the moment what those drawbacks exactly will be. For starters, if you are already working with a content recommendation platform, your contract may restrict you from leveraging Multiplex ads.
At this point, we can only advise publishers to ensure that they won't be breaching any agreements by using these ads. And, of course, make sure that they follow the best practices listed herein for proper implementation of these ads. We stated right at the beginning that currently, only the beta version of Multiplex ads is available.
In nutshell, this's an invite-only solution as of now, which means that publishers cannot run these ads on their own. What they can do instead is work with a Google Certified Publishing Partner (GCPP) who has access to the beta (like AdPushup). Other than this, publishers who have an Ad Exchange account can contact their Google account manager too.
More so, in order to see if they can be a part of the beta testing of Multiplex ads. Besides, Google, MonetizeMore is yet another great platform offering these new ad formats. That aside, once you get access to run Multiplex ads on your website, the process to set them up is similar to setting up native ads in the Google Ads Manager (GAM) for your account.
Follow these simple steps:
Sign in to your GAM account.
Click on Delivery > Native > New Native Ad > and select Multiplex Ad.
Now you can go for the 'Let Google Optimize Layout' option.
Or rather, choose a layout option on your own (as mentioned above).
If you want to customize the layout options, deactivate the 'Let Google Optimize Layout' option.
And then, select the layout and number of columns and rows you want for your ads.
You can further customize the fonts and colors in this case as well.
The customization ensures that Multiplex ads are matching with the rest of your website.
Click on Continue to move to target your Multiplex ads.
The targeting here should match the line item's targeting, otherwise, you won't be able to serve Multiplex ads.
You can then go for further targeting on the basis of device category, geography, and custom targeting.
Lastly, click on the 'Save' and 'Activate' buttons simultaneously.
That's it! You are good to go. For one thing, your website is ready for displaying Multiplex ads. In that case, to create a new Multiplex ad unit, you can see the following summary notes.
Consider these steps:
Click Ads under Overview.
Click By ad unit.
Select Multiplex ads.
Give your Multiplex ad unit a name.
In the "Ad size" section, choose an ad size that fits your layout.
Click Create.
Copy and paste the ad code into the HTML source code of the pages on your site.
Some key notes to know about:
We recommend using a responsive layout
A responsive layout is different based on the width of the container and the screen size

(e.g., on a mobile, desktop, tablet, etc.)

Use the preview to see how your Multiplex ad unit changes across different sizes
When using a custom size, we recommend choosing an ad size that's responsive

with a width: height ratio of around 2:1 for a horizontal layout, or 1:2 for a vertical layout.

Thus, we don't recommend that you use traditional banner ad sizes like the 728×90 for Multiplex ads.

neither the height nor the width of your custom size can exceed 1200 pixels
only one dimension can be greater than 600 pixels
After you've customized your Multiplex ad unit, it's possible that it might not appear exactly as you expected. Below are some common issues with traffic Multiplex ads unit layouts and some solutions on how to easily fix them:
Number #1: Your Multiplex ad unit is blank or it's text-only
There are two reasons why this might happen. One, the total number of ads in your Multiplex ad unit is either less than 1 or more than 30. You should change the number of rows and/or columns in your Multiplex ad unit so that the total number of ads is within the limit. Two, your traffic Multiplex ads unit is too wide for the number of ads you've set.
In this case, you should try reducing the width of your Multiplex ad unit. If your ads are text-only, you might see this if your traffic Multiplex ads unit is too narrow for the number of ads you've set. In this case, you should try increasing the width of your units.
Number #2: Your Multiplex ad unit has fewer ads than you expected
This can happen when there's not enough space to show the exact number of ads that you specified. For example, if you've set a large number of ads and your Multiplex ad unit is either too narrow or it's being viewed on a small screen.
When this happens, we adjust the number of rows and/or columns to best fit the available space. You could consider changing the width of your Multiplex ad unit or setting different numbers of rows and columns for mobile vs. desktop.
The Best Practices For Google AdSense Web Content Masters
Multiplex Ads comes in the 'native ad format' category and are an ad stack that features multiple ads offering content falling in the niche of the website's user's interests, like content recommendation ads. A multiplex ad blends seamlessly with your website's current content, increasing CTRs and ensuring a great user experience.
Ad Manager holds independent auctions for each cell within a Multiplex grid. To be eligible, each candidate for the cell auction must meet the floor price or target CPM set in the unified or First Look pricing rules for the ad unit(s). This format lets the Publishers customize the layout and style of their ads according to the look and feel of their website/app.
Overall, your readers get additional content that may be useful to them among other factors. And in your case, this results in increased page views, lower bounce rates, more ad impressions, ad revenue growth, etc. According to Google Ad Manager Help, the Traffic Multiplex Ads format is a brand-safe type of native ad format.
The main reason for this is simply because it serves multiple ads within an ad slot. Not to mention, this ad format type is also very highly customizable — you can change the layout and style to fit your website. That said, below are other best practices to consider before starting to utilize these ad formats on your content.
1. Consider Your Lead User Intent
When placing ads, it is important to consider user intent, but this becomes even more crucial when dealing with multiplex ads. Publishers need to understand their target audience in order to ensure those multiplex ads serve them a relevant and high-quality ad experience.
This is something that goes for advertising in general. But, it's worth stipulating again that you have to ensure that user intent is at the center of your ad monetization strategy. At the present time, relevant ads are highly significant in the ad tech industry. So, make sure that your ads have relevant content for the different types of users that visit your site.
2. Understand Your Key Target Audience
While this point may seem similar to the previous point, we advise that you consider this as more of an extension of the latter. How will you get to creating an ad monetization strategy that puts the user at the center? By ensuring that you know your audience well as well as all forms of other native advertising methods.
For instance, you need some key knowledge on which traffic Multiplex ads work best when you show your visitor targeted ads. Multiplex ads are easily served through MonetizeMore's cutting-edge ad technology. Whilst, leading to boosted ad impressions and RPMs. Few of our publishers even saw 30% higher CPMs compared to other native ad formats.
3. Use Best Criterias For Ads Targeting 
Technically, you can set the targeting criteria for the Multiplex ads accordingly. However, the targeting criteria should match the line item's targeting. Stay up-to-date with new products, best practices, and expert advice through our daily blog posts by subscribing to our free newsletters below this article.
In addition, it's important to realize, that these Traffic Multiplex Ads also need an Ad Exchange Line Item with a 'Native programmatic' size to serve. So, it's required to add the Multiplex ad unit to the targeting of an Ad Exchange line item with 'Native programmatic' as an expected creative.
4. Start Doing A/B Testing For Your Ads
Again, as it goes to other ad formats, it is important to do A/B testing for these Traffic Multiplex Ad formats. As a publisher, you will have to see if your new ad placement is working out or not.
Or if a different ad layout will work better than the one that you have implemented. Revenue optimization depends heavily on A/B testing, so naturally, you have to do the same while implementing Multiplex ads as well. You can also Register for Publishers on Air to learn more about great things as they happen.
If you have specific requirements for your responsive Multiplex ad units, you can learn more about how to customize the ad units in detail. For example, the way they look by adding parameters to your ad code. These parameters allow you to change the layout of your Multiplex ad units. Or specify how you'd like to arrange the ads within rows and columns.
5. Start Optimizating Your Ad Units Layout 
Last but not least, in order to optimize your ad layout, select the 'Let Google optimize layout' option in Google Ad Manager or pick your own layout. Eventually, you must test these layouts to select multiplex ad formats that sync well with your website. But, despite the ad quality and ad format type, publishers need to split test all their ad placements.
With MonetizeMore, publishers get access to their very own PubGuru Reporting Dashboard Software and vital digital advertising metrics. After that, they conduct split testing for ongoing optimizations. With these metrics from PubGuru, you can continually improve your programmatic advertising knowledge to serve the most relevant ads to your user base.
You can also use the ad units customization parameters to set different settings for mobile vs. desktop. For example, if you give the layout parameter a single value your Multiplex ad unit will have the same layout on mobile and desktop. Whereas if you give the layout parameter two values, then your Multiplex ad unit will have different layout values on both.
6. Troubleshoot And Fix Ads Error Issues
You can use the console in your browser to check that you've correctly modified your Multiplex ad code. For example, the console can tell you if your ad code is missing a required parameter or if a parameter contains an invalid value. If you're using Chrome, you can follow a few steps in the DevTools Console to test your ad code.
Follow these simple steps to fix error issues:
Visit the page with your traffic Multiplex ads units.
Press Ctrl+Shift+J (Windows / Linux) or Cmd+Opt+J (Mac).
Forthwith, check the 'Console' panel bar for any error messages.
Finally, you can also try to specify the number of rows and columns in your Multiplex ad unit as well. Keeping in mind, that the ads inside the traffic Multiplex ads unit are arranged in a grid. Thus, you can specify how many rows and columns you want to show within that grid. For example, you could set your Multiplex ad unit to be a 2×2 square, a 4×1 column, etc.
You set the number of rows with the data-matched-content-rows-num parameter and the number of columns with the data-matched-content-columns-num parameter. You must set both the parameters and the data-matched-content-ui-type together. Perse, you can refer to this article for more guides on how to customize your ad units.
How To Measure Your Ads Performance
Note that ad unit customization parameters and options are only available for responsive Multiplex ad units. And that all parameters are required for customizations to work. After you've modified your ad code, make sure you test your Multiplex ad units on different devices and screens. Why? To make sure that they're working correctly.
Markedly, the next step now is for you to know whether you are doing it right or not. Or rather, to know whether your implementation strategy is a success or not. On one side, for content publishing creatives, there's even more. Whereby, you can easily measure your results using the reports dashboard in your Google AdSense account.
To your ads track revenue:
Visit the 'Reports' page in your Google AdSense account.
Create an "Ad units " report, and add the "Requested format" breakdown.
On the other side, Google Ads (formerly AdWords) Publishers can also measure the performance of Multiplex ads from the Query tool in the Google Ad Manager. Suffice to say, there are just a few simple steps that you'll need to achieve this.
In the Ad Manager reporting:
First, under the "Historical" bar, type reporting,

the dimension "Multiplex Style Name" shows reports by Multiplex style
it also determines how ad grids look for segments of ad inventories.

Secondly, in the Metrics section, select 'Total Multiplex Cell Impressions'

it shows the number of times Multiplex ads begin to load
also, it counts an impression for each ad in the grid for a user
For example, when a grid of four ads begins to load on three separate occasions, Google will count it as 12 impressions.
The Main

Notable Downsides So Far
So far, we can simply say that Multiplex is a very new format and is still in limited beta release. As such, it's difficult to do a broad comparison across many publishers yet. Particularly, in terms of performance, where data information is quite limited. Currently, all traffic Multiplex ads use the fluid size. Hopefully, for now, it'll remain as simple as that.
Furthermore, you can always come back to see if there are any more updates on the same in the future. Depending on which content-recommendation provider you are currently working with, we would also expect objections if you are tied into a contract with them and introduced Multiplex Ads. They are just a new format for the familiar Google Ads.
Our advice would be to check agreements carefully and note that Multiplex is not content-recommendations. In reality, all Content Publishers looking to get their hands on the traffic multiplex ad format on their website need to partner with an experienced Google Certified Publishing Partner (GCPP) like MonetizeMore or even ourselves (jmexclusives) as well.
Takeaway Notes:
Realistically, our team of Web Tech Experts thinks that these ad formats are replacing both the link ads format and the matched content ad formats that Google is also currently thinking of retiring. Whatever the reason, basically, the new Google Multiplex Ads can be a great addition to your inventory and can fetch you higher ad revenue.
If you are not yet working with a Google Certified Publishing Partner (GCPP), make sure to book a demo with us soon, and we'll walk you through everything related to Multiplex ads and much more. It is highly recommended to consider all the advantages and disadvantages of Multiplex ads before you implement them.
Then again, make sure you follow the best practices herein. More so, if you want to start making the most out of these ads. Planning to get started with multiplex ads? Our 200+ AdOps Professionals are ready to help you set up multiplex ads once and for all. So, if you'll need more help, you can always Consult Us and let us know how we can sort you.
Other Related Blog Posts:
Bear in mind, that you can also share your user experience with us while utilizing them in your AdSense account. Likewise, feel free to share your additional thoughts, suggestions, contributions, or even questions in our comments section. Not forgetting you can also donate in order to support what we do or even in order to motivate our content writers.