The reason we want to review Collaborator Pro in this guide is that it's something we have tested ourselves and it's working. And, for one thing, since it's a great website monetization application — through guest posts — the steps to join are quite simple and easy. To get started, just follow this link to get redirected to their official website application platform.
Then, thereafter, the next thing is to start to attract publishers and your account will receive funds for each website added to the system. Not forgetting, it's also good that you join the affiliate program for free — so as to attract advertisers and get 25% from the Collaborator's commission every time your referrals replenish the account (we'll learn more later).
By all means, in a post-communal COVID-19 Pandemic world, shared workspaces are becoming increasingly virtual. Whereby, a majority of companies (such as www.collaborator.pro in this case) are all investing more time into finding digital tools that bring out the benefits of collaboration in business. But, the modern workplace is a bit of a paradox.
Suffice it to say, that it's more dispersed than ever, yet it's also more connected than ever before too — more people are choosing to work remotely in comparison to the past years. At the same time, employees have access to tools that let them connect with colleagues regardless of time and location. As such, this has brought forth Collaborator Pro and the like.
Why Collaboration Matters For New-Age Businesses 
To begin with, according to beekeeper.io, effective collaboration can have an overwhelmingly positive impact on employee engagement, well-being, and productivity. In other words, collaboration in business is the practice of working together towards a common goal or purpose. Generally speaking, collaboration can happen on a micro and macro level.
There are quick, real-time exchanges in meetings and instant messaging. There's also the collaboration that happens over longer periods of time using tools such as Collaborator Pro, enterprise collaboration software, and the like. But the connection doesn't necessarily lead to collaboration. Creating a collaborative work environment requires planning.
In the end, all the business benefits to enjoy are well worth the effort. A certain Stanford Study found that people who were in a collaborative mindset were 64% more likely to stick to a task than those working alone. They also reported feeling less tired and more engaged in what they were doing. That's the power of collaboration tools that we are seeing today.
They allow us to simply feel like we're in a collaborative environment and this, in return, motivates us to do better work. The term "healthy competition" has its time and place, but creating a competitive rather than collaborative work environment can be detrimental to project success. See the top 5 benefits of collaboration in business in full detail.
Why You Should Choose Collaborator Pro Application Tools
As we aforementioned, collaboration in business is the practice of working together towards a common goal or purpose. Effective collaboration can have an overwhelmingly positive impact on employee engagement, well-being, and productivity. However, choosing team collaboration software can be overwhelming — that's where Collaborator Pro kicks in.
At all costs, it offers you as an individual, or as a business person a collaborative culture, the right tools, clearly defined goals, and much more… By definition, Collaborator Pro is a web-based platform for publishers and advertisers that offers you a way to sign up, add your website to the catalog, submit or accept an order from the advertiser, etc.
And then, thereafter, place a guest post on your website, and get money for a job done. Collaborator Pro is a go for you if you are looking for a Website Marketing platform to make an extra income online. Notably, there are so many essential elements of a collaborative business that Collaborator Pro does offer — they include the following:
Collaborator Pro Website Marketing Tools For Advertisers
Basically, Collaborator Pro offers web-based advertisers a unique inventory for content marketing. Whereby, you'll get quick and easy access to limitless platforms with a live audience, detailed analytics, and examples of published posts. Find a full list of sites — 13529+ quality blogs — that accept guest posts. Plus PR posts on high-quality sites.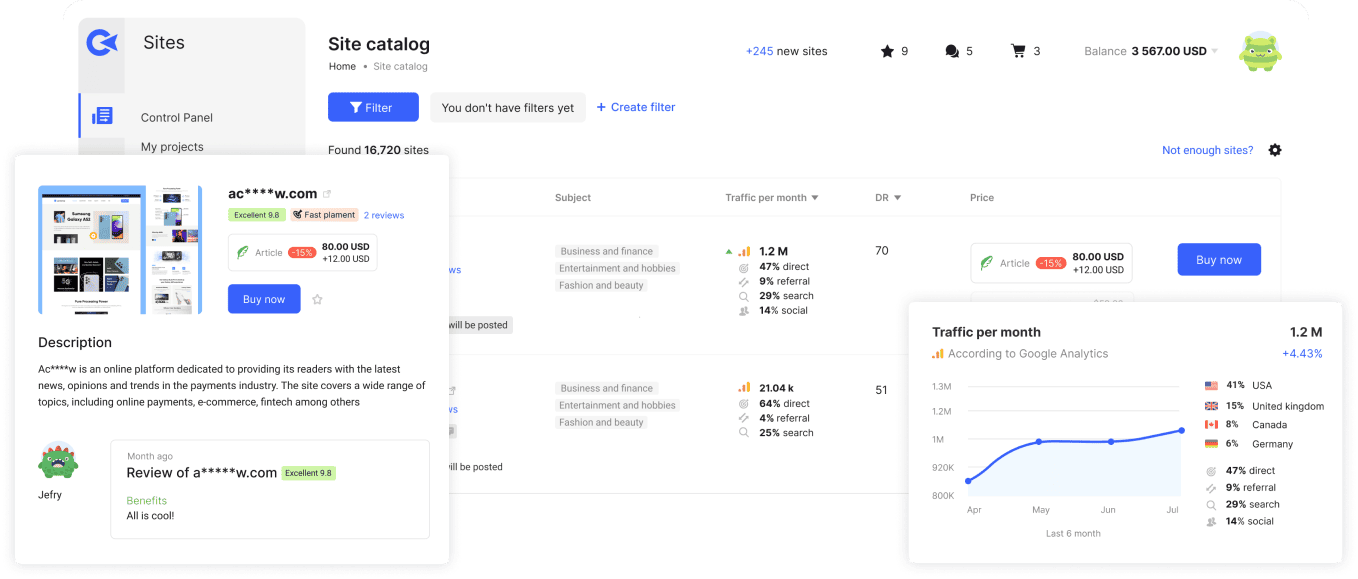 And, as you can see (from the above illustration), you'll be able to increase traffic and position on Google search by far — beat all your industry competitors by targeting the right audience.
What's more, you'll get:
Friendly interface: Conveniently select sites and make orders in a couple of clicks
Site reviews: Choose the best sites by reading reviews from publishers and other advertisers
Audience data: Evaluate the relevance of the site by checking traffic, sources, and region of traffic
Unique offers: Take advantage of special offers from publishers: writing a post, announcement on the main page, mailing to an active e-mail base
Talking about guest posting, these are articles placed on another site with a mention of your brand or a link.
Some pros of posting a guest post:
getting a backlink, increasing the weight of the link profile,
attracting additional traffic,
demonstrating expertise in the niche.
Thus, owners and publishers of blogs that pay for guest posts improve the SEO indicators of your site, increase your position in search results and build your domain authority (DA) score by far as well. You can find sites accepting guest posts and order publication in special marketplaces, for example, Collaborator. We are constantly expanding their world.
Such as the number of parameters that can be used to analyze sites. Thanks to official integrations with Ahrefs and Serpstat, the choice of a donor site becomes easier, as there is no need to spend additional time studying statistics in the services. In addition, their system has more than 40 additional options.
Including:
traffic,
topic,
region,
price,
keywords,
backlinks and others.
The main places for posting guest posts: the main sections of the site with the announcement of the article on the main page. You can learn more about the location of the material from the "Where advertising articles will be placed" mark on the site card as well as see examples of previously posted articles. When will my guest post be published — top question.
In the Collaborator system, 70% of tasks are completed faster than 48 hours. You won't have to wait for weeks, your guest article will be posted quickly. In order to start ordering guest posts in the Collaborator direct marketing marketplace;
Consider this:
first of all, sign up to join the platform,
Add a site from the catalog to the cart,
create a project, describe the task, and then send it to the executor
among all the blogs that accept guest posts, select in the catalog those that are relevant to your tasks.

To do this, you can use filters to simplify the search,

The webmaster publishes a guest post
Watch the growth of your positions
Blogs looking for guest posts do not delete articles placed through the exchange after a certain time. For additional security of advertisers, they have an Insurance function that guarantees protection against deletion/non-indexing for 12 months. If you'll need help at any stage, please write to them in the support box (in the bottom right corner).
Collaborator Pro Website Monetization Tools For Publishers
If you are looking for a Website Monetization platform to make an extra income online, then Collaborator Pro is a go for you. This is a place for you to meet some of the topmost advertisers with trusted businesses and high-quality content that will pay you more than on any other alternative web-based platform.
Perse, a guest post is an article posted on your website with a link to the customer's website or a mention of his brand. For the customer, this is a way to tell your audience about his product and get a link that will be useful for SEO. While web advertising for publishers and site owners is an opportunity to get quality content and monetize your website traffic.
What's more, you'll get:
Friendly interface: Conveniently select the best advertising campaigns and make orders in a couple of clicks
Verified advertisers: Collaborate with quality brands and get interesting orders
Comfortable payouts: Wide range of payment systems: Payoneer, Paypal, Bank Cards
Low fee: The commission is 15%. Earn more with the collaborator pro.
Collaborator Pro guarantees that you will receive tasks only from verified customers. For one thing, Collaborator is a marketplace where site owners make contact with customers of guest posts. Their customers are business owners, marketers, SEOs, and PR specialists. To start blog monetization via a guest posting, for your very first project;
Consider this:
just like the advertiser version, just sign up to get started
Add your site to the catalog
Accept an order from the advertiser
Place a guest post on your site
Get money for a job done
Henceforth, you'll see a confirmation message like this: "The good news is that your site: josephmuciraexclusives.com, for instance, has successfully passed moderation and is available to advertisers in the catalog." And, the next thing is to get started! Sites that do not break the law can be added to the Collaborator's catalog.
The main criterion is traffic (5,000+ monthly). In addition, they pay attention to authority (trust), niche, audience activity, design and layout of content, etc. Their moderators review the site as a whole. And even if you have less traffic but your resource is from a narrow niche, you can monetize your site by placing content through Collaborator.
The main campaign catalog options:
All Campaigns: Get a notice if there are new ad campaigns available right now for your websites
You Responded: Here will be the ad campaigns that you engaged with as well as those that you completed
You Refused To: Here will be the ad campaigns that you gave up
You Are Not Interested: Here you can find campaigns that are currently not of interest to you
Note: If you refused some campaigns, if you change your mind, you can always re-establish a relationship with them and start cooperating. Likewise, at any time, you can restore the campaign or abandon it if it's under the "you are not interested" campaign section.
The website section for publishers:
Requests From The Advertiser: Here you will see direct tasks from the customer
Pro Tip: If you do not receive direct tasks, we recommend reducing the price to get the first orders and reviews. This will affect the ranking within the system and your site will be higher in the catalog.
In Progress: Here will be the tasks that you complete
Pro Tip: On one hand, if you completed the task — the system moves it to "published posts." On the other hand, if within 3 days you have not completed the task, then the Advertiser can revoke it. And, if you do not have time to complete the task, make sure that you warn the Customer in direct messages, and on time.
Published Posts: Here will be a list of your successfully posted and approved projects
Rejected: In this tab, you will see the rejected tasks as well as the tasks that were revoked by advertisers

What's Next? How To Get The First Order?
Make sure that you timely respond to advertisers' campaigns — a great chance to get your first order.
Improve the card of your site for the advertiser with a clear description of your site(s).
Specify why the advertiser should work with you — make the description better than competitors in the catalog.
In terms of discounts, create promotional offers for advertisers.

This will help draw additional attention to your site and make the first deal.

Make sure you didn't hide the domain — site inventories with hidden domains get fewer orders.
Always remember, that you can quickly ask for help at any time along your journey. Just reply to the undersigned letter, or write to the chat support on Collaborator for one-on-one chat support. What if there are no ad campaigns available right now for your sites? Well, don't worry — their advertisers are constantly adding and updating campaigns.
Here are a few more recommendations:
make sure that the data on your sites are up-to-date: prices, region, topics;
provide a wider range of services: article writing, announcement on the home page, discounts, and more formats;
make an interesting description of the sites and talk about the benefits of working with you.
Would like to update the site's information now? No worries! One thing is for sure, they have a very user-friendly and seamless interface for you to interact with — plus their support is always ready to sort you out. Not to mention, you will also receive all notifications for each registration and each replenishment of the account by your referrals by your email.
Join Collaborator Pro Affiliate Program For Free
In addition to earning money by posting guest posts, you can also use their affiliate program and get a reward for each deposit of the user who registered with your affiliate link (more details here). As soon as you join and then are connected to the affiliate program, you can start to earn money by attracting advertisers and publishers to your website.
With your single affiliate link, just indicate the affiliate URL link that a user will go to after clicking on the invite link. Suffice it to say, you can specify the URL registration page or choose any other on their site.
Here is how the affiliate program works:
You get 25% from the commission of the collaborator for each recharge of the account by your referrals
You get 1.50 USD for each site added to the system by your referrals.

Only in cases when the site was approved by the admin of the collaborator.

Receive commissions from each deposit indefinitely
No minimum payout
It's also, important to realize, that when clicking on your affiliate link, the attracted referral is marked in cookies for 14 days. This means, that if you brought the referral through an affiliate link and he left the site, but then returned a few days later and registered — the collaborator pro admins for the web-based platform will assign it to you.
After completing the task, you can immediately request a withdrawal to your account. Payments are made every business day. They have a wide range of methods: Paypal, Payoneer, and Wire Transfer (see more details here).
What to do with an affiliate link in the first place?
Send to colleagues in the office or your family/friends
post your affiliate links on your social media profiles
Make a Collaborator review for your blog — like this one
create a promotional video on your YouTube channel
Sow an affiliate link on the forums, and much more…
The simple steps to increase your ratings:
Make sure your site has a market rate for posting and writing articles

If it is not — lower the cost to get the first orders and reviews

Make sure that the theme and region of your site are filled in correctly
Make an attractive description of the site
Indicate where the advertiser's article will be placed and why it is necessary to work with you
Respond to advertising campaigns — go to "Catalog of campaigns" and choose the right ones for you.
If the customer likes your site and its cost — you will get the first order… and the next order… and so on…
With that in mind, while teams or individuals might collaborate on a one-time basis to achieve a short-term goal, collaboration as a company-wide practice involves creating connections over time. Sharing different perspectives and skill sets long term is what fosters a collaborative environment.
Other More Related Resource References: 
That's it! Everything that you needed to know about Collaborator Pro, how it works, how to join and get started, its affiliate program, how to convert more leads into customers, and much more. If you think that there's something else that we missed, kindly Contact Us and let us know or even share in our comments section. Thanks for your time, and all the best!
---
Related Blog Tags