In today's competitive digital landscape, having an effective marketing strategy is more critical than ever, especially for Vape Shops and E-cigarette Brands. With the rise in vaping culture and the constantly changing regulatory environment, you must stay ahead of the curve to grow your business. Generally, vape shops and e-cigarette brands are proliferating industries.
Unsurprisingly, companies in this sector rely heavily on marketing tactics to increase their market share. From social media campaigns to sponsoring events or even sports clubs and creating various e-juice flavors, there are many different ways for companies to reach out to their target audience. By understanding these tactics, businesses can better position themselves.
Especially in the Vaping and E-cigarette market, to be more successful. As for their customers, people must shop from trustworthy and reputable brands that offer high-quality products. Buying vaping accessories or e-cigarettes at suspiciously low prices is never a good idea, so constantly research the companies you see in social media ad campaigns or as sponsors.
With that in mind, this blog post will discuss various aspects of effective digital marketing strategies for vape shops and e-cigarette brands. One example of focusing on is The RedVape E Zigaretten Deals, to be precise. This encompasses website optimization tactics, social media, email, and more to ensure effective promotion and interaction with your target audience.
The Digital Marketing Strategies For Vape Shops and E-Cigarette Brands
In 2022, the size of the global e-cigarette and vape market was estimated at nearly $22.5 billion, and by the end of 2023, it's expected to reach over $28 billion. These numbers may seem quite astonishing at first, but they shouldn't come as a surprise. After all, there are few federal restrictions when marketing these products. Watch a video about what most are getting wrong:
As a result, manufacturers can market their products through outlets such as TV or radio. Their popularity continues to grow among people of all ages, whether due to effective marketing, peer pressure, or the fact that while not entirely safe, e-cigarettes and vapes are still less harmful than traditional tobacco products. So, what are the top e-cigarette brands catch?
From introducing appealing flavors to offering college scholarships, manufacturers and sellers of e-cigarettes aggressively target young people. However, there are few federal restrictions on e-cigarette marketing, allowing companies to promote their products through traditional outlets — such as TV and radio adverts — despite a 1971 ban on e-cigarette campaigns.
Particularly on both outlets to reduce cigarette marketing to children. Still, most e-cigarette companies use other marketing outlets, including the Internet, retail environments, recreational venues, and other related events—to drive their message to the target consumers. Youth and young adults are widely exposed to e-cigarette marketing and have high awareness.
With that in mind, this article explores a few of the most commonly seen approaches to shed more light on the marketing tactics used by e-cigarette and vape companies. From being active on social media to introducing a wide variety of flavors, here's everything you should know about how companies in the vaping industry market their products.
We analyzed influencers with public profiles on Instagram who posted promotional e-cigarette content—had over 1000 followers, and had a high user engagement rate (ratio of likes and comments to followers) of 1%–25% per post. The most central (highly involved in promotional activities) influencers and e-cigarette brands had excellent social media performance.
The number of the influencers' followers aged 13–17 and the age verification practices restricting youth access were also assessed. That said, there are a few other methods that Vape Shops And E-Cigarette Brands can consider, as follows.
1. Overall Website Optimization
For your information, by 2016, nearly 4 out of 5 middle and high school students, or more than 20 million youth, saw at least one e-cigarette advertisement. However, the means that they saw such advertisements is what matters. And one such method was through well-optimized websites that helped drive traffic and convert potential consumers into active product buyers.
The 2009 Family Smoking Prevention and Tobacco Control Act banned cigarette flavors—except menthol — to curb youth appeal. But tastes are still allowed in other tobacco products. E-cigarette websites capitalize on this gap in regulation by offering kid-friendly flavors, such as cotton candy and the gummi bear, and packaging e-liquids to look like everyday food items.
Fortunately, due to the Vapingzone Website, you can find different flavors today. As shown by Vapekit, the options available today range from flavors inspired by desserts, like raspberry ice cream or strawberry mousse, to baked goods, such as banoffee pie, apple pie, or a lemon tart, to even more exotic and exciting choices, like tobacco-flavored whiskey or bubblegum.
Your website is often the first point of contact for potential customers, making it one of the most critical aspects of your digital marketing strategy. It should offer a user-friendly experience with easy navigation while appealingly showcasing your products. There are some tips on making your vape shop or e-cigarette brand website more effective and engaging than ever.
Consider the following:
Mobile Responsiveness:

More than half of all internet traffic now comes from mobile devices like smartphones and tablets. Ensure your website is responsive and easily viewed on these smaller screens.

Secured Checkout:

An SSL certificate helps protect customer information during transactions. Encrypting sensitive data such as credit card numbers or login credentials makes visitors feel safe and more likely to complete purchases.

Clear Calls-to-Action: Encourage users to add an item to their cart or sign up for a newsletter by having a prominent Call To Action (CTA) and avoiding phrases like "Learn More," which could slow down conversion rates.
In most cases, since e-juices (e-liquids) are necessary for vape pens and e-cigarettes to work as intended, manufacturers produce them in various flavors to appeal to every palate. Back in the day, when the industry was still in its infancy, the choice was minimal, and most people used flavors like menthol, tobacco, or something with more sweet and fruity notes.
Plenty of "weird" flavors exist, such as butter, roast chicken, tuna, or wasabi.  It is only natural that such tasty-sounding options and novelties effectively get the word out there. So, optimizing your website by flavors is a great start.
2. Search Engine Optimization 
Your vape shop and E-cigarette brand business need a comprehensive digital marketing strategy to succeed in today's economy. With so many new competitors and tools available, you'll be at an advantage if your website is optimized for search engines like Google, representing over 90% of all internet traffic according to the content SEO audit experts we engage with.
As you know, vaping has a tight set of marketing rules, leaving digital marketers and vape companies feeling discouraged about their ability to develop and prosper in the industry. On that note, traditional marketing techniques and outdated advertising aren't your only choices. Additionally, there are SEO (Search Engine Optimization) and search marketing strategies at stake.
As a rule of thumb, improving your website search engine ranking is essential if you want potential customers to find your business when searching for e-cigarette products or vape shops. SEO aims to raise your website's search engine results page position. People searching for brands like yours online aren't your target audience here; they're your ideal customers.
The top tactics for this industry:
Some Search Engine Results Page (SERP) study shows that youth e-cigarette users cite flavors as the main reason they begin using e-cigarettes, coupled with peer influence and creative search ads. Still, a survey that included middle and high school students found that 43 percent of young people who used e-cigarettes tried them because of their appealing flavors.
Conversely, the Truth Initiative has repeatedly called on the FDA to fully regulate e-cigarettes to reduce youth appeal, access, and use. Herewith, we are primarily concerned about SEO, so your brand products can be easily found online.
2. Social Media Marketing
When used correctly, Social Media Marketing (SMM) can be a potent tool for every product and industry, including e-cigarettes and vapes. Today, many companies aim to create buzz around their brand on various social media platforms, including giants like Facebook, Instagram, Twitter, YouTube, and TikTok. You often don't even need to search for the specific brand profile.
Or the social media account of the specific company since all they need is to go viral or pay for an advertisement to be featured on your feed.  A solid social media presence is priceless when engaging with customers of all ages and reaching out to the potential audience. Still, the way the e-cigarette and vape companies present themselves is crucial.
Therefore, most brands create content that markets their products as something that can help people have fun, be a way to relax after a long day of work or school, and is associated with being relaxed and free to make their own decisions. Usually, social media is a powerful tool for connecting with potential customers, driving awareness, and promoting your products.
How to do it:
Stay Active:

Regularly posting on networks like Facebook, Twitter, and Instagram helps you engage with your audience and attract new followers. Use a social media management tool to help schedule content and track performance.

Post-Visual Content:

Images, GIFs, and videos perform much better than text-only updates. Share high-quality visuals of your products or post content that aligns with vaping culture to capture the attention of your target audience.

Monitor Conversations:

Watch for any mentions of your brand or related keywords using free tools such as Hootsuite or Mention. Joining conversations around these keywords allows you to interact directly with potential customers.

Run Social Media Ads:

Advertising on platforms like Facebook and Instagram enables you to target particular demographics. Boost posts featuring special offers or attractive product images to increase visibility among those most likely interested in your vape shop or e-cigarette brand.
Visual posts featuring e-cigarette products on social media are associated with increased e-cigarette use among US adolescents. Instagram is the largest source of e-cigarette social media marketing, where influencers—for example, bloggers and brand ambassadors—post promotional materials. This study analyzed the network of e-cigarette brands and influencers.
The results were the exposure of visual posts featuring e-cigarette products on social media platforms like Instagram, characterizing the most central players in e-cigarette social media marketing, had more positive product buying results.
3. Creative Email Marketing 
In May 2018, the FDA and the Federal Trade Commission took joint action against several e-liquid companies that marketed their products to look like candy or other kid-friendly food items, such as Reddi-Wip, Nilla Wafers, and Warheads candy. To stay safe and legit simultaneously, you must focus on your email subscribers list to target specific vape product consumers.
Email remains one of the most effective ways to drive conversions, making it essential to include it in your marketing mix. You can optimize creative email campaigns for vape shops and e-cigarette brands in a few ways.
Such as follows:
Capture Email Addresses:

Offer incentives such as discounts or exclusive content for users who sign up for your newsletter. You can also use exit-intent pop-ups that collect email addresses from visitors leaving the site without converting.

Segment Your Mailing Lists: Segmenting subscribers based on location, purchase history, and web browsing behavior enables more personalized messaging that results in higher engagement rates.
Design Responsive Templates:

Many users check their emails on mobile devices, so ensure your templates are designed to look great on phones and tablets.

Automate Campaigns:

Automating the sending of regular email campaigns with tools like MailChimp or Campaign Monitor ensures you don't miss out on potential sales by failing to communicate with subscribers regularly.
Equally important, it is essential to understand associations between influencers and e-cigarette use behaviors, especially among youth. Especially to inform effective public health communication and potential policies that could regulate social media marketing sponsored by e-cigarette companies. Otherwise, email marketing and influencer marketing can often work like magic.
4. Business Product Sponsorships
Since many e-cigarette and vape brands tend to promote their products to younger people, sponsoring events, such as music festivals, is another marketing tactic they can use. For instance, back in 2013, blu eCigs supported Washington's Sasquatch! Music Festival, where performers like Macklemore, Arctic Monkeys, Empire of the Sun, and Mumford & Sons.
They attracted crowds of fans and music enthusiasts; similarly, in 2018, another famous brand Juul sponsored a part of the Sundance Film Festival in Utah. But the list doesn't end here. Even though you'd think that vapes and sports don't go together, a UK e-liquid company, Totally Wicked, has partnered with a professional rugby league club St Helens R.F.C.
As well as a football club Blackburn Rovers F.C. Of course, there's been a bit of controversy around this move, but these two sponsorships seem pretty successful. Furthermore, the IndyCar Series chose to work with an e-cigarette brand Vuse and placed their logo on cars number 5, 7, and 66 during the 2020 Indy500 race. There are many places to borrow ideas from!
For example, in 2013, blu eCigs® sponsored the Sasquatch! Music Festival in Washington featured a vapor lounge with surprise guest appearances from top performers, device charging stations, an interactive social media photo booth, and samples of blu eCigs. More recently, JUUL sponsored a "Music in Film Summit" at the 2018 Sundance Film Festival in Utah.
Of course, both examples are marketing tactics banned for e-cigarette and smokeless tobacco companies (however, these companies skirt these restrictions with other types of experiential marketing in their strategic plans).
5. Experiential Appealing Strategy
Tobacco companies have invested millions annually in experiential marketing, spending almost $122 million on cigarette and smokeless tobacco use in experiential marketing in 2016. While it is not the tobacco industry's most significant marketing spending category — companies spend the most money annually, nearly $8 billion, on discounting — in their strategic adverts.
Thus, experiential marketing remains a vital tobacco company tactic to reach new customers and retain existing ones. For one thing, experiential marketing—a creative way to encourage smokeless tobacco consumers to experience or interact with a brand at recreational venues and events (such as concerts, bars, or nightclubs) — has long been a tobacco industry strategy.
A certain Tobacco Industry Document shows that companies have used this type of marketing for decades to encourage young adults to experiment with tobacco and increase consumption by infiltrating their social activities and normalizing tobacco use. Before 1998, tobacco companies were also permitted to sponsor events like concerts and festivals.
While the 1998 Master Settlement Agreement prohibited cigarette and smokeless tobacco companies from sponsoring sports, music, and cultural events, companies are still legally allowed to attend these events. A tobacco company, for example, might bring a branded adult-only smoking lounge truck to a sports event. This way, they can offer experimental products first.
6. Connecting With Other Businesses
Generally speaking, the tobacco industry used concert sponsorship to engage with young adults from 1975 until it became illegal in 1998. Nonetheless, manufacturers of all tobacco products continue to use various partnership methods and experiential marketing techniques through elements such as music concerts—a reason for your brand to consider partnering.
A tobacco industry report from 1993 states that "the friendly social ambiance of a pub or social club 'contributes a great deal to the enjoyment of smoking and also encouraging smokers to smoke more heavily than usual.'" Often, most tobacco companies focus their marketing on bars and nightclubs because bargoers tend to have higher smoking rates and are active.
Remember that some of them are potential social influencers among their peers. Several studies have explored the tobacco industry's efforts to connect tobacco use with alcohol use, and one found that 74.5 percent of all young adult current smokers said they enjoy smoking while drinking. Experiential marketing in these venues may also contribute to more social smoking.
Eventually, a practice that helps ease the transition from experimentation to regular smoking among young adults. Another study found that students who reported exposure to tobacco industry promotions at bars, nightclubs, or campus social events were more likely to be current cigarette smokers than unexposed students.
7. Incorporating Non-Cigarette Products
To be even more successful, it's suitable for e-cigarette brands to consider having a mix of other non-cigarette products in their marketing strategy. One thing is for sure; most non-cigarette tobacco products face fewer restrictions related to experiential marketing. For example, there are no restrictions on sponsorships of sporting, musical, or cultural events in them.
Particularly for non-cigarette tobacco products such as cigars, e-cigarettes, and hookah. Additionally, providing free samples of these products was not prohibited until 2016, while free pieces of traditional smokeless tobacco in adult-only venues remain legal—for instance, cigar company Swisher Sweets Organizes Events for its Swisher Sweets Artist Project.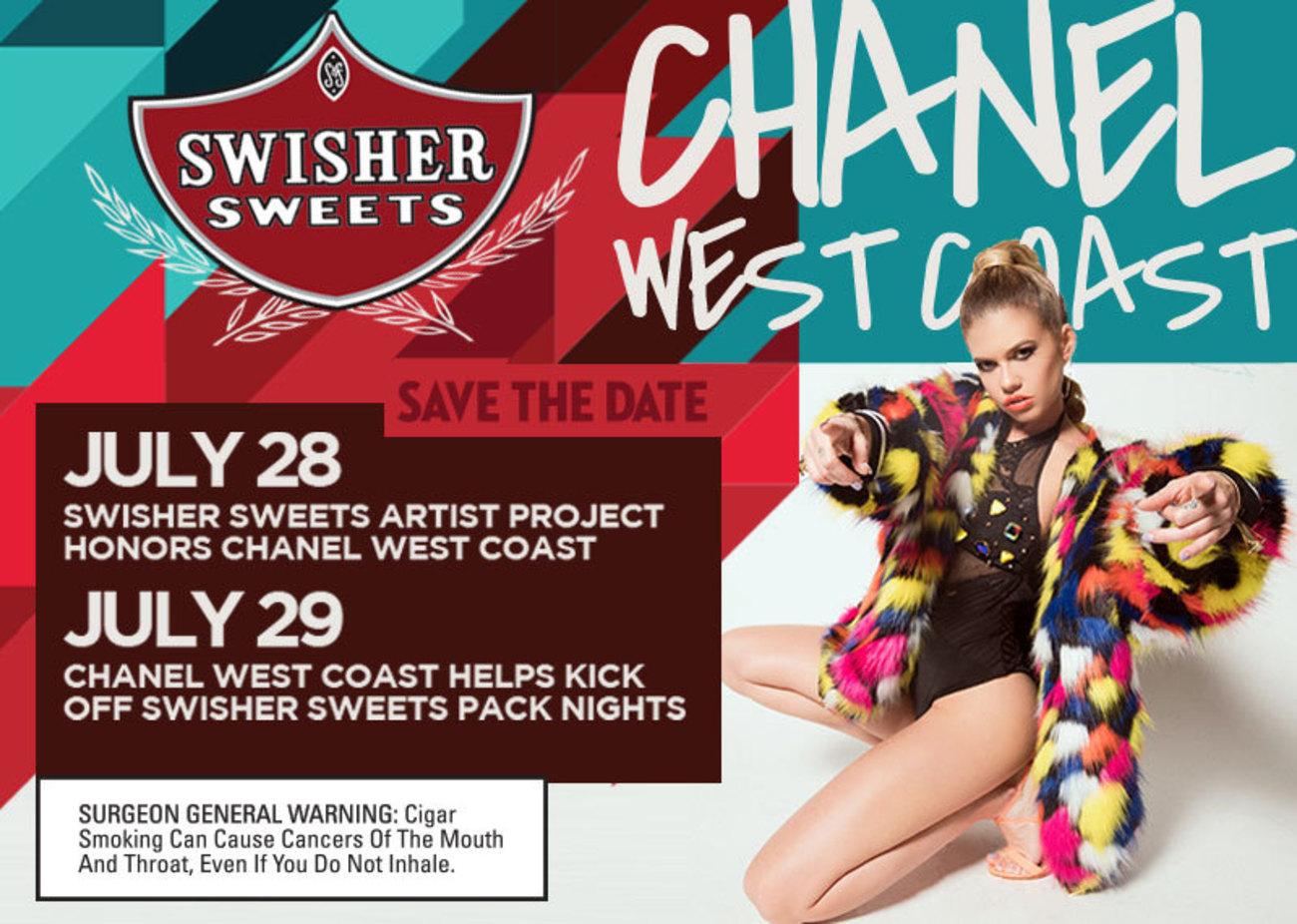 This marketing campaign holds music events with emerging artists, including pop-up performances in convenience stores — "Convenience Store Sessions" — and concerts in select cities called "Swisher Sweets Pack Nights." These events are hosted nationwide and set against Swisher Sweets ads, displays, and clothes. There are even tickets for some pack nights.
As you can see, from the above poster image, the pack nights often include locations with a voucher for packs of sure Swisher Sweets Cigars and Cigarillos. At other pack night locations, attendees could get special gear and giveaways.
Summing It Up;
To effectively grow your vape shop or e-cigarette brand in the digital world, optimize your website for seamless user experience, boost search engine visibility through SEO tactics, engage with potential customers on social media platforms, and strategically implement email campaigns. Incorporating these strategies into your digital marketing efforts is very crucial.
Alongside attractive deals like The RedVape E Zigaretten Deals example mentioned earlier, staying current on industry changes will put you at a competitive advantage in the ever-evolving vaping market. Still, getting involved in events attended by thousands of people, broadcast on TV, and featured in the news is a clever marketing tactic that most brands continue to use.
The topic itself may be pretty controversial since, for many people, e-cigs and vapes don't go together with sports, but they are reliable sponsors capable of keeping their promises. A globally interconnected network of engaging e-cigarette influencers (n=55) collaborated with over 600 e-cigarette brands in 2020. The Asian and US influencers had more results.
Garnering five to six times more teenage followers compared with European influencers. Not to mention, 75% of the influencers did not restrict youth access to their promotional content on Instagram. The brands Voopotech, Innokin, Geekvape, Lost Vape, Smok, and Vaporesso collaborated with the most significant number of influencers (mean n=20). So should you!
---
FAQs Answered:
---
1. What is in a vape?
It is typically a mixture of water, food-grade flavoring, a choice of nicotine levels, cannabis (THC, CBD), propylene glycol (PG), or vegetable glycerin (VG). PG and VG are humectants used in e-liquid to produce aerosols that simulate combustible tobacco.
2. What are e-cigarettes?
E-cigarettes (or "vape pens") heat a liquid until it becomes a vapor, which is inhaled. The liquid (e-liquid or "vape juice") can contain nicotine or marijuana distillate, or oil. E-cigarettes can be refillable or pre-filled with cartridges containing the e-liquid.
3. Is it better to smoke or vape?
Vaping is less harmful than smoking, but it's still not safe. E-cigarettes heat nicotine (extracted from tobacco), flavorings, and other chemicals to create an aerosol that you inhale. Regular tobacco cigarettes contain 7,000 chemicals, many of which are toxic. Some medical experts agree vaping is substantially less harmful than smoking but is not risk-free. Vaping exposes users to fewer toxins and at lower levels than smoking cigarettes.
4. Is vaping better than tobacco?
People usually think vaping isn't as bad as cigarette smoking, but the mist you breathe in still contains nicotine and other harmful chemicals. Vaping isn't still safe and can cause health problems, including life-threatening lung injuries. The most common side effects of vaping include dry mouth, coughing, nausea, and headaches. Serious long-term side effects of vaping include an increased risk of cardiovascular disease, lung damage, lung disease, seizures, nicotine addiction, and poisoning.
5. How many puffs of a vape is equal to a cigarette?
A smoker typically puffs on a cigarette around 10-15 times before putting it out, so let's be conservative and estimate that puffing on a vape 15 times is approximately equal to smoking one cigarette. If that's the case, a disposable vape that delivers 600 puffs is equivalent to about two packs of cigarettes.  Pure Eliquids are known for being a safe vape brand because of its commitment to transparent labeling of all ingredients.
---
Related Content Tags