It's worth mentioning that through Instagram Ads, you can create interactive marketing campaigns to help advertise your business and reach your next potential customers with precise targeting and actionable insights. In the digital landscape, social media platforms have evolved into essential tools for businesses aiming to broaden their online footprint and connect with a broader audience.
With its extensive user community and visually appealing features, Instagram presents an exceptional opportunity for businesses to expand and thrive. Using Instagram Ads, you only need the best strategies and tactics to boost your business. Eventually, it's safe to say that brands have gotten on board. Notwithstanding, along with Snapchat, Instagram is one of the hottest social media platforms.
But how do you know if Instagram is a suitable advertising platform for your brand? Instead of trusting blindly in the hype, it's worthwhile to consider all the facts. We can't tell you if Instagram will work for you. Still, by looking at costs, ad formats, campaign targeting options and learning more about the Instagram user base, you can conclude whether the platform will work for your brand.
With that in mind, this article guideline will explore what's possible with Instagram Ads and the best steps you can consider in your digital online marketing and advertising campaigns to increase your business growth. Get more traffic, increase sales, and convert leads. Therefore, read on to find out how to optimize your Instagram advertising efforts as we discuss the critical factors for success.
Understand Why Instagram Ads Are Essential Tools In Empowering Business Growth
On the one hand, according to Forbes, Instagram made a big announcement last month — the social media networking platform has officially surpassed 1 million monthly advertisers. It's a significant achievement for the photo-sharing platform and a mark of how far it's come. On the other hand, Instagram reports 600 million users globally, 400 million of whom access the social media hub daily.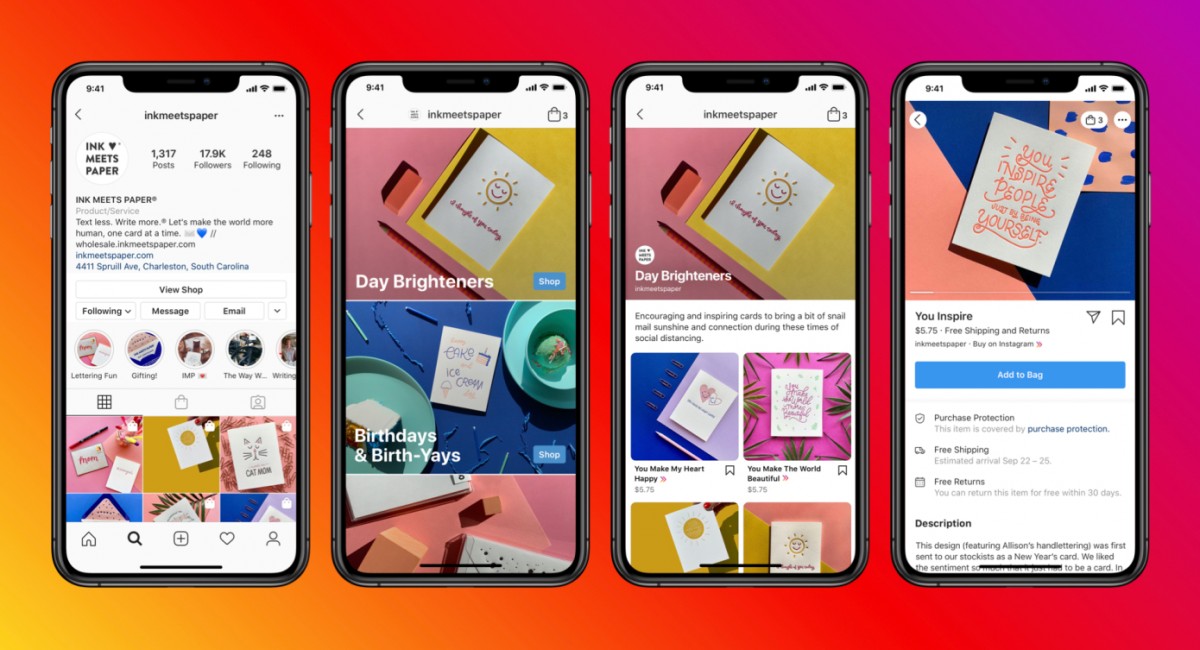 In late 2016, the Pew Research Center reported that 32% of adult internet users in the U.S. use Instagram. That's nothing to sneeze at, especially for an application once derided as just a place for people to share filtered photos of whatever they ordered at brunch that day. Of course, the truth is that Instagram is much more than that. It has 8 million businesses currently operating on its platform.
Minimum daily budgets on Instagram are meager compared to other social media platforms. As such, advertisers unsure of the results they expect with the platform can efficiently run Instagram advertisement campaigns without committing to a big budget. The campaign ad targeting options are pretty robust. This means that advertisers will find reaching the specific audience they seek easy.
Targetings:
Location: Brands can target users based on location (e.g., city, state, country, etc.).
Demographics: Basic demographic targeting that includes gender, age, or language.
Behaviors: Pinpoint an audience based on how users behave on Instagram and Facebook.
Interests: Targeting based on user interests, such as other accounts they follow or ads they engage with.
Lookalike: Existing customer data helps create "lookalike" audiences of users similar to known customers likely to be engaged.
Preference: Like on Facebook, Instagram allows you to show ads to customers in your database based on email or phone number.
Automated: Instagram creates an audience for the advertiser based on signals like location, demographics, and interests.
Instagram generates high rates of engagement, with close to two-thirds of its users accessing the platform daily. Instagram also notes that 80% of users follow at least one brand. Regarding the advert objectives, the options are similarly broad. Business objectives include website clicks and conversions, app installs, video views, brand awareness, local awareness, and reach and frequency.
Instagram Ads are a relatively low-risk undertaking. At the same time, it's minimum budgets are low, and a range of targeting options ensure that digital online businesses can maintain tight controls over the audiences they're speaking to. Because Instagram is a visual platform, it's best suited to brands that clearly understand the aesthetics of the content that succeeds on this social media hub.
After all, creating appealing, eye-catching visual content is critical for success with Instagram Ads for your digital online marketing campaigns. Investing must be based on each brand's unique goals and objectives, whether traditional marketing techniques or modern channels. That said, Instagram is a good bet for brands with strong visual appeal looking to speak to millennial audiences.
Steps To Run Instagram Ads And Optimize Your Digital Online Brand Growth
Technically, through Instagram Advertising, campaigns can be run on a Pay-Per-Cost (PPC) engagement or a Cost-Per-Mille (CPM) impression basis. However, how much you can expect to spend on your Instagram Ads will vary based on the objectives you set for your campaigns and the demographics you're targeting. On average, eMarketer reports that Instagram CPMs are between $5- $6.
Although this estimate comes from the buyer side and, as such, includes media costs and fees. Usually, the average CPCs are estimated to be between $0.56 and $0.72. Instagram's ad formats are similar to their parent company, Facebook. All of Instagram's ad formats appear in the user's feed, except for the recently introduced Stories Ads, which appear between Instagram Stories posts.
Remember, Facebook now Meta owns Instagram, so ad formats and targeting options are similar. Though, as mentioned, Instagram's audience skews on the younger side. Facebook and Instagram Ads operate similarly and are managed by the Facebook Ads Manager. As such, they make entry into the Instagram business marketing space simple for brands already working with Facebook advertising.
Given the low minimum budgets and manageable CPMs, Instagram is friendlier to small businesses than Snapchat, where monthly minimum CPMs are $40,000. In addition, Instagram also offers greater versatility in terms of ad format and content type. Moreover, Instagram is chock-full of niche influencers, so there are plenty of partnership opportunities. Below are a few steps to consider.
1. Set Some Clear Advertising Objectives
The first step is to define your business objectives clearly. Whether your goal is to increase brand awareness, drive website traffic, or generate leads, having well-defined objectives is essential for the success of your Instagram advertising campaigns. According to Instagram, 60% of users say they discover new products on Instagram, and 70% of users take action after posts inspire them.
Thus, users engage with Instagram content meaningfully. Setting clear objectives provides a roadmap for your marketing efforts. For instance, if you run an e-commerce business, your objective might be to increase sales. On the other hand, if you offer online courses, your aim could be to boost sign-ups. Clearly stating your goals can tailor your ad campaigns to align with these objectives.
2. Identify Your Potential Target Audience
Understanding your target audience is paramount when shaping your Instagram advertising strategy. It's crucial to know the interests and preferences of your potential customers. For instance, in a country like Australia, where online gaming culture thrives, users often seek out the best Aussie online casino to match their gaming preferences. That's why identifying your potential audience is vital.
Knowing user preferences and habits helps deliver content that resonates with them. Another example is if you're in the fitness industry, your ideal audience might include health-conscious individuals interested in workouts and nutrition. By pinpointing these details, you can fine-tune your ad campaigns to reach the right people and maximize the effectiveness of your advertising budget.
3. Leverage User-Generated Content (UGC)
Leveraging User-Generated Content (UGC) is a potent strategy for businesses on Instagram. Encourage your customers to produce and share content about your products or services. For example, your customers might post images and stories of their experiences with your brand. A UGC Creator can be as crucial as an enthusiastic user sharing their satisfaction with a particular product.
On that note, incorporating user-generated content into your ads can significantly boost authenticity and credibility. It provides potential customers with accurate, unbiased perspectives on your offerings, making your brand more relatable and trustworthy. When people see posts from others enjoying your products or services, they are more likely to consider trying them out themselves.
Eventually, the aim of user-generated content is all about telling a story that connects with your audience. For instance, if you operate a fashion brand, use your campaign adverts to convey a sense of style, self-expression, and confidence your users can relate to.
4. Create Compelling Visual Content
To enumerate, visual content uses images, infographics, illustrations, or graphics to deliver valuable information in an engaging format. Most visual content is meant to inform and inspire and aims to build trust with the audience, increase brand awareness, and gain potential clients. Instagram is renowned for its visually captivating content, underscoring the importance of your ads.
The aim is to make a distinct and long-lasting impression. Utilize high-quality images and videos to capture your audience's attention. Whether you're promoting stunning travel destinations, delicious food, or fashionable clothing, your visuals should be captivating. They must attract your target audience's attention. The use of striking visuals goes beyond just showcasing your products or services.
5. Measure And Adjust Ads Performance
For your advertising campaigns to start working effectively, it's crucial to regularly monitor their performance using tools like Instagram Insights and other analytics platforms. This process is akin to tracking the performance of an investment portfolio to ensure your assets are growing. In digital marketing, data is your best friend. It provides insights into what's working and what's not.
As a result, it allows you to make informed decisions. Most social media analytics tools use specifically designed software platforms that work similarly to web search tools. Search queries or web 'crawlers' that span channels retrieve data about keywords or topics. These tools are crucial because they help you examine performance metrics like click-through, conversion, and engagement.
Doing so can enhance your comprehension of how your audience reacts to your advertisements. In most cases, descriptive and diagnostic analytics are reactive — that is, they are only concerned with events that have already happened while Predictive and Prescriptive analytics are proactive — that is, they allow us to make changes and decisions to influence/improve the outcomes.
Summary Thoughts:
It's important to realize that Instagram's audience skews young, though it has greater adoption among older demographics than Snapchat. Markedly, nearly 60% of adults ages 18-29 who are online use Instagram, compared to 33% of adults aged 30-49 who use the platform. The networking hub has greater adoption by female users than male users, and it is more prevalent among urbanites.
Given the ever-evolving Internet space, Instagram is becoming the go-to destination for influencer marketing and referral programs. One thing is sure: Its visual nature makes it a perfect match for product promotion in a casual and organic setting. For most, Instagram's advertising is dominated by B2C brands, though some B2B brands, like Salesforce, are using the platform's ad options.
Notably, beauty, fashion, and lifestyle brands have been eager Instagram adopters. The truth is that there's a lot of diversity in the types of brands utilizing Instagram adverts. From cloud-based techno companies, such as Apple and Sonos, to consumer goods, like Perrier and Lays, and services like Airbnb and ClassPass, brands across industries are leveraging the platform's ad offerings.
In other words, Instagram is a worthy tool if brand recognition is your aim. Its targeting options help brands reach new audiences likely to be interested in their products or services. Not only is Insta a great platform on which to be discovered by new audiences, but it's also particularly well-suited to defining and humanizing your brand. It's a unique space for your brand's personality to shine.
---
Related Content Tags