The Threads App is a new Instagram text-based conversation platform tool in the market with many unique features. It has oodles of benefits for personal and business branding. Garnering more likes on your Threads account can contribute to branding effectively by creating more user engagement. Moreover, an active Threads account with more user engagement is more likely to gain authenticity.
With more likes, views, and followers to your profile, the credibility of your business improves, which is crucial for gaining more customers based on trust. For sure, it will help you better amplify your business or brand. Though many metrics are vital, increasing likes matters, especially for branding. As a rule of thumb, buying Threads likes is one of the best ways to boost user engagement.
In other words, it will lay a strong foundation for your business and brand on this social media platform. Say more with Threads—Instagram's text-based conversation app. Threads could be the right place if you are struggling with personal branding or a business looking to establish your brand. Do you need clarification about leveraging the benefits of the Threads App likes for branding?
With that in mind, learning more about the new Threads App by Meta for Instagram is essential. In this article, let's dig into the impacts of Threads on branding and where to buy genuine Threads services to virtualize your social media (Instagram) personality profile reputation, business presence, or brand awareness. The results are optimal lead conversion, more engagement, and sales. 
How The Threads App Potentially Helps To Power The Business Branding Process
As Threads App is a serious alternative to Twitter, many marketers strive hard to catch hold of their places in this new platform. By all means, business brands must understand this application platform's potential opportunities for personal branding or marketing. Threads is expanding its wings daily and is more likely to reach a massive audience than other social media application platforms.
In its simplest iteration, Threads lets you share text-based content of up to 500 words — with the option to create threads (yes, we know) and include links, photos, and videos. You see all this in one general Feed (although Meta is rolling out a "For You Page (FYP)" and "Following" feed). Be that as it may, Instagram users and visitors can access your Threads App account from your profile.
In particular, they can access your profile by clicking the Threads App logo. Furthermore, you can return to your Instagram by clicking the Instagram logo in Threads. Likewise, you can also easily cross-post your Threads to Instagram as in-feed posts or Stories. However, you can't yet access it on a desktop, and there are no options (yet) for scheduling content in advance (we'll update you).
The decentralized app is built on the back of Instagram but will be compatible with other apps like Mastodon. It has a centralized feed showcasing your followers and recommended content. There are also some creator controls and account safety features. Technically, the new logged-in experience for the web lets you post a Thread, view your feed, and interact with others using the Threads app.
1. Access your Instagram followers
Your Instagram username and verification badge are reserved for you. Automatically follow the duplicate accounts you follow on Instagram in a few taps and discover new accounts, too. They launched the ability to view posts you've liked in your settings and sort your followers by latest first or earliest first.
2. Seamlessly share your point of view
Spin up a new thread to express what's on your mind. Find your community and connect with people who care about whatever it is you're interested in. On that note, this is your space to be yourself; you control who can reply. They also recently added an option for a chronological feed of only people you follow. So now you can see both: a For you feed that includes a mix of posts from profiles you follow and recommended content and a Following feed that only shows posts from people you follow.
3. Connect with friends and favorite creators
Threads App is where communities come together to discuss everything from the topics you care about today to what'll be trending tomorrow. Whatever interests you, you can follow and connect directly with your favorite creators and others who love the same things—or build a loyal following to share your ideas, opinions, and creativity with the world. Jump to the replies to get in on the action and react to commentary, humor, and insight from the creators you know and love.
4. Take control of the conversations
Customize your settings and use rules to manage who can see your content, reply to your threads, or mention you. Accounts you've blocked will carry over from Instagram, and they're enforcing the same Community Guidelines to help ensure everyone interacts safely and authentically. Threads App posts are also automatically translated based on the language they're written in and the language setting of the person viewing it. If you see a thread in a different language, and your tongue is available as a translation, you can tap the translation button at the bottom right of the post or reply to see it.
5. Find ideas, inspiration; never miss moments
From TV recommendations to career advice, get answers to your questions or learn something new from crowd-sourced conversations, thought leaders, and industry experts. Equally important, never miss a moment. Stay on top of the latest trends and live events. Whether it's about new music, movie premieres, sports, games, TV shows, fashion, or the latest product releases, find discussions and receive notifications whenever your favorite profiles start a new thread.
The Simple Steps To Get Started With The New Instagram Application Tool
In layman's language, the Threads App is where communities come together to discuss everything from the topics you care about today to what'll be trending tomorrow. Whatever interests you, you can follow and connect directly with your favorite creators and others who love the same things. Or, instead, build a loyal following to share your ideas, opinions, and creativity with the world.
Notably, it's worth noting that the first Threads App confirmation came about in March 2023, when the world first heard about Meta's latest project—a text-based app initially referred to as Project 92. Then Lia Haberman, creator of the ICYMI newsletter, published a viral issue with insider insights and the first speculation of a late June 2023 release date. It's been increasingly active since then.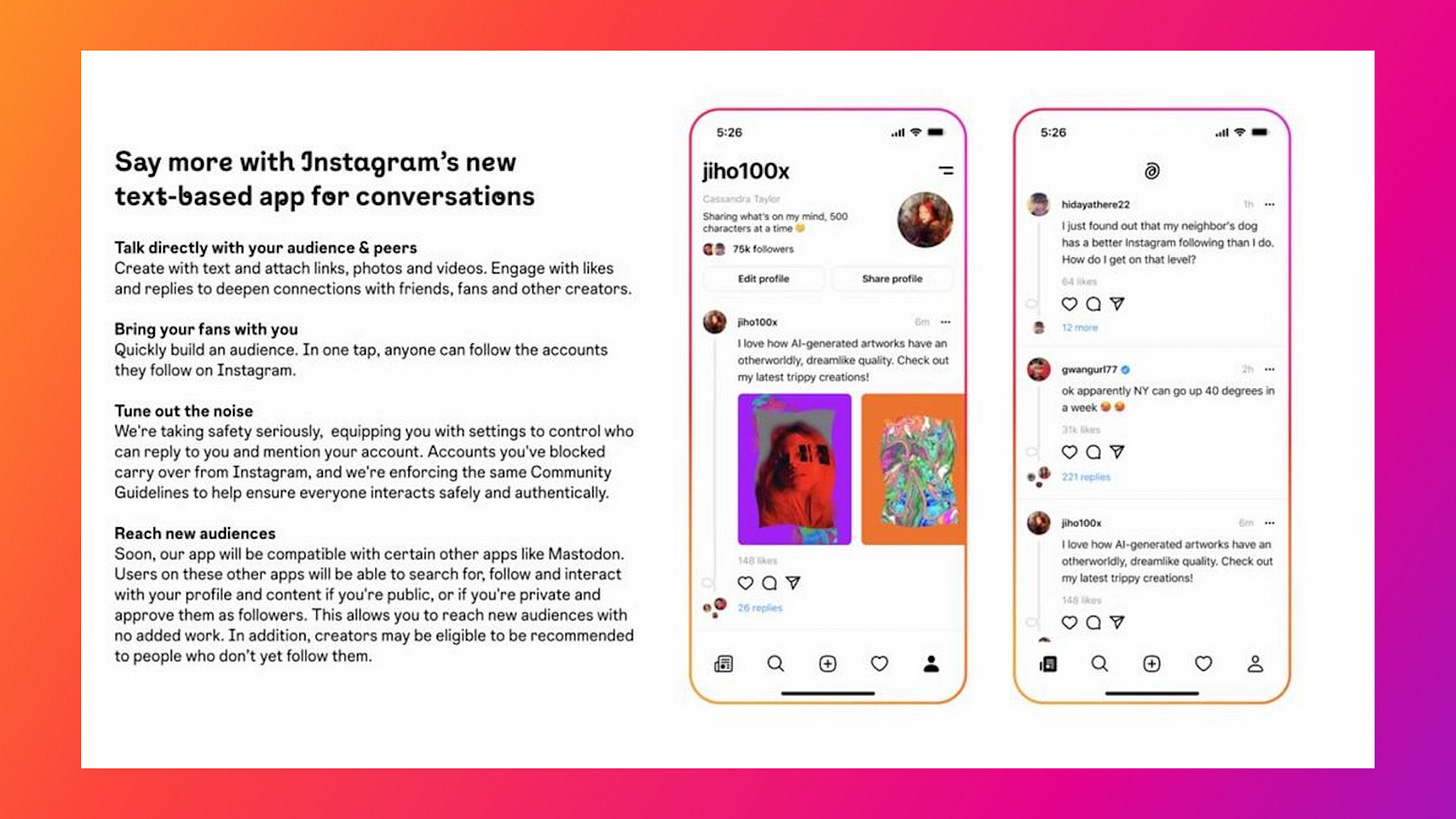 Above is a screenshot of Instagram's new text-based app and the information they've been sharing with creators. On the left is a description titled "Say more with Instagram's new text-based app for conversations." At the same time, on the right are 2 mobile screens with a look at the text and photo-based updates inside the new application tool—a new, decentralized social network app.
Meta followed up with a release date for Threads—July 5th, 2023, when it launched to 100 million users within five days. The application's sizeable initial user base can directly connect to its initial seamless signup process. And it's pretty straightforward.
To get started with the new application tool:
Second, connect the application to your existing or new Instagram account.
Third, choose if you want to follow everyone you currently follow on Instagram.
That's it! You're in — take a look at the new Threads App features. Enjoy!
Technically, the speedy connection to Instagram meant users could have all their existing profile details pre-filled, lessening the time to get to the main Feed. In addition, it also meant that Instagram had its 2.35 billion-large user base moving to the new Threads App. And that's not counting the users in countries of the European Union that don't yet have access to the Instagram application platform.
Of course, things have calmed since, as active usage from its large user base has dipped 50 percent. That hasn't deterred the team behind the project, though, as they release new features and updates to the app weekly. For instance, a way to share a thread to Instagram DMs and add custom alt-text to images/videos for accessibility. Perse, for them (and us), Threads is just getting started.
The Topmost Best Website Platforms To Help Boost Your Threads App Likes
On Instagram, billions of people worldwide connect over photos and videos. Their essential vision with the Threads App is to expand what Instagram does best to text, creating a positive and creative space to express your ideas. Like on Instagram, with Threads, you can follow and connect with friends and creators who share your interests – including those you follow on Instagram and beyond.
And you can use their existing suite of safety and user controls. On the one hand, whether you're a creator or a casual poster, Threads offers a new, separate space for real-time updates and public conversations. On the other hand, the developers are working toward making Threads compatible with open, interoperable social network tools that will help shape the future of the internet.
It's important to realize that an open social media networking feature will also be coming soon! In the future, there will be ways to discover more content and reach wider audiences: The app developers are planning features that allow you to search for, follow, and interact with users on open, interoperable social networks. It's something that we believe will shape the future of the internet.
With more likes and followers, you are more likely to gain visibility, reach, and fame easily and quickly. Of course, traditional marketing techniques for attaining this target will take a long time, whereas buying Threads likes can be the most effective way to achieve it quickly. Below are reputed websites to shop for natural Threads likes from active user accounts and profile engagement.
Are you an influencer looking for personal or business branding? If your answer is Yes, Trollishly can help you reach a massive audience, and they help to enhance your brand's visibility and get organic traffic and likes within a short period. Trollishly is the best place to buy Threads likes for your profile-building or branding purposes. They provide a wide range of options for purchasing Threads likes from which you can select a suitable package. 
Merits:
Easy-to-use Interface

Rocket Speed Delivery

Affordable Costs

Customer Support

Multiple Payment Options
Trollishly is well-known for its social media growth services, and now it also provides genuine Threads-related services. For beginner Instagram marketers, their packages start from $0.89 for 50 Threads likes and extend to $298.9 for 50K Threads likes.
EarnViews is the best social media growth service that provides exciting packages with offers and discounts. With their high-quality services, they hold a lot of customers. EarnView's well-crafted packages offer high-quality services that will bring accurate and quick changes to your profile. Thus, it will uplift or boost your user engagement and exposure. You can now amplify your chances of success by purchasing their Threads likes services.
Merits:
Cost-Effective Packages

Multiple Payment Options

Robust Growth Opportunities

Fast-Paced Delivery

Seamless User Experience
You can buy 1000 likes for $15.65 and a bulk purchase of 10K Threads Likes for $104.90. You can buy up to 50,000 likes at a time.
LikesGen will provide you with high-quality likes from real user accounts, thus enabling you to get real user engagement to your posts. Realistically, you can surely get a high user engagement and growth rate using their instant services. They have secured payment gateways, so purchasing credit or debit cards is highly safe. So, enhance your Insta post's engagement and exposure.
Merits:
Customized Plans

On-the-spot Delivery

Secure Payments

100% Confidential 

Assured Results
Their most popular packages are $4.4 for 250 Threads Likes and $59.65 for 5000 Threads Likes.
QuickGrowr is a reliable social media service provider that will help you build credibility and a strong presence. As their services are affordable, you can buy Threads App Likes service and enhance user engagement to your posts. You will receive instant delivery of likes and comments as you purchase. It will make your content more viral and engaging. Also, they accept different payment methods to buy their services, except bitcoin and cryptocurrency. 
Merits:
Seamless Order Purchasing

Rapid Delivery of Services

SSL Encrypted Payment

100% Refill Guaranteed

High-Quality Threads Services
You can get offers and discounts of up to 50% on every order. If you want to know more, check out their website.
TikViral ensures to provide genuine and active likes, setting it apart from bot-driven or fake engagements. They also offer packages at nominal prices for their high-quality real likes. When compared to other social service providers, they are genuine and reliable in the online market. 
Merits:
High-Quality Likes

Well-Crafted Packages

Round-the-Clock Support

Secured Payment Gateways

Hassle-free Order Processing
Their attractive packages include $1.79 for 1K Threads Likes and $140.9 for 10K Threads Likes. You can easily and quickly get 1K likes to your post within a few minutes to hours.
TikScoop is one of the Threads growth service providers that can help to empower your Threads profile. As they are highly experienced in this industry, you can find all social media-related services to buy. You can leverage the benefits of TikScoop's Likes services for Threads and organically enhance user engagement and visibility. 
Merits:
Increase Credibility

Instant Delivery

Quick Order Processing

Refill Assurance

Safe and Secure
You can buy from 50 to 50K Threads likes instantly. The most trending package of TikScoop is $8.4 for 500 Threads likes.
UpViral, though a newbie in the social media growth market, is getting popular for its genuine services. They provide authentic Threads App likes through which your posts and profile will increase visibility and engagement organically. As their packages are cheap, they are affordable for individuals and businesses.
Merits:
Premier Threads Likes

Fast-Paced Delivery

Highly Secured Payments

Round-the-Clock Support

Personalized Services
You can explore the features and pricing packages from the abovementioned website applications and select a suitable one that suits your needs. Notwithstanding, some also review their pricing plan packages as you purchase. Then, what's stopping you from getting started? Please share your overall experience using any of the above platforms that foster more Threads App likes.
Wrapping Up;
The new Threads App holds immense potential for marketers looking to build their partner business reputation or brand presence awareness. Also, individuals can leverage its benefits for personal branding and profile building. While organically attaining fame and recognition will consume much time and effort, you can purchase a Threads growth service to achieve it faster. 
Also, boost your profile or brand to reach your target audience by claiming other social media growth services. We have shown how to enhance your profile, and now it's your turn to select where to do it right. Remember, safety starts with understanding how the app developers collect and share your data. Data privacy and security practices may vary based on your use, region, and age.
On that note, the new Threads App developers have an elaborate information page with the privacy policies and security terms and may update it over time. Remember, after installing the new Threads App, you can easily and quickly log in using your Instagram account. Eventually, your posts can be up to 500 characters long and include links, photos, and videos up to 5 minutes.
As mentioned, they're also working to make Threads compatible with the open, interoperable social networks that they believe can shape the future of the internet. They plan to continue listening to feedback and launching more features that improve people's experience on Threads. Please share your user experiences in our comments section. Good luck with your social media growth!