Want to change image color online for free and instantly? Well, you can use web applications such as the Pixelied handy picture color changer tool so seamlessly. More so, in order to change the color of images within seconds and share them online! Suffice it to say, all you'll need to do is just upload your image, or rather, drag and drop your image into these online web apps.
Pixelied is the perfect solution if you're looking to change the color of images online for free. Whether you want to make your picture stand out or emphasize some of its details, Pixelied's best-in-class photo editing toolkit. For one thing, it helps you replace the color in the image and improve its appearance within moments. We have been using it for some time and it's a tick!
Out of the box, Pixelied is more than just an Online Image Color Changer Tool that every webmaster must have in their inventory. So, Pixelied is an all-in-one online image editor that enables non-designers and digital professionals to produce unique creations from scratch or even use intuitive templates for free. That's why it's more than any other similar tool.
To enumerate, with Pixelied in your hands, you'll be able to sift through thousands of stock photos available in its official library collection of images. And then, use the other editing tools at your disposal to make jaw-dropping visuals and share them across the web! Our team of Web Tech Experts got hold of this toolkit while searching online, thus we'd like to share it with you.
What The Pixelied Online Application Tool Offers 
First of all, Pixelied is the best online application software tool to replace the color in an image without the need for any Photoshop skills or other specialized software knowledge. Secondly, this application allows you to improve your photo composition and change the color of your image so easily and quickly. But, can I add elements like text, photos, and icons?
Of course, Yes! With Pixelied, you can fully customize an image by adding text, icons, photos, elements, illustrations, mockups, and much more. Wait a minute… Can I use the images that I download for commercial purposes? Definitely, this's where "the Burn meets the Brum" for all it's users. And, the answer is simply a big YES! This means, that it covers every designer.
Its Key Features:
In short, you can use the images for personal and commercial purposes — without even giving any attribution. Besides the free version, they've got a premium offer as on the link above. Ultimately, it's the only online app that replaces the color in your image with the color of your choice. Whereby, you can easily upload an image and pick a replacement color.
And then, download your new photo using the online photo editing tool that's free to use for all — with no need to download any other additional software or install some application files. It's right there with you, online! And, just like we mentioned before, it's so easy to use — it requires no technical skills of complicated software like Photoshop, Gimp, and other toolkits.
Get Top Quality Designs – Without Needing A Designer!
So, why should you hire a designer or learn (and practice) all about graphics? Time is money, right? And tons of it gets wasted when doing either of these options. Using multiple design tools leaves you juggling between different websites and subscriptions. And, each with its design and usability guidelines — all whilst giving your audience poor-quality graphics.
For a full suite of image editing tools, with standalone solutions for the most common uses, tailored for businesses — you don't need a designer — you just need Pixelied. Bear in mind, that it's already trusted by the world's best brands. Whereby, more than 15,000+ brands trust Pixelied as the online graphic design software of their choice including our very own task force.
In short, Pixelied is a free online graphic design tool for easy, beautiful designs. Re-touch ecommerce product images, replace backgrounds and easily create branded designs for social media, blog posts, and other content. Tasks that used to take designers hours. Now you can do them in just a few clicks with our online graphic editor. Everything you need for epic designs.
1. Start now with thousands of ready-made templates
An ever-growing library of professional templates with ready-made thumbnails, header images, story and post graphics, and more for all your marketing channels, from social media through online streaming to email and more.
Brand beautifully and instantly with Pixelied. Plus get millions+ stock photos for every purpose and brand design capacity. Compose your designs from 4+ million royalty-free stock photos, creating beautiful and striking branded designs for your business using our free online graphic design tool.
2. Bring your designs to life with thousands of icons
Spice up your designs using our massive library of thousands of SVG icons that are already inbuilt. Search through icons for any purpose and occasion with no experience required. With an unlimited workspace for brands and projects.
Create a workspace for each brand or project, each with its own colors, designs, files, and settings. Invite team members to specific workspaces, and collaborate seamlessly with designers, copywriters, and developers.
3. Remove image backgrounds in a single click
Remove backgrounds from images in a single click or use it as a standalone tool without using the editor. Add people, products, or other graphics to create professional high-resolution transparent images. In addition to easy-to-use product mockups.
Create realistic and professional mockups for your apps and websites in a few simple clicks! No need to waste countless hours in getting a perfect mockup for your product. You'll be able to upload and edit your vector files. Upload vector graphics from programs like Photoshop and Illustrator to use in your designs.
4. Use Pixelied's quirky, characterful illustrations
Browse Pixelied's 700+ library of hand-drawn illustrations in a variety of styles. Change all the colors of an illustration seamlessly without any issues. Not only this, but you can also use these illustrations for landing pages, software, and apps.
Additionally, you can choose from 25+ formats and 20+ categories that are professionally ready-made for you. Likewise, you can also easily change colors, styles, backgrounds, or any other design element if you like.
5. Get the most comprehensive photo editing tools
Customize any photo however you want with Pixelied's complete set of easy-to-use photo editing tools, including an eye-dropper, opacity, layers and locking, borders, object grouping, shadows, flip and duplicate, filters and effects, and alignment.
Above all, something that's inclusive of key features to create colorful photo effects as well as photo filters plus other photo editing tools. Equally important, you'll also have a way to resize images to preset dimensions for social media.
Start Creating Beautiful Designs With Pixelied Easily
Pixelied is also the perfect solution if you're looking to change the color of images online for free. Whether you want to make your picture stand out or emphasize some of its details, Pixelied is the best-in-class photo editing toolkit. One thing is for sure, it helps you replace the color in the image and improve its appearance within moments.
Pixelied offers you an easy-to-use design suite that lets you create any type of design. From social media graphics to thumbnails, headers, banners, and much more! Meaning, that it'll help non-designers create stunning visuals within minutes. Just visit its creation page to start creating beautiful and amazing graphic designs. Whilst, using its unique toolkits to do so.
Get toolkits for:
Overall, the best is that you can test the waters first (get started) before you can upgrade to go premium — as you create your first design with speed and ease — all for free online! What's more, besides using its free version for the creation of your own unique and beautiful designs, you can also Pay Once — you'll use Pixelied forever to create designs or edit images!
The Free Version:
Only 1 Workspace
Basic Pixelied Features
 Downloads Per Month
1GB Cloud Storage
No Priority Support
The Lifetime Version:
Upto 5 Brand Workspaces
4000+ Premium Templates
4m+ Stock Photos And Icons
100 BG Removing Credits/month
2 Team Members With Unlimited Brand Presets
Unlimited Downloads Plus Storage
Key Features For Magic Resize
On that note, just visit their main official payment options page to get going — you'll notice that their Pricing Plan is very affordable and pocket friendly. To enumerate, the Pixelied Lifetime Package goes at a one-time payment cost of $97 (an $1164/year offer till August). Perse, unlike other similar tools, has no unnecessary subscriptions, upsells, or extra fees!
And, as of writing this review guide, they accept credit and debit cards (Visa, Mastercard, American Express, Discover, JCB, Diners Club, and Union Pay). Moreover, if you would like to pay through the PayPal method, then please feel free to contact them at [email protected] for more customer help and support.
Forthwith, as you can see, in the image above, there're just so many image edit features that the Pixelied toolkit does include in its bucket list. It's just A Free Online Graphic Design Tool — For Easy, Beautiful Designs for all! But, how do you change the color of an image using the Pixelied tool? Well, we'll learn more about that in detail later on! So, stick with us to the end…
So, do you want to change image colors instantly? Use Pixelied's handy picture color changer tool to change the color of images within seconds and share them online! To get started, all you'll need to do is,  or rather, drag & drop your image on their image color changer page directly. That said, below are a few more other benefits that you'll get and enjoy.
1. Replace Color in the Image Online Instantly
Enhance your photo's details by replacing similar shades with contrasting hues. Adjust the image's colors to make it more attractive. Pixelied's picture color changer tool enables you to do a replacement of the color in images and make them more eye-catching. Tweak the colors and improve your image's appeal in less than a minute.
2. Add Color to Black and White Pictures
Emphasize the details in your black-and-white photos by filling them up with vibrant colors. Create designs that stop your digital audience from scrolling over. Use colors for breathing life into B&W snaps by recoloring the entire image or selecting elements to make them pop. Unleash the true potential of bland grayscale photos with Pixelied's image recolor tool!
3. More Image Effects at your Fingertips
Create unique visual content with Pixelied's online photo editor. Change the color of images and add special effects and filters to improve your designs. Add captions to photos, frame them in customizable borders, increase their visual depth with intelligently placed shadows, and more. With Pixelied, your creative options are endless!
4. Export Images in Multiple High-Res Formats
Produce unique designs that are ready to print or publish online. Modify the image's size and quality to perfectly match your social media dimensions. Pixelied enables you to download your creatives as high-resolution images for free. Just click the Download button when you're finished and save your creation in multiple file formats like JPG, PNG, PDF, and SVG.
5. Resize images to preset dimensions for social media

On one hand, create social media designs with a click. Gain traction on image-centric channels like Instagram and Pinterest, or improve audience responsiveness on noisy channels — like Twitter by up to 150%. On the other hand, create multi-channel campaigns in seconds and save hours of design time. You can learn more about resizing images in detail.
In a nutshell, any can easily use Pixelied to gain access to all the above tools among others in one place. Pick from thousands of photos, vectors, icons, and graphics to create compelling visual content for your eBook covers. Are you interested to start using this freemium web-based design application today? Go for its Limited Lifetime Deal right now!
Change Your Image Color For Free In Simple Steps 
You spend hours on end to get something you like from other tools, but you still don't know what you'll be getting, in the end. That's what you get with most online design tools. It's time-consuming and frustrating. Pixelied makes it easy for you to create your designs from any image or text — add your favorite fonts and have it all ready within seconds.
For real, it's the only free online toolkit for creating easy graphic content as well as beautiful designs. On that note, just let this tool do all the work for you. You don't need to hire a designer or fiddle around with complicated software. All you need to do is type in the details of your design and its various design tool maker will take care of the rest!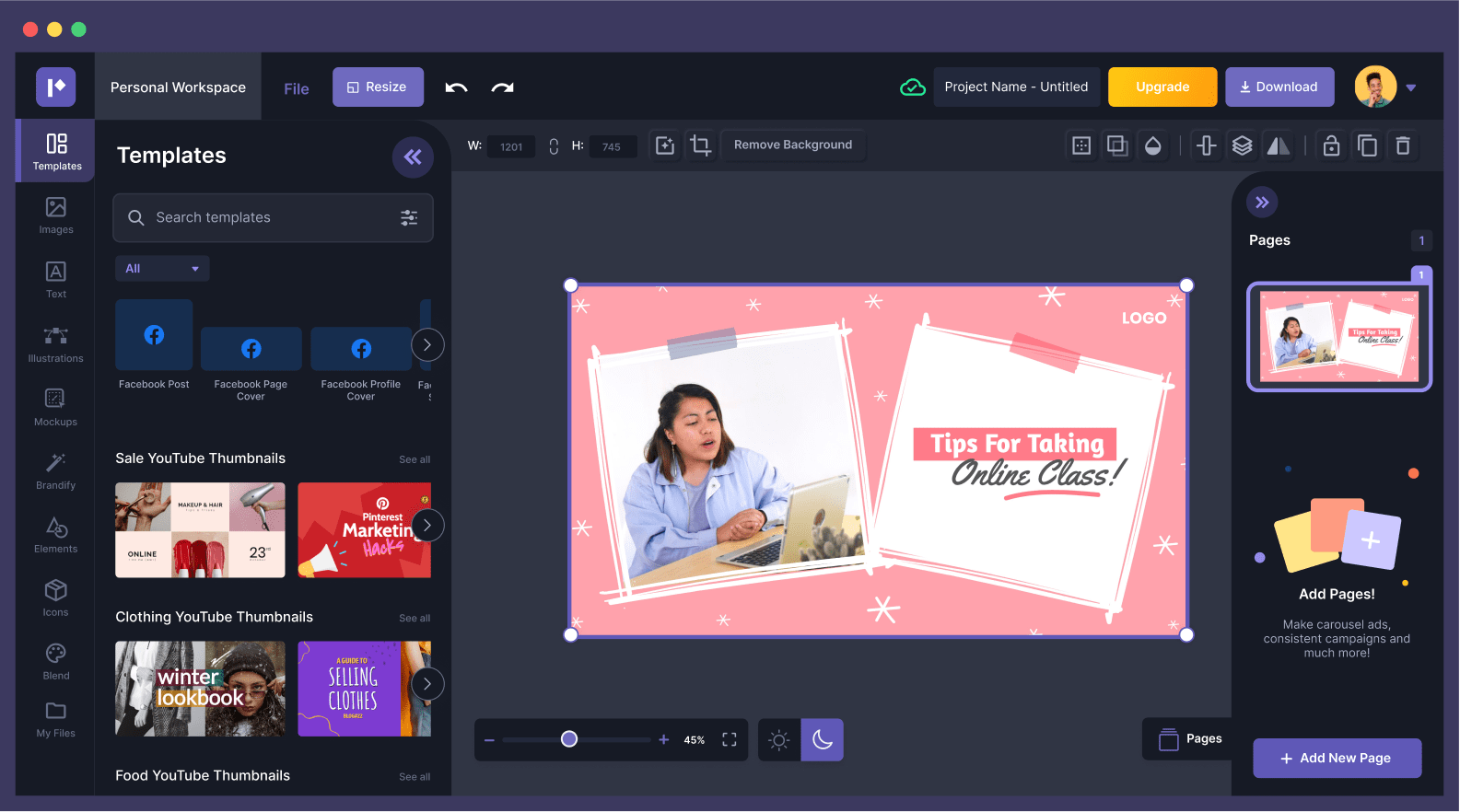 In other words, it has got everything you need to create epic designs — all online for free! From ready-made templates to removing background from your images. Or, otherwise, using millions of stock photos with advanced editing tools, Pixelied has got your back covered. So far, we can simply and comfortably say that, besides the Canva application, Pixelied is worth it.
Simply put, Pixelied is yet another best online image color changer tools — that you should consider when it comes to your design projects. Such as changing the color of the image with much more customization capability inbuilt features. Bear in mind, that with Pixelied, you now have an easy way to access all design and editing tools in one unified place — for free online!
Such unlimited tools include:
Image Crop: Crop any unwanted part of a photo in a few single clicks!
Image Filters: Add grayscale, polaroid, sepia, vintage, and many more filters to beautify your photos.
Drop Shadow: Enhance your cover by adding a drop shadow effect to your images, elements, and objects.
Eye Dropper: Click and point anywhere in your design to select colors from images, text, illustrations, and elements.
Text Shadow: Text manipulation has never been so easy! Add text-shadow or border to your designs.
Custom Border: Add borders to images, illustrations, and text and make your designs stand out.
Upload Files: Upload and use your own images to further add creativity to your designs.
Organize Folders: Categorize your designs with the help of folders to better manage your workspace.
Brandify: Create a unique and consistent message across all of your designs with the click of a single button.
Magic Resize: Resize your designs to the correct dimensions for various social media channels with the editor.
Custom Border: Add borders to images, illustrations, and text and make your Ebook covers stand out.
In addition, open your door to the world of designing great-looking covers. In particular, with a curated selection of templates, ranging from minimalist to complex and eye-catching. Whilst, allowing you to easily create a masterpiece in next to no time.
Get free and exclusive access to:
Mockups: Create mockups from their ever-growing library for your apps and websites quickly and easily!
Stock Photos: Millions of free stock photos are available to you, with no restrictions on usage rights.
Vector Upload: Fully customize your vector files inside the Pixelied editor without using software like Photoshop or Illustrator.
Pre-Made Templates: Choose from their library of premium templates that are tailored to your business needs.
Background Remover: Save tons of time by removing the background from your photos instantly using AI technology.
Brand Workspaces: Super-organize your designs, branding assets, uploads, and team members using brand workspaces.
Illustrations: Take advantage of Pixelied's 1000+ library of hand-drawn illustrations and edit them seamlessly.
If you still want to learn more, you can explore the editor to see it in action. Use the image color editor tool to alter the colors of your image. Then use the numerous other editing tools at your disposal. Specifically, in order to create eye-catching designs out of your recolored image. With Pixelied, you can change the color of images quickly to match your satisfaction needs.
Follow these simple steps to change the image color:
Upload a photo or drag and drop it to the editor in JPG or PNG format.
Click on Image Effects & Filters from the menu above your image.
Choose a specific color using the Tint tool and adjust the slider to control the color intensity.
Click on Download to save your image in multiple file formats when you're done.
Why use Photoshop when you can do it faster? As an example, designing eBook covers in Photoshop or Illustrator takes a lot of effort if you are not a designer. Fortunately, Pixelied makes it super easy for anyone to create awesome eBook covers in just a few minutes. What's more, you don't need to know anything about design principles, fonts, or color pairings.
Takeaway Notes:
Just when you want to accelerate your business, graphics are in the way. Regardless of whether you learn all about graphics yourself or hire a designer, they both take up valuable time. You can outsource the work, which often ends up costing just as much money as if you were to do it yourself. Get those stunning eBook covers you need and cut down on your workload.
All this in a few simple steps with Pixelied! Pixelied makes it super easy for anyone to create awesome graphic designs in just a few minutes. You don't need to know anything about design principles, fonts, or color pairings. Just upload and edit your images, add text and select a style and you're done! It takes no time at all.
That's it! Everything that you need to about the Pixelied web application toolkit. So, have you tried it yet? What is your User Experience (UX) so far? Well, you can share with us some of your thoughts, opinions, suggestions, recommendations, or even contribution questions (for FAQ Answers) in our comments section below. But, if not yet, what are you waiting for?
Keep in mind, that even though this is just a small review peck of what Pixelied can really do for you, it still offers you the keynotes and guidelines to start using this unique toolkit. Be that as it may, if you'll still need more help, you can still Consult Us For Free and let us know how we can sort you out. Moreover, our Web Tech Experts Taskforce will be glad to come in.