Kansas City med spa facials are cleansing, exfoliating, and nourishing skincare treatments that are both preventative and prescriptive. They can help patients maintain skin hydration, health, and vibrancy while addressing skin imperfections and preventing future ones from appearing. They can ward off the aging process and improve the complexion of patients with all skin types and tones. Sensitive skin and facials can coexist, and the right facial will improve the complexions of those with more sensitive skin.
Sensitive Skin and Facials: Can People With Sensitive Skin Get a Facial?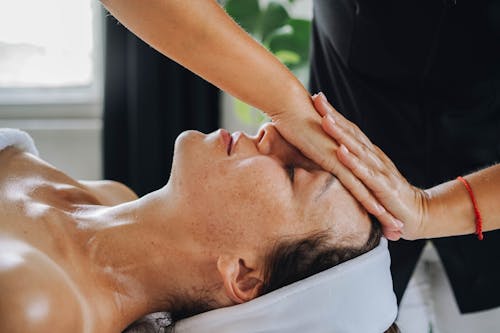 Many patients with sensitive skin avoid facials out of fear of irritating their skin or experiencing breakouts or significant inflammation resulting from specific products and techniques used during the treatment. However, all hope it's not lost.
Those with sensitive skin can still undergo a facial to promote skin health, increase hydration, and address specific skin concerns. When the right products, techniques, and methods are used throughout the treatment, those with sensitive skin can enjoy their treatment without fear of an adverse reaction and achieve noticeably improved skin after each successive treatment.
The Importance of the Right Products
Certain products have a tendency to irritate even those with normal skin, so when they're used on those with sensitive skin, inflammation typically follows. When it comes to sensitive skin and facials, product choice is critical.
During a facial customized for patients with sensitive skin, the esthetician will be fully aware of the patient's needs and skin type and choose products accordingly. The right cleanser, exfoliating products, and topical serums designed to soothe sensitive skin can help promote optimal treatment results.
The Importance of the Right Techniques
Many different techniques can be used during a facial to address specific skin concerns. However, some of these techniques will only make sensitive skin more inflamed and irritated after treatment, so it's important that the esthetician uses discernment in determining whether certain techniques will exacerbate sensitive skin or help patients achieve a glowing, balanced complexion.
you can also click here to know more about different type of health like your mental health , physical health etc.
In some cases, certain techniques like dermaplaning, which removes fine hair and dead skin cells with a single surgical-grade scalpel from the skin, will be adjusted to meet the needs of those with sensitive skin.
What To Expect From a Kansas City Med Spa Facial Customized for Sensitive Skin
The first step in this treatment process is a consultation. Your esthetician will discuss your primary skin concerns, whether aging, hyperpigmentation, acne, dryness, or uneven skin tone and texture.
Then, she'll ask you about your skin type, and once it's determined that you have sensitive skin, she will design a facial accommodating your skin type. This treatment plan will include the right products, methods, and techniques to ensure optimal treatment results.
Your Facial
A typical facial includes cleansing, exfoliation, and hydration. It can be customized with different techniques and methods to enhance the results and target individual skin concerns. Some facial add-ons include dermaplaning, oxygenating treatments, hydrating and skin-perfecting masks, and facial massage, among others.
Those with sensitive skin may still qualify for these add-on treatments, and the right esthetician will know which ones will make the patient's skin better, not worse. Click here to learn more about methods and techniques tailored for those with sensitive skin.
Scheduling Additional Treatments
Facials can improve the skin, but the best results come from successive treatments. The results of each facial will build on the ones previous to it. Facials can be scheduled monthly or even bi-monthly for optimal results. Those with sensitive skin can still schedule monthly or bi-monthly facials, as long as those treatments are tailored to their exact skin needs.
Product Recommendations
Most people with sensitive skin don't even realize the effect that the wrong topical products can have on the health and appearance of their skin. During your facial, not only will the esthetician use the right products for your skin, but she will also make product recommendations so that you can be sure you're following the right at-home regimen to avoid the irritation, redness, and inflammation that often results from using the wrong products.
Additional Professional Skin Care Treatment Recommendations
Not only can your esthetician perform a facial designed to treat sensitive skin, but she can also recommend other professional treatments to help improve your skin without irritating it. Those with sensitive skin don't have to be excluded from other professional skin care treatments that can address the root cause of certain imperfections; they just need to know which ones to schedule and which to avoid.
With the right guidance, those with sensitive skin can undergo a comprehensive treatment plan to help them achieve glowing, healthier, and younger-looking skin.
If you're ready to schedule a facial at a Kansas City med spa, it's important that you provide your esthetician with all the details about your skin, your concerns, and any experience you've had with a facial, good or bad. That way, you can feel confident that you will experience a treatment specifically designed for your skin and enjoy the benefits of a custom-tailored treatment.
---
Related Blog Tags: