Of course, Local Search Marketing is nothing new to most marketers, yes! But, whether you are studying local search marketing and local SEO to promote your own business or to become skilled at promoting other brands, it's important to begin the work with the understanding that this is a field that requires ongoing education. Plus a few trials and errors here and there!
Not forgetting, most search engines like Google, Bing, Yahoo, Yandex, and the like… continuously update how they handle digital media, and trends in online user behavior change constantly. As a matter of fact, what works in January (the beginning of a fiscal year) may become outdated by December. Because of this, it's realistic to approach marketing from all angles.
Especially, in terms of local search marketing context – just as you would your favorite hobby. It must be something that you're willing to take the time to get better at. Obviously, because you feel a genuine eagerness to remain engaged with the task. Fortunately, learning the fundamentals of Local SEO doesn't require much time to drive a local search marketing plan.
That said, as you'll come to learn in this guide, local search marketing is the process of improving a local business's search visibility online. In particular, this is mostly in regard to localized brands or any business that serves its customers in person within its demographic settings. This can include a storefront location or a service area where you travel to customers.
What A Strategic Local Search Marketing Plan Usually Entails
To enumerate, Local Search Marketing is a market-driven technique that comprises both offline and online tactics — employed to promote businesses that serve customers face-to-face. The terms local SEO (part of SEO (Search Engine Optimization) practices) and local business marketing are often used synonymously in the local search marketing context.
The many goals of this form of promotion can include improving customer satisfaction, reputation, traffic, visibility, conversions, and revenue, with the underlying mission of engaging a greater number of nearby customers. As a matter of fact, local businesses are defined as commercial entities that serve customers in person. Local business models range by niche.
From small, single-location companies to large enterprises with dozens, hundreds, or thousands of premises. Service area businesses without physical locations also qualify as local businesses, provided they carry out their work at the locations of their customers and clients. When fully realized, local search marketing can be envisioned as a structured hierarchy of tasks.
While every campaign will have unique goals based on the priorities of the local business owner and their marketers, it's useful to study a broad overview of local search marketing, which we present here as a pyramid. Tasks at the bottom of the pyramid should be viewed as foundational, with opportunities higher up offering exciting potential for competitive differentiation.
Forthwith, Local SEO is vital for any business operating in a particular geographic area. The size doesn't matter — it could be either a small local business: or coffee shop; or a local office of a large multinational company, international bank, or car dealership. If you provide services to local clients, you should consider optimizing your website for local search.
Local search marketing is important because your customers are almost certainly searching online for what you do. Meaning, that you can easily get started, measure your current performance results, and use that data to drive more local traffic to your web-based business. As well as convert those potential customers within your range into active product buyers.
The following statistics back this up:
What's even more important is that people performing these searches aren't just window shopping. They are actually looking to buy what you have to offer. In fact, 76% of people who use their smartphone to search for something nearby visit a business within a day. Another statistic shows that 28% of searches for something nearby end in a purchase as well.
So, with that in mind, it's clear to say that monitoring the organic rankings of your website helps you understand how your site is performing in the organic or unpaid search results. Not to mention, organic traffic appears in your Google Analytics dashboard when people search for specific keywords related to your business and click through to your website.
The key benefits of organic rankings monitoring:
Track to see if your website ranks in SERP features
See how you stack up against your competitors in real-time
Visualize your SEO progress to help outdo your competitors
An array of tools to get ranking updates for desktop and mobile
Helps to identify trends with advanced metrics at your fingertips
You can sort your keyword list with filters and custom tags
Gain insights with the "share of voice" functionality
Additionally, you'll also be able able to stay up to date with all your ranking movements, right in your inbox. A Rank Tracker such as Ahrefs sends you regular email reports detailing the most notable changes in your keyword rankings. And more precisely, along with a sample of gained and lost SERP features and performance data based on your tags.
In a nutshell, it is vital to optimize your overall website's SEO and ensure it ranks at the top of search results pages to continue acquiring more visitors on a daily basis. Fortunately, there are an array of toolkits that you can consider.
The Best Tools To Monitor Organic Local Search Rankings 
It's, important to realize, that monitoring the organic rank of your website is crucial for measuring the performance of your local search marketing performance as well as any other SEO campaign results. By definition, organic search refers to search engine results that are not impacted by sponsored advertising. They are distinguished from other types of sponsored results.
Such as Cost-Per-Click (CPC) advertising campaigns, or shopping results — more so, in which a search engine like Google or Bing is compensated by the advertiser or the marketer to drive results. Usually, this form of compensation is done for either showing the ad or when someone clicks on the result. But, nothing beats the odds of having an organic search plan in place.
Simply, this is because even though promoted content will often show first in the search panels, most Search Engine Results Pages (SERPs) often give more value to organic content in the query results than their competitors. Owing to that; most of these paid search ads are on a time-based cycle — they will come and go like a flash —  but, organic ranking is a lifetime.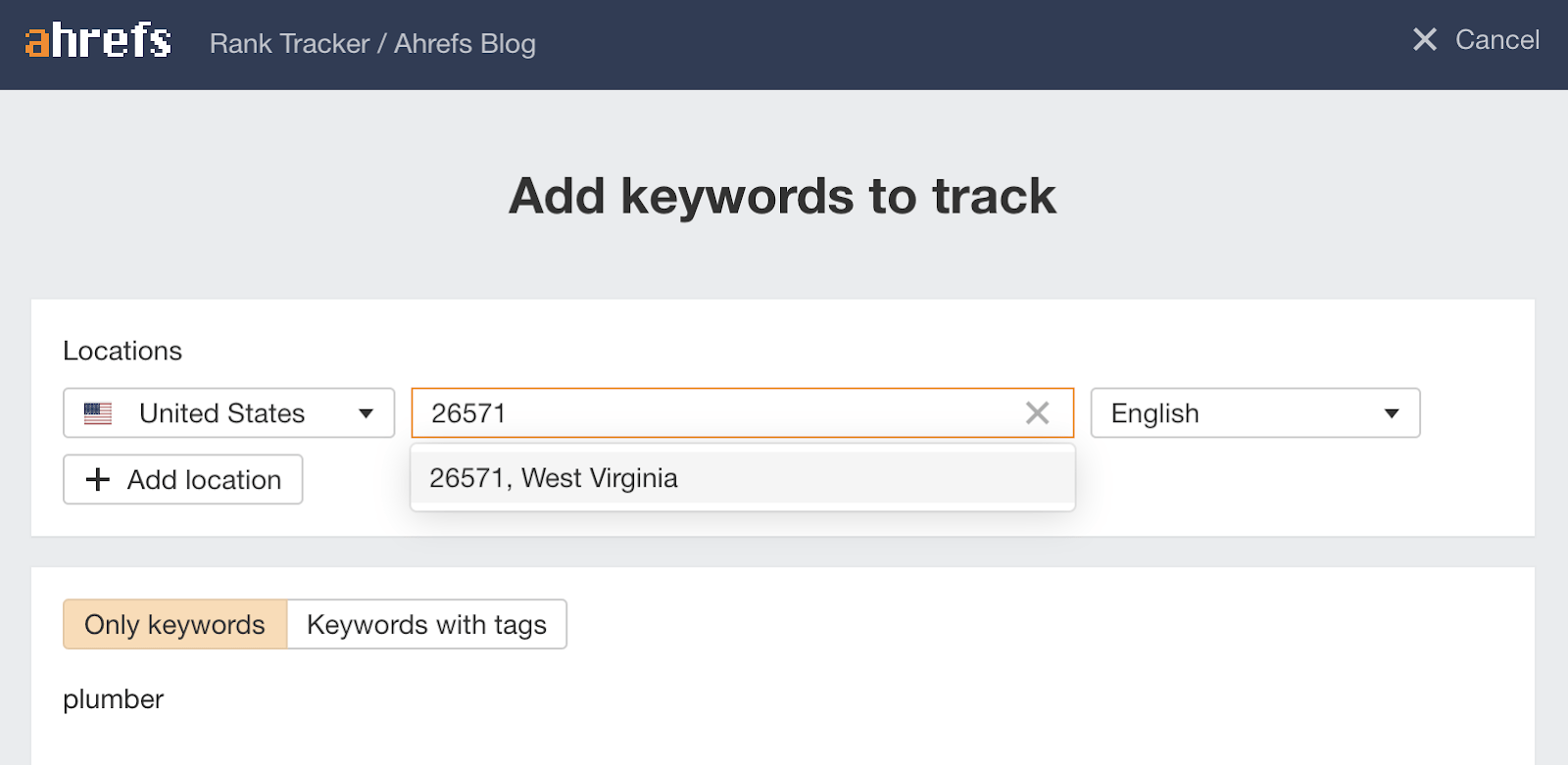 Forthwith, you can track your organic local search rankings using a rank-tracking tool like Ahrefs Rank Tracker as the starting point. For one thing, it allows you to track keyword rankings by country, state, city, and zip code. And also, monitor your rankings over time and chart your performance against your competitors — get scheduled reports, straight to your inbox.
Topmost Tools:
These local SEO tools help you monitor local search marketing results across multiple locations for all your target queries. Track local rankings in the organic search, including Google Local Pack. Select a city or enter your postal code to get the most accurate local results. They also allow you to track your local visibility online for desktop or mobile SERP separately.
Every online platform has its own standards. For local businesses, one of the most important documents is The Guidelines To Representing Your Business On Google to regularly get references for guidance. Because Google has become the dominant force in online local search, its guidelines clearly outline how local brands can and can't use Google's platform.
In addition, the guides have also heavily influenced how we conceive of and talk about local businesses in the modern era. Businesses that intentionally or accidentally break or bend them may find their local business listings removed or suspended, or their reviews filtered out or removed. Companies striving to build long-lasting brands will never break them.
The Topmost Best Practices For Great Local Search Marketing
In reality, if you want to take advantage of local search marketing, knowing and implementing best practices is important. After all, there are numerous optimizations for local search. Unfortunately, we don't have time to cover them all in this article. But, we'll cover a few best practices to give you a starting point for your local search optimization.
While tracking rankings, some of the keywords will often imply that a product or a service is sought within a certain location. Such keywords normally trigger a special group of search results linked to a map that displays business addresses for the user's convenience. A good keyword rank tracking tool allows checking local positions next to regular rankings.
As we aforementioned, the first step to marketing any local business is to study the rules governing the platforms on which you plan to have a presence. And also, be knowledgeable of the laws regulating advertising and communications in your country. Failure to comply with policies and laws can result in punitive action on the part of platforms and litigation.
So, whether you are participating on local business listing platforms like Google Business Profile, community sites like Nextdoor, review platforms like Yelp, or social media hubs like Instagram, read the guidelines before engaging in any marketing activity. Having said that, below are a few more other local search marketing best practices that can help you greatly…
1. Come Up With A Defined Content Publishing Strategy
Of course, yes, the moment local business steps online, it becomes a publisher, just like a print magazine or newspaper. Suffice it to say, its content should be based on researching how customers search for what the business offers and how Google handles their results for these phrases. The amount of publishing will depend on its competitive environment and its goals.
For example, if you are running the only bakery in a small, rural town, your publication strategy may only need to be quite modest to earn you the number of customers you require to be profitable. But, if you are running one of the thousands of restaurants in a large city, you'll likely need to invest more in your content strategy to stand out from the crowd.
Consider the following forms of content:
First, textual website-based content in the form of pages, articles, blog posts, first-party reviews, and other user-generated content. Or rather, guidelines, interviews, white papers, policies, credentials, reports, tutorials, navigational menus, calls-to-action, FAQ Answers, wizards, and transcriptions. As well as Call To Action (CTA) button text, link and link anchor text, forms, tooltips, driving and walking directions, location information, and more.

Secondly, textual offsite content including local business listings, reviews, interviews, guest articles, columns, social media posts, interviews, and features of yourself, your staff, and your business on third-party sites.

Thirdly, image and video content including photos and recordings of your premises, goods, and services, staff, and audio content such as podcasts and playlists. Video can also be a form of customer telesupport.

Last but not least, you can also integrate other third-party assets such as maps, tools, widgets, games, contests, apps, carts, and the like…
In short, everything a local business puts out there on the web is a form of publishing representing the company — even a few words, like those on a button, matter. The best content helps customers along their journey. It also demonstrates to SERPs that it deserves to be ranked well when the intent of a searcher matches what the business is providing.
Always remember, a positively glowing and growing business reputation is an asset the local business must build up and safeguard with great customer service and smart strategy, year after year.
2. Create A Strategic Local Keyword Research Plan
Talking about a strategic local market research plan, it could turn up that your customers are very eager to support sustainable businesses, yes, but they are finding few local options. In that case, by greening your business and promoting what you are doing, you could win customers away from other nearby companies — that aren't making any effort at all.
And, in the end, you could find yourself or your business engaging a whole new audience that others are overlooking. However, for local market research to work effectively, it should be an ongoing task for any business seeking to grow. Just remember, everything you do starts with the customer — learning to serve them well both offline and online is very important.
As well as keeping one eye on how search engines are changing and growing too. Significantly, you'll be well on your way to forming a successful local search marketing strategy. Without local keyword research, you don't know what terms and phrases people use when searching for what you do. This makes it challenging to optimize your online presence.
In addition, it also becomes hard to market your local business to those people. The easiest way to start with keyword research is to brainstorm and write down all the services you offer. Then, paste those words into a keyword research tool like Keywords Explorer to get started. And, as a result, doing so will give you a rough sense of which services are most popular.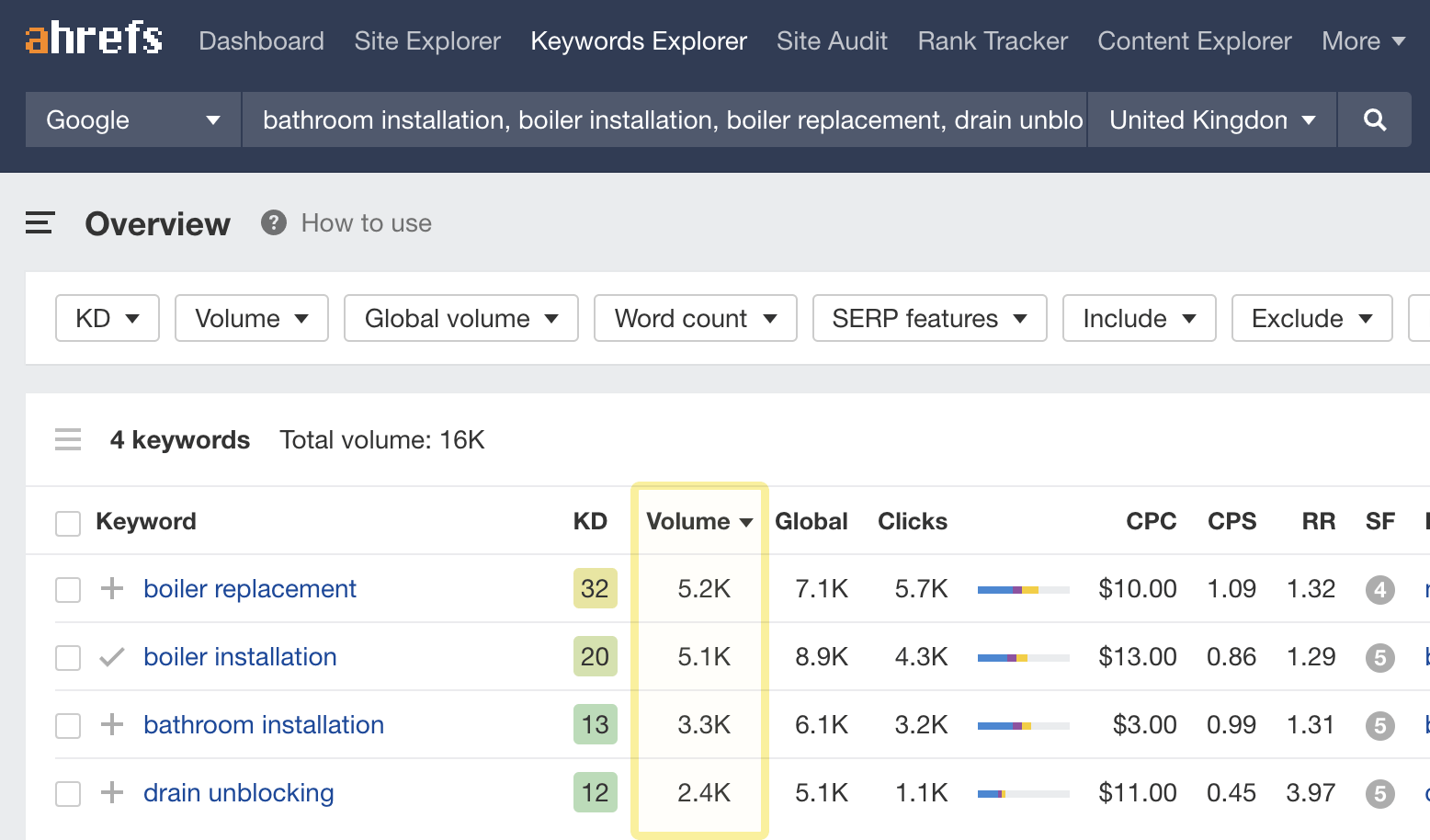 It's worth noting that the search volumes you'll see here are national volumes. But since all you're looking for right now is how popular your services are in search, that's not a big problem. These numbers help you understand what to focus on first.
You can also see if there are any related services you've missed by checking the Matching Terms report. For example, if you do this for the "seed" keyword "boiler installation" in the UK, you can see people are also searching for similar services.
Such as follows:
combi boiler installation
gas boiler installation
electric boiler installation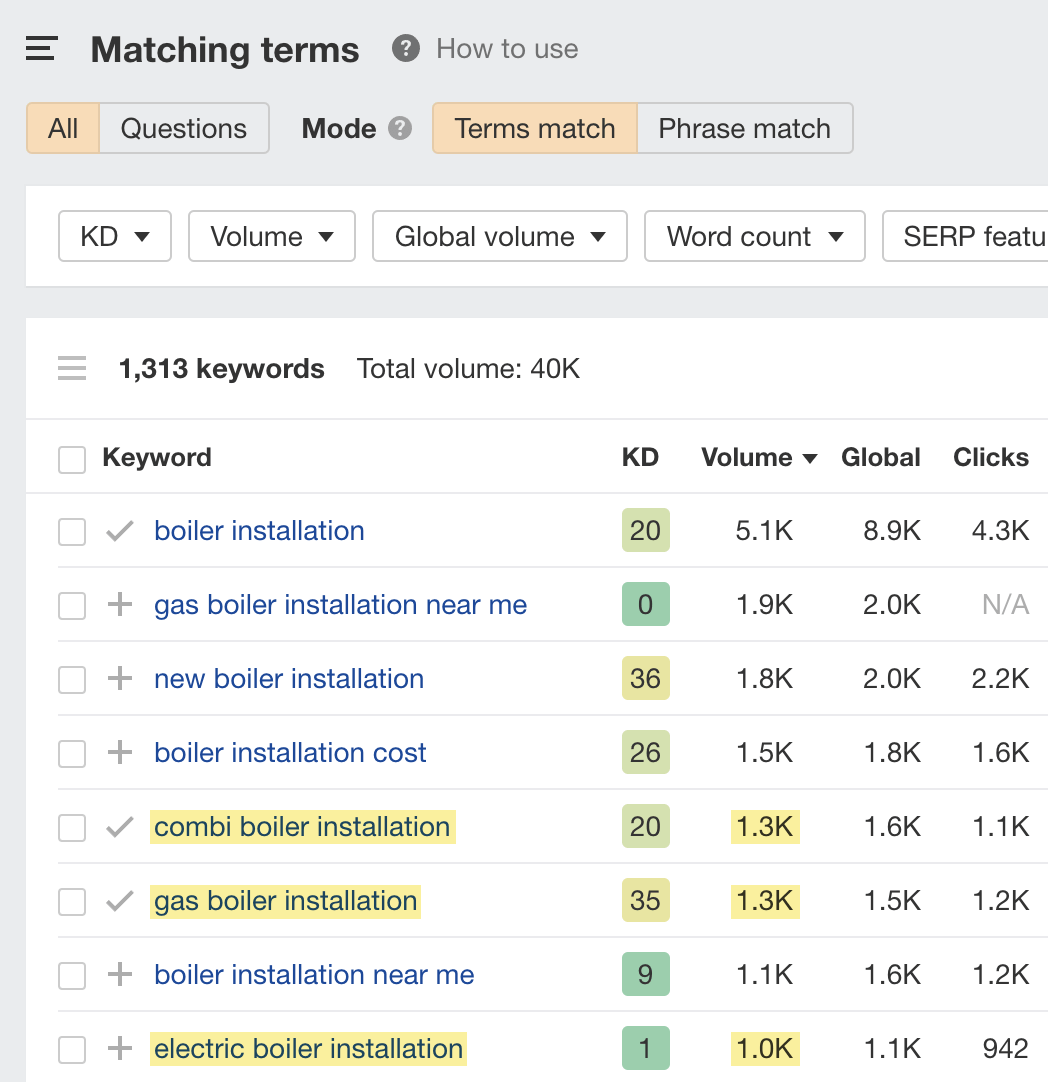 As soon as you are done matching the focus terms, you can then create landing pages for these services on your website. Whereas, they can increase the chances of your website showing up as a relevant result in organic searches.
2. Consider Your Business Location Data Distribution

In most cases, your business location data consists of the name, address, phone number, website URL, hours of operation, and other key pieces of information that customers need to know to discover, choose and connect with your business. Local business listing platforms exist to gather and promote this content, and each local business should have a key plan.
As well as a creative strategy for getting listed on high-quality websites and applications. Notwithstanding, a business can choose to do all this work manually, hire a company to do it for them, or even invest in software to make the ongoing data management work light, accurate, and rich on these platforms. For example, Moz Local distributes data to various sources.
Including the likes of search engines such as Google, Bing, and Apple. By the same token, it also involves some primary data aggregators like Foursquare, Data Axle (formerly Infogroup), Neustar Localeze, etc. But, this does not end there! For one thing, there are still other major directories and important platforms to consider. Next is to Optimize for GMB Listing too.
To enumerate, Google My Business (GMB) is a free and easy-to-use tool for businesses and organizations to manage their online presence across Google, including Search and Maps. If you verify and edit your business information, you can help customers find your business and tell them your story. The free local listing tool shows information about your business.
We recently installed the new business edition of the Google Custom Search Engine for our website users. It took about 5 minutes to set up and will likely pay for itself many times over. You can use it by using the search box on the right rail. Google's custom search engine is easy to customize, fast to implement, works across multiple domains, and is cheap.
In that case, if you want to show up in Google Maps and in the map pack results in Google search, you'll need to have a strategic GMB Listing plan. In reality, it gives business owners more control over how their business appears to customers searching online. Perse, it lets business owners speak directly to potential customers before an actual conversation.
You can create, claim, and manage your Google Business profile quickly with a free tool from Google, Google My Business. Then, all you have to do is fill out all the information as accurately as you can. On that note, you can learn more about How To Optimize Your Google Business Profile In Simple Steps so as to gather more information.
4. Get Relevant Business Information Citations
Technically, all listings on the platforms we just mentioned above must be created and maintained for ongoing accuracy. Specifically, so that customers are always encountering correct information on the web. Notably, 52% of review writers say they've written negative reviews after being inconvenienced by incorrect local business information online.
Any time a business changes its hours of operation moves to a new address changes phone numbers or experiences other alterations, each listing should be updated. Moreover, this is why local listing management software is such a welcome tool. By turning what could be hours of work into just a minute spent in an organized dashboard that controls all key listings.
Generally, local business listings are also known as structured citations, and they are considered a local search ranking factor. Your Google Business Profiles, in particular, are incredibly powerful marketing assets. Particularly, for enabling the business to upload products, photos, menus, services, and videos, write ongoing updates, announce events, etc.
As well as engage in direct messages with customers, ask and answer questions, and manage the two-way conversation of reviews. Competitive local businesses should invest in making the most of the features offered by each platform in order to provide everything customers could want to know about the company to choose it for a transaction.
To elaborate, citations are web pages that mention your business NAP information: name, address, and phone number. Business directories are the most common source of online citations. So, in other words, NAP Stands For Name, Address, and Phone number. Most recently, a few terms have been thrown around to be included on the list of key citations.
The likes of;
NAPU (Name, Address, Phone Number URL)
NAPW (Name, Address, Phone Number, Website)
Citation inconsistency can cause ranking issues. Sometimes businesses can run into a pickle if something has changed like your address or phone number. It's time to do an audit to make sure all your citations are consistent. Why is that important? A citation is any online reference to your NAP. It does not need to link to you, but Google evaluates them as a local signal.
For this reason, it's able to determine an entity's online authority. And overall, having inaccurate and inconsistent NAP can negatively affect your local SEO. According to Search Engine Land columnist Myles Anderson, citation inconsistency is very harmful. For one thing, it's the no. 1 issue affecting local SEO ranking for most web-based business webmasters.
This means, that you should try to make sure there are not too many variations of your NAP scattered around the web. Especially, if some or many of those are outdated, this makes it hard for customers and thus, Google, to trust your information. So, why should you or your business get NAP citations on relevant directories around the web?
Consider the following reasons:
According to the latest studies by Moz, citation signals account for 13% of the ranking factors!
Many people ALSO use these directories to search for businesses (not just on Google!)
Many of these directories rank for localized terms
You can also get a relevant link to your site by creating a listing!
That said, having the correct NAP citation is important for lots of reasons, with some not even mentioned herein! As a matter of fact, if Google thinks your data is untrustworthy, this could downgrade your local search ranking. Many SEO professionals used to recommend creating as many citations as possible for your business.
Partially, because they played an important role in local SEO back in the day. The importance of their role is undoubtedly diminishing these days, but they still deserve some attention. Specifically, we recommend listing your information with the big data aggregators. These will distribute your information to hundreds of other smaller websites.
Data Aggregators:
As you can see, there are only a few big data aggregators — getting listed is pretty simple. You might also consider a few other big players such as Bing, Apple Maps, Facebook, Yelp, Yellowpages, Dunn & Bradstreet, and TomTom. Beyond this, it's often worth submitting your business to any relevant local or niche directories that could send business your way.
Using Site Explorer Tool is the easiest way to find local and niche citations to look for sites linking to multiple competitors.
Follow these steps:
Go to Site Explorer
Enter your homepage
Go to the Link Intersect report
Enter the homepages of 2-3 similar local businesses
Switch all URLs from "domain" to "URL" mode
Click Show link opportunities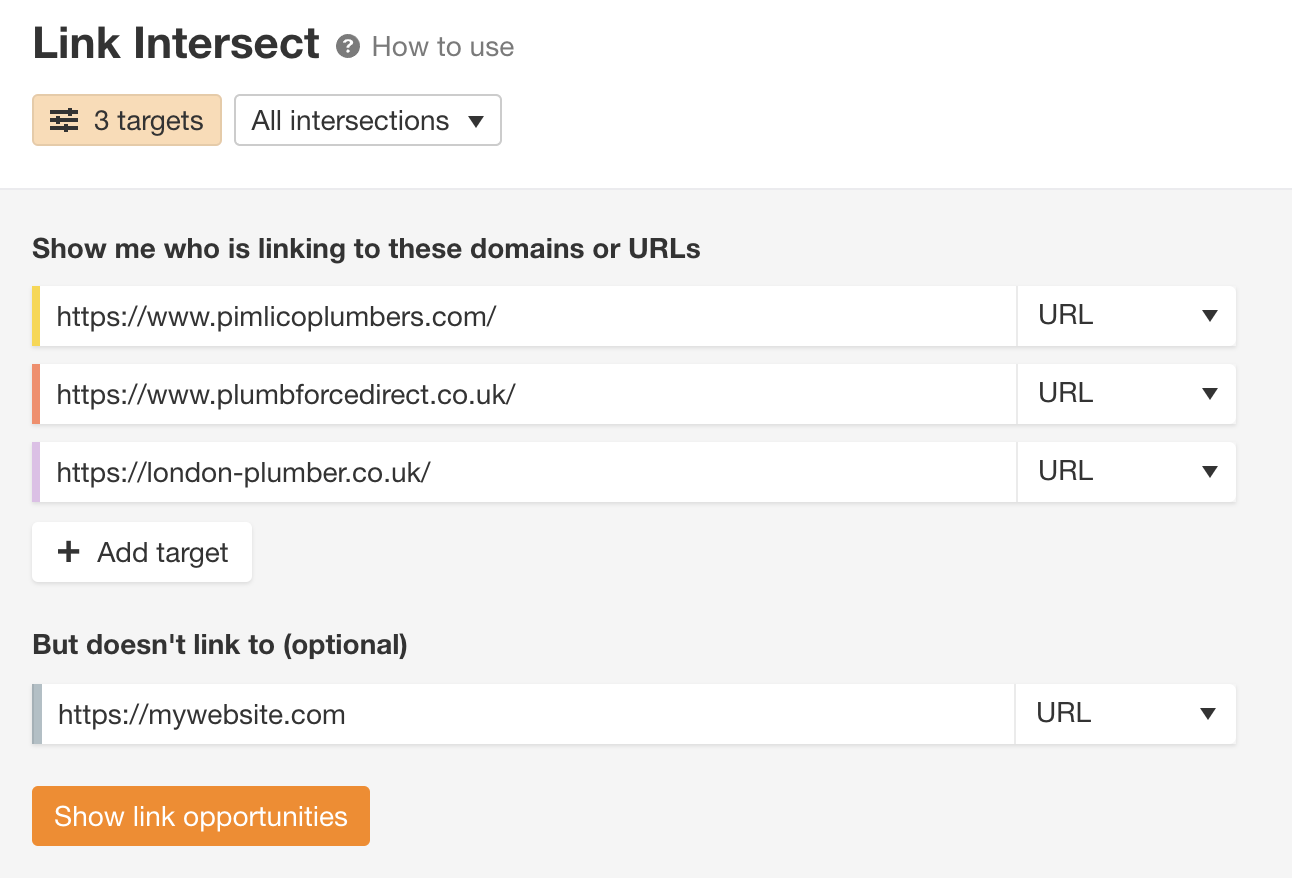 From the results, the truth is that you'll see a list of websites linking to one or more of your competitors but not to you.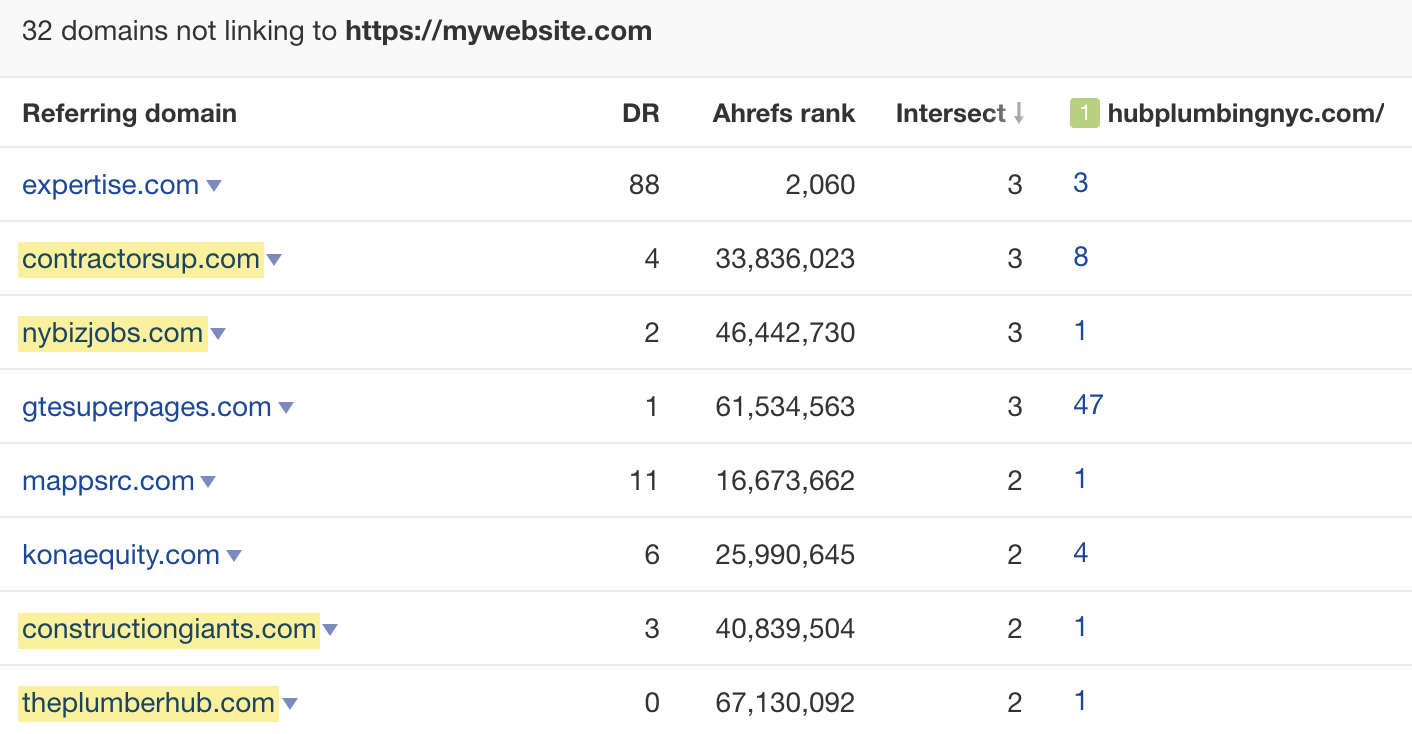 Many of these websites are more than likely local and niche directories that you can check out and decide if they're relevant. If they are, submit your business information. Be sure to use consistent NAP information across all your listings. What's more, make sure that you also don't list one phone number in one directory and a different one in another.
5. Aim For Business Reviews And Bid For Industry Keywords
First of all, providing excellent customer experiences is the very foundation of local business success. Since the beginning of eCommerce, word-of-mouth marketing within communities has been the traditional source of business reputation. The rise of paid advertising and PR briefly gave enterprises a certain degree of control over public perception and brand narratives.
But today, one of the chief seats of local business reputation resides in online reviews. A remarkable 96% of adult consumers in the US read local business review content. While, at the same time, 98% of people place some degree of trust in this sentiment in determining whether or not to patronize a particular local business. These days, only 11% of consumers trust words.
More so, when it comes to what brands say about themselves over what the public says in their testimonials. Because it is now customers who write your most trusted, influential brand story, it stands to reason that there is no substitute for providing exceptional customer service. By all means, happy customers will always write persuasive and lucrative reviews.
Staff hiring and training practices, employee satisfaction, and your customers' generosity guarantees are key business longevity ingredients. All staff should be fully trained in products, services, complaint resolution, and policies. All leadership should role model the values that the brand wants every customer to experience when they walk in the door.
It's worth mentioning that local search marketing is more than just what local SEO has to offer. You can take advantage of paid search to show up at the top of Google and attract more customers to your business.
Here's how paid search works in a nutshell:
You place a bid on keywords that you want to show up for.
You tell Google what your ad should say.
Google shows your ad when someone searches for your keywords.
Google charges you a fee when someone clicks your ad.
With this in mind, most local businesses already have some idea of keywords they'd like to bid on. For example, if you're a plumber in New York, then it makes sense to bid on terms like "new york plumber" or "plumber in new york." People using those search terms are clearly looking for your services.
If you want to explore other potentially lucrative keywords, search for what you do and note the ad results. If you see local businesses paying for ads, enter their domain into Site Explorer and check the PPC keywords report to see what keywords they're bidding on. For example, let's consider a New York plumber who is bidding on their keywords.
It could be something like:
Mule Kick Drain Cleaner
NYC Licensed Plumbers
Driveway Drain Clogged
The Top Best Plumber
In the long run, the performance results for the industry-based paid keywords for our sample business (www.newyorkplumbingandsewerrooter.com) above will be something like this: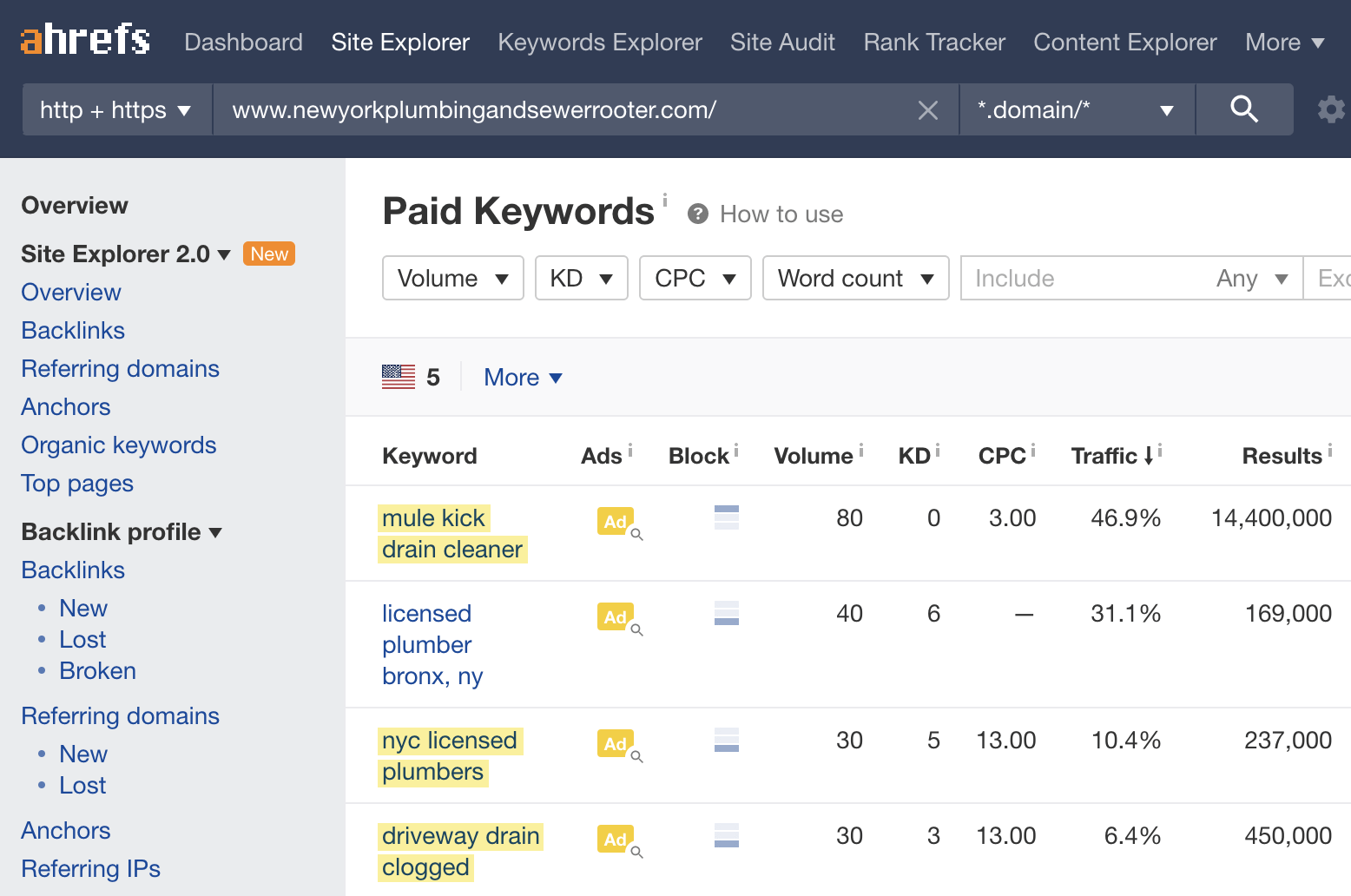 Overall, a great Rank Tracker lets you monitor your Google rankings on desktop and mobile across 170 countries. Set up is easy — just input or import a list of keywords, add multiple countries per keyword, and tell it your competitors' URLs. And, as such, a great tool such as Ahrefs will start tracking data and will send you regular performance updates in your inbox.
6. Deploy A Competitive Edge Market Intelligence Phase
Google considers different metrics for local rankings and organic rankings. While organic rankings are based on a website's content and overall optimization, local ranking focuses primarily on business location and relevance for users. In other words, any website can appear among the top organic results, but to appear in the local pack, businesses needs to be active.
For instance, they should be able to correspond to users' queries and locations promptly, as well as offer quick answers to their demanding questions. During the Market Intelligence phase of your own journey, you analyzed what local customers want, how competitors operate, and how Google handles the searches for which you wish to become highly visible.
Once you have the foundations of your business (like your website, listings, and publishing strategy) well underway, it's time to revisit and rerun your research. In particular, so as to keep discovering how your business can stand out on the local scene. For example, a competitor may have a great website, but has earned few reviews, right?
Meaning, that investing more in review acquisition could give you an edge. Or rather, a competitor might have great textual content on their website too. But, you discover that your community is getting excited by short videos. Just think of How TikTok ForYou Page Algorithm Works first – by creating engaging videos, you could differentiate your brand big time!
7. Work On Improving Your Reputation Presence Awareness
A great and successful Online Reputation Management (ORM) strategic plan is founded on excellent customer service, yes… but then it branches off into two related directions which as namely as follows: review management and review acquisition too. Local businesses must actively monitor incoming reviews and respond to each of them as quickly as possible.
Bear in mind, that 60% of review writers expect your response within two-or-less days to be precise. Owners should offer thanks for positive reviews and bring their best problem-solving skills to negative reviews too. More so, in order to regain and retain customers and safeguard reputation. Above all, they should also use software like Moz Local to lift the burden.
Notwithstanding, the burden of knowing when new reviews come in — so that each customer receives a swift and appropriate response from the business owner. Markedly, application tools like this are, especially, useful to multi-location businesses that receive lots of reviews. But still, single-location businesses can't afford to ignore this vital sentiment either.
Must be remembered, that reviews are not the only seat of reputation. One thing is for sure, 67% of people still rely on the recommendations of family and friends, while 55% consult social media, and 42% go to the company's website in search of first-party reviews you should be publishing there. After all, there are no shortcuts to earning a glowing reputation.
A few other quick facts to keep in mind:
6 in 10 consumers require businesses to have a 4+ star overall rating to consider giving them a try
39% of consumers filter reviews to see what's most recent first, and another 24% filter to see negative sentiment first
70% of customers read between 5-20 reviews before deciding whether to patronize a business
Only 14% of survey respondents say they never write reviews, yet 39% of customers have not been directly asked for a review by a business in the past 5 years.
Multiple aspects in the online reviews context are local search ranking factors that all web-based businesses should utilize
Meanwhile, local businesses should create a review acquisition campaign that runs for the life of the business. When directly asked, more than half of your customers will always or usually write a review, and the top reason people don't write more reviews is that they forget when they have free time. Have an email and mobile phone number collection at the time of service.
More so, to ensure that customers can be contacted soon after with a review request. And then again, in-store, store-front, and print materials can feature reminders of how much the company would appreciate a review. Emails, texts, and other assets should feature a Call To Action (CTA) button that links to your review profiles, and directions for how to leave a review.
Summary Notes:
As you can see, Local SEO is something that businesses can utilize if they want to succeed in local search marketing but targeting the right audience and converting potential customers into buyers. But, it usually takes a little time to build all the materials required to have a strategic plan that works in place. Instead of just relying on your in-house team, try outsourcing.
Whilst, bearing in mind, a preferable and most suitable local SEO company will fully utilize its team to see great and quality results on your business in the end. On that note, that's why you should look nowhere else rather than our very able team of Web Tech Experts Taskforce to do all the local search marketing work for you — so you can focus your efforts elsewhere.
What about a novice who wants to stay ahead of the curve? Well, the first thing here is to get prepared with all the knowledge and skills needed to get the work done. Spend a couple of hours reading through a resource like The Essential Local SEO Strategy Guide and you'll have made a good start in understanding the big picture of this form of marketing.
Other More Related Resource References:
And then again, from there onwards, you can also consider taking formal training — like Moz's video-based Local SEO Certification course. Additionally, try to keep pace with SEO industry developments by following leading local SEOs on their websites and social media platforms — so that you know about new opportunities as soon as they arise.
Be that as it may, the more time you can devote to learning, the more seasoned you will become in this work. Whilst, learning not just what to do, but also, what not to do in marketing local brands. Every new skill you acquire is an asset to the local businesses you're promoting. The time you spend should be measured by your sincere desire to succeed.
Be that as it may, if you'll need more support, you can always Contact Us at any time and then let us know how we can come in handy. Our team of Web Tech Experts will be more than glad to sort you out. You are also welcome to share your additional thoughts, suggestions, recommendations, opinions, or even contribution insights in our comments section.