Let your Telegram become the smartest conversationalist using the help of the AiGram application deployment software application. With the help of this chatgpt telegram tool, it becomes a simple and fast way to deploy your unique and custom ChatGPT Bot on Telegram. Notwithstanding, armed with the latest GPT-4 LLM, ChatGPT is the top dog for artificial intelligence-driven chatbots.
Of course, we have effectively discovered and used various services to use ChatGPT-enabled messaging bots on Telegram. While all work flawlessly, you might prefer one over the other. One thing is sure: Operating chatbots using OpenAI ChatGPT and Telegram APIs can quickly get expensive. So, please consider purchasing a paid tier of the AiGram Chatbots to support the developers.
What happens if you take one of the most popular instant messengers and add artificial intelligence to it? That's right, an excellent messenger with integrated artificial intelligence! This is precisely the idea implemented by the AiGram ChatGPT Messenger builder developers. Eventually, it allows you to take a completely new look at communication that has already become familiar to many.
Such a Software-as-a-Service (SaaS) tool allows users to connect to and use cloud-based applications over the Internet. Typical examples are email, calendaring, and office tools like Microsoft Office 365. AirGram is an effective SaaS tool that offers a meeting management hub that helps Telegram users record, transcribe, summarize, and share meeting conversations. Let's dig more!
How AiGram Helps You To Deploy A Custom ChatGPT Bot On Telegram Platform
AiGram is a Software-as-a-Service (SaaS) application platform that offers webmasters an array of tools to build custom ChatGPT Bot and deploy them on Telegram. With the help of AiGram, users can use their own ChatGPT Bot right in the Telegram messaging application platform. Sounds great, right? In other words, it'll let your Telegram Bot become the smartest conversationalist.
By all means, AiGram eliminates the need to create a local development environment, configure a domain name, or manage a server. Like many other related SaaS application platforms, AiGram provides a complete software solution you purchase from a cloud service provider on a pay-as-you-go basis. It offers meeting notes, agendas, action items, and audio/video-to-text conversion.
AirGram allows live transcription, insights sharing, and team collaboration. The tool integrates seamlessly with various apps such as Google Calendar, Zoom, Microsoft Teams, and Notion. It prioritizes enterprise-grade security and offers dedicated customer support. It's also available in free and paid plans, with the flexibility to upgrade or downgrade anytime (start now or see live demo first).
Telegram is one of the most popular instant messaging apps on the internet. Unlike WhatsApp, the platform is open-sourced and doesn't require users to share their phone numbers. From playing games to checking Gmail, Telegram Bots add a lot of functionalities to the messaging platform. With that in mind, let's explore how AiGram can help you deploy the Telegram messaging bot.
The Telegram Bots Deployment Process With Some Common Use Examples
Like Discord, the Telegram application platform supports third-party chatbots offering additional functionality. These bots can perform various tasks like converting files, checking emails, and even letting users play games with others. Every bot has a unique handle, similar to Telegram user names. To add a bot, search for it, click on the bot handle, and interact with it in the chat window.
You can configure your bot to communicate with people using the Telegram messaging application platform. In most cases, the Telegram Bot plugin or addon extension will only work on sites with installed SLL certificates (HTTPS). Unfortunately, you cannot use the same access token (bot API) on different websites — including production and development sites and mirrored websites.
If used, the bot will stop working, and you will need to revoke the key and regenerate it. Notwithstanding, the bot may not perform appropriately with a supergroup. Overall, creating Telegram bots is super-easy, but you will need at least some skills in computer programming. For a bot to work, you can set up a bot account with AiGram and connect it to your backend server via API.
A. Check Emails On Gmail (@Gmailbot)
This bot might be handy if you want to check emails on Gmail but hate opening the app. The Gmail bot (@Gmailbot) lets you check your emails without having to leave Telegram. Once you set up the bot and authorize your Gmail account, you can reply to an email using Telegram's reply feature. It even lets you compose new emails, customize notification settings, and turn off email notifications. You can also forward emails, mark them as read, hide messages from the sender, and delete them from the chat window.
B. Convert Files On The Go (@newfileconverterbot)
The File Converter bot is one of the most useful Telegrams bots ever. If you want to convert files from one format to another on the fly, this is one of the easiest ways. The bot works with videos and audio files and even lets you convert images. To convert a file from one format to another, all you need to do is upload the file you want to convert to the bot's Telegram chat, and it will automatically detect the file format. Once done, it shows a list of forms to which the file can be converted. Just click on the type of file you want to convert to, and the bot will send you the converted file in the chat window.
C. Use Temporary Email (@DropMailBot)
If you are looking for a Telegram bot that gives you access to a temporary disposable email, then this might help. The DropMail bot is pretty simple to use. Just type in '/get' in the chat window, and the bot will assign you a temporary email address that you can use to receive emails.
D. Play Games With Friends (@gamebot)
The Game bot is helpful for those who want to play games with their friends on Telegram. Developed for Telegram's gaming platform, the bot currently has three types of games. Once you find the bot, tap the 'Play with friends' button. Now, choose the person or group you want to play with, and the bot will show you the available games. After you select the game you want to play, you will see the play button in the chat window.
E. Translate Text And Messages (@BabelgramBot)
The Babelgram bot lets users easily translate messages from one language to another. It works in private and group chats and can even translate the text you type, similar to how Google Translate works. It supports over 100 languages and can even auto-translate private or group chat messages. However, to enable auto-translation to group chats, you must add the bot to the group from which you want to translate messages.
F. Customize Your Unique Chatbot (@onoutsupportbot)
The unique AiGram Messenger is wholly built on the API of the popular Telegram messenger; that is, it's its unofficial client. It's great that the app's creators did not create another messenger – too many have been over the past few years. And why? AiGram has all the features and benefits of Telegram—from security and support for cloud storage to incredible speed, chat capabilities, and so on.
The main features:
Access To The OpenAI API Key
Integration With CloudFlare API Key
A Boost From Telegram Bot API Key
Write Or Choose System Prompt
Run And Deploy the Telegram Bot
Optional Telegram Bot Monetization
You'll be redirected to your bot when ready with your new setup. Furthermore, if you want to change something after testing the bot, click "Create Telegram Bot" again. By the way, the messenger itself does not save anything — the entire service, including registration and messaging, is provided by Telegram. Realistically, AirGram bot service solutions support has an extensive target market audience.
The following is its target market audience:
Developers who want to create their chatbot on Telegram using AiGram.
Entrepreneurs who want to make money with their ChatGPT bot on Telegram.
Those looking for a simple and fast way to create their ChatGPT bot on Telegram.
Telegram users who want to use ChatGPT bots for various purposes.
Companies that need to create bots for specific areas of work.
Once you deploy your ChatGPT Bot on Telegram with the help of AirGram, there is so much that you can do. For example, are you struggling to make sense of health data? The 'Health Data Analyzer' prompt lets you turn complex data statistics into actionable insights. The chatbot works, whether it's to inform personal decisions, design awareness campaigns, or influence data policies.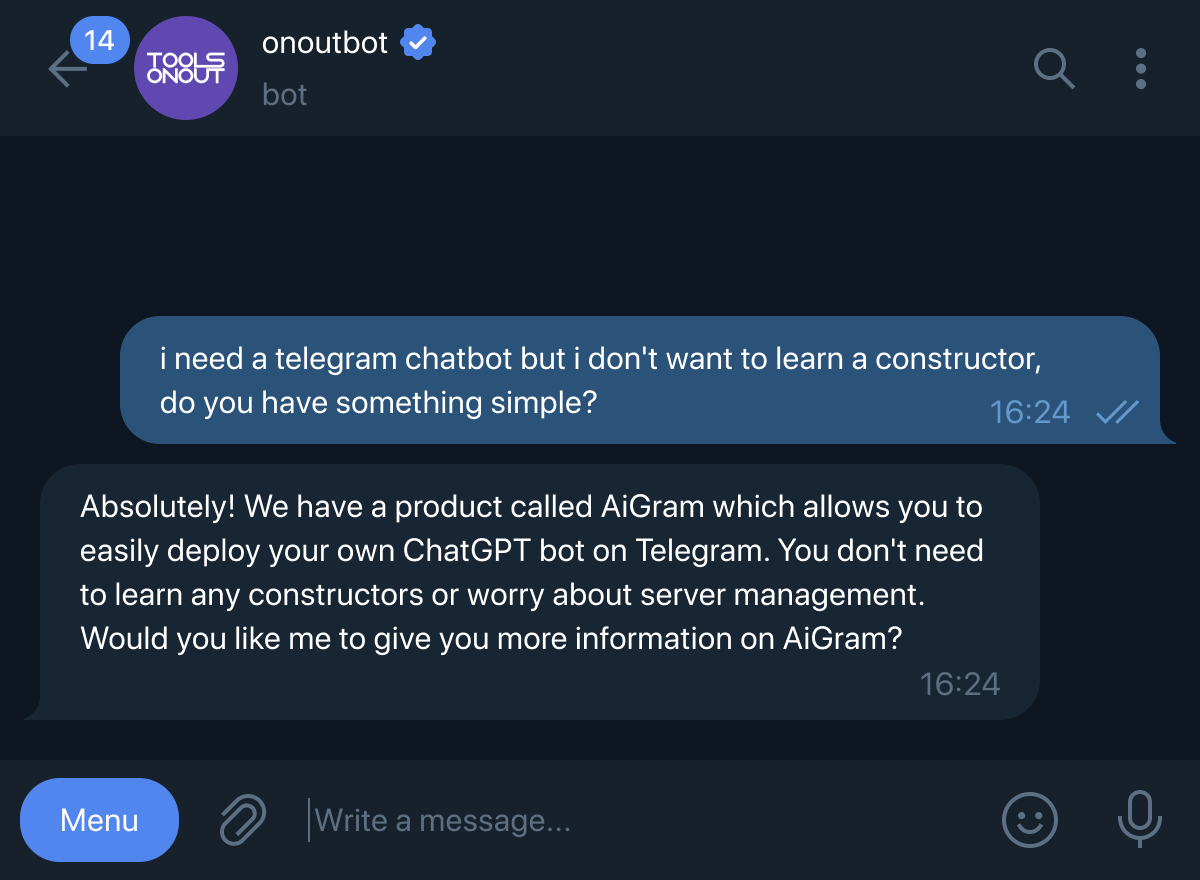 This tool will help you make the most of your data. Make health data analysis more straightforward and more efficient with our AI-powered prompt. Start your data-driven health journey now! Below are a few more integration features worth mentioning.
1. Bots Algorithm
The bot algorithm correctly recognizes the incoming phrase and determines its subject, giving answer options. Neurobots react only to the last incoming message from the opponent of the conversation. Still, in Android, it's possible to activate the bot on previous chats as well—select a message and click "Reply." Of course, we would like them also to analyze all the correspondence.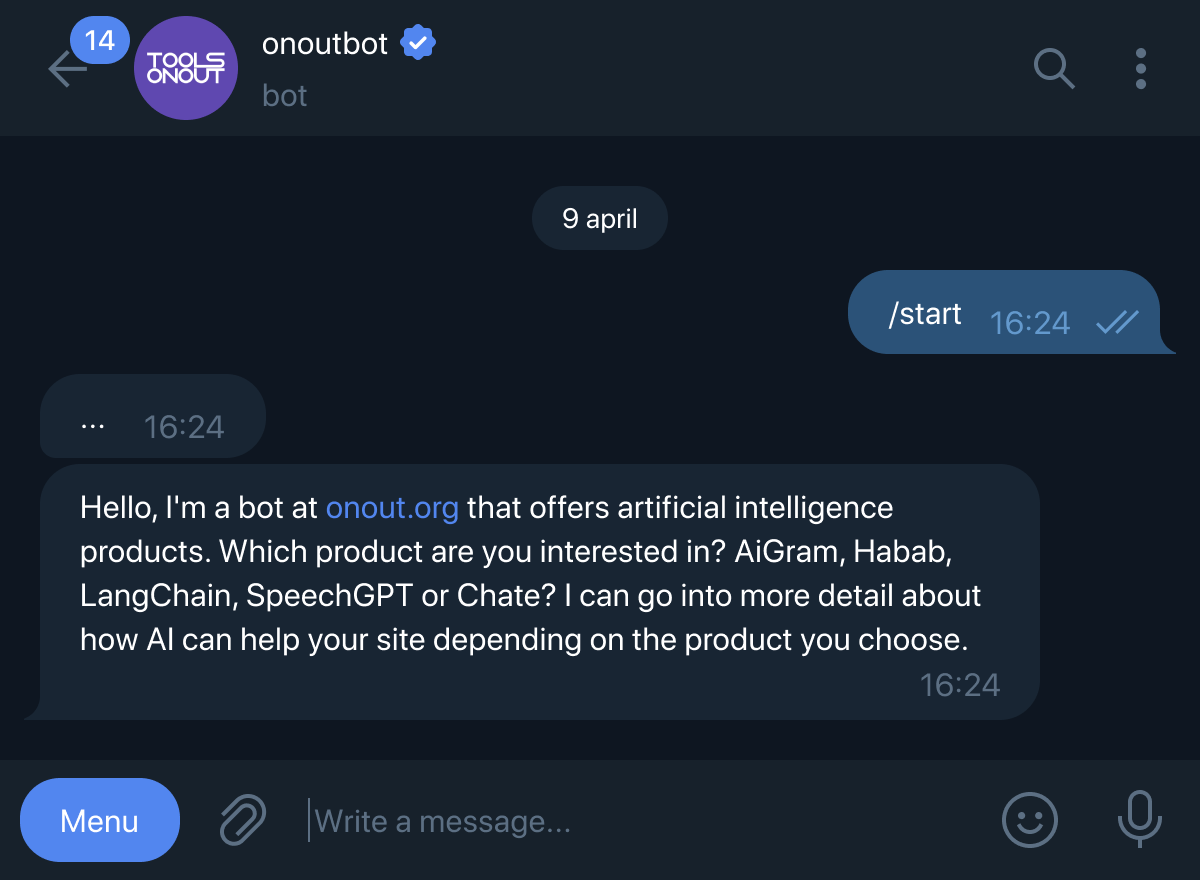 2. Meet Neurobots
On the one hand, Neurobots are your personalized communication assistants. They can support conversations in different formats and styles—from memes to the sayings of Confucius, Einstein, Churchill, and others. By the way, that's what Neurobots are called. On the other hand, Neurobots are taught to communicate, and only then does the finished trained bot get into the application.
3. Reminiscent Stickers
Technically, the interface for interacting with Neurobots is reminiscent of stickers in Telegram—they are displayed as thumbnails right under the chat window. Accordingly, the more different Neurobots you use in your chats, the more types of messages they will be able to cover with their unique phrases. Of course, not all incoming messages are suitable for a particular Neurobot. In this case, it simply will not offer you its phrase (but it will most likely help you with another one).
4. Optional Monetization 
Some Neurobots are free; others are offered as in-app purchases — this is the monetization of the application. There are several ways that customers can monetize their ChatGPT bot on Telegram created with the help of AiGram. For example, they can charge for access to the bot, offer premium features for a fee, or integrate advertising into the bot. Furthermore, like the other chatbots, it works on top of ChatGPT so efficiently. Yes, all requests are sent there, and the response is shown to the user in real time.
5. Seamless Support
Firstly, if you are unsatisfied with the quality after purchasing (buy deployment tools here) the bot for your Telegram messaging project, you can get a refund within 30 days. Secondly, what guarantees that it will work and not break down is that their technical team provides support for one year. The products are launched on an independent vercel server that does not require payment. If desired, they can also integrate it on your custom server.
In Conclusion:
There is one innovation, and it is noticeable: Artificial Intelligence (AI) has been added to the broad functionality of Telegram in the form of neurobot assistants. It's fantastic that in addition to the usual emoticons and stickers, you can now use a new tool that will diversify your daily communication. We tested AiGram Messenger for several days and concluded that Neurobots are top-notch.
They make correspondence much more interesting —with friends and colleagues. It would be great in the future to allow users to create such Neurobots themselves and place them in the marketplace storefronts. We hope that such an opportunity will appear soon. In addition to the fact that AiGram is available as a freemium package, it allows you to use all innovative chatbot features.
As well as take advantage of integrated artificial intelligence without losing the circle of communication and quality—they are accustomed to in Telegram. With such a tool, you will be ready to communicate with like-minded people through the Telegram chat messenger. Unfortunately, there are no out-of-the-box ways and methods to create a working bot if you are not a developer.
But we're sure you'll soon find plenty of bots by other people to play with. However, if you are a novice or experienced webmaster, AiGram is the best place to start. Many members of our community are building bots and publishing sources. Be that as it may, you can contact the AiGram support team to seek more info or Consult Us if you need any help from our experienced cloud experts.
---
Related Blog Tags