Notably, through MMS or an SMS API platform like Plivo, SMS and MMS marketing bring tremendous change. Today, mobile technologies are revolutionary tools that most cellular communication service providers utilize to render services. Now, users are getting product offers and service discounts or even sales marketing ad notifications in the comfort of their mobile phones.
Realistically, mobile Code Division Multiple Access (CDMA) technology has evolved rapidly over the past few years. One thing is sure: Since the start of this millennium, a standard mobile device has gone from being no more than a simple two-way pager to being a mobile phone, GPS navigation device, an embedded web browser and instant messaging client, and a handheld game console.
On that note, to help engage your target clients and potential customers across the globe with confidence, Plivo is the cloud communications platform that you need. Backed by some of the best names in the investing world, thousands of businesses in more than 190 countries trust its cloud platform to simplify and personalize customer communications, from APIs to solutions.
According to G2, Plivo ranked #1 in customer satisfaction for cloud communication providers. It's a simple workspace for customer service teams. An omnichannel contact center that seamlessly combines your customer conversations and your existing systems. Plivo helps you to build community, not complexity. With that in mind, let's explore what Plivo offers the cloud marketplace.
Understand What Plivo Offers The Voice Calls And SMS Messaging Business Sector
On the one hand, Plivo is a communications platform that enables businesses to connect, engage, and interact with their customers. On the other hand, the platform simplifies the notorious complexity of telecom by offering simple and enterprise-grade building blocks. Its platform tools infrastructure handles billions of voice calls and messages every year from businesses worldwide.
Plivo offers a simple, quick, and scalable way to modernize customer communications. Businesses of all sizes — from growing startups to public companies — rely on Plivo to deliver better customer experiences. Its enterprise-grade communications platform includes a premium carrier network with connectivity in more than 190 countries — a seamless API platform for messaging.
In addition, it also offers voice call services and other communication solutions for sales and support teams. The Plivo team brings deep experience in communications and modern software to address the needs of today's businesses — quality, scale, innovation, and agility. In other words, Plivo is a Cloud API Platform and a Global Carrier Services Provider for Voice Calls and SMS.
Moving forward, your customers shouldn't have to repeat themselves. Plivo helps you to merge customer support interactions across all touchpoints and devices to deliver contextualized, personalized support. Delegate frequently asked questions to a virtual agent so complex issues can receive high-touch service. Reserve your team's time for the more difficult questions.
Its Features:
Seamless Solutions: Built on top of our API platform are fully packaged solutions for sales and support teams.
API Platform: It enables website and mobile applications to integrate messaging and voice functionality and engage with customers.
Carrier Network: At the core is a cloud-based carrier network connecting 190+ countries globally.
Contacto Solution: This is an omnichannel contact center for B2C customer service teams.
As a rule of thumb, customer service happens anytime, anywhere, on any channel. Be that as it may, the unique Contacto (omnichannel contact center) solution by Plivo pulls all customer service communications, information, and ticket history into a single, unified screen to keep your agents efficient. In other words, this is an all-in-one place to manage every customer interaction.
Chat, voice, and messaging are all integrated with the tools you already use to manage customer interactions efficiently. Keep customers from jumping through hoops. Provide live customer service in whichever channels your customers prefer; all unified within Contacto. It seamlessly combines your customer conversations and your existing systems. Build community, not complexity.
Some Ways Plivo Stands Out From Its Other Business Competitors
First, we have crucial data on 194 companies that use Plivo. Technically, the companies using Plivo are most often found in the United States and the Computer Software industry. Secondly, Plivo is most often used by companies with 10-50 employees and 1M-10M dollars in revenue. Notwithstanding, our data performance analysis for Plivo usage goes back almost 5 years and still counting.
We use the best indexing techniques and advanced AI Analytics and Machine Learning Algorithms data science to monitor the market share of over 15,000 technology products, including Mobile Technologies. Scanning billions of public documents gives us deep insights into every company. More so, with over 100 data fields per company on average in the mobile technologies category.
With the help of Plivo, you'll be able to empower agents with a unified customer view, intuitive workflows, and robust coaching features. Fewer tabs and less toggling mean more efficiency and happier customers. Empower agents with real-time, intelligent guidance on the best actions to exceed your customers' needs. Their Contact Center unifies the data and tools agents need.
More so into a single, easy-to-use application so they can work more effectively. Measure what matters so you can quickly identify performance trends and deliver high-impact coaching. Integrate with the systems you already use, use our drag-and-drop workflow builder to manage it, and leverage native analytics to optimize. Below are the leading service solutions that Plivo offers.
 

SMS API
Programmatically send and receive SMS and MMS messages.
Get consistently high delivery and open rates at any volume or send rate.
Redact PHI in messaging logs and on the console.
 

Voice API
Integrate voice calling into your mobile and browser apps.
Offer Interactive Voice Response (IVR) to help callers reach contacts and request documents.
Make, receive, and control calls programmatically.
MMS API
Engage your customers via picture, audio, and video message
Zentrunk
Cloud SIP trunking for your VOIP infrastructure
On that note, it's worth noting that Plivo has a market share of about 0.6%. Markedly, other central and competing products in the mobile technologies category are empowered by 194+ companies. Plivo customers by industry include Computer Software (20%), Information Technology and Services (19%), Internet (11%), and Telecommunications (6%) as the most significant segments.
With that in mind, healthcare businesses use Plivo's global cloud communications platform and voice and messaging APIs to power their business engagement platforms. Likewise, it also empowers their health communication, including dentist and physician practices, medical technology, health tech companies, labs, and clinics. But there are still more ways it helps businesses.
Such As Follows:
Design Simplicity: They're focused on keeping things simple for our users while allowing you to build complex applications.
Reliable Platform: Behind the scenes, Plivo ensures your business communications always get where they need to go.
Customers First: Their consultative approach to their target consumer engagement means they work with you every step.
High Performance: Enterprise-grade platform with high availability and extreme reliability — with a 99.99% uptime SLA.
Quality Compliance: Businesses trust their data privacy, security, and compliance. (SOC 2, Privacy Shield, CCPA, and GDPR).
Data Security: HIPAA-compliant and will sign a BAA; data redaction ensures no PII is exposed — encrypted with TLS/HTTPS.
In addition, Plivo provides an intuitive drag-and-drop workflow builder. Drag and drop to build custom, no-code workflows that remove friction and make you hyper-productive. There are also out-of-the-box integrations. Maximize your existing investments through seamless integration with the business systems you already use. Its reporting and analytics tool is also worthwhile.
How The Plivo — High-Level Objects (PHLO) — Communications System Works
The Plivo System — High-Level Objects (PHLO), pronounced "flow" — is a visual workflow design studio. Usually, it provides building blocks for creating custom voice and SMS applications without writing program code. Instead, you drag and drop components onto a canvas and connect them to create custom workflows. Something that lets you build applications easily and quickly.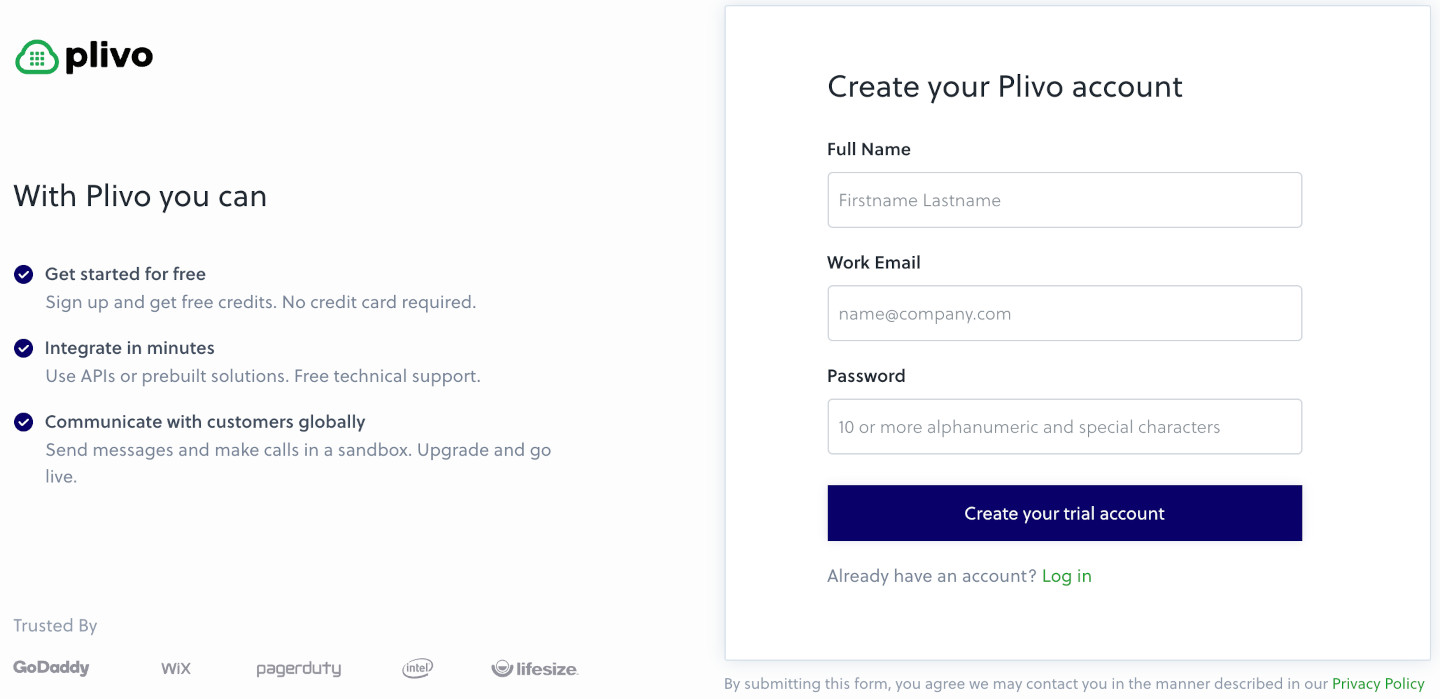 With PHLO, you can turn real-time performance into data-driven insights to optimize how you serve your customers. At the same time, the most reliable cloud Contact Center Solution — powered by Plivo's trusted cloud communications platform — helps you exceed your business customer needs. As well as keep your agents productive and identify coaching opportunities in real-time.
Terms:
Canvas: The canvas is where you place and connect components to create a PHLO. If a PHLO grows to cover the visible canvas, you can scroll the canvas in any direction to declutter the display.
Components: Components are PHLO's building blocks. You drag and drop components to the canvas to create nodes, then connect the nodes to create workflows. You can view a list of all components on the Components Library page.
Nodes: A node is an instance of a component placed on the canvas. Each node must have a unique name within the PHLO.
States: A component is set to or based on these properties for each action. Each has one input state (at least one output state).
Every node has a set of default configuration values associated with it. When you click on a node, you can view its configuration in the Configuration tab on a panel on the right of the canvas. To view the list of configuration options available for the node, click the Information tab at the top of that panel. It helps display the nodes, default variables, and node-specific options and states.
At the same time, you can also change a node's configuration by entering values in the Configuration tab. After you make changes, you must validate the node by clicking on Validate at the bottom of the panel. The side panel will display validation errors, if any, or slide off the canvas if the node is validated. Note that you must correct all validation errors before you save the PHLO.

When you Sign Up With Plivo, they give you a free trial account and free credits to experiment with and learn about their services. You can Add A Phone Number to your account to start testing the full range of their voice and SMS service features. To start, try sending an SMS message using their API and XML documents or through the PHLO visual design application tool to create message flows.
The steps to get a free trial account:
First, Sign Up with your work email address.
Secondly, check your inbox for an activation email message from Plivo.
Thirdly, click the link in your email to activate your account.
Next, enter your mobile number to complete the phone verification step.
That's it! Please get in touch with their Support Team for any assistance.
Afterward, you'll need the help of the Plivo PHP Server to set up your PHP development environment. You must set up and install PHP and Plivo's PHP SDK before you send your first message. Please follow the official PHP instructions to download and install PHP on macOS, Windows, or Debian Linux, or use your favorite package manager to install PHP on any Linux distro.
Modernize Your Customer Communications Using A PHP Server Environment
Once you've set up your development environment, you can send and receive messages using PHLO, their visual workflow design studio, or their APIs and XML documents. You can create and deploy a PHLO to send your first outbound SMS message with a few clicks on the PHLO canvas and trigger it with simple code. Below are a few everyday use cases to help you get started.
To create a PHLO, visit the PHLO Page through the Plivo console.
If this is your first PHLO, the PHLO page will be empty.
Click Create New PHLO.
In the Choose your use case pop-up, click Build My Own.
The PHLO canvas will appear with the Start node.
Note: The Start node is the starting point of any PHLO. It lets you trigger a PHLO to start upon one of three actions: incoming SMS message, incoming, or API request.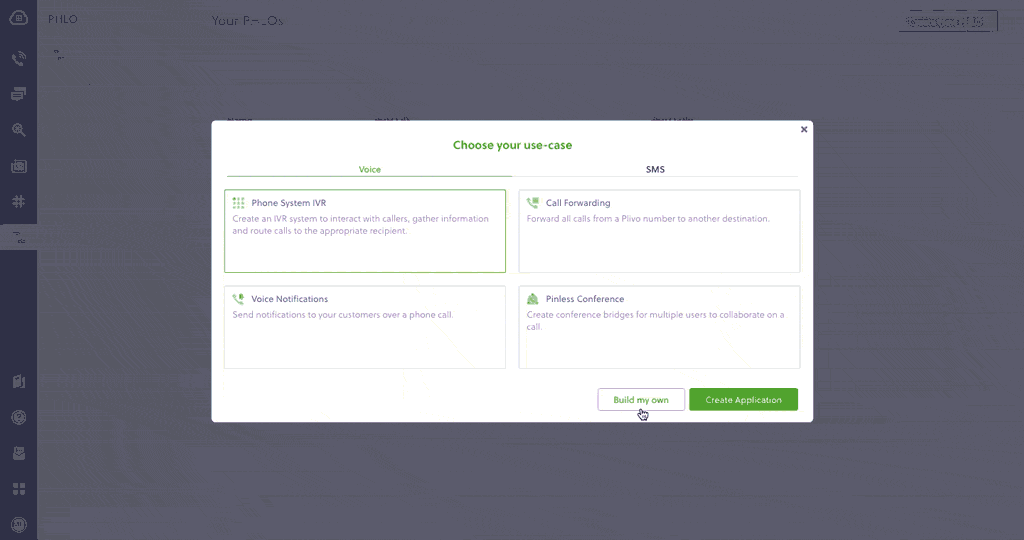 Note: You can define a static payload by specifying values when you create the PHLO or define a dynamic load by passing values through Liquid Templating Parameters when you trigger the PHLO from your application.
The simple steps to get started:
Drag and drop the Send Message component onto the canvas from the list of components on the left-hand side.
Remember, when a component is placed on the canvas, it becomes a node.
Draw a line to connect the Start node's API Request trigger state to the Send Message node.
Configure the Send Message node with a sender ID in the From field in the Configuration pane at the right of the canvas.
Enter the destination number to which you wish to send a message in the To field.
Put your message in the Text field provided on the PHLO development environment.
If you'd like to send an MMS message, configure the Media URLs field with the files you want to send.
Once you've configured the node, click Validate to save the configuration.
After you complete the configuration, give the PHLO a name by clicking in the upper left, then click Save. Your PHLO is now ready to test. The next thing is for you to trigger the PHLO environment. Firstly, you integrate a PHLO into your application workflow by making an API request to trigger the PHLO with the required payload — the set of parameters you pass to the PHLO.
Secondly, you can define a static load by specifying values when you create the PHLO or define a dynamic payload by passing values through parameters when you trigger the PHLO from your application. As you can see from the image below, in either case, you need your Auth ID and Token, where you can get an overview page of the Plivo Dashboard Console if you are a beginner builder.
In addition, you also need the PHLO ID, which you can copy from the PHLO List on their official webmaster page. Notwithstanding, when you configure values when creating the PHLO, they act as a static payload. You can visit the Plivo Console to replace the auth placeholders with your authentication credentials. As well as replace the phlo_id placeholder with your PHLO ID.
To use dynamic values for the parameters, use Liquid templating parameters when you create the PHLO and pass the values from your code when you trigger it. This will help you to replace the phone number placeholders with actual phone numbers in E.164 format (for example, +12025551234). Next, save the file and run your code.
Summary Notes:
Plivo is a tested and proven infrastructure with over a billion voice calls and messaging interactions each month across the globe. Sure, customer service happens anytime, anywhere, on any channel. Thus, its omnichannel contact center helps businesses pull all customer service communications, information, and ticket history into a unified screen to keep your agents efficient.
Plivo offers guaranteed 99.95% uptime (99.99% for enterprise plans), direct relationships with 1,600+ Tier 1 and local carriers, and 6 global points of presence. They have a consultative approach to customer service — 98 satisfaction score, the highest on G2. Protect account privacy by sending one-time passwords for two-factor authentication—exchange two-way mobile text messages.
Add click-to-call to your website for immediate voice calls. Plivo is SOC 2 Type 2 certified and holds a PCI DSS Level 1 certification. It offers compliance with national and global privacy and security regulations, including HIPAA, SOC 2, PCI DSS, and GDPR. Plivo will sign a BAA for customers who sign up for an enterprise package. It also publishes a list of security best practices.
Plivo supports bulk messaging to up to 1,000 unique destination numbers in a single API call. With that in mind, to start exploring Plivo, you can create your account (Register Here) or Contact Sales to discuss volume discounts starting at $1000/month. Notwithstanding, there are also premium support plans available. You can also Consult Us if you need more help and support.
---
Related Content Tags