The central theme of Google Marketing Live this year was centered around Artificial Intelligence (AI) technology and how it will impact the work of digital marketers. With AI's tremendous potential, it is natural that Google wants to incorporate AI tech into its marketing tools to serve better business results to marketers. The general idea is to create high-quality Ad campaigns.
More so to compel customers to click on the ads and take action. With Google's AI innovations and marketers' strategic plans, the future of search ad campaigns appears promising, offering businesses increased visibility, engagement, and conversion rates. Google AI powers what people love about YouTube: content recommendations, accessibility, user experience, etc.
As shared at Google Marketing Live, it also powers the ads solutions that help you run your business. AI is foundational to Google Ads. For many years, it has been quietly helping in the background, supporting content advertisers in maximizing their time and return on investment. It's fundamental to many autonomous products Google has built over the last decade.
At the same time, the technology is driving growth for businesses of all sizes, from features like Smart Bidding to fully AI-powered products like Performance Max and much more. In a nutshell, the Google Marketing Live updates are another time-saver for advertisers using the power of AI. That said, let's learn more about how Google Marketing Live is benefiting marketers.
Understanding How Google Marketing Live Helps Empower Marketers
Today at Google Marketing Live, they share how new generative AI advancements will bring AI front and center, making it the best tool in your marketing toolkit — helping you make decisions, solve problems and enhance your creativity. Most businesses know that getting up and running with a new creative ad content campaign can sometimes feel overwhelming.
Today, Google is introducing a Natural Language Processing (NLP) conversational tool for user experience within its ads. It's designed to jumpstart campaign creation and simplify Search ads by combining your AI expertise. Add a preferred landing page from your website, and the AI will summarize the page. Then, it will generate relevant and effective keywords.
As well as headlines, descriptions, images, and other assets for your campaign. You can review and easily edit these suggestions before deploying. Now, you can chat your way into better performance — ask Google AI for ideas, just like you might ask a colleague. Last year, Google started rolling out Automatically Created Assets (ACA) for its search ads inventory.
Essentially, ACA uses content from your landing pages and existing ads to generate headlines and descriptions; it's also worth mentioning that soon, Google will be supercharging ACA with generative AI to more effectively create and adapt Search ads based on the context of a query. The fundamentals theme behind the launch of the 15+ AI-driven products was the 3 Cs;
1. Connection
This point here means to create a connection with your potential customer. How? By showing them what they want at the right time. To achieve this very goal, one has to create a more personalized experience for potential customers. This is precisely why Google aims to provide marketers with tools that can help them craft content that resonates with their target audiences.
2. Creativity
The customer connection discussed above is directly linked with creating high-quality content that matches the needs of your potential customers. This is where AI is anticipated to develop high-powered creative assets such as text or images across Google ads strategies. This aspect of AI technology will assist users in creating ad copies or banner images. For Example, users can generate ideas in pictures by providing 1 or 2 short sentences depicting the image. This is not it; you can also edit the background and increase the resolution of the images. Amazing right?
3. Confidence
There can be apprehension among marketers about whether these new Google products will provide them with the ROI that Google has made them dream of. To make you more confident using AI-powered tools, Google has tested them thoroughly on specific brands before launching them in the market. According to Google, all the businesses that applied these tools saw an increase in the ROI—satisfying, right? 
What Benefits Will Marketers See With The Google AI-Powered Product?
In this year's event, Google is announcing two new Google AI-powered campaigns, Demand Gen and Video View campaigns. One thing is for sure; they make it easier for business marketers to connect with consumers and drive demand from the mid-funnel to purchase. Research shows that 87% of consumers say YouTube helps them make purchase decisions faster.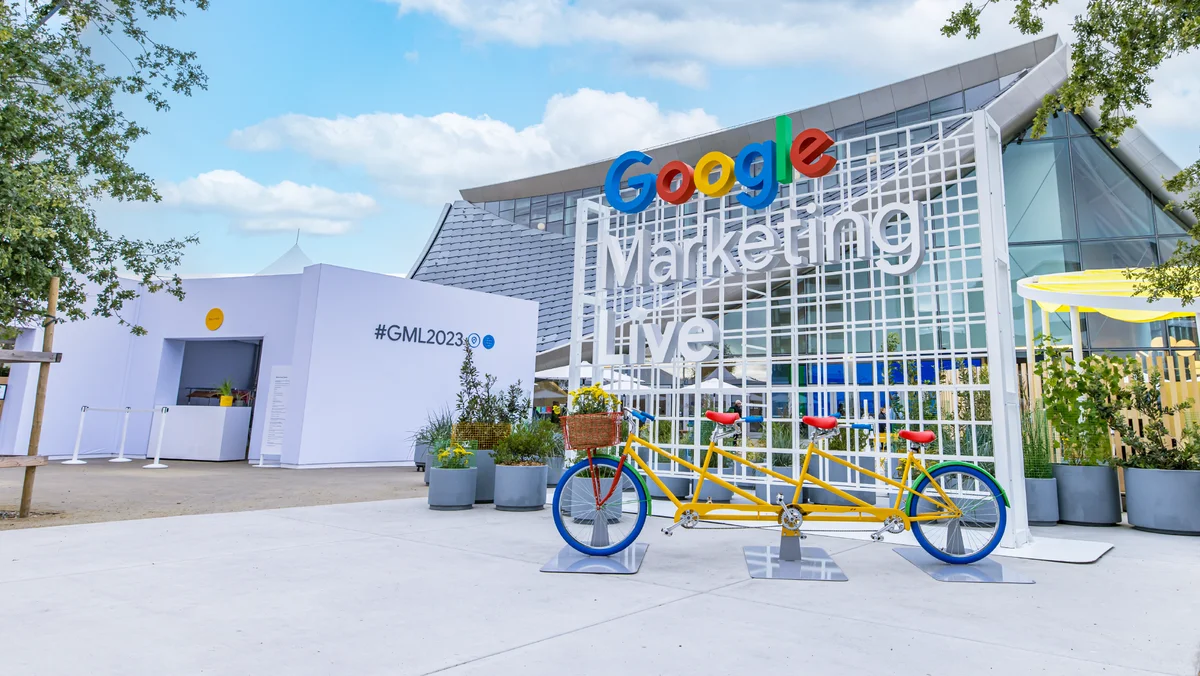 The main goal of Google's AI models is to boost the conversion rates of businesses online. This has become possible by solving the critical issue of customer privacy. At some point, you might have felt hesitant to share Google's first-party data with a third-party website. Due to this same behavior of the users, most online businesses lose a lot of potential revenue in product sales.
But Google has bridged this gap by enabling sites to manage their first-party data in a much more privacy-centric way. This has helped businesses online to connect data sources securely and also to track and measure conversion effectively. For example, with a search for "skin care for dry, sensitive skin," AI can use content from your landing page and existing ads inventory.
Mainly to create a new headline that aligns even more closely with the query, such as "Soothe Your Dry, Sensitive Skin." This helps you improve ad relevance while staying true to your brand. It's important to realize that all these new Google Ads solutions use relevant, immersive creatives to drive action and conversions in the moments that matter.
The Google Marketing Live Updates For Content Marketers To Know
At Google I/O, they announced new generative AI search capabilities coming to the marketplace. These new experiences will make Search smarter and more straightforward, and Search will continue to be a jumping-off point to the best of the web, including your business. As the future of Search evolves, advertising will grow, too — bringing more opportunities with it.
In particular, to help grow your business and showcase your brand. This new Search Generative Experience (SGE) can be found in Search Labs, a place to access Google Search experiments. At I/O, Google showed how ads would appear above and below this new experience. Over the coming months, it'll experiment with Search and Shopping ads directly integrated for you.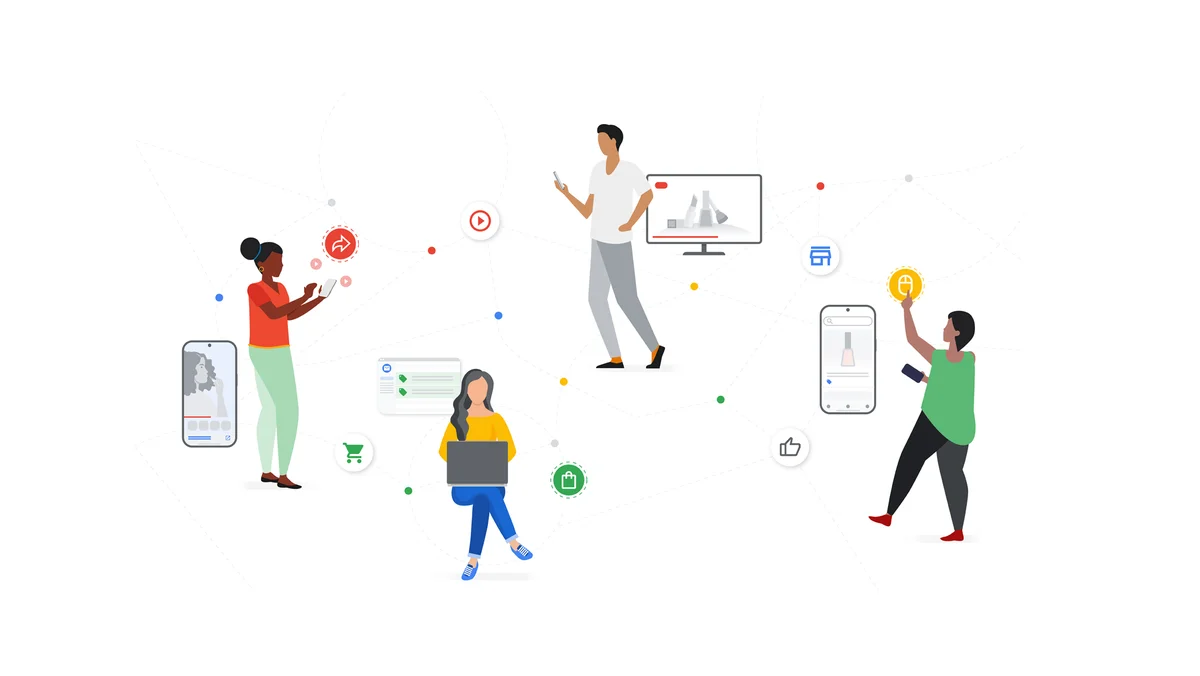 More so within the AI-powered snapshot and conversational mode. It'll also experiment with new formats native to SGE that use generative AI to create relevant, high-quality ads customized to every step of the search journey. For example, if someone searches for "outdoor activities to do in Maui," they may narrow the search to ask about "activities for kids."
They may also include "surfing," where they may see a fully customized ad for a travel brand promoting surfing lessons for kids. As always, Google is committed to transparency and distinguishing ads from organic search results. When Search ads do appear, they'll continue to feature industry-leading transparent ad labels with the "Sponsored" label in bold black text.
1. Creativity Performance Boost 
Performance Max is one of the best examples of how AI-powered ad campaigns can drive growth for your business. Advertisers who use Performance Max For Ads achieve, on average, over 18% more conversions at a similar cost per action, up from 13% roughly a year later. Google is bringing Generative AI to Performance Max to make creating custom assets more accessible.
And also to help you scale your custom assets in a few clicks. Just provide your website, and Google AI will start learning about your brand to populate your campaign with text and other relevant assets. It'll even suggest new images generated just for you, helping you stand out to customers across a broader range of inventory and formats. This sounds super amazing.
Not forgetting this capability will also be available through the new conversational experience in Google Ads. To make increasing revenue from new and existing customers easier, Google is also enhancing its new customer acquisition goal and introducing a re-engagement ideal for Performance Max campaigns.
2. Search Generative Experience
This is a new search experience that Google has envisioned for its users. In this approach, the users will get more personalized search results based on their search behavior. Simply put, the results will be served in a more human conversational language rather than placing a query on a machine that merely shows results. Exciting, right?
For Example, Suppose a user is searching for an answer to the question "How to make Chicken tikka masala?" From this user's query, Google SGE may deduce that the user is looking for cooking instructions based on previously asked questions and searches in a step guide format.
With Google SGE surfing the internet will feel like you are engaging in conversion through the feature of follow-up questions. This new approach will help businesses get more chances to feature themselves over the internet through SEO Toronto strategy or paid ads. Users will be more inclined to engage through follow-up questions. 
3. Video View Campaigns
Video View Campaigns are a great initiative by Google to increase the ROI of ads on Youtube as per cost per view basis. It will combine multiple ad formats, including in-stream skippable ads, in-feed ads, and YouTube shorts. This initiative will help businesses to further connect with their audience due to the concept of "one video ad that fits across multiple ad formats." 
Google has also observed that with the application of video view campaigns, businesses could see a jump of 40% more views than single-format video ads.  As mentioned, Google Marketing Live is another time-saver for advertisers using the power of AI. With this feature, you can give Google prompts to create custom images, videos, and text assets for your Performance Max ads.
For your information, Google AdMob is an easy way to monetize mobile apps with targeted, in-app advertising. Google Ads is an easy way to reach potential customers with online ads. The platform allows you to build tools to manage large Google Ads accounts and campaigns. Plus, implementations that provide delivery of targeted ads along with your search results.
4. Demand Gen Campaigns
Demand Gen campaigns offer unique features designed especially for the needs of today's social marketers. Research shows that 91% of consumers took action immediately after discovering new products or brands on Google feeds, like Discover or Gmail. With Demand Gen, your best-performing video and image assets are integrated across all better-performing channels.
Such as the most visual, entertainment-focused touchpoints — YouTube, YouTube Shorts, Discover, and Gmail. These products reach over 3 billion monthly users as they stream, scroll, and connect.  For social marketers, visually focused channels engage and drive action with visual features. You can create AI-powered lookalike audiences and tailor specific audiences.
Additionally, you can also customize your demographic segments and measure conversion. It is a new campaign type that aims to serve social marketers to reach their audience.  To be able to use these AI-powered campaign types, you need to maintain a proper conversion tracking sheet in place. On that note, Google offers a few recommendations to creative marketers.
Consider the following:
Assign the value to values to the conversions.

Setting up enhanced conversions.

Upgrading to Google Analytics 4 (GA4).
By doing so, digital marketers can make the most of Demand Gen and Video view campaigns. While at the same time, bearing in mind that, unlike other companies in ad technology, Google's advertising platforms don't take hidden fees. 
5. AI-Powered Privacy-First Future
Building user trust is vital to the long-term durability of the ad-supported internet. Google wants to help you navigate this moment with Google Ads products that are privacy-first and AI-powered. As third-party private sandbox features and options for cookies are phased out of Chrome next year, Google Ads teams are actively testing new privacy-preserving signals.
More so from the Privacy Sandbox to help you continue to reach relevant customers and measure results. These products are guided by its AI Principles and designed to help your business thrive. Your company, business marketing style, and ad performance results are multiplied by Google AI. As always, Google will experiment first, test, and listen to your feedback.
Be that as it may, you can watch the keynote and digital post-show for more news and join the conversation at #GML2023. Google also recommends you check out its Google Ads AI Essentials to help you set your campaigns up for success. Equally important, you can learn more about these and other commerce announcements in the Google Ads Help Center.
Final Words;
Google Marketing Live this year showcased the integration of AI technology into digital marketing, highlighting its potential impact on marketers' work. By leveraging AI-powered tools, Google aims to provide marketers with the means to create high-quality ads that resonate with their target audiences. The event emphasized the importance of customer connection.
In addition, it also highlighted the significance of personalized experiences and compelling content creation. Google's thorough testing of AI-driven products instills confidence in marketers, as businesses that utilized these tools witnessed increased ROI, more traffic, and revenue sales. Furthermore, Google's AI models address the issue of customer privacy.
---
Other More Related Resource Reference Topics:
---
At the same time, it enables businesses to manage first-party data securely and optimize conversion rates. Important updates from the event include the Search Generative Experience, which conversationally offers personalized search results. You may consider Video View Campaigns that Enhance ROI on YouTube Ads and the Demand Gen Campaigns.
For one thing, they help cater to social marketers' specific audience targeting needs. To maximize the benefits of these AI-powered campaign types, digital marketers are advised to implement proper conversion tracking. And also, assign value to conversions, set up enhanced conversions, and upgrade to Google Analytics 4 (GA4) using the best methods for your website.
---
Top Frequently Asked Questions
---
1. Is Google Marketing Live a free event?
Yes! Google Marketing Live 2023 is a free event that allows advertisers to stay ahead of the competition and on top of industry trends and changes. This is an annual event showcasing the latest Google Ads product innovations.
2. How does Google marketing work?
Google Ads operates under a Cost Per Click (CPC) strategy and Pay-Per-Click (PPC) model. That means marketers target a specific keyword on Google and make bids on the keyword — competing with others also targeting the keyword. You make "maximum bids" — or the maximum you're willing to pay for an ad.
3. What is the trend for SEO this year?
In 2023, Page Speed Insights and Core Web Vitals will still be essential tools for monitoring and evaluating website speed and performance. Alongside content quality, high-quality content, content SEO audit, and marketing, prioritizing page speed improvements are bound to pay off for businesses with increased keyword rankings for all of the web pages of their domain.
4. Can I start Google Ads with no money?
On the one hand, signing up for an account is free. Getting started with Google Ads takes 3 simple steps: add your business information, select your campaign goals and budget, and enter your payment details. On the other hand, you'll only pay when your customers take action, like when they click your ad to visit your website or call your business. To set you up for success, Google will provide performance reports and insight metrics so you can track your campaign ad's performance and costs.
5. How much are Google Ads per month?
Google Ads costs anywhere from $1000 to $10,000 per month, with an average Cost-Per-Click (CPC) of $1 to $2 for the Google Search Network and $1 for the Google Display Network in 2023. Still, Google Ads pricing can vary depending on various factors, like your industry, campaign targeting, and ad network. It's also important to realize that Google AdSense is the 100% free way to make money with Google Ads. You don't have to spend any money at all. You must opt-in to allow advertising.
---
The Author: Amir Waheed is the co-founder & CEO of SEO Toronto Experts. He intends to bring a massive transformation to eCommerce SEO Services to all businesses. His talented IT team knows the secret of getting huge conversions.
---
Related Blog Tags