Have you been searching for the best CMS software to build your new website? At a high level, Content Management System (CMS) software, is a great tool that will help you create a functional website. Without needing to build every page from scratch using code. For new webmasters, a web platform is a system that you use to create and manage your website.
In the past, websites were made by creating each web page separately using HTML, CSS, and JavaScript. With the addition of more dynamic tools like PHP (for dynamically created pages) and SQL (for databases), skilled web developers can create all kinds of web systems. These web platforms make it all possible to create pages with less input and more functionality.
However, different CMS software has different pros and cons. So, you'll want to choose the tool that's best for your specific needs and budget. Hosting a website requires several technologies (like those provided by WordPress) to work together. If you are a site owner, you very well know that you'll need a strong web design platform for your website.
As well as a web hosting provider (like Bluehost) to keep it online. But, you need to first know which CMS software is right for your website before investing in any of them. All in all, with strong CMS software, creating a web page becomes as simple as writing the content for the page. While using the platform to piece the rest of the web pages together around it.
What Is CMS Software?
If you want to launch a website for your new business, CMS Software is a web-based application used by various webmasters to create and manage site files. It also provides capabilities for multiple users with different permission levels to access it. In order to manage (all or a section of) content, data, information of a website project, or even intranet application.
While on the other hand, managing content refers to creating, editing, archiving, publishing, collaborating on, reporting, distributing website content, data, and information. Of all of the available CMS platforms, WordPress, Drupal, and Joomla are the leading options.
Any of them can support your website, but each one excels in a different area. In a web platform like these three, creating your website is much easier. Instead of creating each page by hand, you can use templates created by piecing parts of pages together.
For example, a WordPress page consists of a header, body, sidebar, and footer. And as such, you can design each of these parts separately. Then again, reuse them as much as you want. Without copying and pasting the code into a new file.
How does CMS Software work?
By all means, a CMS Software or the Content Management System does what the name says: it helps you "manage" your website's content in a "systemized" way. Instead of needing to work with code whenever you want to add content to your website.
A Content Management System uses a built-in editor (just like Microsoft Word). It lets you work in an easy-to-use editor that might look something like this: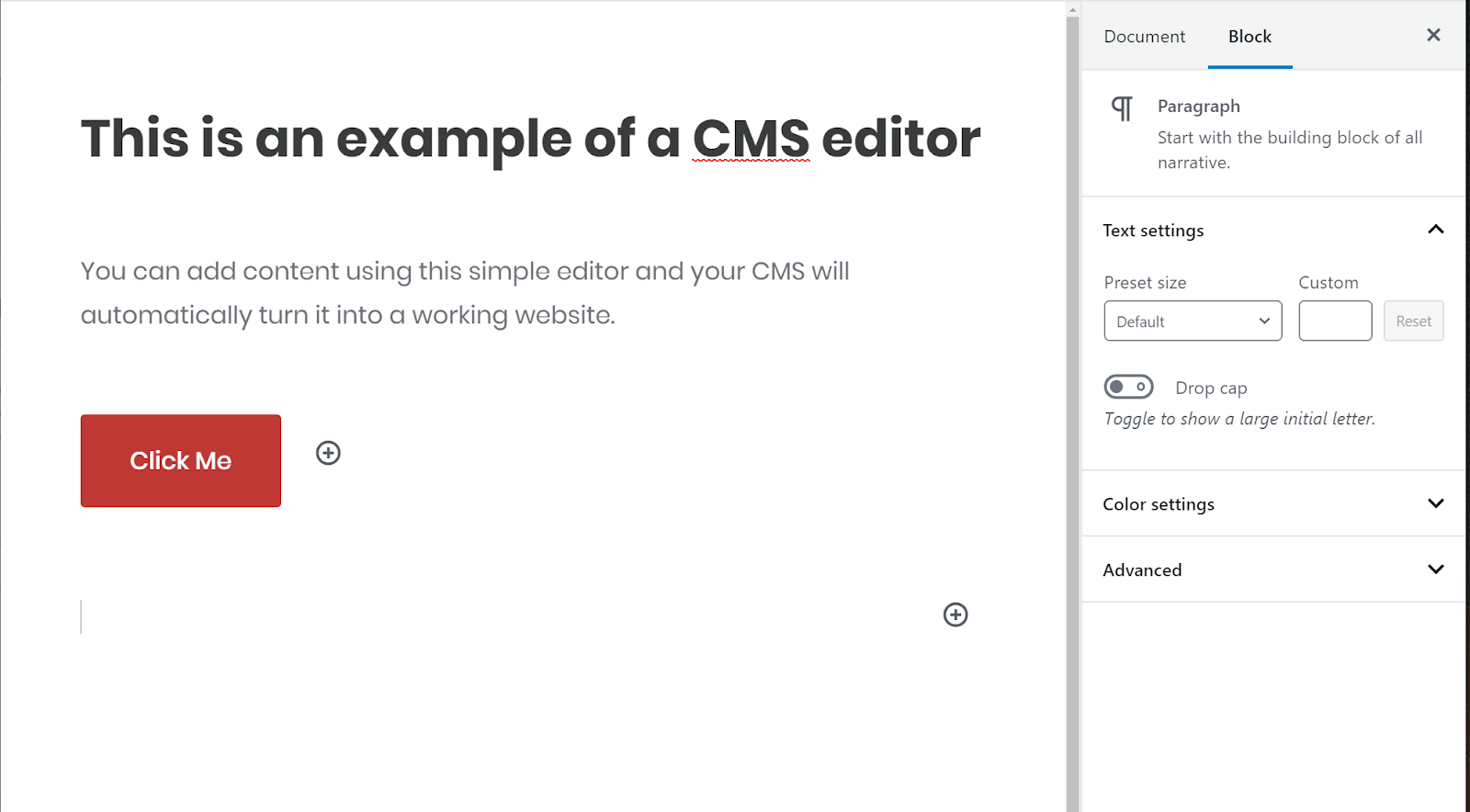 As soon as you "publish" your web content, the CMS will properly display that piece of content to visitors according to your preferences. Additionally, a CMS also handles organizing everything on the frontend of your site.
For example, if you publish a blog post, the CMS will automatically display it at the top of your blog page and add a timestamp. It's more flexible than just a blogging platform, though. For example, the "content" in your CMS could be anything.
Some examples include:
You can think of a blogging platform as a CMS for one specific type of content (blog articles). And one thing for sure, CMS can also help you manage virtually any type of content.  Or, it could be multiple types of content at the same time!
Web Pages, Websites, Web

Platforms

&

Web Apps
So, before we learn more about the best CMS software to use for your next website design project, it's good to first understand its driving forces. I mean, the key reasons as to why it's used by webmasters.
When we talk about a web platform, there are times when we give some things for granted. And even mention them to our clients without knowing if they really know what we are talking about. A web platform usually consists of various tools.
It may include the Web Application, Mobile Applications, and the communication between this and other external services. In addition to more complete integration between each of the elements that comprise it. That said, do you know the difference between these tools?
First of all, when building a new website, there is a web page. A web page is a web document designed for different web browsers to output to their users as a result of a query (asked) search results. And also, you can use it as a page of a book or magazine. Since it's a single document that is represented by your browser.
Secondly, there's the website itself. A website is made up of one or more web pages, for example, the website can be http://example.com. While its pages would be , , etc. See! Site page naming is often indicated by a slash (/) after the main site URL.
You can think of a website as if it were a book. With the first page as a leading guide for the rest of the site content. And this is why, in general, it's called a "site index." For example, http://example.com/index.html;— this page also usually receives the name of "landing page".
Within the basis of the Complete SEO Checklist, a responsive website is simply one that is able to adapt the information displayed to the user's screen. Whether it is on a smartphone, a tablet, or a computer.
There are certain types of sites that are formed by a single page. And these are known as "OnePage." The main advantage is that you can summarize all the site information on one page. As well as make your users lose less, in addition to reducing the time it takes to load.
In that case, it becomes so easy to optimize such sites for SEO, since only one timely effort is required to be done. But, search engines like Google usually discourage them since they have little or less content to be indexed. Thus, they'll always rank so low in SERPs.
Web

Platforms

&

Web Apps
A web application is a kind of website that gives functionality beyond showing only web information, and where some user interaction is included. Such as uploading their information or files, editing a document, filling out a form, or showing statistics of some process, etc.
As for web apps, they're applications designed to run on mobile devices as well as smartphones and tablets. Usually, they're downloaded through a distribution platform. Such as AppStore for Apple devices and PlayStore for devices that include Android as their Operating System.
As of today, there are currently 2 types of mobile applications. There're those that run directly on the device. And whose experience is similar to the rest of the applications that can be found on it — called Native Apps.
In addition, those that are accessed from the browser but adapted to the screen are still web applications. However, these can be "packaged" and distributed by the application stores — known as Hybrids Apps.
Which CMS Software is the Best for Webmasters?
The most powerful aspect of CMS software as a web design platform is its ability to clearly help you create a new website. At times, even if it's from scratch! Without working directly with the source code for the page.
From experience, learning to code is the same as learning another language (or a series of languages that work together), giving it a large learning curve. But such web platforms rarely let you work directly with the code. Instead, they'll allow you to work with a predefined system or interface.
Among others, WordPress web pages and posts screen are good examples of how such an interface works. While Joomla is best-suited to complex websites that need more flexibility. This often includes medium business websites and extensive content websites like Wikipedia.
And as such, you'll have all the tools you need to manage an extensive website. You can even have a complex business website with Joomla. However, if you're starting a large corporate website, you should choose Drupal instead. Let's have a look at other key features of the topmost CMS software.
1. WordPress — Price to Start: Free
If you'll download WordPress today,  it's most likely for one reason. It's the most popular option among the three CMS software. Why? Simply, because it's responsible for more than half of the pages on the indexed Internet.
Also, because it's small and easy to use, even for beginners. Many people find it very easy to create a WordPress website and start managing it within minutes. Plus, it is small compared to the other options, so it can work well with small hosting plans.
Another benefit of choosing WordPress is the immense amount of support available for the platform. Pro and amateur web developers alike make WordPress plugins, themes, widgets, and other features. Plus, so many developers use it that it's easy to find paid or free help with a specific problem.
WordPress is so widely used that even many web hosting providers offer WordPress hosting plans with support features and an easy installation system. Bluehost offers WordPress-specific plans that you can take advantage of to set up a website quickly and easily.
The support team can also help WordPress users manage their website and ensure that it stays online. While WordPress is the most preferred option, it has one deal-breaking downside. WordPress is designed to be a blogging platform.
It has been extended for use as entire websites and web stores. But that comes at a price. The interface remains largely focused on small websites, and WordPress does not scale well to larger, more complex websites.
From a coding standpoint, the code becomes difficult to manage at larger file sizes. And can take up a lot of space and slow down your website as it continues to grow. If you are going to have a relatively small website that includes a blog, then WordPress is your best option.
It will give you the most support and features for your investment. However, larger or more complex websites should be made with Joomla or Drupal.
2. Joomla — Price to Start: Free
Joomla is similar to WordPress in many ways but differs in at least one key area. First, it's designed for larger websites. The code and interface are designed to make it much easier to manage pages across a large number of pages and posts.
Because of how it is structured, you won't run into performance issues when scaling your website. Joomla's biggest improvement over WordPress is that it is a two-part system, whereas WordPress is a one-part system.
Perse, it's made of a CMS (Content Management System); similar to how WordPress manages blog posts and the website platform. Having these two systems separate from each other lets you build a website outside of the CMS.
So that you can ignore the CMS entirely unless you need it. It's closer to how websites were built before there were powerful management systems. With the ability to add in blogs or other content. That's why it's best-suited to complex websites that need more flexibility.
This often includes medium business websites and extensive content websites like Wikipedia. And as a result, you'll have all the tools you need to manage an extensive website. You can even have a complex business website with Joomla.
However, if you are going to start a large corporate website, choose Drupal instead.
3. Drupal — Price to Start: Free
Drupal is similar to Joomla, but it is designed for complete freedom when it comes to content management and website development. But, it's based on a content management system web design but lets you fully customize the entire structure and content of the site.
It works best for larger corporate websites because you can make all of the changes and designs you need. While you can use it for smaller projects, it works best for large complex websites. Using it for a smaller project comes with a lot of extra work you don't need to take on.
Related Topic: Drupal – Open Source CMS | Drupal.org
That's why you should choose WordPress or Joomla instead. But, choosing the best platform for your website depends on your needs.
Like if you're looking for a full range of plug-ins to choose from. Or whether you just want more extensions and freedom in web design to improve the functionality of your site.
4. Magento — Free, From $2,000/Month
Magento is an open-source CMS for ecommerce stores. It's flexible with robust security, but it's also not very accessible for non-technical users. You'll almost certainly need some technical knowledge to set it up (or the willingness to hire someone who has that knowledge).
You can either use the open-source software for free (called Magento OpenSource). Or, you can pay Magento to set up and maintain your store for you (Magento Commerce), which can get pricey with plans starting at $2,000+ per month.
5. HubSpot — Free, From $300/month
In addition to the above mentions, HubSpot CMS is an excellent CMS for businesses and marketers looking to connect with customers. It has built-in integration with the free HubSpot CRM (check out other WordPress CRM plugins).
This lets you not only add leads directly to your CRM, but it also lets you personalize your website to individual visitors. All in all, which can help you convert them into customers. Developers can evenly dig into the code to customize the site.
While at the same time, non-technical users can build pages using a drag-and-drop editor.
Other notable features include:
Built-in A/B/n testing to optimize your content
SEO recommendations to rank in Google search results
Contact attribution to analyze where your leads and sales come from
24/7 security monitoring
24/7 support if you need any help
Other CMS Software Platforms Are:
Adobe Experience Manager
In addition to the above list, Ghost is also a speedy CMS written with Node.js that's primarily focused on blogging and publishing.
To simplify things, Ghost has also built in some of the most important features that bloggers and media publishers need to monetize their sites. For example, you can create email opt-in forms and charge visitors for access to your content with monthly subscription fees.
However, Ghost is not a great option if you want a CMS that can go beyond blogging/publishing.
What to Consider When Choosing a CMS Software
As you choose your CMS Software, there's also another term — headless CMS — that you should know more about. With a headless CMS, you'll use your CMS to manage all of your content on the backend.
Then, you can build your own frontend by querying data via an API. Fortunately, the upside of this "headless CMS" approach is that you can use your content pretty much anywhere, from a website to a mobile app and more.
But, a headless CMS requires a lot more technical knowledge to implement. Although it gives you more flexibility for how and where you use your content.
Above all, if you aren't sure which is best, you can reach out to your web hosting provider too. And now that companies like Bluehost have a support team that can help you get your website started. So, what do you consider when choosing a CMS Software?
When choosing a CMS, there're some of the most important features to consider. That's even before you start reasoning out how to create your new site.
The most important features include:
Pricing – every CMS has costs associated with it. Some are free and open-source, but you'll need to pay to host them. With others, you might need to purchase the software from the company that creates the CMS.
Support & customer experience – some tools are open source with no central support options, while others come with 24/7 support – make sure you understand what you're getting.
SEO – it's important that your chosen software gives you the tools to rank in Google and other search engines.
Personalization – for business use cases, choosing a CMS that lets you create personalized visitor experiences can help you improve your marketing and conversion rates.
Ease of use – if you're not a developer, you'll want to pick a tool that's easy to use without development knowledge.
Security – with some CMS tools, you'll be responsible for your site's security, while other tools handle it for you.
In nutshell, a good CMS platform can help you manage as many different types of content as you need.
Takeaway,
If your intention is only to inform about your business, products, or services, it is enough to have a website. With different web sections and categories on one roof (MultiPage). Or even by gathering all the information on a single page (OnePage).
At times, your site needs may surpass your web user needs. Like when you want your customers can have some interaction with the information you provide.  Or even buy online (e-commerce), and then receive statistical data of your business. As well as simply provide the ability to search the catalog.
In such cases, what you'll need is a web application. Some businesses launch mobile applications for this type of situation. But, depending on the size of the business, it is sometimes counterproductive. Since much more is invested and the probability that it's downloaded by customers is lower.
It's also useful if your intention is to automate the whole process. Where your customers can synchronize their actions through different devices. And as such, you can add some other key functionality to your service. Or even integrate with other business services too.
Finally, if you'll need more support with CMS Software, you can Contact Us and let us know how we can help. But, if you'll have more additional contributions, suggestions, support guidelines, personal experiences, or even further questions you'd like to share, please feel free to share them in our comments section.