The rapid growth of cloud computing technology, such as the advent of the best AI tools for remote work, has changed how we live and operate, transforming the workplace. For example, you may use a free resume builder without payment or online templates to land a job. Still, AI (Artificial Intelligence) and technology are becoming increasingly involved in a typical day at the office.
What about those of us who don't make the commute on the tube to a workspace? In that case, Artificial Intelligence can and should also be essential when working from home. Working for just about any company in the United Kingdom, especially in the London area, it's necessary to have the right tools to stay productive. By all means, you should try to streamline your workflow.
It's also essential to improve communication and provide better insights into your business as much as possible. That's where AI comes in. Let's look at some of the best AI tools available for working from home, covering business, scheduling, and more.
The Best AI Tools For Scheduling And Time Management
Managing time is crucial, especially if you're a new parent or scheduling meetings. Working from home will offer even more challenges if you've never been good at organizing your time. However, time waits for no one, especially if you have many deadlines to meet. Luckily, there are also AI tools that can help you plan your day more effectively.
1. Sidekick Ai
If you need to juggle multiple projects or clients, Sidekick Ai is a great tool. It's an AI-driven virtual scheduling assistant that eliminates the hassle of setting up meetings. Simply CC the assistant in your email correspondence, and it will handle the rest, coordinating with all parties to find the best time and send out calendar invitations. The tool also integrates with popular calendar applications, making it an indispensable tool for remote workers.
2. Clara
By definition, Clara is an AI-powered virtual assistant for meeting scheduling, calendar management, and follow-ups. Connecting Clara to your email and calendar allows you to delegate scheduling meetings, saving time and effort. Clara can also send automatic follow-up emails to ensure your business meetings stay on track. With Clara, you can focus on your work while your scheduling is handled in the background.
3. RescueTime
Staying productive while working from home can be challenging. On that note, RescueTime is an AI-based time management tool that tracks your computer activity and provides insights into how you spend your time. The tool can automatically categorize your tasks and provide a detailed breakdown of your daily activities.
The Best Artificial Intelligence Tools For Automating Business Workflows
There are over 8,000 large businesses in the UK; chances are, if you're working for one of them, you'll be given the tools to succeed. If your manager hasn't provided you with technology to make your job easier and become more productive, or you feel the ones you have aren't getting the job done, no worries. Check out the options below for useful AI business tools.
4. MarketMuse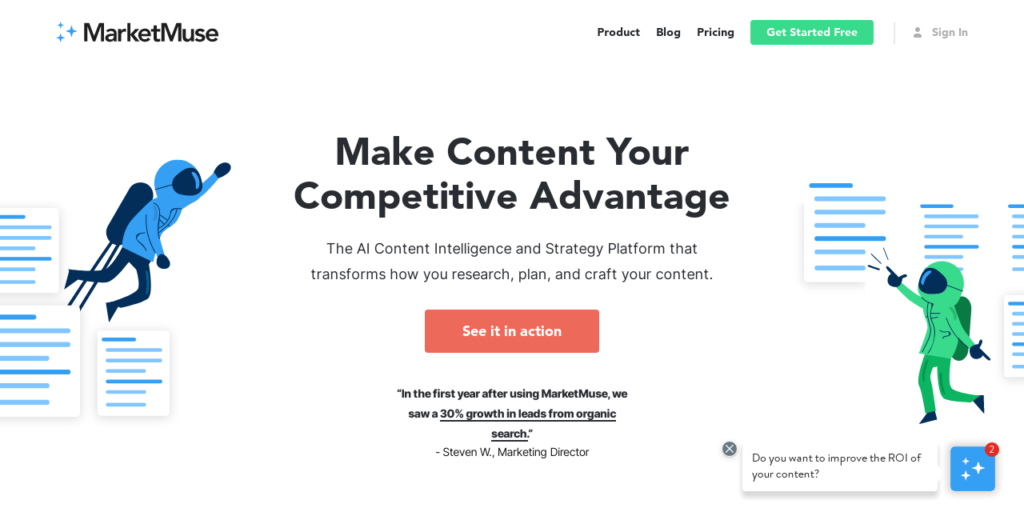 Content is king, and crafting high-quality content is crucial for any business. In that case, MarketMuse is a platform that helps you create better content by analyzing your existing pieces and providing actionable insights on improving them. It suggests relevant topics and keywords to target, making planning your content strategy easier.
5. Gong
Gong is an AI-driven sales performance management platform designed to help sales teams improve their communication and close deals faster. The tool analyses sales calls and meetings, providing insights into what works and what doesn't. It offers coaching and training based on real-world examples, allowing sales reps to learn from the best.
Sales and business analytical tools have always been helpful, and now, if you can throw Artificial intelligence into the mix, your productivity should shoot through the roof.
The Growing Importance Of AI And Its Impact On Working From Home
As we progress further into the digital age, the role of Artificial Intelligence in our daily lives continues to grow. Artificial Intelligence has made significant advancements in recent years, and its applications now extend far beyond automation and data analysis. One primary way AI impacts remote work is by enhancing productivity. Consider AI-driven tools like virtual assistants in this case.
There are also software systems that offer scheduling solutions and time management applications that help remote workers manage their tasks, stay organized, and better use their time. By automating mundane and repetitive tasks, some of the best AI tools allow you to focus on higher-value work that requires creativity, strategic thinking, and problem-solving.
If you use the latest technology correctly, you'll be able to be as productive even when the dog breaks something, or your child begins to cry. As the nature of work evolves and AI advances, you will need to keep up and understand how to take advantage of the latest technology at the office and work from home to be your most productive version.