In this guide, you'll learn how to add your website to Baidu Webmaster Tools in very simple steps. However, you must have a Baidu account in order to connect your site to Baidu Webmaster Tools. Baidu is a Chinese-only search engine with a big share of the market. To add your website to Baidu, you need a Baidu account.
You can register the account with a phone number. But, while it is easy to do that if you have a Chinese phone number, it may be slightly more complicated with an international one. Baidu Webmaster Tools—also known as Baidu Ziyuan — is a very great resource web platform. For it tracks and enhances your website's organic performance on Baidu.
Bearing in mind, Baidu is China's #1 search engine with 222+ million active users. In order to start using Baidu Webmaster Tools, you first have to sign up for a Baidu Account. That said, let's now learn more about how you can use Baidu Webmaster Tools to optimize your website traffic—particularly in China.
What Does Baidu Webmaster Tools Offer?
Baidu Webmaster Tools is an application portal created to help webmasters and SEOs monitor and maintain their site's presence in Baidu's organic search results. The platform offers plenty of great metrics you can only get from Baidu.
More so, tools to test your site's performance, and a two-way communication channel between you and Baidu. This means that if you are doing SEO in China, Baidu Webmaster Tools is an incredibly important tool you will have to master. Unfortunately, there's one big obstacle facing SEOs outside of China—the tool is only available in Chinese.
You could in theory use Google Translate, but this can be cumbersome, inaccurate, and not translate technical terms well. So until now, unless someone on your team reads Chinese, managing your site on GWT has been frustrating.
But never fear—we've provided this detailed guide to Baidu Webmaster Tools to help non-Chinese readers understand how to navigate the platform. As well as get the most value out of it—without having to know Chinese!
With Baidu Webmaster Tools You Can:
Unfortunately, even at this first step, the frustration can begin—account registration for Baidu requires a China mobile number for SMS verification. If you don't have a China mobile number, we have a specific method for registration without a China phone number (see below). And, if you have a local China number, then the registration process is simple.
Follow these simple steps:
Enter your China mobile number
Create and enter your password
Click on the button that says "获取短信验证 " to get your SMS verification code, and input it into this field
Read and agree to the terms of service, and click the blue register button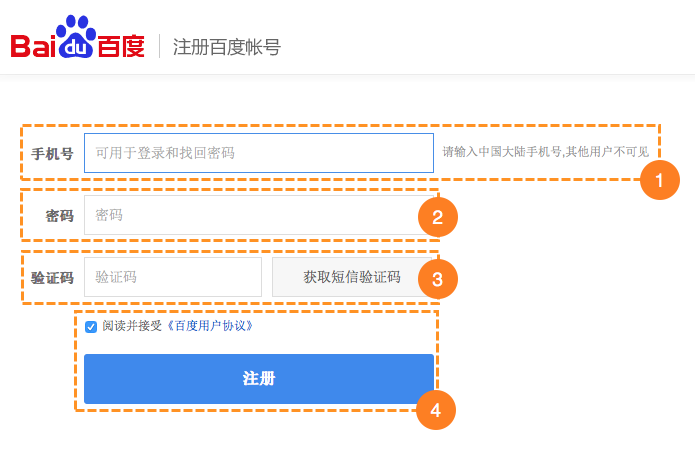 Let's now learn how to register for a Baidu account without China phone number.
Step #1: Register for a Baidu account with international SMS verification
The first thing here is to register for a Baidu account with international SMS verification as your preferred method.
Follow these simple steps:
Choose your country and enter your phone number,
Enter your password,
Click on the right get SMS verification code "获取短信验证 " button to get an SMS verification code,
Enter the SMS verification code to the left space,
Read and check the agreement box,
And then, click "注册" to register.
Step #2: Log in to your Baidu Account via Baidu Pan
In the next step, after registering, log in to your Baidu account via Baidu Pan (cloud storage service by Baidu) with your phone number.
Click 帐号密 登录 to log in through account ID and password instead of QR code,
Click 海外手机号 to log in through the phone number,
Enter the phone number and password you've registered with previously,
Click 登录 button to log in.
Step #3: Bind your preferred Email address to Baidu
Upon successfully logging in, you can visit the account security page of your Baidu account. Specifically, to bind your preferred Email address to Baidu so that you can log in to Baidu by Email.
Use these simple steps:
Click on the bind "绑定" link next to secure Email "密保邮箱"
Choose your phone number in the drop-down menu,
Click on the right get verification code "发送验证 " button to get an SMS verification code,
Enter into the left section, and click the blue button to proceed,
Enter your desired Email address,
Click on the get verification code "发送验证 " button to get an Email verification code,
Enter the code into the left space,
And then, click the blue button to proceed.
All done! If all the steps above are implemented successfully, you should now be able to use your Email address to log in to Baidu Webmaster Tools.
How To Add A Website To Baidu Webmaster Tools

Upon successful login, you can start adding sites to Baidu Webmaster Tools (Login required). The first step is to enter your site's home address and whether your site is HTTP or HTTPS site.
Baidu recommends adding a site's main or www. subdomain to their Webmaster Tool first. More so, since it'll make adding other subdomains easier later. Just click 下一步 (Next) after you've done so:

By all means, after entering your website's home address, you will need to tell Baidu the industry categories your site is about. In that case, here's their English Translation from Google Translate. Similar to Google Search Console, Baidu Webmaster Tools offer three ways for users to verify their sites. After all, it's just like adding a site to other SERPs too.
Consider the following 3 methods:
Text file: By downloading a text file from Baidu and uploading it to the root directory of your site's
HTML tag: Placing an HTML tag provided by Baidu onto the head tag of your homepage
CNAME record: Log in to your site's ISP admin panel, and add a new DNS record
Let's consider the HTML tag verification method since it can be the easiest for SEOs to control. Not forgetting, we may not have access to the FTP server or DNS settings too. With that in mind, to start, follow these simple steps:
Select "HTML 签验证"
Copy the provided HTML tag and paste it into the head tag of your homepage, here's an example:
---
<html>
<head>
<meta name="baidu-site-verification" content="xxxxxxxxxx" />
<title>My title</title>
</head>
<body> page contents </body>
</html>
---
Click on the "完成验证" button
Upon successful verification, a completion screen will be shown. It will prompt you to add subdomains by clicking on the blue button 批量添 子站 if you wish. Otherwise, you can just click 暂不添 to proceed. After you've verified the site, DON'T remove these tags or files! In order to maintain the verification status, Baidu recommends users keep all the files.
As well as the HTML verification texts, and other site records. More so, since they will use these to check their user's verification from time to time. If you've Baidu Analytics (Tongji) installed on your site, you can add your site directly in Baidu Webmaster Tools without verifying, but we won't be covering this method here.
How The Baidu Webmaster Tools Dashboard Works
Eventually, if you only have time to learn one thing about the whole tools after setting up your account, the Baidu Webmaster Tools Dashboard will probably be the one. Basically, the Baidu Webmaster Tools Dashboard gives users a high-level overview of all the data available inside the tool. For example, there's the blue link (将该网站设置为默认站点).
The button is next to the Site Selector. Ultimately, it'll let you set the currently selected site as the default site. So that the site will be shown first every time you log in to Baidu Webmaster Tools. However, this dashboard is not customizable.
Below is the description of each dashboard component:
Site Selector (选择站点) – This dropdown menu allows you to switch between different sites you've added.
Important Messages (重要消息) – Notifies you of Baidu news, errors, system updates, site status, etc.
Traffic and Rankings (流量与关键词) – for the total, top 3 keywords, the number of clicks and impressions, etc.
Indexation (索引量) – Total number of indexed pages in Baidu for the last few days
Link Submission (链接提交) – The number of submitted links to Baidu for the last few days
Mobile Adaption (移动适配) – The number of total clicks and mobile clicks for the last few days
Crawl Frequency(抓取频次) – The number of times Baidu Spider has crawled your pages for the last few days
Crawl Errors (抓取异常) – Server and site errors Baidu Spider has encountered for the last few days
Broken Links Analysis (死链分析) – The number of broken links for the last few days
Backlinks Analysis (外链分析) – The number of backlinks for the last few days
It's also important to realize, Baidu currently offers 4 methods for submitting content. In nutshell, to ensure the best indexation, we recommend implementing all of them if possible.
The main content submission methods include:
Active Push: Baidu's recommended programmatic submission method. Implementation of Active Push was covered in this post from Chinese SEO Shifu.
Auto Push: The most convenient programmatic submission method. By utilizing a piece of JavaScript code, pages' link data will be sent to Baidu upon each page visit.
Sitemap: Notify Baidu of any new content by specifying your sitemaps' URL in Baidu Webmaster Tools. This is a relatively slow method compared with Active and Auto push.
Manual Submission: Manually submit links to Baidu by inputting them into the text box. This is suitable if you are doing a one-time link submission.
You can track your submission stats over time in Baidu Webmaster Tools as well. Submitting links will help Baidu discover your new content. However, this doesn't guarantee indexation and rankings. But, by utilizing the above indexation methods, every time a page is browsed on your site, the page's URL will be pushed to Baidu automatically.
Thus, ensuring new content is being submitted to Baidu. Having too many broken links on your site will negatively affect your site's user experience, traffic, conversions, and indexation. Especially, if they're showing up on Baidu search results pages. You can use the Broken Link Submission Tool (死链提交) to inform Baidu of your sites' broken links.
How To Apply For Brand Terms Protection (官网保护)
Notably, fake official websites have been an issue for Baidu SEOs for years. Experienced black hat SEOs in China often look for global brands with a lack of SEO efforts in Baidu. In particular, by creating fake websites that rank for brand terms of these companies before they do. And trying to sell their fake websites back to the company.
Or rather, resell their leads to their competitors for profit. For this reason, Baidu has recently released a brand terms protection tool to help fight this issue. And, on that note, it allows legitimate websites to submit up to 3 brand terms they should rank for—but aren't because of fake websites. With this tool, you can also report to Baidu for fake websites.
Inside the page, you'll be able to:
Select whether you'd like to submit your brand protection request on Baidu Desktop (pc搜索) or Mobile (移动搜索)
Select whether you'd like to submit your brand terms for protection (官网提交) or report fake websites (官网举报)
Enter up to 3 terms (需求词) you'd like to apply for protection. Note, once it accepts a request, it's not changeable
Confirm the URL of the official website (官网链接). It's the same as the URL verified on Baidu Webmaster Tools
Submit your request
The first thing you should bear in mind when using Baidu's Brand Terms Protection tool is that this tool is created for websites that are suffering from fake websites ranking above them for their brand terms. So, if your site is not having this issue, Baidu likely won't accept your application as there's nothing that needs fixing on their end.
The time required for Baidu to process brand protection applications is normally within 15 days. Also, the Brand Terms Protection tool is a different feature than the "Official website tag" too. Whereby, you'll see "官网" next to the search snippet, but they do not affect each other. Learn more about rich snippets, or rather, the Baidu SERP Features in detail.
How To Minimize Site Migration Negative SEO Effects 
Baidu Webmaster Tools offer users the ability to notify Baidu when you move to a new domain or shuffle content around on your site by using the Site Migration Tool (网站改版工具). You absolutely should use it when migrating your site. The tool currently supports the 3 key types of site migrations as follows:
Change of domain (站点改版) – For example from "www.example1.com" to "www.example2.com", site architecture remaining the same.
Rules Migration (规则改版) – For structural updates without changing root domains, e.g. "www.example.com/blog" to "www.example.com/blog-new" or "www.example.com/blog" to "blog.example.com"
URLs pairing (新旧URL对) – Suitable for webmasters who've encountered updates to a specific set of URLs that can't be described by Regex, or failed to implement the above two methods.
In reality, you can submit a document of updated URLs to Baidu. Document format: 2 URLs per row, the first URL being the old URL and the second URL being the new URL, 2 URLs are separated by a space. Suffice to say, you can upload as many as 50000 pairs of URLs per document or 2000 pairs of URLs too. Technically, by directly inputting into the text box.
Before using the Site Migration Tool you'll have to;
add the newly migrated site into the same Baidu account
make sure your old site has been redirected to your new site (using 301 permanent redirects)
As such, this tool will notify Baidu of the changes to links in your site—although, it accounts for no content changes.
How To Optimize Your Website For Both Desktop & Mobile
As a bonus, it's good to know that you can also access Baidu Webmaster Tools on your mobile devices. Baidu offers a flagship mobile app version of their webmaster tools with a simple and effective interface, and with a few exclusive metrics. Also known as the Baidu Core, it enables mobile users to access search content, RSS Feed, and other services.
In general, you can either view it directly on your mobile device or use a viewport on your browser to access it. Baidu Desktop and Mobile search are vastly different. Therefore, SEOs are not advised to treat it as you would Google Desktop and Mobile. The Mobile Adaption Tool in Baidu Webmaster Tools is available for all webmasters.
More so, in order to associate their site's mobile and desktop relationship. Thus, increasing their potential for better mobile ranking performance. There are 3 main types of mobile-friendly websites technologies.
They include:
Separate URLs
Dynamic Serving
Responsive Design
If you are using the separate URLs method, you can use the mobile adaption Tool within Baidu Webmaster Tools to tell Baidu the relationship between your desktop and mobile site.
There are two methods to use the mobile adaption tool, rules adaption and URL adaption, we will be demonstrating the URL adaption method this time, click on the 添 适配关系 (Add adoptive relationship) button to start.
Use these simple steps:
Click on the URL适配 tab
Make sure you've selected the correct desktop site and input your mobile site URL.
For the pairing rules, you can upload a pairing document or use the text box provided on the page. With the document, you can define up to 50,000 pairing rules, and with the text box, you can define up to 2,000 pairing rules.
After inputting your pairing rules, press 提交 to submit the adaption request. Format of the pairing document: Each pair of desktop and mobile URLs is listed in the same row, with the former one bringing desktop. And the latter one is mobile, separated by a blank. e.g. "www.example.com/home.html m.example.com/home.html"
After submission, Baidu will verify your submitted rules, the process will take around 10 days. You can check back on the same page to see your results. But, unlike Google, which is using Schema markup for structured data, Baidu SEOs must use Baidu Webmaster Tools to submit structured data.
Aside from its completely different technical implementation, types of structured data webmasters are allowed to submit will be limited according to various site elements. Such as the site's authority, credibility, participation in different Baidu beta projects, etc. At the time of this writing, with Baidu Webmaster Tools you will be able to set up various aspects.
Including the following:
Set site logos,
Suitable devices,
Submit sitelinks, and industry
Open to websites that have actively participated in Baidu Webmasters Forum
Download, Play now and watch now button in search snippets
As for the closed beta, it can be applied by directly contacting Baidu
Please Note: Submitting structured data does not guarantee your site will appear with these rich snippets—it's up to Baidu's discretion as to when they're shown. We think it's definitely worth a shot to submit data for all rich snippets that make sense for your site.
Other activities to consider doing include:
In addition, during offline site maintenance, by applying for Closure Protection (闭站保护) in Baidu Webmaster Tools, Baidu will retain the indexation. But again, stop crawling and hiding your site in their SERP pages temporarily. After the site is back to normal, webmasters can apply for recovery within the tool, and everything will back to as it is.
Be that as it may, if you still have the interest to learn more about how search appearances can affect your SEO performance in Baidu, you'll absolutely want to check out the in-depth analysis of the Baidu SERP in detail.
Final Words:
That said, through this guide, we can now finally understand how to use Baidu Webmaster Tools to maximize our search visibility in China. Of course, mastering Baidu Webmaster Tools may not guarantee the success of your SEO campaigns.
But, one thing is certain—not being able to use it can drastically impede your success in Baidu search results. And now, since Baidu Webmaster Tools is constantly updated, we'll be updating this guide from time to time as well!
Related Topics For Webmasters:
What Is Website Analytics? 10 Best Tools For Webmasters
How To Track Your Site Visitors | Topmost Best Tools to Use
Finally, we hope you'll find this article useful. But, if you'll need more help, you can always Consult Us and let us know.
All in all, if you'll have any additional feedback or questions, you're free to share them in our comments section. You can also donate in order to support our Web Tech Experts and motivate Creative Content Writers for their good work.
---
Related Blog Tags: