In this guide, we'll discuss all the Best WordPress Maintenance Plugins in detail. Bearing in mind, that it's unavoidable that you will have to update your website, make specific adjustments, or completely modify the basic concept of the site when building and managing it. When it comes to updating your website, it's critical that visitors don't see the process in action.
Instead, you can offer them some access to a functional page that provides them with useful information. To do so, you'll need to install plugins that will allow your site to function while it's being built. As well as a proper maintenance page. Perse, these WordPress plugins function as a barrier between the site visitor and all of the work that is being done on the site
Generally, while not displaying all of the current website fixes and maintenance occurrences. As a result, your site will appear presentable and functional, along with looking professional. Not forgetting, the official plugins list contains over 42,000 plugins and counting, and obviously, there are a lot of such plugins to choose from.
What The Best WordPress Maintenance Plugins Are All About
The Best WordPress Maintenance Plugins are the toolkits that allow the WordPress site administrator to close the website for maintenance, enable "503 Service temporarily unavailable", and set a temporary page with authorization, which can be edited via the plugin settings. One thing is for sure, a coming soon plugin or maintenance mode plugin is a very useful tool.
Keeping in mind, that they make it easy to create responsive site landing pages — for your visitors to see when your site is down or before it's been launched.  With these Website Maintenance Tools, you can easily customize the good look on all devices. Or even add your logo, and background image, select the desired color, add text, etc.
For these and other reasons, that's why in this article, I'll try as much as I can to narrow everything down for you. So that, in the end, you'll find the Best WordPress Maintenance Plugins — some that will suit all your web-based business demands. That said, before I list them down for you, let's first look at the key benefits you'll enjoy from using such toolkits below.
The key benefits include:
retina ready HTML/CSS layout
Full-screen background (Backstretch)
Blur background effect
Upload your own logo
Configurable colors: fonts, icons, background
Customize title, headline, text
User login on the frontend
Admin bar status
503 error on/off
Google analytics support
Exclude selected pages from the Maintenance mode
Support for all popular caching plugins
mtnc_load_maintenance_page_for_this_user filter for modifying show sees the maintenance page
There're voluminous pre-made themes and over 3M+ free images to build maintenance, coming soon, and landing pages faster. Just have a look at the WP Maintenance PRO Plugins, to begin with. Not to mention, if you're having problems with SSL or HTTPS try the free WP Force SSL Plugin. It becomes so easy to enable a Secure Socket Layer (SSL) to a site.
Getting Started With The Best WordPress Maintenance Plugins
As of today, you'll find some of the best WordPress plugins to include on your website after a new installation or update. But, how best WordPress plugins are important to a new website is a question that many webmasters fail to understand. Especially, in order to fulfill the goals of a particular site.
If you've been using WordPress for any amount of time, you're probably aware of the abundance of plugins available from both WordPress and third parties. You obviously can't (or rather, shouldn't) install them all. But, how do you know which ones are worth your time? Well, for instance, consider the installation of the very best WordPress maintenance plugins.
For your website level best performance functionality, you'll need to choose only the right WordPress maintenance mode plugin — depending on your overall goals. Luckily, we've got a list of such plugins that are great for pretty much everyone.
So, only plugins that work for your needs should be picked up. Always remember, that if you have any problems, questions, or recommendations about any given WordPress Maintenance Plugins below, please open a ticket in the official support forum to get sorted. Furthermore, the dev teams will answer all your questions within hours!
The Topmost Best WordPress Maintenance Plugins To Consider
So, at all costs, do you want to create a WordPress coming soon page, but you don't know where to begin? As I aforementioned, a coming soon or maintenance page lets users know that your page or site is currently unavailable. But, with the right kind of WordPress coming soon page, you can use this as an opportunity to achieve quite a lot of benefits.
Such as getting more traffic, generating potential leads, growing your email list, and even start building long-lasting customer relationships. Suffice to say, the best way to create beautiful high-converting coming soon pages is by using a WordPress plugin that's designed to help you do that. With all key features that benefit both you and your visitor's experience.
For this reason, that's why, as of today, I am going to show you some of the best coming soon page plugins that you can start using right away. And, without much further ado, let's get started with our topmost best WordPress plugins list.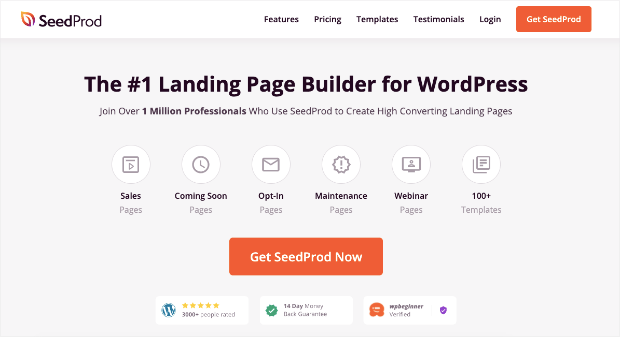 On top of the best WordPress maintenance plugins list is SeedProd. It's one of the topmost popular toolkits to consider — that's if you want to create and enable a responsive coming soon landing page for your website. With powerful options for creating an attention-grabbing under-construction page — capture leads before your WordPress website goes live.
With a codeless drag and drop builder for your site's front-end, you can add new features in seconds. These include custom text, headers, images, videos, optin forms, and much more. SeedProd allows anyone to create professional and high-converting landing pages without needing any design or coding experience. It also has a very lightweight plugin.
Meaning, that it won't slow down your site's performance. That makes SeedProd mobile and SEO-friendly to increase your chances of ranking on search engines like Google. Plus, you can integrate your eCommerce platform like WooCommerce to build landing pages for products. These integrations come with custom features to help you boost sales FAST.
The SeedProd Maintenance Plugin uses a real-time Drag & Drop Page Builder with access to more than 500,000 free stock images. It's also mobile-ready and responsive. It's perfect for the solopreneur with one site or for agencies that need multisite capabilities. Moreover, its Premium Pricing begins at just $39.50/year.
The WP Maintenance Mode plugin allows a site administrator to disable a current site and replace it with a new, temporary site that may be fixed as needed. This plugin allows you to quickly construct a maintenance page, saving you time while producing excellent results. When building a temporary page, the possibility to employ 20+ themes saves time.
In addition, most pre-prepared themes give the appearance of effort and quality to your visitors. You generate a sense of relevance for your visitors by employing temporary sites, and they feel recognized and appreciated enough since they are involved in the process of improving the site and brand in their own way.
The WP Maintenance plugin enables frequent page optimization, which improves the process of communicating with visitors by keeping them up to date on the status of the original page. You can get it from Blackmart too.
UnderConstructionPage is a maintenance plugin that is extremely simple to use because it simply offers the most basic choices for enabling a temporary site. The drag and drop option has been included to minimize any chance of confusion and to make the overall maintenance site construction process easier. Get access to 320+ designs and 3.7 m+ premium photos.
Overall, that will greatly add to the visual aspect of your site, so you won't spend time. UCP allows you to use HD and 4K photos, as well as a wide range of layouts from which you can choose the perfect one for your website. If you have any queries or concerns, swift and courteous customer service is there to assist you and will undoubtedly settle any ambiguities.
Basically, this plugin is recommended for rapidly and easily creating a temporary site, as it will save you time and provide excellent results. You will undoubtedly develop the ideal site to adequately display your concept with 2+ million free images and 170+ intriguing themes. You may even add originality and personalize your page.
Without needing to know how to code by altering an existing template. Using the plugins described above to create the best temporary page is strongly recommended. You will acquire outcomes that will undoubtedly fulfill your standards and leave a favorable impression on on-site visitors with a minimal expenditure of effort.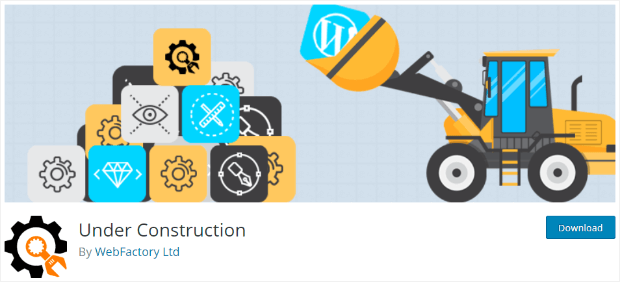 The Under Construction Plugin lets you put your page into maintenance mode quickly. Plus, you can add an end date and time so your site will automatically go out of maintenance mode and go live! Some of its other key unique features allow you to enable tracking with Google Analytics, Custom CSS, Social sharing icons and Whitelisted user roles, and users.
Its yearly pricing plan starts at $25/year for a single site ($39/year for 3 sites, $89/year for unlimited sites). You can also get lifetime pricing ($69/single site; $250/unlimited sites).
6. Divi 

On one hand, Divi is one of the most popular page builders for WordPress. It lets you quickly and easily build beautiful coming soon and landing pages. Plus, they have starter page templates to build WordPress coming soon pages in minutes.
Its key features include a visual editor with a drag and drop builder, bulk editing, as well as some visual effects to grab your users' attention. It's both a WP theme and a plugin which means it's quite versatile. Its premium plan begins at $89/year.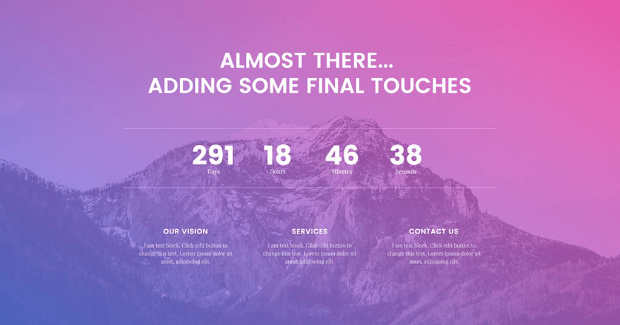 On the other hand, the Elementor Maintenance Mode toolkit is a completely free WordPress plugin. With Elementor, maintenance and coming soon modes show visitors your landing pages, but admins can still access and work on the WordPress website. Basically, it provides you with design modules, page templates, and widgets.
The Coming soon mode automatically tells search engines to index your new website. While the maintenance mode automatically tells search engines to hold off on indexing your site and check back later to see when it's up again. However, to use Elementor Maintenance Mode, you also need to use the Elementor Page Builder plugin.
But, there's a free version that gives you access to a limited builder. On the contrary, its paid plans start at $49/year.
Other Memorable Mentions:
If you're looking to make a great impression, generate buzz, and generate leads, SeedProd is the plugin for you. After all, it IS the most popular WordPress maintenance mode plugin for a reason. And it also lets you create stunning landing pages to boost sales. That means it's not only the best WordPress coming soon page plugin but the best landing page builder too.
Once you've set up your coming soon page, you can take it to new heights with OptinMonster. OptinMonster is the most powerful lead generation software that makes it easy to grow your email list. You can create stunning campaigns like popups, floating bars, slide-in scroll boxes, and more. Plus, it comes with 50+ templates and it's also a drag-and-drop builder.
As such, you can create stunning campaigns in a matter of minutes with zero coding skills required. And then, you can target these campaigns to reach the right kind of visitor at the right time. For instance, you can use Exit-Intent® technology to detect when visitors are leaving and prompt them to sign up for your email list.
How To Install And Activate The Best WordPress Maintenance Plugins
Simply put, WordPress plugins are pieces of software containing a group of functions that can be added to a WordPress Site. In addition, they can extend functionality or add new features to your WordPress websites. The Plugins architecture allows users to extend the site features and functionality. More so, for any given business website or even blog.
Nevertheless, as you would expect, to run a successful and configured WordPress page, you only need a small representation of these plugins. In short, to install and activate any given Best WordPress Maintenance Plugins, just open your WordPress admin dashboard. And then, go to Plugins, and click Add New. Enter "maintenance" in search and hit Enter.
Thereafter, locate the Maintenance plugin by searching for any Best WordPress Maintenance Plugins above or use your own terms. And then, click on the "Install Now" button. Below are the routine methods to follow.
The usual installation method:
Open your 'WordPress Admin' dashboard,
And then, go to the 'Plugins' page and click the 'Add New' tab,
Next, key in the term "Maintenance" in the search bar and hit the 'Enter' button,
Forthwith, locate the best plugin from the list above, and click on the "Install Now" button,
Lastly, hit the 'Activate' button — access the settings page from the 'WP Admin' main menu.
The manual files upload method:
First, visit your most preferred WordPress plugin page (e.g. the WP Maintenance Plugin page),
Secondly, on the right, you'll see the main plugin files 'Download' option that is clickable,
Thirdly, once you click the download, you can save the installation file on your desktop,
The next thing is for you to Upload & Unzip these files through the /wp-content/plugins/ root folder,
Afterward, hit the 'Activate' button next to the plugin from your main WordPress admin dashboard,
And, just like in the method above, you can now open the settings page from the main WP admin menu.
That's it! Your installation for the Best WordPress Maintenance Plugins is now complete. Thereafter, you can adjust the settings even further before making the landing page live on your site for the visitors.
It's also good that you test the preview version for any changes or additions to make before publishing it. You can follow further instructions as I'll show below.  Fortunately, most login forms are already built into the maintenance page. And, as a matter of fact, most maintenance pages with a default design will look something like this:
The next thing is to activate & open the plugin's Settings page located in the main WP admin menu. Whereby, since "Maintenance Mode" is an open-source software toolkit, for many WordPress Plugins, the settings option pages look like this:
As of February 2019, WordPress.org has 54,402 plugins available. Each of which offers custom functions and features. So, Plugins are the key software tools that allow you to add new features and functionality to your website. Exactly the same way web apps do for your smartphone. Most beginners ask us what WordPress plugins are and how they work quite often.
Many third parties offer plugins through their designated websites, many of which are paid packages. Moreover, Website Designers and Developers who wish to develop plugins need to learn WordPress' hook system first. And which consists of over 300 hooks divided into two categories. Including action hooks and filter hooks.
Some Answers To Frequently Asked Questions:
Where can I find out the username and password to get to the site? In this case, you can use your "normal" WP administrator access or create a new user in the WordPress dashboard – Users.
I have activated the plugin and I don't see any changes, looks like the plugin is not working. Well, you can try to check in a different browser first. That's if you are a logged WordPress user where you'll only see the website in normal mode.
Will my site remain visible to search engines while maintenance mode is on? The site will not be visible to search engines only if the "503 Service Temporarily Unavailable" option is enabled.
If I incorrectly write a login and password I will see the error on the page wp-login? No! In fact, it will usually display an error on the current maintenance page. More so, without redirecting to the wp-login page.
What if I haven't found the answers to any of my questions, what should I do? In this case, all you'll need to do is post your questions on the support forum to get all the answers that you seek. You can also share them in our comments section for our team to provide you with some quick answers.
That's it! Everything to know about the Best WordPress Maintenance Plugins. In addition to how to install and activate them on your site. But, if you'll need more help, you can always Consult Us and let us know how we can sort you out. Eventually, our team of Web Tech Experts Taskforce will be more than glad to come in handy to see success in your web business.
Other More Related Topics:
Gutenberg (Block Editor) | WordPress User-based Guides
Finally, you are welcome to share your additional thoughts, suggestions, opinions, recommendations, or even related questions (for our FAQ Answers) in our comments section. And also, don't forget to share this article with your friends and other readers like you. You can also donate in support of what we do as well as to motivate our team for their good work.