Choosing the best website builder depends on your specific business needs. This article will help you pick a builder that best meets your website requirements. A few years ago, building a website for your business meant knowing advanced coding skills or hiring a developer or a web design company and paying for their web design services to create from scratch, right?
Definitely, today that's no longer the case. While you can still rely on branding agencies and creative agencies, today, anyone from local shop owners and restaurant owners to bloggers and professional businesses can easily build a website — thanks to the genesis of the Content Management System (CMS) services support and website builders.
The global website builder market is anticipated to reach $1.8 billion as of 2022, and the market forecasts a projected rise of a whopping 6.9% from 2022 to 2023 as well. Moreover, according to BuiltWith, around 18 million websites on the net use simple website builders. These figures indicate the growing popularity and wide adoption of the best website builders.
However, with so many amazing options, how do you figure out a perfect website builder for your business? Luckily, in this article, we'll see some useful tips for choosing the best website builder most suitable for your business and a few popular website builders in the market. So, stay with us till the end — you'll learn quite a lot even if you are a professional webdev.
What Does The Best Website Builder Usually Entail?
First of all, before you can understand how a website builder works, you'll need to understand what a website builder actually is. Well, as per one.com, a website builder is a program or tool that allows you to design and create a website without having to edit any code. You can do everything you need to by yourself, without needing a designer or developer.
With the specially developed drag-and-drop website builder software, you can simply choose from a vast range of templates and customize them in line with your brand vision! For beginners, both online and offline website builders exist. On one hand, offline website builders need to be installed first before you can start using them.
While, on the other hand, online website builders are usually used in web applications — there's no need to install any software. Since our focus is on the online website builders context, they are developed to be easy to use, for both beginners and more experienced designers. But, how does an online website builder really work?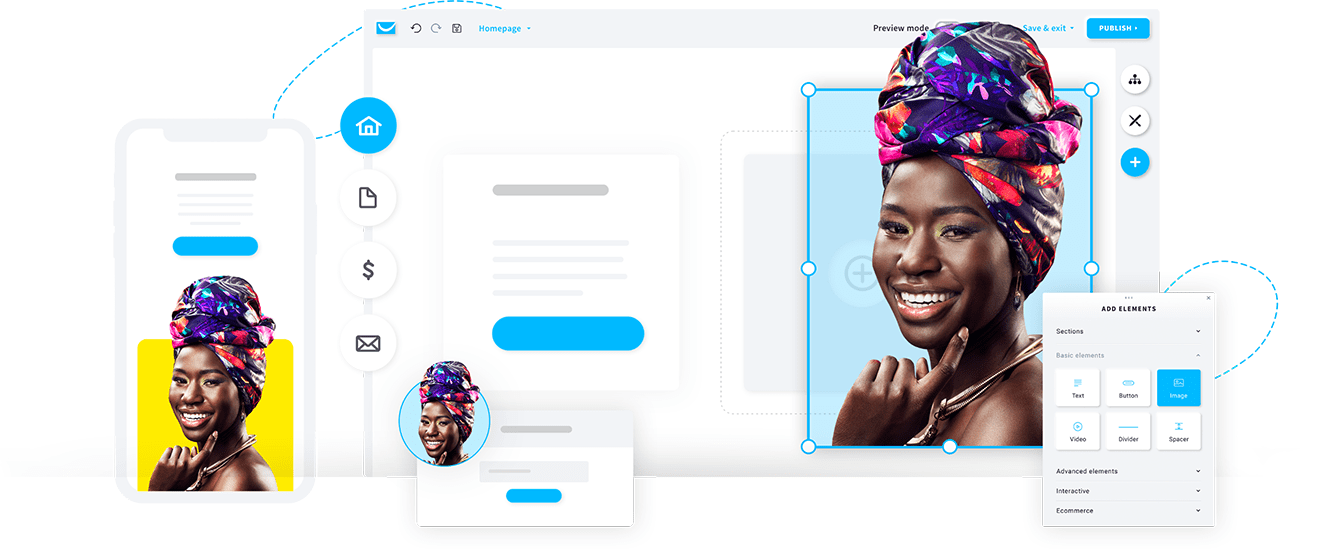 The way a website builder actually works is simple. You start by choosing a template, which defines the look and feel of your website. Next, you simply use a drag-and-drop editor to build your website by editing the template, adding content, and creating new pages. Drag-and-drop means literally dragging and dropping components and content into your workspace.
Moreover, you can easily add headings, texts, images, videos, and many other components. What you see is exactly how your website will appear when it goes live. The best website builder gives you a selection of over 140 fully customizable templates. To easily customize the menu, divide content into columns and change pretty much anything you like!
What More To Look For In The Best Website Builder
Our list of the best website builder offers a place to get a perfect solution for individuals, entrepreneurs, and small businesses to start a website without hiring a developer. However, finding the best website builder can be tricky for beginners.
Bearing in mind, that there are so many website builders on the market, how do you know which one is the right solution for you? Well, the true answer to the best website builder question will vary based on your specific needs. This means, that before jumping straight to finding and comparing different website builders, it's important to draw a plan first.
Make sure that you identify your web design requirements and features you want to incorporate. This is one of the most fundamental steps which will facilitate the whole process of finding an ideal website builder. But, of course, if you're unsure of the features you'd like to incorporate — you can always check competitors' websites to grab some inspiration.
For instance, you can jot down features like building an online eCommerce store, having a blog section, adding a photo gallery, etc. As well as incorporating SEO features, a contact form, social media features, a reservation system, and more. The next step is to consider your website's and business's growth potential.
And then, figure out whether you'll be adding new products, features, or updates to your website or will add new pages or a blog section in the near future. Whilst, ensuring that the best website builders that you'll select still offer all the features and capabilities required to support your business's growth is essential.
---
Tips For Choosing The Best Website Builder (Watch Criteria Checklist Video)
Usually, most people want their websites to stand out not only in terms of the features and content that they provide but also in terms of design. It is easy to add your own unique content to a website built using a great website builder. All you have to do is create a new post or page and then hit publish. You can also integrate additional functionality into a website.
Whilst, using some of the thousands (free and premium) themes, add-ons, and plugins. Creating unique page layouts is a bit different. You'll require decent CSS knowledge to create complex layouts, thus needing the best website builder.
Pro Tip: You can leverage free trial plans and accounts that many popular website builders offer or try a builder offering a 30-day money-back guarantee to test all the features and see if it fits your website needs.
Overall, website builders are an extremely cost-efficient way to build a website. Instead of paying to hire a web developer, you can use the easy-to-use drag-and-drop interface to build your own free website or for a low fee.
But, with hundreds of options, evaluating different website builders and narrowing down the choices that match your business requirements can seem difficult and require specific criteria. Fortunately, below are the top criteria you must consider when choosing from the list of the best website builders to best match your next webdev project:
1. Simple + Efficient Features
When you're just starting, ensuring you choose a beginner-friendly website builder that doesn't come with a long learning curve is important. You must choose a customizable builder with drag-and-drop functionality and extensive editing tools — to facilitate web designing for your business. It should also offer a no-code solution for building websites. So that you can build your website pages in minutes with the help of AI and start promoting your business right away.
2. Extensions + Addon Tools
Irrespective of the number of features, finding a builder that'll cater to all your site needs is very unlikely. Hence, choosing a builder offering extensions, add-ons, and third-party applications integration is crucial to add missing premium features like live chat and forms to your website with ease. Besides providing you with a quality blogging platform builder, make sure that you also get other ready-made custom features. Such as all-in-one powerful eCommerce tools to simplify order management, shipping, and payments.
3. Unique Design Options
You must choose a website builder offering a good range of professional web design templates with the flexibility to add additional features, like third-party marketing tools, CRM, and Google Analytics. They should also provide you with planning tools plus expert beginner guides to find step-by-step tips on how to build and launch your website. A great and best website builder will also offer you other seamless integration options. For instance, so as to find new customers with integrated marketing tools, from Facebook ads to automated email campaigns.
4. Affordable Pricing Plan
Depending on your business budget, choosing a website builder offering the best value for money is the solution to making the best use of your builder. It's important to analyze whether the builder comes with a free domain, SSL, business email, or additional eCommerce features you'd otherwise have to purchase separately and choose accordingly. Equally important, the best website builder needs to offer a freemium plan. This means, that you can utilize it both freely or upgrade your version to enjoy even more unique features and functionalities.
5. Customer Support + Security
While most credible website builders offer a user-friendly interface with intuitive tools and features, you must select a website builder with reliable, round-the-clock customer support. This will allow you to have a reliable point of contact and seek assistance whenever you'd need help or encounter web design roadblocks. In terms of portability and data ownership, many startups and beginners overlook this feature and regret it later, losing their critical data. Hence, you must pay keen attention to the website builder's privacy policy to ensure you own your website's data and not the website builder provider. In addition, selecting a builder that offers seamless portability and migration assistance if you need to switch in the future is essential.
The Topmost Popular And Best Website Builder (Freemium) Platforms
As a rule of thumb, before comparing the best website builder with the other, we recommend that you write down what you want to do with your website. Actualize your ultimate goals and the intended features that you would like to see on both your back-end and front-end website design. For one thing, this will easily guide you through the selection process.
For example, you can write down things like having a blog section, photo gallery, online store (eCommerce), reservation system, contact form, SEO features, social media features, etc. If you are unsure about what you want, then check out your competitors or other websites for inspiration. Most website builders offer an intuitive drag-and-drop user interface.
This enables you to build your new website. You can take advantage of the trial accounts (free plans), or the generous money-back guarantee to test drive before you make your final decision. Next, consider your growth options.
Ask yourself these questions:
Will you be adding regular updates to your website?
Do you need a blog section?
Would you be selling more products on your website in the future?
On that note, you need to make sure that the best website builder you choose is capable of handling your needs as your business grows. Now that we know the essential factors you must consider when choosing an ideal website builder, let's look at some of the market's common and widely-adopted website builders.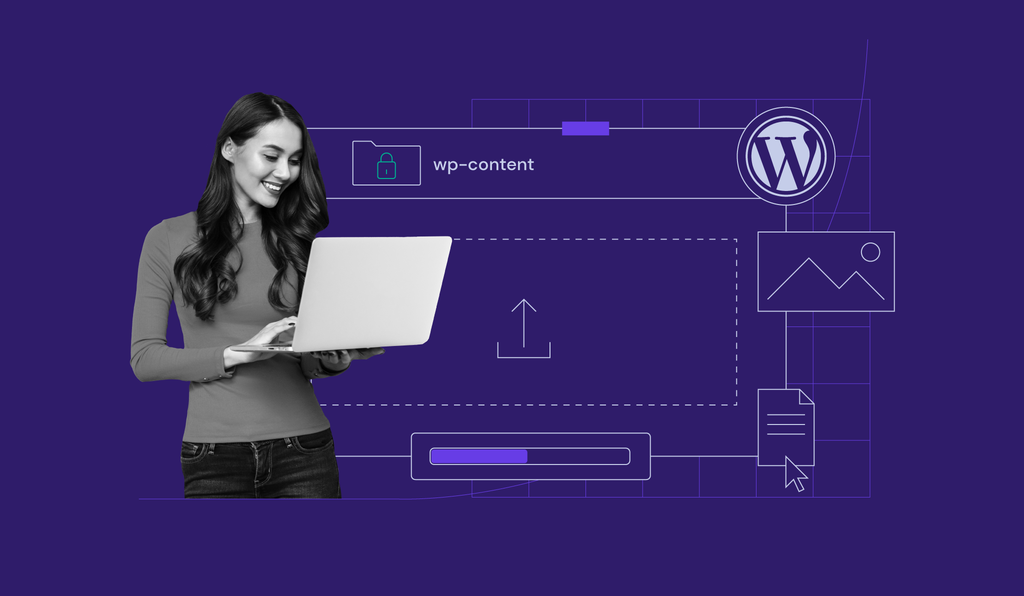 Of course, yes, there are a lot of tools and services for creating websites today. However, none of them are as popular as WordPress so far. In fact, WordPress powers around 43% of all websites: that includes hobby sites, official government websites, and the biggest news websites. An example of a website built with WordPress is the Web Tech Experts in this case.
With most websites built on WordPress, it's one of the most popular open-source and free website builders worldwide. It provides complete privacy and control over your design without third-party control. You can build any website with it — whether you wish to build a membership, eCommerce store, landing page, corporate page, or social network website.
WordPress is popular for a large variety of reasons, like making content management incredibly easy and user-friendly. There is also a huge community of people in the ecosystem ready to help others. Over 55,000 free plugins help extend its core functionality to allow you to do almost anything you like.
Technically, the WordPress Website Builder Platform is not only associated with blogging but, also supports other types of web content. Including, CMS, more traditional mailing lists and forums, media galleries, and online stores by WooCommerce Plugin. Learn also about the Elementor WordPress website builder and the Visual Composer website builder as well.
The other key WordPress features:
Provides intuitive drag-and-drop page builders, like Divi and SeedProd, to build a customized website.
There are a lot of themes that you can install to get your website up and running quickly.
Provides access to more than 59,000 free WordPress plugins.
Supports over 75+ languages.
Offers high compatibility with SEO tools, like All In One SEO (AIOSEO) Plugin, to build a competitive and SEO-friendly website.
WordPress website and page builders are plugins that you can use to design your own website layout using just drag-and-drop functionality. They come with built-in content blocks to quickly create sections such as FAQs, galleries, testimonials, carousels, and tabs. Many of them also have the option to load templates for entire pages where you just fill in the content you want.
Starting Price: $15/month
The only con is you'll have to manage your own website, where you'll need to familiarize yourself with a new system. This slight learning curve is easily overcome by most users, but it does feel a bit difficult in the beginning. You'll also have to keep up with WordPress updates, and plugin updates, and create website backups. But, this can be automated by your host.
Squarespace is a professional website builder known for its ease of use and popular web design options. And, as you design your website, it allows you to select from any of their industry-leading website templates, designer fonts, and color palettes that best fit your personal style and professional needs. It's also an Ecommerce made easy website builder.
Meaning, that it's highly beneficial for small-to-medium-sized businesses, requiring room for eCommerce growth and extensive design options. Whereby, you can freely explore which tools you want to add — whether it's setting up an online store, booking services, or adding your favorite third-party extensions. Plus a few chops to help market your business.
The other key Squarespace features:
Enterprise-grade infrastructure to sell online
Gate your community with membership websites
Fully-editable design templates for businesses of all types
A range of out-of-the-box features, including newsletter sign-up forms and audio files support
Blocks to integrate with applications like MailChimp, ChowNow, and Open Table
A built-in CSS editor to add custom CSS to your website design
Schedule appointments and sell classes
Starting Price: $16/month
Start with a flexible template, then customize it to fit your style and professional needs with Squarespace website builder. Stand out in every inbox and social feed. On-brand email campaigns and social tools make it easy to retain customers and grow your audience. Allow clients to quickly view your availability and book appointments through your website.
Discover the platform that gives you the freedom to create, design, manage and develop your web presence exactly the way you want. Wix is a cloud-based website builder software offering an intuitive and powerful set of features to facilitate building your website. Create a website with a complete suite of advanced functionalities and bring your vision to life.
Get an enterprise-grade foundation, engineered for your limitless scalability and peace of mind. Convert and scale seamlessly with built-in marketing and business solutions. On that note, this makes Wix a very beginner-friendly website builder — that offers complete creative control and seamless customization with its drag-and-drop editing tools.
From selling online, starting a blog, and organizing events to promoting your business and building your community, create a website that can grow with you. For sure, Wix allows you to build more than just a website.
The other key Wix features:
It's fully hosted, eliminating the need for you to pay for a web hosting plan.
Hundreds of templates to choose suitable web design for your website.
Offers Artificial Design Intelligence (Wix ADI) features to help you design personalized and beautiful websites.
Offers unlimited storage and bandwidth.
Offers a free SSL Certificate but requires you to pay to purchase a domain name.
Starting Price: $16/month
With Wix, you'll get website templates that will set you up for success. Get a headstart on your journey with 900+ free, customizable website templates, strategically researched and tailored for every industry — or start from a blank canvas on their website builder platform.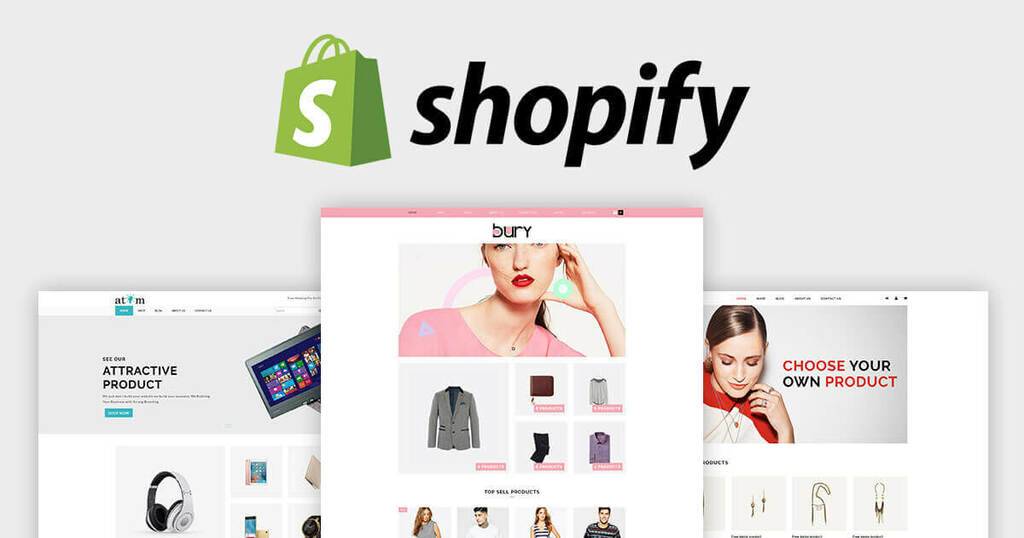 Realistically, Shopify is not just a website builder — it's an Ecommerce store design platform that offers a way to quickly launch your dream business and start selling to your customers, wherever they are. And if you want to customize your store or even build it from the ground up, the Shopify App Store and our APIs make that easy to do.
Shopify provides a simple and easy website builder that lets you create a secure, stunning, and feature-packed website for your business. In reality, it's one of the most popular and innovative website builders, especially, for eCommerce businesses. Not to mention, around 4.4% of websites on the web use Shopify as their eCommerce website builder.
As an eCommerce website builder, Shopify comes with full inventory management, unlimited products, powerful stats, and easy marketing solutions, all neatly wrapped under one roof. They have hundreds of designs to choose from, and you will never need to add code. Plus an integrated payment solution — Shopify Payments — for you to accept credit cards.
The other key Shopify features:
It's a fully-hosted, all-in-one website builder without worries about backups, installing updates, or managing software.
Allows you to integrate third-party payment gateways to accept payments on your eCommerce store.
Intuitive drag-and-drop interface.
Offers 24/7 customer support with phone and chat.
Starting Price: $29/month
What's more, Shopify is an all-in-one fully hosted eCommerce software. And, this means you don't have to worry about managing software, installing updates, or keeping backups. For one thing, Shopify does all that for you.
Weebly is a fully-hosted intuitive website builder, offering great designs and functionalities to help you build free websites without coding skills. It's designed to automate and simplify your web design tasks — making the entire process a breeze. So that you can build a custom brand website that grows with your business.
Uniquely, it offers you access to customizable webpage designs and useful tools to build your website and grow your ideal business. Easily build a free website to help you get discovered and grow your customer base in style. Start today with our powerful free website builder.
The other key Weebly features:
Provides a fully-editable Weebly live-page editor with features like contact forms, sliders, and photo galleries.
Offers built-in support for eCommerce.
Allows you to customize your website's CSS and HTML straight from the dashboard.
Offers a comprehensive step-by-step guide to making your website SEO-friendly.
Starting Price: $10/month
It's, important to realize, that Weebly is now a part of the Square product suite after a successful partnership deal. This means never missing a sale and letting your customers pay how they want to. Whether it's at a pop-up shop or your own online store, Square takes care of your payments for you, so you can focus on your business.
Top Mentions:
As you can see, we have learned about the list of the best website builder platform to choose from — yet another important part of a web ecosystem. All these features per the best website builder mean that your webmaster will take care of many time-consuming tasks. In addition, they will also help save you a lot of time when you want to create regular websites.
Takeaway:
Just like we aforementioned, in the old days building a website required a lot of coding and a lot of work. Now there are much more efficient solutions. For example, using a website builder to have your website up and running within minutes. Whether you're a freelancer, blogger, or own a small business, a website builder makes it to create your very own website.
More so, from the comfort of your home without needing to hire external help. A suitable website builder will allow you to build a customizable and personalized website without writing a single coding line. You must analyze your website's top priorities and features to incorporate when selecting an ideal website builder for your business.
If you still need help selecting the right website builder, check the tips and some of the popular website builders mentioned in this article and try them out to see if they suit your business needs. And suppose a website builder doesn't cater to all your web design needs. In that case, you can hire SPINX Digital — a Los Angeles web design company, — for that matter.
So as to seek their creative web design services and build a professional, authoritative, and appealing web presence that stands out from others. As such, we wish you all the best of luck in your next design and webdev project!
Other More Related Resource References:
That's it! Now you know where/what to look for in the best website builder for your next design or webdev project. But, if you think there's still something that we can add herein, please feel free to let us know in our comments section down below. Not forgetting, you are welcome to Contact Us at any time just in case you'll need more support or help.
Fortunately, we have worked out a special deal for our readers. Whereby, you can start a website for only $2.75 per month with Bluehost at any time — an official WordPress-recommended hosting provider. They are offering our users 69% off on web hosting that comes with a free SSL certificate, free domain name, great uptime, and 24/7 phone support.
With this special pricing, WordPress is one of the cheapest website builders in this list for small businesses. Not forgetting, WordPress also works quite efficiently with all other popular website hosting services, and it's actually recommended by many other companies including KenyaWebExperts, GoDaddy, SiteGround, DreamHost, Hostinger, and the like.
---
About The Author: 
---
Brijesh Jakharia co-founded SPINX Digital in 2005 and takes great pride in crafting web and mobile solutions for mid-market businesses to enterprises. Marketing is his passion — the thrill to build a brand from the ground up has helped him craft successful brand stories for world-class clients. While not at work, he loves doing research and reading digital content stories.