In this guide, you'll learn about how Practice Management Software can benefit your healthcare staffing agency and other medical centers. Specifically, so as to streamline their main medical operations. You'll also learn a few chops that will help you in making some informed decisions while integrating this form of application software into your healthcare center.
There are many things to keep track of when it comes to managing a successful medical practice. From patient appointments and records to billing and insurance claims, there is a lot of paperwork and administrative tasks that need to be completed daily. This is where practice management software can greatly help you — make things easy for you to run a healthcare unit.
Just like the Learning Management System (LMS), it's designed to help medical practices run more efficiently by automating many of the administrative tasks that are required daily. By using it, all those involved in its general practices can improve their scheduling and billing processes. As well as keep better track of their overall patient records in their medical units.
In addition, it can also help with tracking medications and supplies, managing employee schedules, and creating reports. So, with that in mind, let's now learn more about how this software works and how it can benefit your workplace…
What A Practice Management Software Entails
Practice Management Software refers to a type of software system that helps healthcare and medical practices streamline their operations. It can manage everything from patient records and scheduling to billing and claims processing. By automating these processes, practice management software can free up staff time to focus on more critical tasks – such as patient care.
In other words, medical practice management software sometimes referred to as physician's office management and medical information systems (POMIS), is a tool used by medical facilities to improve the efficiency of clinical workflows. The software allows users to streamline operational and administrative tasks from a common interface.
These tasks can include patient registration, patient records management, appointment scheduling, charge and code capture, billing and invoicing, reporting, and more. That said, below is an overview practical management software tutorial video:
As a leader in practice management software, RTP Medical Solution helps health practices across the globe improve their efficiency and productivity. This is a state-of-the-art cloud-based practice management software solution that offers over 100 features to streamline the operations of your practice. It's trusted by some of the world's top healthcare providers.
Not to mention, it continues innovating new features to meet customers' ever-changing needs. The benefits of medical practice management software will vary depending on each medical practice's needs, but here are a few others.
Why Using Practice Management Software Matters
On one hand, the fundamental objective of the healthcare sector is to enhance the patient experience, and this can only be accomplished by utilizing best practice management software. While, on the other hand, the privacy of patients is also quite very important. With identity theft on the rise, using Practice Management Software can help your staff stay compliant always.
Especially, with all Health Insurance Portability and Accountability Act (HIPAA) requirements. In most cases, practice management software has the potential to transform your entire health or medical practice from the ground up. Additionally, most medical practice management systems help physicians and their staff record patient demographic data information.
As well as manage charge capture, perform billing procedures, generate reports, and schedule appointments through patient scheduling applications. Sometimes referred to as Physician's Office management and Medical Information Systems (POMIS), practice management solutions can dramatically improve a doctor's clinical workflow efficiency.
And also, quite often boost reimbursements from health care insurance companies and other providers. All in all, whether you have one practitioner or 100, one location or many, a great practice management software will scale as your clinic grows (with unlimited data storage). Simply, because you can view your daily and weekly calendar in one central location.
As well as identify schedule gaps and use the Client Waitlist to fill with appropriate appointments. On that note, there are some other key ways in which practice management software benefits healthcare performance practices.
1. Increase Efficiency
Automate and streamline many of the tasks that are necessary to keep a practice running smoothly. This includes scheduling appointments, managing patient records, billing, and more. This frees up time for the practice's staff so they can focus on providing quality care to patients. And, when everyone has the information they need, internal communication just flows. Client notes and flags ensure that there are no surprises.
2. Communication and Engagement
By using features such as automated appointment reminders and online bill payments, patients are more likely to stay engaged with their care. This can lead to improved health outcomes and higher patient satisfaction ratings. Use private mode to quickly hide identifying information. Set user controls to ensure the right people have access to the right data.
3. Manage Finances
By tracking income and expenses, practices can make sure they are staying within their budget and generating profit. This information can also be used to make strategic decisions. More so, about where to allocate resources to grow the practice. Track invoices closely and process payments on the spot. Clients with outstanding balances are flagged for easy identification.
4. No Paperwork
The repetition of the same information (contact information, HIPAA details, other data types) can grow quite tiresome to patients. Practice Management Software makes it easier so you only have to enter data once. Manage all appointments from wherever you are. Reduce no-shows with smart text & email reminders. Write better notes, faster-using note templates.
5. Seamless Automation
The follow-up effort required by some patients can be quite extensive. In particular, ranging from repeated visits to make sure a course of medication is taken according to a precise schedule, to treating a complicated injury in stages. Reminders and follow-up appointments can be set up more easily with Practice Management Software.
Overhaul Your Old Patient Journey With RTP Medical Solution
RTP has been a Top provider of tech products for over a decade. Whereby, it has helped medical practices integrate a smoother workflow with its custom management software. Its cloud-based application is created with tools for practice managers and doctors. So as to manage their practices more efficiently, create custom patient experiences, and offer urgent care.
So, go ahead and grow your practice with RTP Medical Solution through its topmost Practice Management Software today! Their software is created with tools that can also help track employee productivity and performance. For a general idea; below is a simple illustration image showcasing the RTP practical management software dashboard in full action.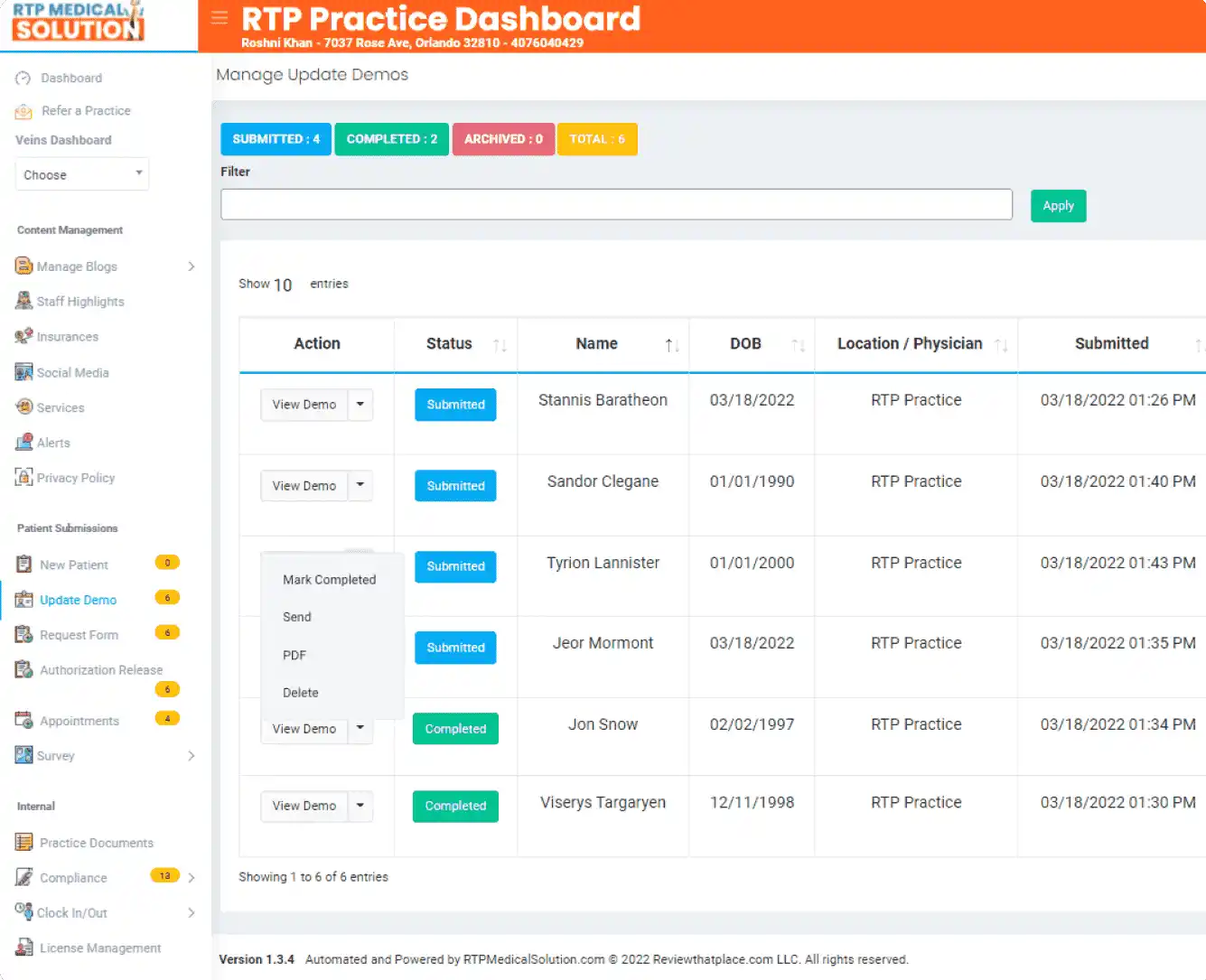 Equally important, RTP's practice management software is built with over 20 Advanced Features, following professional guidelines to automate & grow your practice, and ensure patient success and patient satisfaction! What's more, RTP's patient success platform offers everything you require to simplify your operations. Perse, the other key features are as follows:
1. Patient Tracking System
Track your patient's medical records, appointments, and prescriptions. You can also use the system to send reminders to your patients so that they don't miss a step in their treatments. As a matter of fact, you'll be able to reduce your workload and boost your efficiency with 20+ Tools for Patient Tracking, Check-In, and many more.
Likewise, start tracking your patient visits from check-in to payment in real time! It also has a very intuitive Content Management System (CMS) as well. Essentially, it allows you to gain more control of your website with advanced tools. In addition, it helps you to create blogs that will drive content, create engagement and educate your patients.
2. Medical Electronic Check-In Form
Upgrade to the patient success platform that will grow your practice with a smoother online e-check-in system. So that you can get rid of that paperwork, and offer more reliable urgent care for patient success! Eliminate the need for paper forms and collect patient information electronically and securely.
In particular, with an electronic check-in form that can be customized to fit the specific needs of a practice. It also has a very unique records management system. So that you can upload and track information in one place. While, at the same time, you'll also be able to manage your licenses and get user notifications on expiration dates, and much more.
3. Scheduling Patient Appointments
In this case, control your schedules better with practice management software that is created with features to give your management more control and improve the patient journey throughout! With this software, your healthcare center patients can see available appointment times and schedule their own appointments 24/7.
This means, that there are no more missed opportunities for potential new patients or busy schedules for your staff. In general, if you have a busy medical practice with multiple providers and staff members, then this medical practice management software can be extremely helpful to deliver urgent care and keep things organized and running smoothly.
4. Fully Managed Medical Website
Meet a team of experts who will work with you to create a website — that reflects your unique brand and showcases your services in the best light possible. They'll also make sure your website is optimized for search engine ranking. Including but not limited to SERPs like Google, Bing, Yahoo, Yandex, and the like. So that potential patients can easily find you online.
By the same token, save time and money with a system that allows you to track employee hours, schedule appointments, and manage payroll all in one place. Typically, practice managers and office staff can use their website to schedule patient appointments, track billings, and payments, manage records and documentation, and do other administrative tasks.
5. Online Forms System
Practices can use online forms to collect patient demographics, health history, and insurance information. And, as a result, this data can be used to streamline the overall check-in process. So as to make it easier for staff to verify patient insurance benefits. What about it's medical billing service? Well, it allows you to make requests, Track, and collect your patient payments.
Particularly, with the help of a quick and secure network – that eliminates the risk of running into bad debt by reducing third-party collections. Using its review management system, you can easily and quickly collect valuable feedback from patients. As well as make changes to your practice based on their input.
Summary Notes:
As the healthcare industry continues to evolve, it's becoming increasingly important to have seamless healthcare. As well as to automate practices of all sizes so as to adopt practice management solutions in order to stay competitive. With the right solution in place, you can enjoy increased efficiency and financial success – two key elements of a thriving practice!
Practice Management Software is a powerful tool — to help practices maximize their productivity and profitability. It streamlines processes, automates vital tasks, and enables practices to better manage finances — so they are able to grow in a sustainable way. The best solution for your needs will depend on the specific details of your medical practice and what it does.
Overall, we've written this guide to help buyers understand trends in the medical management software market and provide medical practice management software reviews to help them find the right system to meet their needs. The practice management software simplifies all administrative tasks. It also allows you to focus on what you're most passionate about.
Having said that, if you think that there is something else that we can add to this guide, you are welcome to share it with us in our comments section. Not forgetting, you can also Consult The RTP Team to get more help, or rather, Contact Us to get more support. Feel free to Donate in support of our efforts as well as to motivate our creative content writers for their good work.