With Google Callout Extensions, you can easily promote unique offers to shoppers, like free shipping or 24-hour customer service. And when customers see your ads, they get detailed information about your business, products, and services. So, these callouts can highly improve your text ads by promoting unique offers to shoppers.
Of course, you've done it! You've written the ad of your dreams. Yes, it's perfect! It's witty! And it checks all the boxes, but it's too long. Damn it! Well, don't fret, I have a solution for your campaign ads and it's Callout Extensions by Google. One thing is for sure, these callouts are good for so much more than just lengthening your copy.
Basically, I know you are very curious to know more. And if you've ever wondered if Google Callout Extensions are right for your ad campaigns, you've come to the right place. It turns out that regardless of how good you are at generating awareness and impressions for your ads, it doesn't add up to much without meaningful conversions and revenue.
What Are Google Callout Extensions?
Google Callout Extensions (aka AdWords Callout Extensions) are similar to sitelinks but without the links. Google recommends that advertisers use callout extensions to draw attention to unique selling points and important product details and benefits. You can feature up to four callouts in your ad, each limited to 25 characters each, and must have at least two callouts for them to display.
These Callout Extensions can be used with other ad formats, like sitelinks, and are created, scheduled, and managed within the Ad Extensions tab. You can add callouts at the account, campaign, or ad group level, allowing you to use general information at the account or campaign level and specific callouts for each ad group.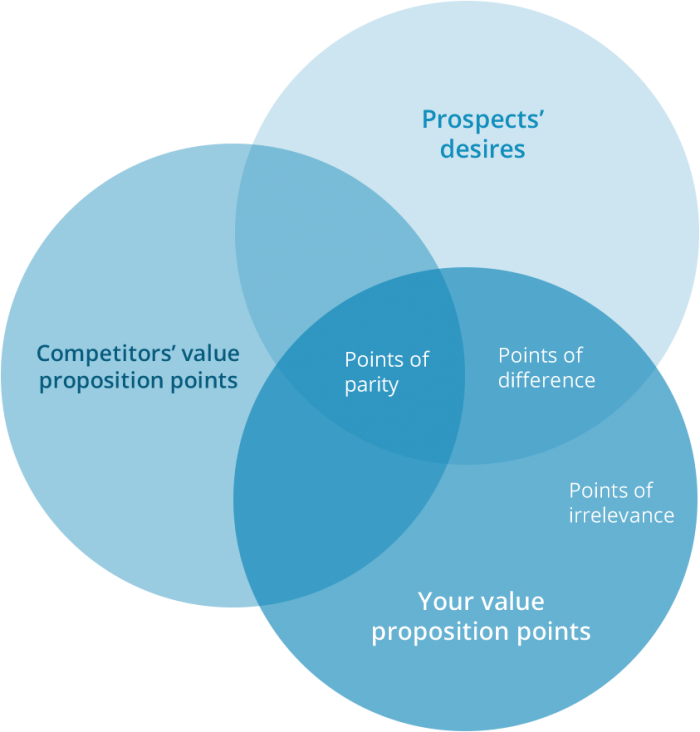 Promoting your product or services on Google Ads is a great way to accomplish this goal, and according to the most recent Google Economic Impact Report, more than 1.3 million businesses used Google Advertising Solutions to drive more than $335 billion of sales and economic activity.
In short, Google Callout Extensions are extra snippets of information that you can add to your Google Ads at the account level, campaign level, or ad group level. This means that you can use callout extensions to add detailed information to help differentiate your ad copy from your competitors.
How Google Callout Extensions Work
Google Callout Extensions are a great way to make your ads stand out and drive more qualified clicks without increasing your marketing budget. Callouts give you a great way to add value to each ad while also pushing your competition down the page.
The most important thing to remember when creating callout extensions is that you need to make each callout unique, and concise. As well as highlight what makes your solutions the best on the market. Your business should see the immediate benefits too. Especially, when you create, optimize, and track the performance of your callout extensions across your Google Ads campaigns.
Below is an outlook of where you can find Google Callout Extensions: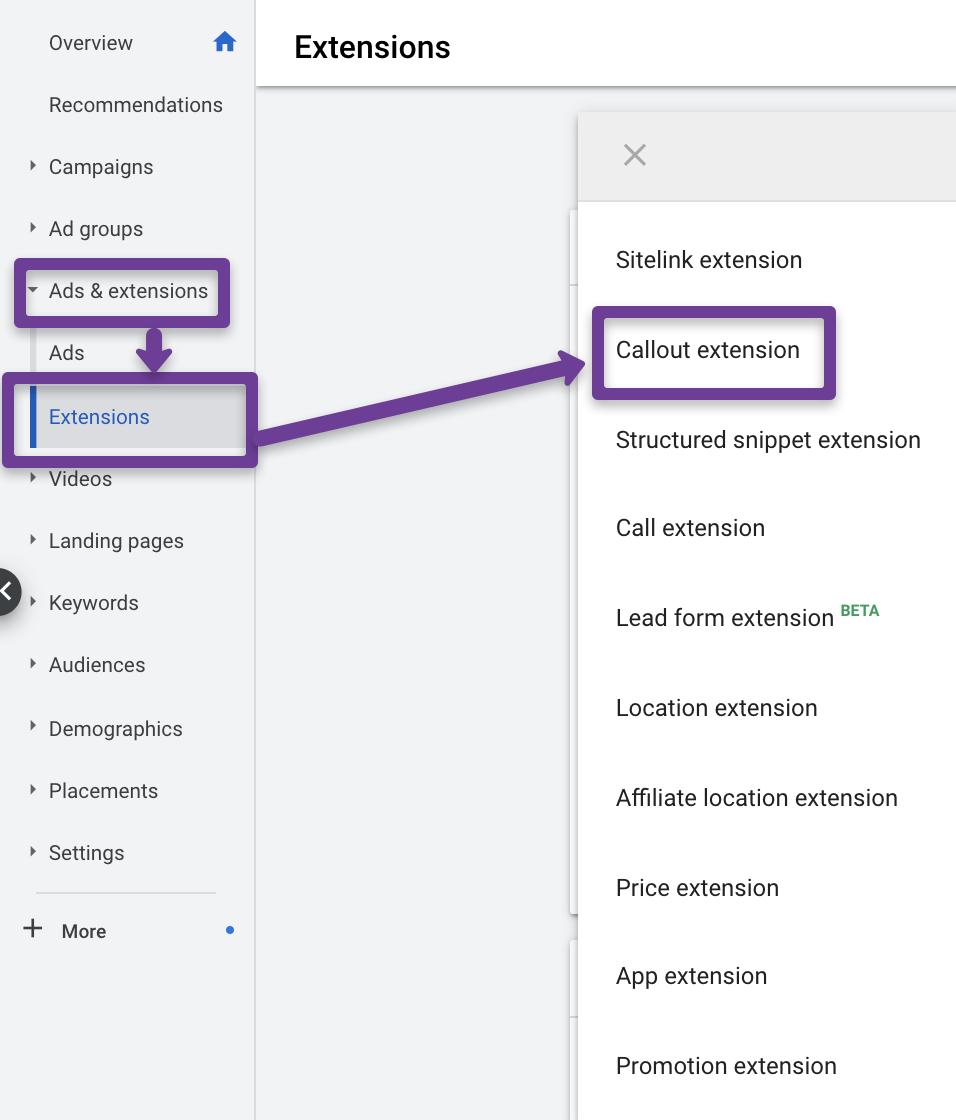 As an example, the Callout Extensions in your Google Ad Manager would look something like this: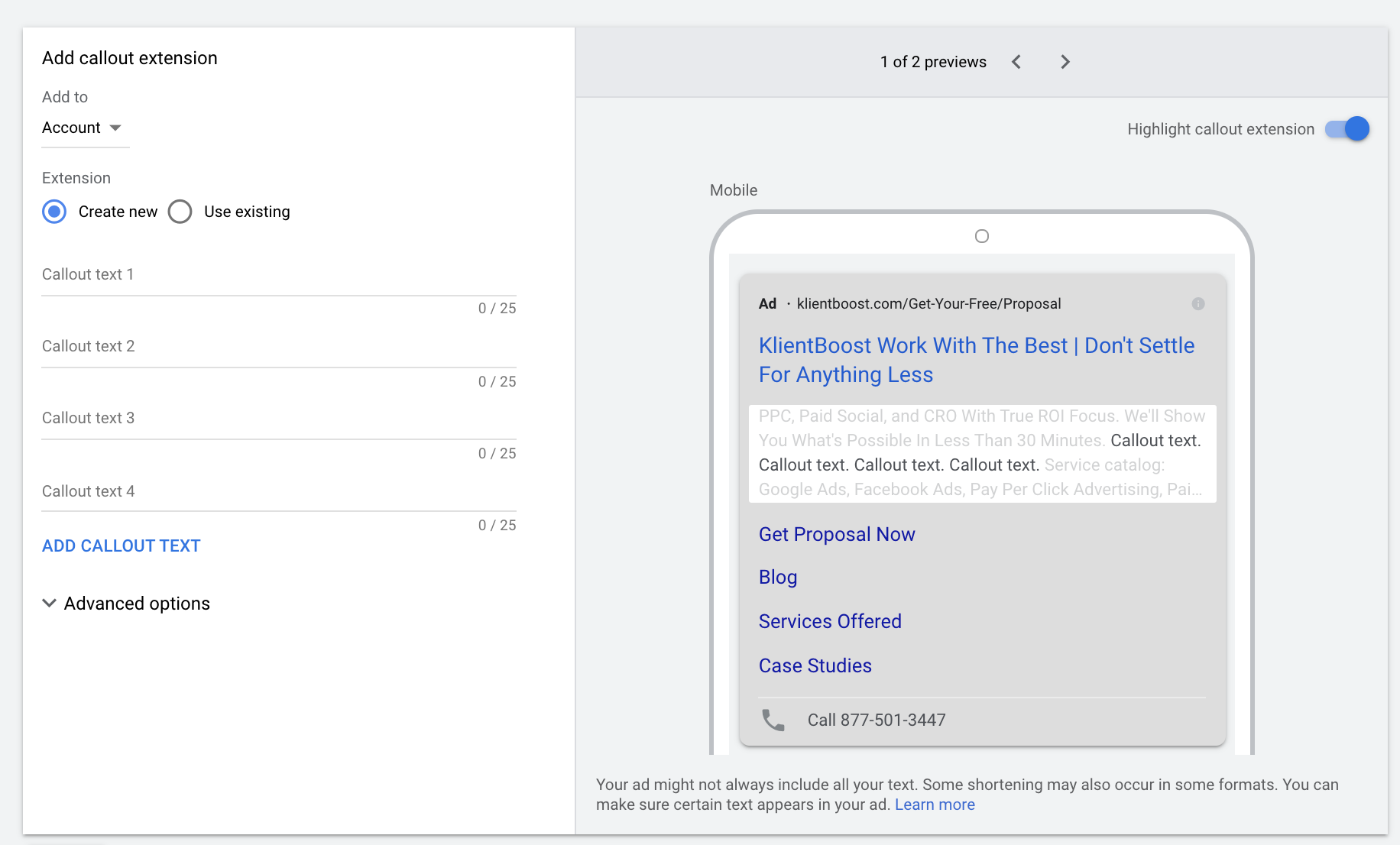 To ensure you get found by the right people and beat your competition, you'll need to optimize everything. From ad group level keywords to writing amazing PPC ads and even adding different ad extensions to help your content stand out from the competition.
One way that you can drive higher conversion rates without any risk to your marketing budget is by using callout extensions on your Google Ads campaigns. So, why use these callouts in your advertising strategy?
Why You Should Use Google Callout Extensions
Google has made it fairly simple to at least give callouts a try; you can see how many clicks occurred when callouts were displayed on your ads and compare summary statistics at the account, campaign, or ad group level. You can also edit your callouts without resetting their performance stats.
So, for a whole lot of us *cough* *cough*, that means emphasizing our unique value proposition(s). And now, Google Ads are a great way to get your products and services seen at the top of Google's Search Engine Results Page (SERP). You can also learn more about Ad Ranking in detail before you proceed.
These callouts provide searchers with additional information about your company, products, and services to help drive qualified traffic to your site. Equally, they emphasize the unique values and strengths of these brands. Additionally, you can also utilize them in your PPC strategy to drive more engagement as this ad extension offers several other benefits too.
Consider the following:
Unlike site link extensions, callout extensions aren't clickable. This means you don't have to worry about spending more than expected due to added costs.
Each callout extension is limited to 25 characters, and it is recommended to keep each callout text below 15 characters to maximize the number of callouts served on each ad.
Each ad can show 2-6 callouts in addition to your original ad copy.
Callout extensions will only appear in ads that appear in one of the top ad positions in Google SERPs.
Likewise, you can also use Google Callout Extensions to highlight the features and benefits of your products or services. Without taking up the character limit allowed in the original copy of your PPC ads. Let's learn more benefits as to why online marketers need them.
1. We're in the era of increased digital-based advertising 
First of all, competition is increasing as more advertisers use Google Ads to market online more often than ever. Secondly, to help you stand out as an internet marketer, you should find ways to customize your Google Callout Extensions to meet the message match conversion rates of your text ads.
Callout Extensions are a no-brainer if you're looking to make your ads stand out from your competition. Not to mention, they're easy to implement, take up more room in Google Search results, and show at no additional costs. Plus, these tools are a great addition to any PPC campaign too.
Simply, because they can show alongside other extensions like site links and call extensions. In that case, if you still aren't sold yet on the value of Google Callout Extensions, then let's take a look at a few other benefits below. Benefits that you'll enjoy once you include callout extensions for your Google Ads campaign.
2. They make your marketing offer look more valuable
For starters, Google has shown in (several case studies) that ad extensions can increase CTR of text ads by 20%. Callouts are a valuable addition to any PPC ad because they offer advertisers an additional line of copy to display even more unseen benefits.
For instance, special offers, features & benefits, product characteristics, limited time countdowns, etc. When you add callout text that shows the unique value of your solutions you can drive more qualified customers to your site. Using this method to improve your PPC ads is one of the best ways that you can use callouts to improve your PPC ROI and grow your business.
In addition, these callouts increase the Ad Text Character Limits imposed by Google too. Not forgetting, it can be difficult to get everything you want to say about your product or service in a Google Ad. This is why callouts are so powerful.
3. You're able to make your Google ads even more visible
As I mentioned above, you can use the callout extensions as an opportunity to explain the value of your solutions so easily. More so, without taking up any of the 90 characters provided for the Descriptions. So, callout texts are a great way to not only enrich your PPC ad copy.
Getting found by qualified customers is the name of the game for digital marketing. Or, better said, capitalizing on the moment you are found is. Business owners are continually looking for ways to reach the right people with the right message at the right time.
The callout texts allow you to increase the real estate that your ads take up in SERPs as well. And the more space you take up above the fold with your ads, the less there is for your competitors to take advantage of. Add callout extensions to your Google Ads to keep your ads take up more space while also pushing your competitors down the page.
4. They improve your ad quality score as well
Technically, Google is always updating its algorithm now and then. And, as such, you can bet that they'll consider ads that include callout extensions too. Particularly, when choosing which ads to display at the top of each page.
In multiple times, Google has said that they want to show the most relevant and valuable information to their users (learn more). So, you can get the upper hand by filling out callout extensions for all of your Google Ads campaigns. Plus, we all know that the more view and clicks your ads generate, the more money Google makes itself.
And we all know that's what Google really wants. Whether it's marketing, advertising, sales, search network, display network, shopping, or video, you can build the list till Kingdom Come. Whilst, at the same time:– impressing users impresses Google on any platform. It's as simple as that!
How to Create Callouts Extension: Step-by-Step
By default, an ad group uses callouts you've created at the account level. If you create callouts at the campaign or ad group levels, those will override any callouts at the account or campaign levels, respectively. You can also disable a callout for an ad group.
This removes any callout you created in the ad group and stops any campaign-level callout from showing with those ads. In other words, no callout will show for the ad group. Also, before you begin, you should consider your Campaign Types and your Text Character Limits too.
Callouts with the device preference set to mobile will be given preference over standard callouts on mobile devices. Standard callouts will be given preference over mobile-optimized callouts of the same type on desktop and laptop computers.
If a campaign or ad group has only mobile-optimized callouts, these may show on desktop and laptop computers. To avoid this, Google recommends having standard callouts of the same type as the mobile-optimized callouts in your campaign.
(1). To Create Callout Extensions;
Sign in to your Google Ads Account.
Click Ads & extensions in the page menu on the left, then click Extensions at the top of the page.
Click the plus button , then click Callout extension.
In the "Add to" dropdown menu, select the level at which you'd like to add the callout. Choose between the Account, Campaign, or Ad group level.

Create a new callout: This setting is selected by default.

Click Advanced options to set device preference. Click the box next to Mobile to create mobile-only callouts.
Type your text in the "Callout text" field.

Use an existing callout: Click the circle next to "Use existing."

Select the callouts you'd like to use from the list.

Click Save.
(2). To Edit Callout Extensions;
Click Ads & extensions in the page menu on the left, then click Extensions at the top of the page.
Locate the callout you'd like to edit. In the "Extensions" column, click the name of the callout.
In the window that appears, make changes to the callout you selected. Click the arrow in the top-right corner to go to the callout editing page.
Click Save. Your change will apply to the callout text for all ad groups and campaigns that share the callout.
(3). To Schedule Callout Extensions;
Click Ads & extensions in the page menu on the left, then click Extensions at the top of the page.
Locate the callout you'd like to edit. In the "Extensions" column, click the name of the callout.
In the window that appears, click the arrow in the top-right corner.
Click Advanced options.
Under "Start Date," click Select a date and choose when the callout extension should appear in your ads. Repeat these steps to select an end date.
Under "Extension schedule," select the days and times you'd like your callout extension to appear in your ads. All times are in the timezone of your account.
Click Add to enter additional timeframes for your callout extensions to appear.
Click Save.
(4). To Remove Callout Extensions;
Click Ads & Extensions in the page menu on the left, then click Extensions at the top of the page.
Select the boxes next to the callouts you'd like to remove.
Click the Edit drop-down menu that appears, then click Remove.
Notably, the best thing is that there's no cost to add callout extensions, but you'll be charged as usual for clicks on your ad. Perse, the order of your callouts, their length, and how they perform greatly factor into how many callouts appear. As well as whether a callout will show for your ad or not.
How to Get the Most Out of Google Ad Callouts 
In nutshell, callout extensions are the perfect addition to any ad group running in Google Ads. Obviously, because they can only improve the visibility and value of your ads – thus improving your quality score too.
And now, we should look at some advanced ways to optimize and manage these extensions. Keeping in mind, if you're looking for an easy win to drive more engagement for each ad, then you can't go wrong with adding a few callout extensions to your ads ASAP.
Unfortunately, most digital marketers don't use callout extensions in their campaigns. But, you can stand out and drive more clicks by using a few simple tips when creating callout extensions for yourself. You can go even further after creating callout text by using some advanced settings that most marketers don't use.
More so, in order to distinguish yourself from the rest of the above-fold ads.
(a). Try to customize your callout scheduling
It is very important to capitalize on that vital moment of the first impression. One of the great things about callout extensions is that you can customize when specific callouts appear based on the time, day, and even holidays. And this is all viewable under "Advanced Options" whilst editing your specific callout text.
Meaning, you can create unique text that will only show based on the needs of your customers. Take advantage of the advanced setting to personalize ads and improve the performance of your campaign. On a clear note, the more relevant you can make these text extensions to the specific search intents and pain points of the audience you're targeting, the better off you'll be.
You might also want to consider looking into your brand's own FAQs too. In order to see what types of information your users are looking for right before they generally convert. This way you can improve upon your already-functioning ads with callout extensions. For example, those that include the answers that lead to conversion most frequently.
(b). Consider using unique & specific callout texts
Callouts are a great way to highlight features, specials, and benefits for your customers. Keep in mind, however, that you should only include crucial information in short blurbs to encourage people to click on the ad.
Try not to use generic callouts, and since you only have 25 characters, you should use concise callout text to get your point across quickly. Instead of saying "We Ship Your Order For Free," you should say "Free Shipping." Make sure that they are nice, clear, to the point, and specifically oriented texts.
You should also try and get as creative with your callouts as possible. If you really want to get your ads to stand out, then you should consider using symbols and numbers in your callout extensions. Your competition is probably only using letters.
And, as such, you can include signs like %, &, and + to grab the attention of a searcher as they review search results. Heck, don't be afraid to throw in a smiley face if you dare. Personally, I don't think it ever hurt anyone.
(c). Be sure to Test & Track your Callout Extensions
To enumerate, just like anything else with Google Ads, it is essential to track the performance of your callout extensions once they're published. Many marketers simply "set and forget" Google Ads callout extensions. But this approach could leave accounts open to wasted spend and missed opportunities.
All in all, it's so easy to keep an eye on them. So, there's really no excuse. This is why it's essential to check how callouts are performing at least each quarter. Bearing in mind, you can even A/B test your callout extensions too. So that you ensure you're using the right messaging and not wasting the added space callouts offer your brand.
Wait a minute, what if your callout extensions aren't showing but you've done everything right? Well, if your callout extensions do not show up on every single impression, but they are still working, you don't need to worry. For one thing, they'll always show up.
(d). Always lookout for more Google guidelines
It's important to realize, Google sees callout extensions the same way they see ads. To be more specific, based on keyword bids, quality score, quality of ads, landing page experience, and past performance that impact ad rank alike.
However, when you are creating callout extensions Google has some rules they like you to follow. Rules that will keep your callouts working to the best of their ability. As well as make your ads look and feel even better and more informative to the target audience.
Consider the following rules:
Campaign Types: Callout extensions can be added to Search Network campaigns and Search Network campaigns that have opted into the Display Network.
Character Limits: Callout text is limited to 25 characters in most languages. Sometimes, it's 12 characters in double-width languages (like Chinese, Japanese, and Korean).
No Repetition: Try not to duplicate text in the account, campaign, or ad group levels. Meaning, you can't say "50% Off" multiple times or "Free Shipping" in more than one place.
Sentence Casing: Google prefers it when you use sentence casing versus title casing and you see more clicks with sentence casing.
Be Specific: Give customers detailed information so they can decide if you have what they're looking for. Try "34 MPG max mileage" instead of "Great fuel economy."
Skip Punctuation: Avoid punctuations and symbols in callout text that serve no purpose other than to draw attention to the ad. Like adding a ► symbol, exclamations, or punctuations.
Brand Trademarks: Google may remove ads/extensions in response to trademark owner complaints. Thus, advertisers are responsible for proper trademark use in their assets.
Before I conclude, when it comes to Google Callout Extensions, these are some best practices you should consider. By the same token, make sure you provide more general information that's applicable to your entire business at the account and campaign levels (i.e. "24/7 phone support").
On the other hand, you should also provide more specific information at the ad group level (like "women's skis" or "20% off cameras"). Whilst, equally important, you should always keep your texts short. The shorter the text means more callouts can show in your ads. Try "Free shipping" instead of "We have free shipping."
Finally, you should try and be as more specific as you can. Such as giving your customers detailed information they would rather look elsewhere. So that they can easily decide if you have what they're looking for. In this case, you can try using a term like "34 MPG max mileage" instead of "Great fuel economy."
Having said that, you too should take some time today to create callouts for your PPC ads to see the benefits today. And then, let us know how they worked out for you.
After all, we're all here to help you get started (Contact Us), that's if you'll need our support. You can also share your additional opinion thoughts, suggestions, contributions, or even questions in our comments section below.
---
Related Blog Tags