Bing Places For Business helps web-based customers find you on all their devices and provides them with the right information at the right time. Perse, it's a must for any local business—those with storefronts, chains with multiple locations, or even service providers without a physical store.
With this tool, you'll be able to reach 30 percent of the PC search market when you try Bing Ads for free too. You'll only pay when customers click on your ad—no minimum fee! Instantly appear on Yahoo, AOL, and related partner sites. As well as reach an on-the-go audience, both local and beyond.
Equally important, Bing Places For Business has Google-compatible features for webmasters. It allows them to import existing AdWords campaigns and Google My Business panel directly into Bing Ads.
How Bing Places For Business Works
Bing Places For Business is Microsoft's free business directory. It's equivalent to Google's Google My Business accounts, which also appear in local search results. Those who take advantage of this platform reap the benefits of exposure to over 1 billion monthly users—and get a big leg up on the competition.
What's more, it's free and easy to set up a Bing Places account. All you need to do is go to Bing, sign up for an account, and follow the prompts to complete your business profile. It also allows webmasters to access the Microsoft Search Network Audience with tools to be even more steps ahead of competitors.
In short, Bing Places For Business will help your target customers to find your business on all their browsing devices by using Bing Places For Business. Add your business to Bing and get found when customers search from anywhere—their computer, tablet, or mobile phone.
With Bing, you also start to get more online customers for your business. Not forgetting, it's also a great way to showcase the right business information to your customers.
The Key Reasons To Use Bing Places For Business
Bing Places For Business and Google My Business (GMB) are both free directories for local businesses. But, they're created by different search engines. The local results from Bing may be different than those in Google—on which businesses have profiles on the two different directories. Learn how to register on Google My Business in detail.
On the other hand, you'll also be able to Try Bing Webmaster Tools all for free. More so, in order to submit your website to Bing—so that they can make it easier to find online and on Cortana. And then, improve visibility, drive sales, and generate leads. The next thing is to get on Bing Places.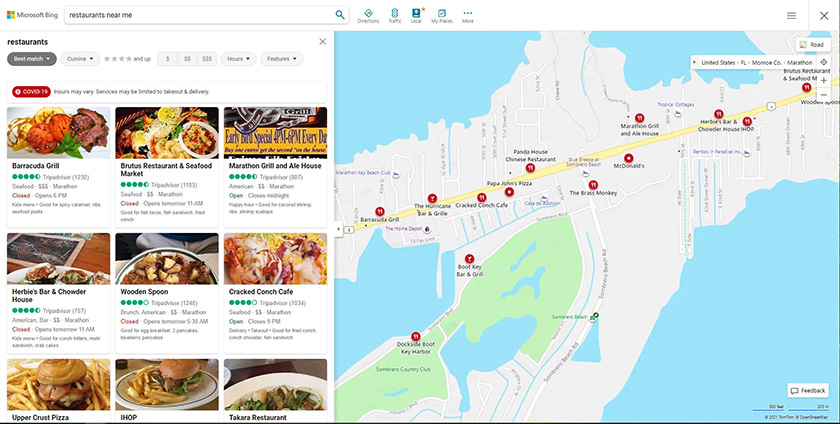 Keep in mind, your business should show up on Bing Maps and in local search results within a week or two. And, by listing your small business with Bing Places, you'll have a chance of tapping into a new but wider audience.
Now that this is something that may not come in handy if you use other search engines at all. In short, you'll get unique Bing Maps and Local Businesses search results like those for Web Tech Experts using Bing for Business.
Other benefits to consider using Bing Places For Business are:
Gain more organic exposure from the second-most used search engine
Capture the attention of a different audience
Find new customers who may have more disposable income
Get essentially free marketing by ranking high in Bing Places local search results
Combine local search with Bing Ads to increase exposure
Even if you don't advertise on Bing, you'll show up in organic search results too. So that you're visible to an audience that may not use other SERPs like Google.
It's an easy, free way to potentially gain more customers. And, as you run your business, these tools will help find your lead and target customers quite easily. Bearing in mind, Microsoft Advertising can connect you with millions of searchers not using other SERPs like Google, Yandex, etc.
Also, if you're missing out on:
Lower CPCs and great ROI—so say the customers
A higher-value audience not found on SERPs like Google
Access to searchers on Microsoft Bing, MSN, Yahoo, AOL, and more sites powered by Bing
That said, all you'll need to do is get started today! And then, start taking advantage of Microsoft Advertising to grow your business. But first, below are the best strategies and how-to practices to consider as you get started.
How To Create Your Bing Places Account For Business Listing 
Go to bingplaces.com and sign in to your Microsoft account. If you don't have one, sign up for a free account. You can do this with an email address or phone number. After you've added all the necessary information—password, birthdate, confirmation code.
Thereafter, you'll solve a quick CAPTCHA test to prove you're human. And then, go back to Bing Places and sign in with your login information. The next thing is to Claim or Add Your Bing Places for Business Listing. Markedly, Bing has two options for getting a Bing Places listing for single-location businesses as shown below.
---
The two options include:
adding or claiming the listing manually,
or importing your details from your Google My Business listing.
There's also a different process for companies with more than 10 locations. Therefore, be sure you choose the correct option for your business size.
You'll then be asked to select the business type that makes the most sense for your business. Eventually, there's an option for small businesses without a physical address—as it works well for professionals without an office too.
You can then use your business phone number or business name with a ZIP code. More so, to check whether your listing exists on Bing Places already. If it exists, you'll see your business on the map. If Bing can't find your business, then you'll need to create a new business listing in this case. That said, below are the easy summary steps for you to follow:
Claim Your Business Listing:
Chances are Bing has a listing for your business already.
Thus, you can go ahead to claim an existing listing or add a new one.
If your business has multiple locations you can add them in one go using the bulk upload tool.
Complete Your Listing Profile:
Adding complete information about your business helps you tell the best story about your business.
You can add photos of your business & services, hours of operation, services offered, etc.
And also, list the various ways customers can reach your business.
Verify Your Business Listing:
Protect your listing from unauthorized changes by verifying it.
You can verify your listings by receiving a PIN at your business address, phone, or email.
All businesses must provide a valid address.
But, some types of businesses can hide their address in search results.
As you can see, it's quite easy to add your business to Bing Places. And, as a result, you'll make sure that your customers always find the right information about your business on the internet.
How To Get More Web Traffic & Genuine Online Reviews
By all means, a great way to increase your business' visibility is by listing on Bing For Business as we saw above. And also, see how exposure to over 1 billion people per month can help boost your business. Similar to Google My Business, Bing Places for Business will help locals find you online.
Particularly, so that you can generate more in-person traffic and sales. What's more, is that it's free and easy to use! Meaning, there's nothing to lose, but a lot to gain from using Bing Places. Not to mention, you can use a variety of strategies to target more online reviews of your business.
You can start by simply asking your customers after you've made a sale or provided a service. Look for more ways to get more reviews on Google and Bing to help you show up higher in local search results. There's a good reason why a Custom Business Email is more beneficial than a Personal Email too.
And one reason is that; it allows webmasters to quickly verify their online business address on both Google My Business and Bing For Business faster. In this case, we'll consider Bing Places for Business Listing. All you'll need is to learn how to register your company with a business email address—for custom needs.
How To Raise Your Ranking Position In Bing Search Results
The next thing is to consider raising your rank in Bing local search results. More so, by leveraging both the best Local SEO and International SEO strategies. On the same note, there are many other Technical SEO skills and methods you can utilize too. After all, when we talk about SEO, Google comes to mind for most search engine marketers.
Well, it all makes sense! If you can please the search giant, other search engines will follow along and send traffic to your website. Right? Unfortunately, most marketers don't consider Bing as a lucrative web ranking channel. But, it can be if you've optimized your site for Bing SEO. Overall, there are so many benefits of using the best Bing SEO strategies.
Since all marketers go after Google, Bing has lower competition and a market share of 6.79 percent for desktop searchers. While that may seem low compared to Google's 86.64 percent, Bing's desktop search market has grown.
In particular, by 41.03 percent since 2019. Bing traffic also might have a lower bounce rate. For Matthew Woodward, his Bing traffic is higher quality than Google. Bing visitors viewed more pages and clicked more affiliate links, as well. Furthermore, most search engine optimization techniques remain the same as they are for Google.
Even though the algorithms are different in this case. What makes Bing unique is the search engine is more open about its ranking factors than Google, meaning you can eat the Bing pie with less effort and still reap the rewards.
How To Utilize Bing Ads In Your Campaign Marketing Strategy
Technically, Bing Ads Works on an auction system that is similar to Google's AdWord. Whereby, advertisers can show relevant ads to users who are searching those keywords. Marketers can target search keywords for a chance to have their ad appear in search results pages, and pay a small fee for every click.
How much you want to spend on Microsoft Advertising is up to you. You decide on the bid amount for keywords, which is the price you want to pay each time your ad is clicked. Then, every time someone does a search on the Microsoft Search Network, an auction determines which ads are shown.
As well as where they'll appear on the search results page. If your ad is eligible and appears on the search results page, you'll only be charged when the ad is clicked. As such, just like the rest of the web advertising networks, it works on a pay-per-click (PPC) basis.
The actual pay-per-click (PPC) amount is, at the most, the bid amount you set and never more than that and you can pay now (prepay) or later (postpay) for those charges. According to the Microsoft Search Network Audience data stats;
You'll enjoy quite a lot of key user-based features:
117

Million unique desktop searchers on the Microsoft Search Network
44 Million desktop searchers not reached on on SERPs like Google
7.

2

Billion monthly desktop searches on the Microsoft Search Network
37.

4

% share of the internet marketing searches, for instance, in the U.S. using desktop
When you prepay for your clicks, charges are deducted from the funds you add to your account. Once you run out of funds, your account is put on hold until more money is added.
When you pay later, charges accumulate as your ads are clicked. You then pay on your monthly billing date. Or rather, pay when you reach your billing threshold (a spending limit before we automatically bill you), whichever comes first.
Notably, these ads are controlled by the Microsoft Search Network in order to deliver results. With the largest being Bing.com with affiliates like MSN.com, Bing.de, and Bing.co.uk.
The main Microsoft Search Networks include:
Bing.com (and sites owned and operated by Bing)
AOL.com (including sites owned and operated by AOL)
Yahoo.com (including sites owned and operated by Yahoo)
The search network also includes other third-party websites, owned and operated by Microsoft's and Yahoo's syndicated search partners. To enumerate, the Microsoft Search Network is a part of your customers' lives. Whilst, powering the devices, apps, and sites they use every day and meeting them in the moments that matter most.
Find out more about the Microsoft Search Network audience on the World Wide Web (WWW) internet. As well as how users are searching from their desktop computers. Learn how to create a Microsoft Advertising account.
Final Thoughts:
In reality, most of us already know that Search Engine Optimization (SEO) is all about building organic traffic to your website. Usually, through content creation for keywords that make sense for business.
Likewise, Pay-Per-Click (PPC) Advertising is also another great method that targets keywords. But, you pay to show up as an ad in search results. With that in mind, you can read more about all the various search engine marketing methods to consider for your web business ranking.
It's time for you to add your business to Bing and make sure customers always find the right information about your business. Perse, just add your business to Bing for free and help your lead online and digital customers discover your business. Generally, showcase to them what you can offer or do to them.
Join the millions of businesses that have already added their business to Bing. From businesses with up to 10 storefronts or centers to businesses with more than 10 storefronts or centers. As well as businesses offering services at customer locations. Whatever the reason, you've got a variety of options to choose from.
On one side, if you are an existing user, you can update and enrich your business. While, on the other side, for a new user, you can get started and claim your business right away today! But, if you'll need more help, you can always Consult Us and let us know how we can sort you out. Our Web Tech Experts will be more than glad to offer you all the support.