A while ago, Ahrefs launched its Free Webmaster Tools for all (beginners & pro) web builders and site owners alike. And from experience, the toolset offers quite a generous amount of SEO data. While setting an industry standard for what all web SEOs need. Big Internet companies are making suboptimal decisions to push market valuation.
We see more and more ads in search results and not enough care for the people who are actually creating content. In reality, Ahrefs intends to stay independent and focus on helping people to make useful content. And, as such, in order to make it more accessible the ultimate goal is to make a search engine share profit with content creators and publishers.
Today, there's no new functionality in Ahrefs Webmaster Tools. It just gives website owners free limited access to Site Explorer & Site Audit for life. Whereby, on one hand, the site explorer offers webmasters unlimited tools to get an in-depth look at the organic search traffic and backlink profile of any website or URL. What about its free site audit features?
Well, its site audit, on the other hand, has all the features that you'll need to run an SEO audit to uncover your website's technical and on-page SEO issues. And, as a result, you'll find out exactly what's holding your website back from ranking. So, you can think of Ahrefs Webmaster Tools as Google Search Console to be precise…except made by the Ahrefs team.
What The Ahrefs Webmaster Tools (AWT) Offer
To enumerate, the Ahrefs Webmaster Tools (AWT) is a web-based application tool that allows you to improve your website's SEO performance and get more traffic from searches, plus it's also free for webmasters and website owners alike. The AWT is refreshingly simple to use. The navigation is intuitive with data pretty much exactly where you would expect it to be.
Data is seemingly no more than one to two clicks away. Also, contributing to the frictionless user experience is the liberal use of tooltips. The tools they provide will help you to improve your website, find a topic to write about, or track your website's performance. From the word go, they wanted to give all content creators the data they need to optimize their websites.
In a nutshell, with AWT, they're essentially opening up free access to Site Audit and Site Explorer for verified websites. The number of projects that you could add to your account used to depend on your plan's allowance. But now, you can add an unlimited number of verified websites to your Ahrefs account. This means that you can even add your clients' websites.
More so, as long as they give you access to their Google Search Console data, DNS records, or editing rights. Generally, for beginner webmasters, this is a very great tool to help them drive their content SEO audit to the next level. As a matter of fact, Ahrefs is bootstrapped by a small team with a big passion for technology and SEO that you can heavily rely on.
The Main Tools:
Not to mention, they'll even guide you on the way with learning materials on their SEO blog, Tech blog, YouTube Channel, and the like. Besides, you'll also be able to get automated email alerts about your website's SEO health, new and lost backlinks, and keyword rankings as well. All these tools allow you to do a variety of overall website-wide content audits as follows:
Monitor Your SEO Health
Scan your website for 100+ common SEO issues that might be hurting its performance in search engines
Get advice on fixing those issues and keep an eye on your website's SEO health over time
Know Your Overall Backlinks
Browse your website's backlink data, collected by the industry's favorite third-party backlink crawler
Get actionable insights from your inbound and outbound link profiles with a variety of user-friendly reports and filters
See Traffic Generating Keywords 
Learn what keywords your website ranks for and compare how you stack up against competitors in the SERPs
Get a better understanding of your website's SEO potential with the help of actionable SEO metrics
Some actionable SEO metrics to consider above include Search Volume, Keyword Difficulty, Traffic Value, and much more. And, at every point where you might wonder what something is about, there's an unobtrusively gray question mark icon. Specifically, a grey question mark that when clicked supplies the needed explanation to the requested query.
Even the choice of the light gray color for the tooltip icon shows how well-planned the interface is. In particular, the icon does not intrude on the workflow, contributing to the frictionless user experience. The dashboard of the tool is appropriately simple. It also features a readout of various elements that a webmaster can easily utilize in their strategic SEO plan.
These features are:
Health Score
Domain Rating
Referring domains
Backlinks
Organic Traffic
Organic Keywords
Disavow links tool
Basically, all the sections (except the Organic traffic section) can be clicked through to in-depth reports. Navigating directly to website information is super easy and intuitive. The Disavowed Link tool is a management tool that helps create and maintain disavow lists in an organized manner. A user can upload a spreadsheet or manually add URLs and domains.
The disavowed data will be used by Ahrefs to ignore the specified URLs in reports and it can also be exported for upload to Google Search Console as long as you have admin or editor access. Clicking through the Health Score icon reveals SEO data related to the crawling status, crawl errors, warnings, and HTTP status response codes (200, 301, 404, and 500).
It's a general overview of the success of a site crawl. As for its 500 status response code, it's especially very important feedback. Because it can alert you to server or database issues.
For example, an improperly configured server will give up and begin serving 500 response codes. By the same token, the backlink tool offers an overview of the backlinks with the ability to review specific kinds of backlinks. For example, a publisher can narrow down the selection of links by restricting to one link per domain or all links from each domain.
What about Ahrefs Backlinks Filter? Well, the most important use of this tool is that it can selectively restrict the view to a variety of variables.
Consider the following:
Link type (dofollow, redirected, .gov, etc.)
Platform (blogs, eCommerce, forums, etc.)
Language, Traffic (by date), Word or Phrase, etc.
Eventually, there's also the "Word or Phrase" backlink filter. And eventually, it's hands down my favorite filter. Whereby, you can enter .org into this tool and filter the backlinks so that it shows you all of the .org backlinks.
In addition, you can enter the word "resources" and discover all the sites linking to you that have that word in the URL. Furthermore, the Word or Phrase filter includes or excludes whatever word or phrase you enter into it.
And by all means, that's a killer feature that is useful in many ways. For instance, it's a powerful way to identify quality or low-quality links. Or even to find specific kinds of backlinks in a profile. However, there're limits to how many URLs are crawled and how long data is retained.
Website Audit:
SEO issues monitoring
Advice on how to fix each issue
Monthly crawled URLs – 5,000 per project
Data retention – 3 months
JS rendering – yes
In simple terms, you get 5,000 crawl credits per project per month. These credits are only used up when you crawl an HTML page with status code 200. So, other URLs like broken URLs, redirects, or any non-HTML resources aren't counted.
Website Explorer:
Backlink index – "Live" only
Rows per report – 1,000
" per month – 100,000
Export rows per report – 1,000
" rows per month – 10,000
Markedly, they show you all keywords in their index. You can also export 1,000 rows per report and 10,000 rows per month.
SE Reports:
Content gap – 10 rows per report
Link Intersect – 10 rows per report
Competing pages/domains – 10 rows per report
Top pages/subdomains/paths – 10 rows per report
For sure, you can even export up to 1,000 rows per report and 10,000 rows per month. Add to that their vast number of sorting and filtering options, and you should be able to easily distill the most important backlink data.
Backlinks Explorer:
All known links are shown
Domain and page-level SEO metrics
Broken links data for internal and external links
Link type data (nofollow, UGC, sponsored)
The features in AWT are included in all Ahrefs' subscription packages. For verified websites, you'll get an additional 5,000 crawl credits per month in Site Audit, and some limitations lifted in Site Explorer.
Traffic & Keywords:
All known keywords are shown
SEO metrics for pages and keywords
SERP snapshot with competitive data
SERP features for every keyword
Big Internet companies are making suboptimal decisions to push market valuation. We see more and more ads in search results and not enough care for the people who are actually creating content. Ahrefs intends to stay independent and focus on helping people to create and publish useful content as well as to make it more accessible to all web users.
In other words, Ahrefs Webmaster Tools is a killer service. Since there're so many features packed into this tool. And there's even more to it that I haven't even covered. Surprisingly, it's hard to believe that something as useful as this is free. Well, to give you an idea of what Ahrefs can do, below are a few other Fee SEO Tools that are worth mentioning as shown below…
Free Toolkits:→
Extra Addons:→
On the other side, the attention to detail, focus on usefulness, and ease of use make this a top SEO auditing tool that every web publisher should be using. You can also see other product details they have in their inventory so as to gather more resourceful details. Including but not limited to their Pricing Plans, Big Data, Ahrefs Bot, API Keys, and much more…
The New Verification Method: Google Search Console
In this case, you can now verify website ownership by connecting your Google Account to Ahrefs. It's, important to realize, that both Google Search Console (GSC) and Google Analytics data in their raw forms will be available in the Site Audit and on your Dashboard for only you and your team, and will not be shared with other users.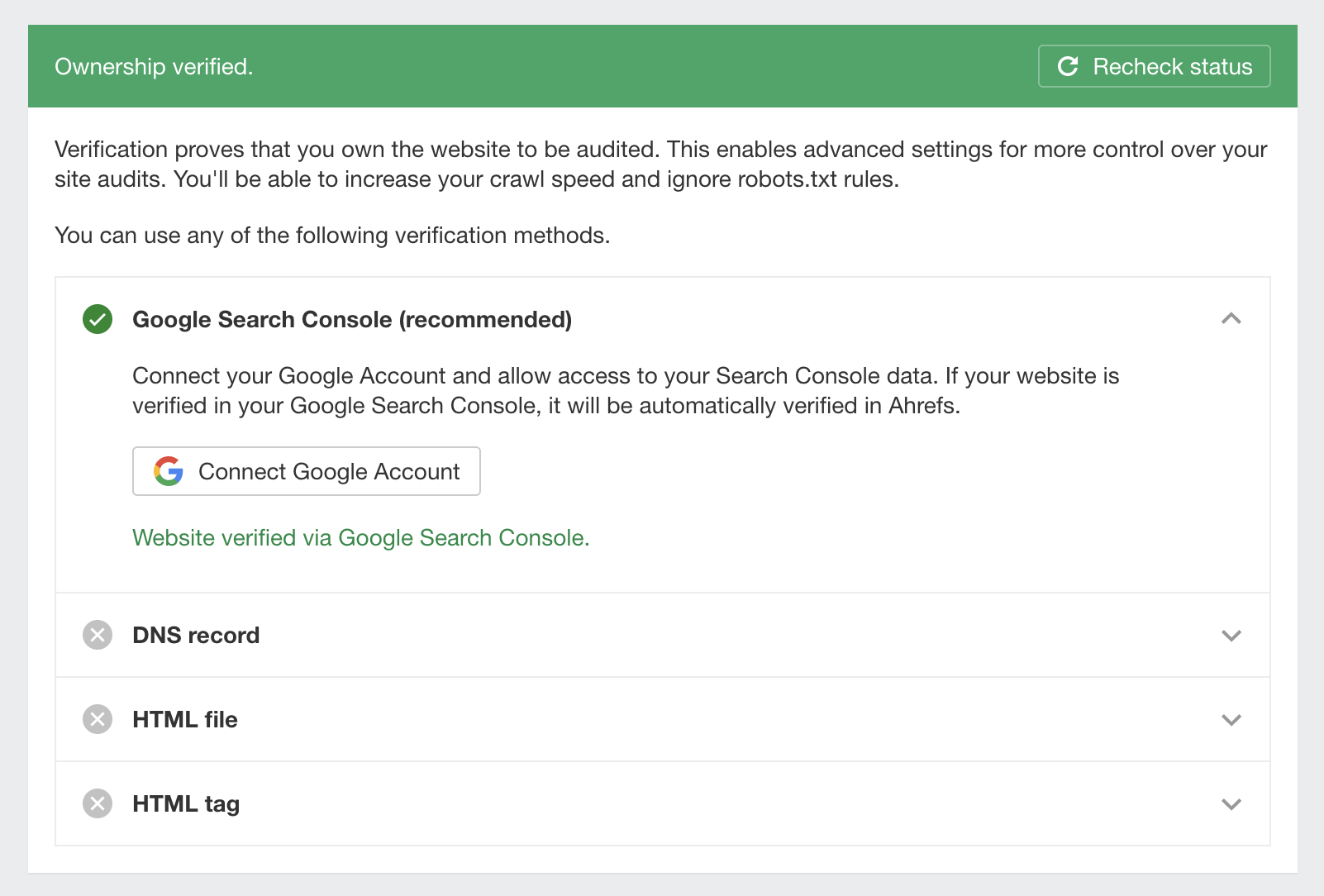 Equally important, anonymized and aggregated data might be used to improve Ahrefs CTR and search volume models, which they use to estimate keyword volume and distribution of clicks in SERPs. The best thing is that you can use AWT on an unlimited number of verified websites.
We understand that you might not want us to use your data to train the Ahrefs algorithms. That's perfectly fine! In this case, please use any of the other methods (DNS record, HTML file, or HTML tag) to verify your website. That said, from your AWT account, you can sign up for a premium Ahrefs package (see our Plans & Pricing page) to enjoy other key added benefits.
Note that the Ahrefs tools and Ahrefs data are just one and the same thing. However, Ahrefs' subscribers will have higher data allowances and access to all of Ahrefs' premium tools. In addition, Ahrefs' subscription plans allow you to analyze competing websites (unverified websites). So, if you want to beat your competitors, we recommend that upgrade to Ahrefs premium.
Final Words:
Simply put, Ahrefs is a great tool that allows you to fill all the Google Search Console gaps. Of course, Google Search Console is a must-have tool for any website owner who cares about their performance in the search results. But, its functionality is lacking in some areas. That's where Ahrefs — Webmaster Tools — comes in handy to rescue SEOs and webmasters.
Of course, yes, not all websites are created to make money. But, quality information deserves to be found. This is why Ahrefs want to support website owners who can't justify investing in a professional SEO tool. For more than a decade they've been crawling the entire web and developing professional SEO tools to help people optimize their websites.
By so doing, they've earned the trust of many leading digital marketers, and now they're hoping to earn yours too. With that in mind, you too can start using Ahrefs Webmaster Tools (sign up for free) even now! Especially, in order to improve your website's SEO performance, its position ranking in the SERPs, and grow your traffic from organic web search queries.
Finally, if you'll need more support, you can Contact Us and let us know how we can help you. Not forgetting, you can also share your additional contributions, opinions, suggestions, thoughts, recommendations, or even contribution questions (to get FAQ Answers for free) in our comments section. And now, until the next one, thanks for your time, you are welcome!