Adobe.com introduced an Adobe Chrome Extension to work right from the Google Browser for creative content designers and online users. We all know the Adobe Collection Suite is mainly recommended for PDF formatting, editing, viewing, and saving. Recently, Adobe extended its online version with Adobe PDF Tools and Adobe Reader Extension for only Google Chrome web browsers.
Realistically, Adobe Express is changing the world through creative digital experiences—it's helping its customers create, deliver, and optimize content and applications. You name it, from websites, application platforms design tools, photo editing, and retouching apps, utilities for business logos, website color schemes and social media post graphics, and other design elements for a brand.
Of course, Adobe Express has become a darling for many—from creative webmasters to digital online marketers to visual artwork storytellers and graphic content designers, the list is endless. Forget about downloading and uploading documents or having to install expensive software. Technically, the Adobe Express Chrome Extension allows anyone to tweak PDF files regardless of experience.
For instance, you can edit PDFs, add texts, create fillable PDF forms, and print or share them with others online. Transform your static PDF into an interactive experience for both sender and receiver. Save your precious time and business investment costs—increase your team's efficiency with the comprehensive new Adobe document management solution. Let's explore other essential features.
Understanding What The Adobe Express Creative Cloud Offers Content Designers
One thing is sure: Adobe Express skills refer to proficiency in using software developed by Adobe Systems, such as Photoshop, Illustrator, InDesign, Premiere Pro, and many others. Officially known as Adobe Systems, it's an American software company known for its multimedia and creativity application products. Its popular products include Photoshop, Acrobat Reader, and Creative Cloud.
Great experiences can inspire, transform, and move the world forward—every great adventure starts with creativity. On that note, changing the world through digital experiences is what drives Adobe Express and its community. Creativity is in their DNA. Their game-changing design technology innovations are redefining the possibilities of digital experiences by connecting content and data.
Technically, Adobe Express Creative Cloud is a set of application platforms and software services from Adobe Inc. The initial Software-as-a-Service (SaaS) system gives subscribers access to a collection suite of software applications and tools. They are essential for graphic design, video editing, web development, photography, mobile applications, and some optional cloud services.
In a nutshell, Adobe Express Creative Cloud refers to a bundle of more than 20 applications that creators use to produce visual content for personal or professional use. Many types of creators will find its creative cloud valuable, including digital graphic designers, photographers and filmmakers, sound editors, animators, website designers, marketers, and application publishers.
The Advanced Design Features That The Adobe Chrome Extension Offers
Adobe Express is an all-in-one content creation system that makes it fast, easy, and fun to design and share social media posts, videos, images, and more. In 2021, it released its Adobe Acrobat Extension for Chrome and integrated Acrobat PDF tools with Google Drive. Its new and free Chrome Extension lets users modify PDF documents by adding comments, markups, and signatures.
In layman's language, the new extension offers online users access to its Adobe Express and Acrobat Collection Suite from right inside the Google Browser. Make Reels and TikTok videos, social stories, media posts, flyers, resumes, banners, logos, etc. Generate extraordinary text effects and images instantly from a description with Generative AI powered by the Adobe Express Firefly toolkit.
The Adobe Acrobat Extension in Chrome lets you work with Adobe Acrobat PDF Tools on the web. If you enable the extension, the Acrobat PDF creation toolbar is added to the browser. The option to create a PDF also appears in the context menu. Use the Adobe Acrobat extension to convert web pages to PDF. You can also use the tools to view, fill, comment, sign, and compress PDFs.
With that in mind, most businesses count on special and practical Adobe Express tools to help them meet digital transformation's challenges. Markedly, with Adobe Experience Cloud, they can harness their data and deliver personalized experiences that drive business growth and customer loyalty. Furthermore, Adobe pioneered the paper-to-digital transformation with the invention of PDF.
How the editing tools help:
View, download, print, and store PDFs.
Merge files into a single PDF file or split a PDF.
Add signature and fill in a PDF
Organize your PDF.
Cut, rotate or change the number of PDF pages.
Compress and convert a PDF to reduce its file size.
In the experience economy, every business must be a digital business. It's also worth mentioning that the future belongs to those who create—we believe everybody has a story to tell. Be that as it may, Adobe Express Cloud unleashes creativity, so anyone—from the most demanding content design professionals to students just starting—can make whatever they want, wherever they want.
To enumerate, Adobe Express introduces new technologies to its marketplace each year for its creative content design customers. As a result, this helps democratize creativity, shape the next generation of storytelling, and inspire entirely new businesses. Its users can complete projects faster with thousands of professionally designed templates, Adobe Stock photos, videos, music, and more.
Combine video clips, artwork, animations, and music to make videos with drag-and-drop ease. Manage one-click tasks powered by its photo, design, video, and PDF tools. Import PDF flyers and brochures to quickly make creative edits like adding eye-catching text, images, brand logos, etc. Collaborate and comment on files in real-time with your team. Among its PDF Tools is the pdfFiller.
How The pdfFiller Application Helps To Edit PDFs, Add Text, Sign, Print & Send Files
Web-based PDF editors are more convenient and cost-effective than downloadable apps. On that note, pdfFiller is a universal solution known for its straightforward interface and range of professional editing tools. Forget about installing, downloading, and updating software on your device. You can choose pdfFiller to enjoy the highest standard in paperless document management.
In other words, editing and creating fillable PDFs is no longer a pain point. For example, this web-based application tool allows you to type or delete text, highlight, blackout, add images, and draw graphics—in any browser using a desktop computer or mobile device.
Enhance your PDF experience with a feature-rich, cloud-native platform—everything you need to manage PDFs. Install the pdfFiller extension for Chrome to fill out and edit PDFs straight from search results. Go ahead! Use this efficient software platform and other related application tools from Adobe Express to view, create, manipulate, print, and manage Portable Document Format files.
As a rule of thumb, you are always sure when you write PDF documents online using pdfFiller. Specifically, you are confident that every word, every number you write, is precisely where it must be. You are sure that your documents are legible, neat, and tidy. With pdfFiller, you can write in PDF documents and format your text online without signing up, downloading, and installing software.
The Simple Steps To Download, Install & Use The Adobe Chrome Extension
Notably, Adobe Express listed Acrobat Chrome and Edge extensions, letting users access its PDF tools directly and convert or edit files through their browser. These tools allow you to merge, split, transform, and compress PDF files without switching apps. Once the extension has been downloaded to your browser, it has to be set up as a PDF viewer in your Google Chrome content settings.
Conversely, Adobe Reader is mainly used for PDF file editing and opening systems. Its web users can access some compression and conversion tools from its Chrome extension. They can open various formatted files and print them with their preferred size. Thus, it's a suitable alternative to downloading WPS Office Software for converting, compressing, and updating PDFs or any DOC files.
Now that you know what Adobe Chrome Extension offers and how this powerful document management addon can help you, it's time to learn how to download, install, and use it on a web browser like Google or Edge. Need to edit, add text, sign, print, share, or convert your PDF into another format? Sure, you can do it in a few clicks within your browser. So, let's learn how to get started.
First, you must download and install the web extension to help you proceed with the Adobe Express Creative Tools access right from your web browser. Secondly, you'll need to activate and adjust the web browser extension settings for it to work effectively. As a result, this makes it fast, easy, and fun to design and share social media posts, videos, images, and more. Follow these simple steps.
1: Locate And Download The Web Extension
2: Install The Adobe Express Chrome Extension 
3: Manage The Web Extension Settings
As you can see from the illustration image above, you can quickly manage the web browser extension file using the dots menu.
4: Pin The Extension To Your Menu Bar
Eventually, accessing the Adobe Chrome Extension file location lets you easily and quickly pin it on your menu bar for quick access in your web browser. The best thing is that you can sync your Google menu bar settings with Edge for fast extension and file access.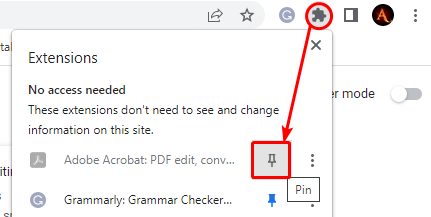 5: Launch The Adobe Chrome Extension
That's it! You are now ready to start using and enjoying the benefits this feature-rich Adobe Extension has to offer. It's an all-in-one content creation web browser extension that makes it fast, easy, and fun to design and share social media posts, videos, images, and more. As mentioned, online customers can access Adobe Express and Adobe Acrobat inside Google Chrome with this addon.
In addition, they can also complete one-click tasks powered by Adobe photo, design, video, and PDF tools. As well as import PDF flyers and brochures to quickly make creative edits like adding eye-catching text, images, brand logos, etc. Equally important, it allows you to collaborate and comment on files in real time with your team. The extension is the army knife of creative designers.
Here is a summary of what it can help you accomplish:
Generate extraordinary graphics, artwork, text effects, and images instantly.
Edit, e-sign, print, or fax PDFs directly from search engine results and web pages.
Create, edit, and manage PDFs for free with a 30-day trial at pdffiller.com, or add Adobe Express.
Find the PDF form or document you need in Google Chrome and instantly edit, annotate, sign, and share it online.
Complete projects faster with thousands of professionally designed templates, Adobe Express Stock photos, videos, music, etc.
Make unique Reels and TikTok videos, social stories, social posts, flyers, resumes, banners, logos, and more.
Combine video clips, artwork, animations, or music to make videos with drag-and-drop ease and more.
Note: On the one hand, you must register an Adobe Express Account to start a free trial to work with PDF documents using the browser extension and save your edited files. On the other hand, a paid subscription plan is required to use the advanced features that Adobe Express Creative Cloud offers. The best thing is to try this extension tool first and then upgrade to the best application.
How To Tweak Your Extension Settings And Enable The Allow Access To File URLs
Once your installation, activation, and customization process is done, the next thing is to enable the 'Allow Access to File URLs' option in the Adobe Acrobat extension. As such, this allows you to seamlessly open local PDF files in the browser and edit them. You can quickly download an email attachment and open the file in your browser—you can also work with it using Acrobat PDF Tools.
Follow these simple setup steps:
First, launch the Google Chrome web browser.
Next, select the Extensions Icon on the toolbar.
Afterward, select the 'Manage Extensions' option from the menu.
Forthwith, from the

Extensions

Page, open the Adobe Acrobat Extension file.
Lastly, enable the 'Allow Access to File URLs' option from the Extensions Page.
For your information, Adobe Express upgraded its Acrobat extension for Chrome by adding new tools for users to directly alter a PDF's text and images from the browser. The Adobe Express Tools are available now with a free seven-day trial or Adobe Acrobat Pro DC purchase, starting at $19.99 monthly. Perse, you can try and upgrade these application tools whenever you are ready.
In Conclusion;
Regarding the role of design, how many gift-giving occasions are there in a year? A lot! But they don't all have to provoke a mad rush to the mall and a look-through at all its stores. You can quickly select your recipient's favorite shop, purchase their gift certificate, and say goodbye to mismatched gifts for life! With Gift Certificate Templates, businesses can generate an additional revenue stream.
In addition, they also give customers a quick and simple gift idea for loved ones. It's straightforward with Adobe Express, and a wide selection of professional layouts offers a new solution for creating gift certificates in minutes. And now, it also has a unique extension tool for Google Browser users. Generally, Adobe Express released its extension to complete the entire file formatting process.
---
Other More Related Resource References:
---
Initially, we could only edit PDFs and update files with the Adobe DC Online Tool, but the new Adobe Express Chrome Extension can give more updating features for Google and Edge users. The extension lets Google Chrome and Edge users access PDF tools directly and convert or edit PDF files through their browsers. Whereby you can quickly merge, split, transform, and compress PDF files.
More so without the need for switching applications or even creating a user account. Once you download and install the free to your preferred web browser, you must set it up as a PDF viewer in your content settings. Sounds great, right? So, what more are you waiting for? Please feel free to give it a try and then share your experience or additional suggestions in our comments section.
Hire Professional Designers